Keto Krate August 2017 Review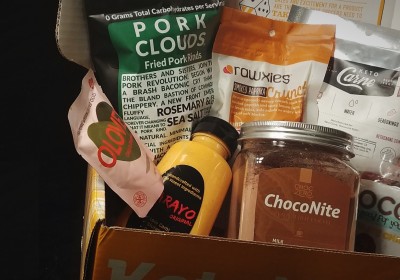 With three months of Keto Krate behind me already, I felt like I knew what to expect going into the August box: about two jerky/meat snacks, a couple other savory/salty snack options, some keto-friendly sweet treats, and then maybe a unique ingredient or pantry item. I've been happy with my Keto Krates so far, so I was looking forward to receiving it after a slight delay due to the inclement weather (best wishes to all of those in hurricane affected areas!).
As a reminder, Keto Krate costs $34.95 per month plus a $4.95 shipping fee ($39.90 total), and promises 6-8 keto-friendly snacks per month plus $20+ in coupons and discounts that subscribers can use to purchase more of the featured products. All products included are gluten free, aspartame/malitol free, and 5g net carbs or less per serving. You can view reviews of past Keto Krates here.
If you're a new subscriber, you can take advantage of the $5 discount offer when you sign up here.
Here are the items featured in the August 2017 Keto Krate: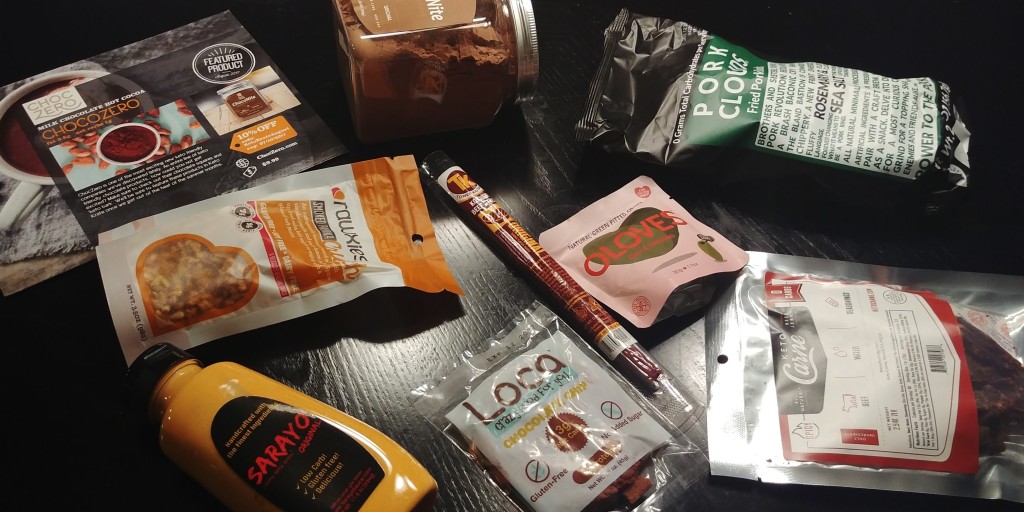 As a totally shameless chocoholic, I wasted no time digging into this chocolate drink mix first: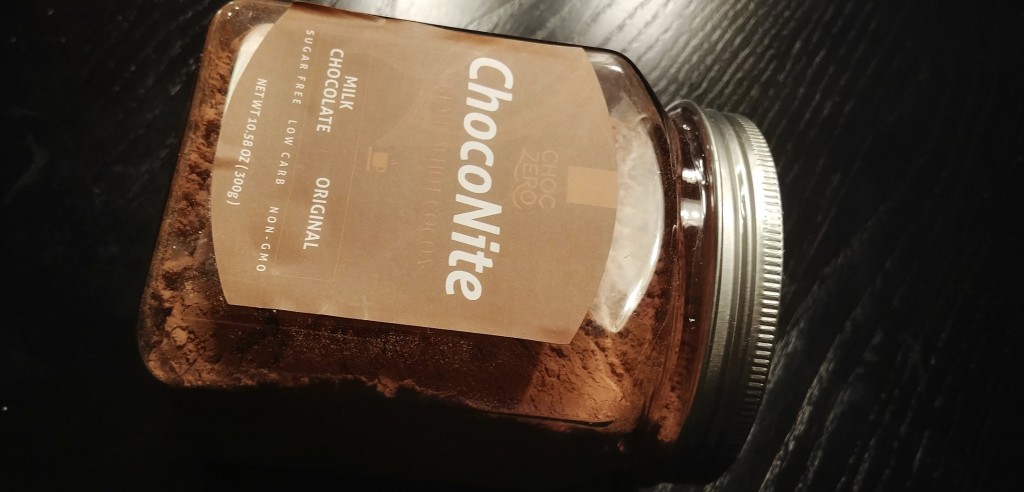 1x ChocZero ChocoNite Sugar Free Milk Chocolate Hot Cocoa Mix (value: $11.99) [1g net carbs per serving]
I actually tried this product a few months ago when it launched, but the formula has been refined since then to have an even richer chocolate flavor and I was definitely excited to taste the improved version! I love ChocZero's products because they deliver on the quality chocolate taste without all the carbs and sugars, and this product is no different. It's naturally sweetened with monk fruit to keep it keto friendly, and it's definitely tasty as hot chocolate.
Of course, we're still weeks away from full blown hot chocolate weather, so thankfully ChocoNite also works well as a cold chocolate milk, a baking ingredient for low carb desserts, and an ingredient for protein shakes, coffees, and anything else you might want to add some nice chocolaty flavor to.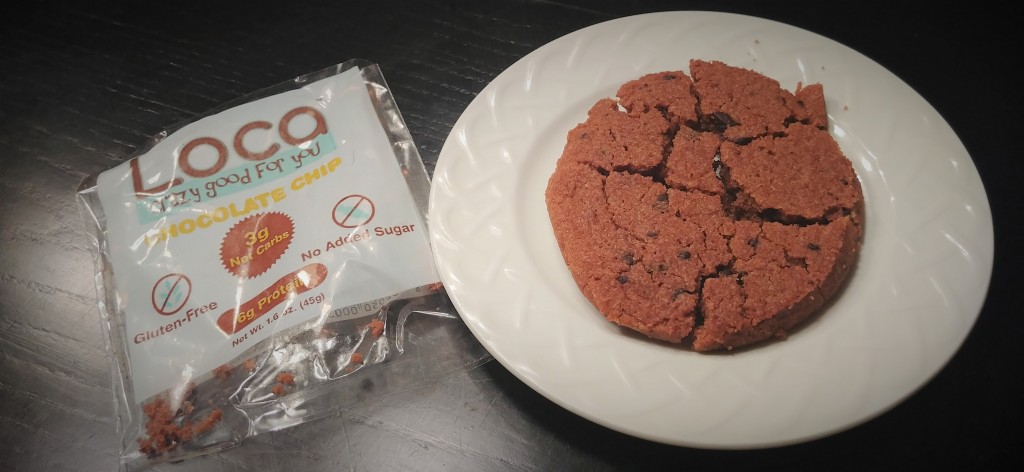 1x Loca Snacks Chocolate Chip Cookie (value: $2.50) [3g net carbs per serving]
I mentioned I'm a chocoholic, right? This cookie apparently crumbled a little on its way to me, but that didn't stop me from digging in! I'm always on the lookout for tasty, keto treats that I can just grab and eat without having to spend time in the kitchen, and this was a new brand to me so I was happy to try it.
I think the summer heat may have gotten to some of my chocolate chips before I did, but the cookie was still good overall! I thought the balance of sweetness was good, thanks to the blend of erythritol, stevia, and monk fruit. The texture was nice, and I didn't notice any aftertaste personally. Best of all, the 17g of healthy fats, 6g of protein, and 3g net carb make it a good fit for keto macros.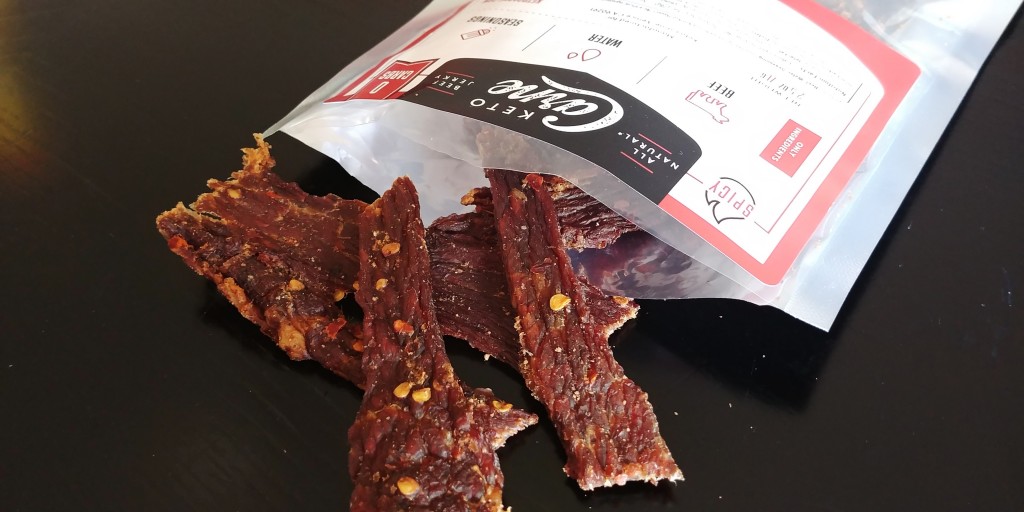 1x 2.5oz. bag Keto Carne Beef Jerky, Spicy (value: about $7.00) [0g net carbs per serving]
That was it for this month's sweets, but luckily I like savory snacks too! This jerky is definitely pricier than most grocery store brands, but it's also ten times tastier (and a hundred times cleaner)! There are only three ingredients at work here: beef, water, and spices. No sugar, corn syrup, preservatives, or other junk.
But despite the minimalist ingredient list, this stuff is super flavorful! The level of heat was absolutely perfect for me, and the macros are pretty perfect as well because there are no carbs! A company that dedicates itself to making quality, keto-friendly snacks is a win for me on principle, but Keto Carne delivers on the product too!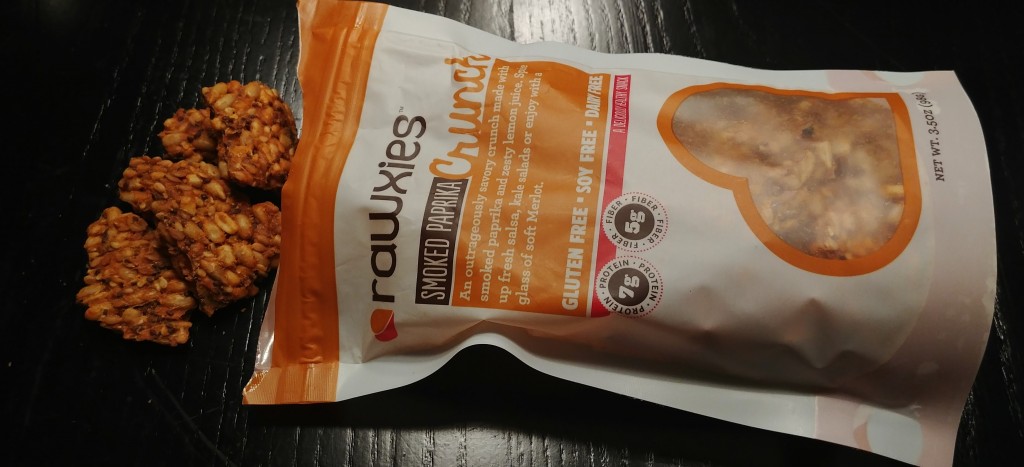 1x 3.5oz. bag Rawxies Crunch, Smoked Paprika (value: about $4.25) [1g net carbs per serving]
This is a unique snack that I've actually had before in a different flavor (chili lime). Here are some of my thoughts from a previous review:
The best description I can offer is that they are like savoury, crunchy clusters or crackers, similar to flax crackers but with a lot less of the flax aftertaste and mouthfeel thanks to the use of sunflower [and other] seeds.
This flavor in particular is seasoned with paprika, garlic, onion, and lemon juice. I thought it was a nice addition to salads to add some crunch and healthy fats. I think it could also make a decent breading, similar to pork rinds.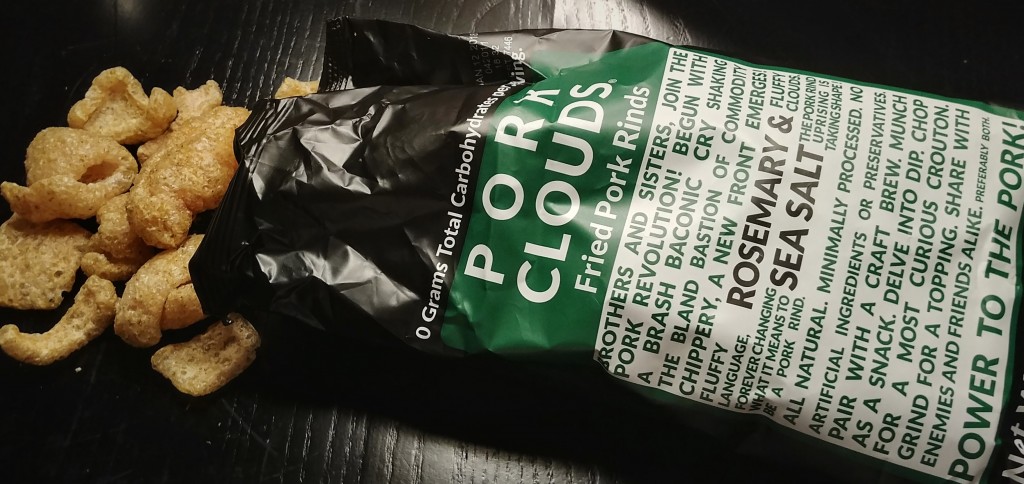 1x 2oz. bag Pork Clouds Pork Rinds, Rosemary and Sea Salt (value: about $4.00) [0g net carbs per serving]
Speaking of which…I must admit that I've never actually been a big fan of pork rinds. I love crunchy and crispy snacks, and keto options can be somewhat limited in that area, so I really have tried to like several brands of pork rinds in the past. This is one of the first brands where I didn't feel like I had to force myself to give them a chance.
With most other pork rinds, I found them to be just plain "hard" rather than crunchy. These seem to be trying to live up to their Pork Clouds name by being a lot more airy and crisp than what I've had in the past. It was a huge plus for me, and I like the flavor options they have available, so I'm definitely open to trying more!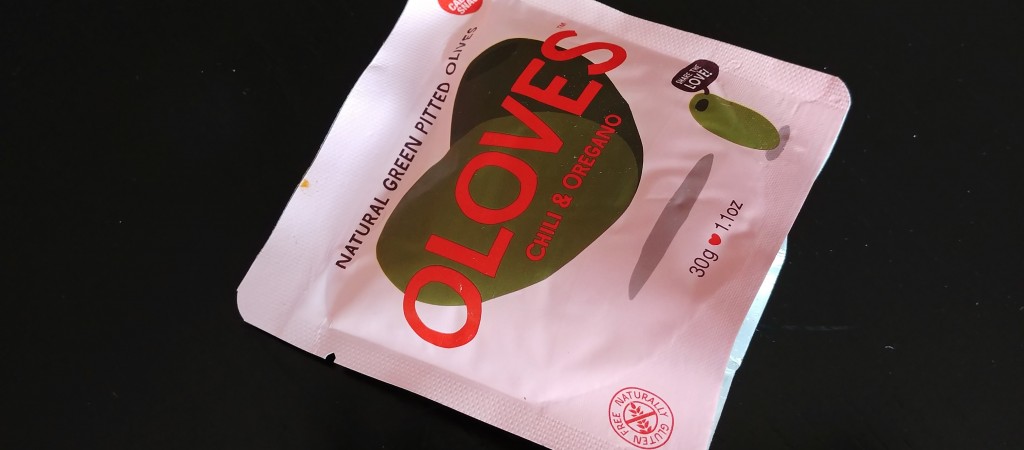 1x 30g pouch Oloves Chili and Oregano Olives (value: about $1.50) [<1g net carbs per serving]
Full disclosure: I don't like olives. Something about the texture or the brininess or the combination of the two just puts me off, regardless of whatever else they might be stuffed or seasoned with. Still, I wanted to give these a taste so I could at least comment on them, but as someone who doesn't eat olives, I can't really compare them to other brands out there.
Anyway, the chili and oregano flavor of these was a good combination, though it still didn't mask the olive taste underneath for me. I'm guessing that would be a good thing if you actually enjoy olives, though! For what it's worth, the ingredient list is clean, the snack pack format is convenient, and an olive-enjoying friend I shared them with for feedback said they were tasty!

1x 0.9oz stick Tomer Kosher Beef Stick (value: about $1.99) [1g net carbs per serving]
I used to be pretty ambivalent about jerky and meat snacks pre-keto, but it has definitely grown on me since. Getting to try a wide variety of brands and types of jerky certainly helps, because it means I get to learn more about what I like. A lot of my favorite jerkies (now including the Keto Carne from this box) are pretty lean, so I was excited to try something with a little higher fat content.
This beef stick has 7g of protein and 6g of fat (compared to just 2-3g of fat in many other brands). The extra fat gives this jerky a great texture and a good balance of moisture. There's a nice smokiness to the original variety, but I definitely wouldn't mind trying their jalapeno or cajun flavors instead for a bit of extra kick!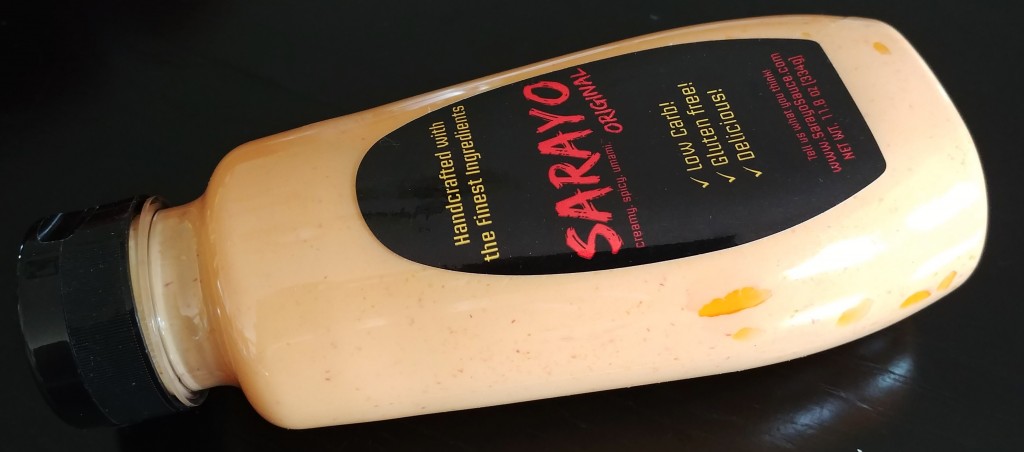 1x 11.8oz. bottle Sarayo Sauce, Original (value: about $4.00) [0g net carbs per serving]
I assumed from the name that this Sarayo Sauce was essentially a sriracha mayo, and a quick check confirmed sriracha as the source of the spicy in their "creamy, spicy, umami" sauce. In any case, it does deliver on those three flavor notes. I think it's good with fish, chicken, and even some veggies, and Keto Krate even recommended trying it with the Pork Clouds.
I can see why people put it on such a variety of foods. In addition to being flavorful (but not overpowering, like straight sriracha might be in some dishes), it's also low carb and gluten free!
In addition to the products included in the August Keto Krate, subscribers also received the following discounts:
10% off ChocZero
25% off Rawxies
10% off Sarayo (on Amazon)
10% off Loca Snacks
10% off Pork Clouds
20% off Tomer Kosher
15% off Keto Carne
The box also included an illustrated, easy to follow recipe for a low carb, no bake chocolate pudding pie, featuring the ChocoNite powder from the Krate!
Overall Thoughts
There were a couple items in this Keto Krate that I definitely wouldn't have purchased for myself at the store, but part of the appeal of a subscription like this is learning about and trying new keto products so I don't mind that. This month seemed to lean a bit heavier on the savory snacking side of things, in contrast to previous boxes that have been more balanced. We'll see if this is long term shift or not.
Either way, I was happy with this month. The Keto Carne was a great new discovery, and the generous sizes of the Sarayo and ChocoNite mean that they will easily last for weeks. Value wise, this was a good month too. The products clear the cost of the subscription even before you factor in the extra discounts, recipe, and curation that you get.
Last month was one of my favorite Keto Krates since subscribing though, which makes it hard to top (view past reviews here).
You can view past reviews here, and head here to sign up for your own Keto Krate. If you're a new subscriber, you can take advantage of the $5 discount offer at the bottom of the page!