Keto Krate September 2017 Review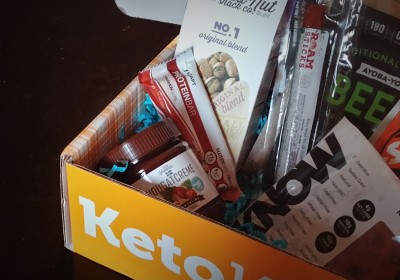 I've been getting Keto Krate for several months now, which means I have a good idea of what to expect at this point: about two jerky/meat snacks, a couple other savory/salty snack options, some keto-friendly sweet treats, and then maybe a unique ingredient or pantry item. I've been happy with my Keto Krates so far, so I figured this month would be likely to keep up the quality and variety that I've come to expect.
As a reminder, Keto Krate costs $34.95 per month plus a $4.95 shipping fee ($39.90 total), and promises 6-8 keto-friendly snacks per month plus $20+ in coupons and discounts that subscribers can use to purchase more of the featured products. All products included are gluten free, aspartame/malitol free, and 5g net carbs or less per serving. You can view reviews of past Keto Krates here.
If you're a new subscriber, you can take advantage of the $5 discount offer when you sign up here.
Here are the items featured in the September 2017 Keto Krate: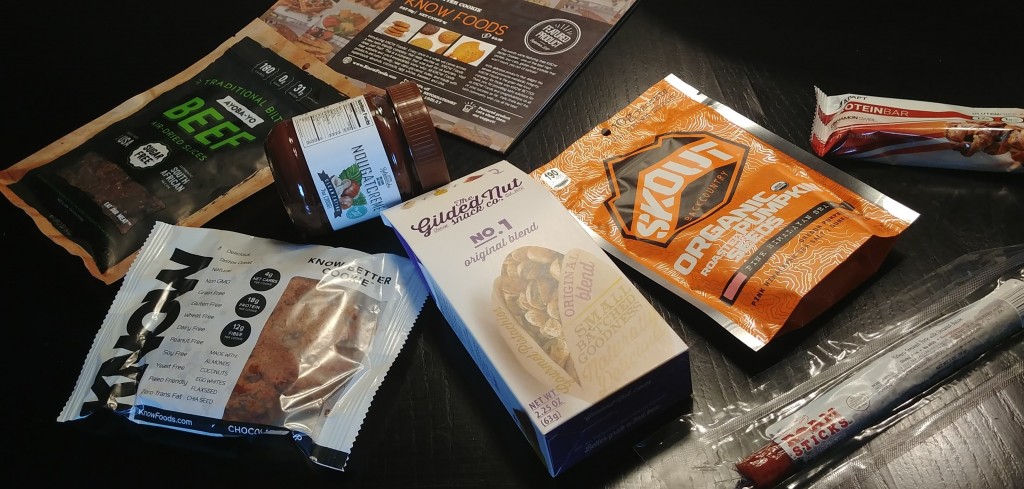 First up was this product that I was super excited to try after seeing it floating around my Instagram feed for a while: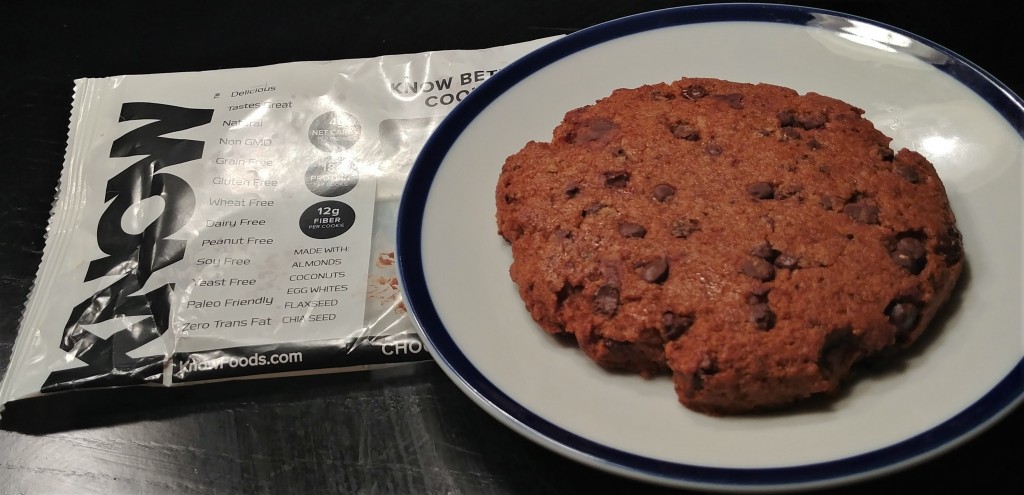 1x  serving Know Foods Know Better Cookie, Chocolate Chip (value: $2.50) [4g net carbs per serving]
These low carb cookies are "superfood" based, containing healthy (and keto-friendly) ingredients like almonds, coconuts, flaxseed, chia, and egg whites. And for those who might be sensitive to the aftertaste of stevia or the cooling effect of erythritol, it should be noted that these cookies use neither. Instead, they are sweetened with allulose. Although sometimes classified as a sugar on food labels, allulose has nearly zero calories and glycemic impact.
But with all those details out of the way, let's answer the most important question: how do they taste? In my opinion, pretty darn good! They have just the right amount of sweetness for me, and a nice, soft and chewy texture. I really enjoyed it warmed up in the microwave for a few seconds! It's a huge cookie, which often works for me as a single serving since I do a lot of intermittent fasting, but you can easily half or quarter it to fit your needs as a smaller snack or treat.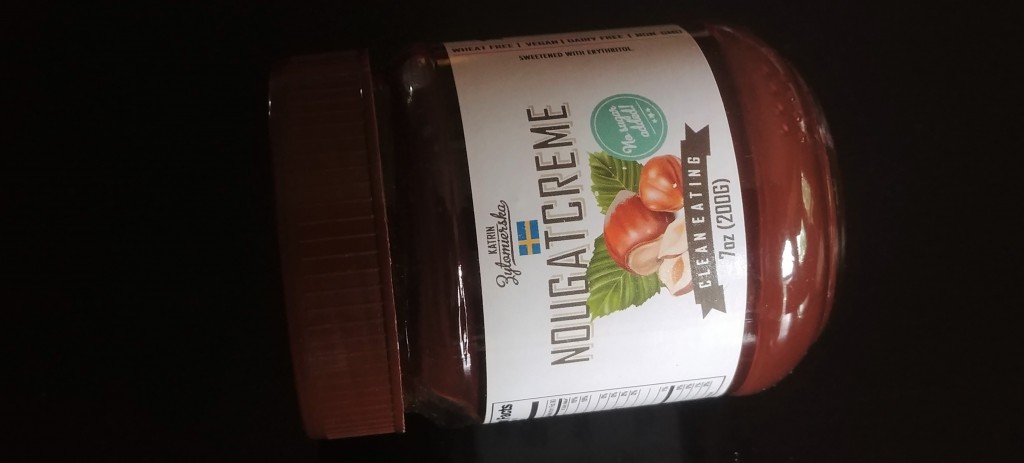 1x 200g jar KZ Clean Eating Nougatcreme Chocolate Hazelnut Spread (value: $12.99) [2g net carbs per serving]
I'm not a super huge fan of Nutella, but I think it's nice as an occasional treat by itself or added to other ingredients. I had tried this keto-friendly version of it before but recently ran out, so I was more than happy to get some more in this month's Keto Krate. This product replaces the sugar in standard Nutella with erythritol to keep things low carb. It's also worth noting that it has a higher percentage of actual hazelnuts than the "normal" stuff.
This gives it a stronger hazelnut flavor in my opinion but it is well balanced by the cocoa! The normal cost of this Nougatcreme is pretty pricey, so it's the kind of thing that's fun to receive in a box like this.

1x bar Adapt Protein Bar, Cinnamon Swirl (value: about $2.75) [1g net carbs per serving]
This month's Keto Krate actually had three sweet snacks, which is on the higher side from what I've seen. I'm definitely not complaining though! I've tried this bar before from a different subscription box, and thought it was pretty good. Here's what I thought back then:
This is a low carb protein bar option, similar to Quest Bars. This particular flavor reminded me very strongly of the comparable Quest Bar flavor, but with a slightly denser texture. I warmed it up a little before eating and enjoyed the taste, though I do wish the cinnamon flavor had been a bit stronger.

These bars are sweetened with erythritol and stevia, and also include MCT oil as a source of healthy, ketogenic fats. I would be interested in trying the other flavors, since this one was just missing a little something special for me.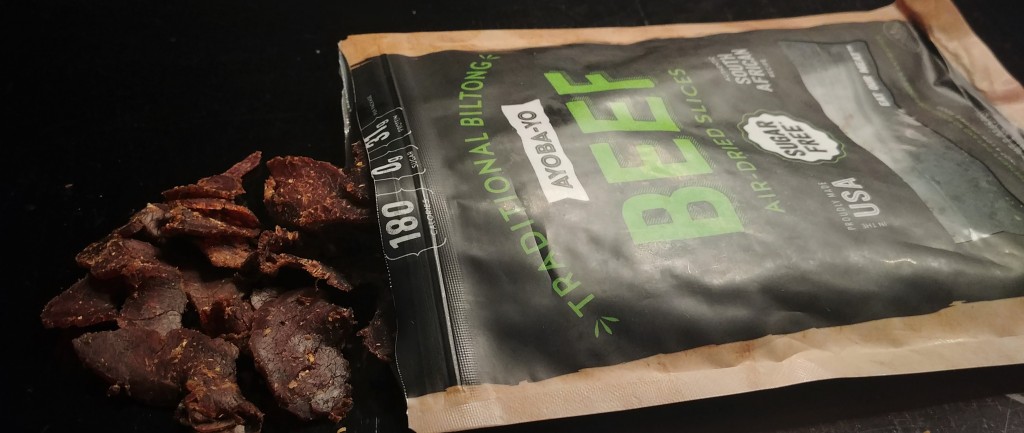 1x 2oz. package Ayoba-Yo Original Biltong (value: about $6.99) [0g net carbs per serving]
Jerky and other meat-based snacks are one of those things that have really grown on my since going keto, and I appreciate that Keto Krate introduces me to new brands and options regularly. This biltong is much more tender than most jerky I've tried, which is what I usually prefer.
Ingredients-wise, this is made from just beef, salt, spices, and vinegar. No added sugar or other junk, which makes it a nice, clean snack option to get some extra protein in. The flavor from the spices is mild but noticeable. I like that it doesn't overpower the meat.

1x 1oz. stick Roam Sticks Hickory Smoked Pasure Raised Pork Stick with Uncured Bacon (value: $1.99) [1g net carbs per serving]
Like I mentioned, there are usually two meat-based snacks in each Keto Krate, and this month was no exception. I like that they try to mix up the types of products though, and pork is a nice change of pace from the typical beef jerky. These sticks use pasture raised, responsibly farmed pork free of antibiotics and growth hormones. The are also free of gluten, soy, added nitrates/nitrites, and refined sugars (though there is a small amount of maple sugar and organic dextrose from tapioca).
I really liked the mild, hickory smoked flavor of this and the slight hint of maple flavor. The texture also had a nice level of moisture for my tastes, which isn't always the case with meat stick snacks.

1x 2.2oz pouch Skout Organic Roasted Pumpkin Seeds, Pink Himalayan Salt (value: $3.99) [1g net carbs per serving]
What better low carb snack to feature in a fall box than pumpkin seeds? Best of all, you don't have to roast them yourself. Pumpkin seeds are a great keto snack because they are a good source of protein, omega 3's, antioxidants, and key electrolytes. These have just three ingredients: organic, USA grown pumpkin seeds, organic oil, and pink Himalayan sea salt.
I thought the salt level on these was well balanced and they have a satisfying amount of crunch as well. I thought the seeds tasted nice and fresh (I've had store-bought brands that tasted slightly stale before) and I like the sustainable goals of the company behind them.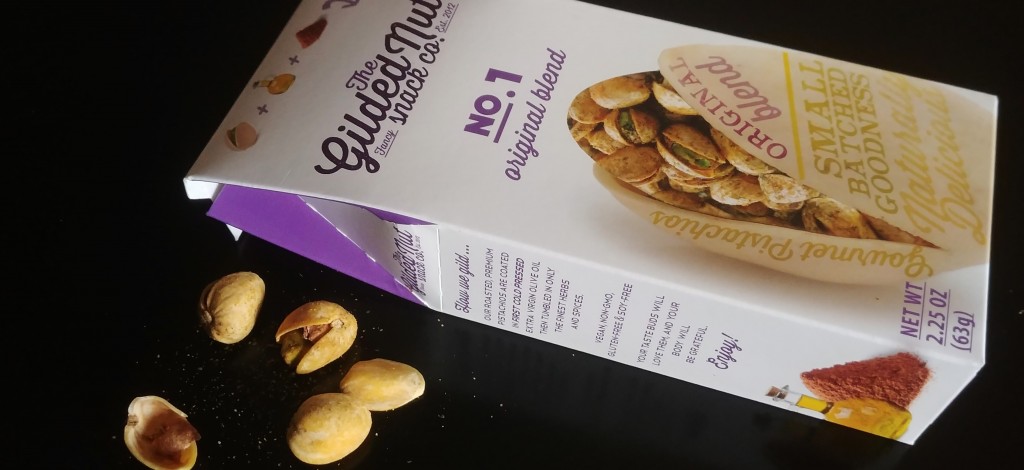 1x 2.25oz package The Gilded Nut Pistachios, Original Blend (value: $3.99) [4g net carbs per serving]
I almost never buy or eat pistachios for myself, but after trying these I don't really remember why. They're pretty good! These are roasted and seasons with a spice blend featuring "garlic, oregano, smoked paprika, parsley, turmeric, onion, black pepper, cayenne pepper, cumin and sea salt." It's an odd comparison, but for some reason the combination reminds me of the pizza flavored Goldfish snack crackers.
I appreciate that these are made in small batches with quality, non-GMO ingredients, and I thought the packaging was pretty adorable too. The box doubles as a receptacle for your empty shells if you're someone like me who likes to avoid the mess when eating in-shell nuts.
In addition to the products included in the September Keto Krate, subscribers also received the following discounts:
30% (!!!) off at Know Foods
20% off KZ Clean Eating
15% off Ayoba-Yo
25% off Skout Backcountry
20% off Gilded Nut
I love months when we get big discounts! In addition, the box also included an illustrated, easy to follow recipe for a low carb chocolate nougat cheesecake featuring the Nougatcreme from the Krate!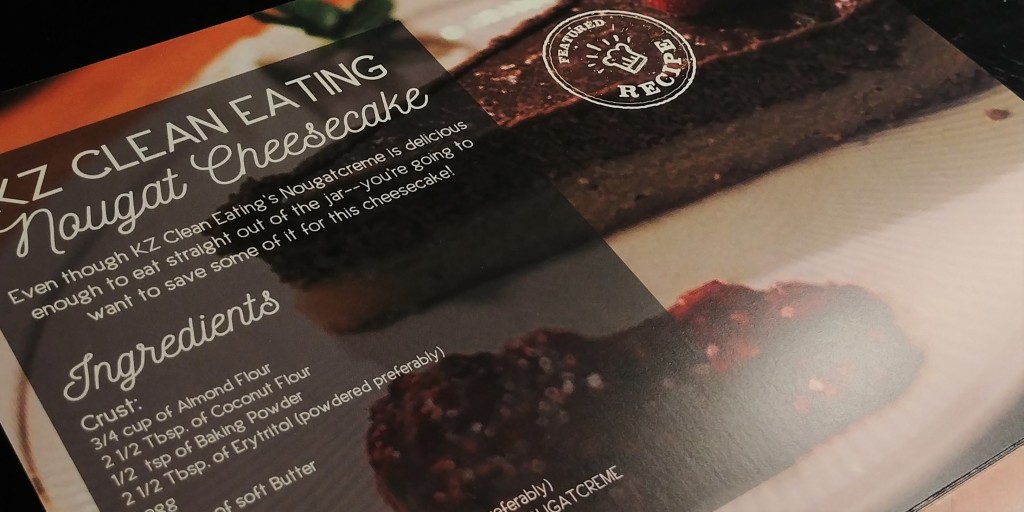 Overall Thoughts
I was happy with this month of Keto Krate! It always tends to be the most snack focused of my keto subscriptions, and this month it really delivered on keto-friendly snacking choices with three sweet options and four savory ones. I also felt like this month seemed to have a special emphasis on ingredient quality, with lots of non-GMO, gluten free, and "superfood" products being included.
I've heard a lot of you express that you want to see more of these "cleaner" products featured in Keto Krate, so it's nice that they seem to be listening to the feedback from the keto community. Also, it's been a while since I've mentioned it, but I really like how Keto Krate works to support companies making keto-friendly foods in order to encourage a shift away from sugary, carb-laden products on the shelves. I think that's something we would all like to see!
September was also a good month value wise, though not as high as some past months.
You can view past reviews here, and head here to sign up for your own Keto Krate. If you're a new subscriber, you can take advantage of the $5 discount offer at the bottom of the page!