The Keto Box October 2017 Review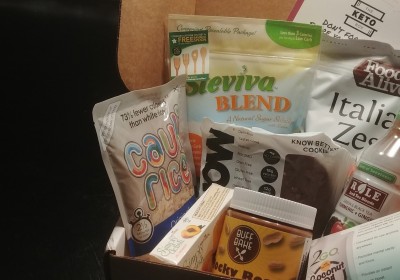 The Keto Box promised that the October box would be one of the best yet, so as someone who has been happy with most of the boxes so far, I was really looking forward to it! I have liked the mix of keto snacks and "staples" in previous boxes, so I hoped that this one would also have a nice balance of items in it.
Before we get to what was inside, a quick refresher: The Keto Box is a monthly subscription that describes itself as a "low carb care package for your body." For $39.99/month, subscribers receive a box full of 5-8 keto snacks and other products delivered to their doorstep.
You can view my reviews of previous months of The Keto Box here. If you haven't subscribed yet, you will receive a bonus discount of 10% off plus FREE shipping when you use the code THEKETOBOX10.
Now on to the October 2017 The Keto Box: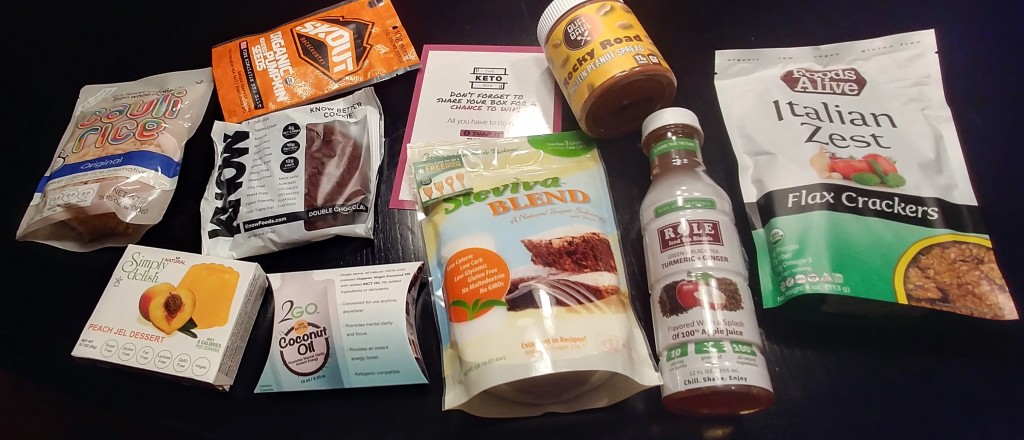 First up, I decided to try this keto friendly beverage:

1x 12oz bottle Role Tea, Turmeric Ginger Apple (value: $2.99)
This drink is a blend of green and black teas flavored with turmeric, ginger, and a splash of apple juice. There is only 1g of carbs per bottle since there are no added sugars. It's been to be tastier than traditional unsweetened tea while also having added anti-inflammatory benefits from the ginger and turmeric. It has a hint of spice from those ingredients as well.
As recommended on the bottle, I had it chilled. I often drink green or white iced tea without sweeteners, but I did end up adding a little liquid stevia to this to balance out the flavors of the black tea and spices. I thought it was pretty good with those changes, and I think I'll try making a similar drink on my own in the future.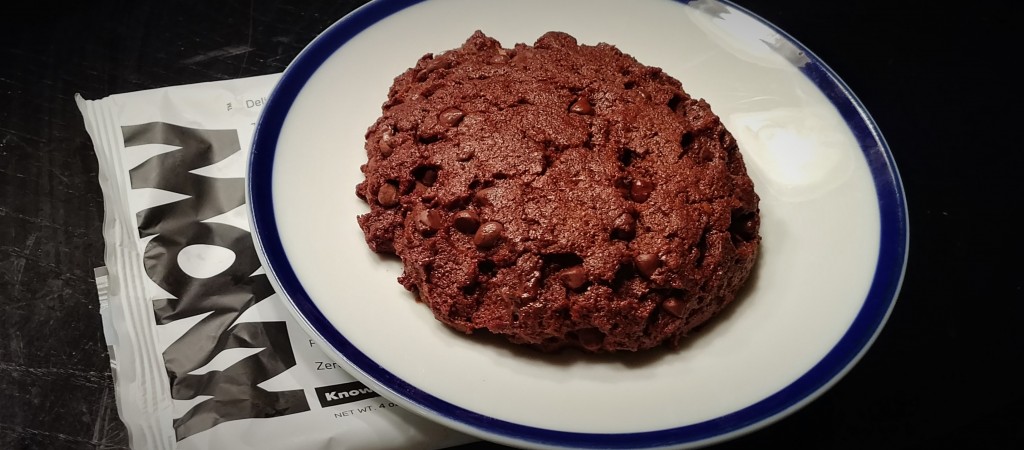 1x KNOW Foods Know Better Cookie, Double Chocolate (value: $2.50)
Yum! These cookies have quickly become one of my favorite treats. They are huge, with a rich texture that is somewhere between a dense oatmeal cookie and a soft snack/breakfast bar. They are made with low carb "superfood" ingredients like almonds, flax, and chia, and sweetened with alluose, a new low glycemic sweetener similar to erythritol.
As far as blood sugar and ketosis goes, alluose doesn't seem to have any impact on me (the same as erythritol) but like other sweeteners, it might vary based on amount or sensitivity. Taste wise, these are super rich and tasty. I like them warmed slightly in the microwave or topped with a bit of peanut butter. They are super filling, so you can easily save half for later.

1x 0.7oz box Simply Delish Jel Dessert, Peach (value: about $2.75)
This is a Jello-like mix, although unlike many grocery store brands, it is sugar free, gluten free, GMO free, preservative free, and even vegan! I always appreciate companies that put in the effort to make their products compatible with a wide range of dietary choices. I used this in place of traditional gelatin-based mixes in my peaches and cream ketone gummy bear recipe, and didn't notice anything different about the texture.
Taste wise, I thought they were delish. The peach flavor was yummy and satisfying without being too sweet or tasting artificial. It's sweetened with erythritol and stevia. I would definitely try more of these mixes, especially since they require no refrigeration to set!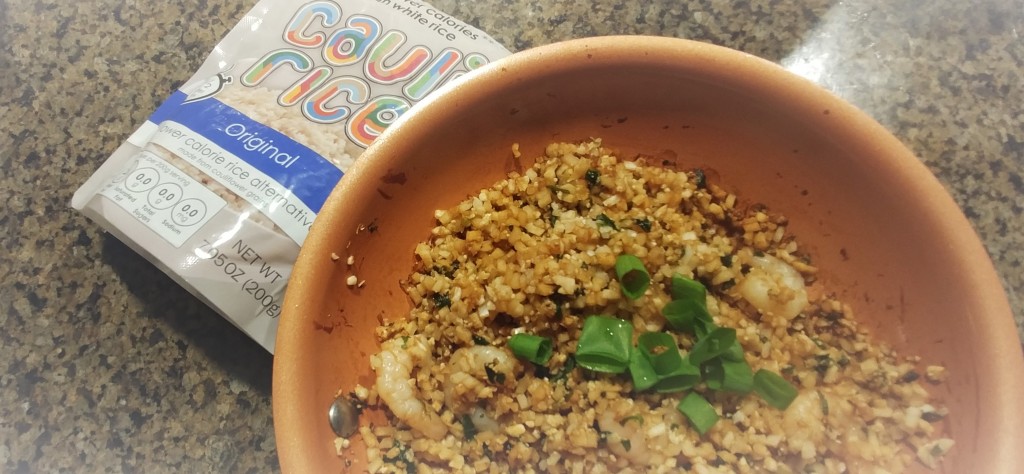 1x 200g bag Cauli Rice riced cauliflower (value: about $3.00)
I actually learned of this brand a while ago while studying abroad in the UK, so I excited to see them make the hop across the pond. This is shelf-stable packaged riced cauliflower that can be cooked in the microwave (like similar rice-based products) or in a pan on the stove. It's a convenient format, especially if you don't like the effort and potential mess that comes with ricing cauliflower by hand.
I opted for the stovetop method and used this to make a keto-friendly cauliflower fried rice with shrimp, egg, and veggies. It turned out pretty darn tasty, and it was much quicker than making my own riced cauliflower.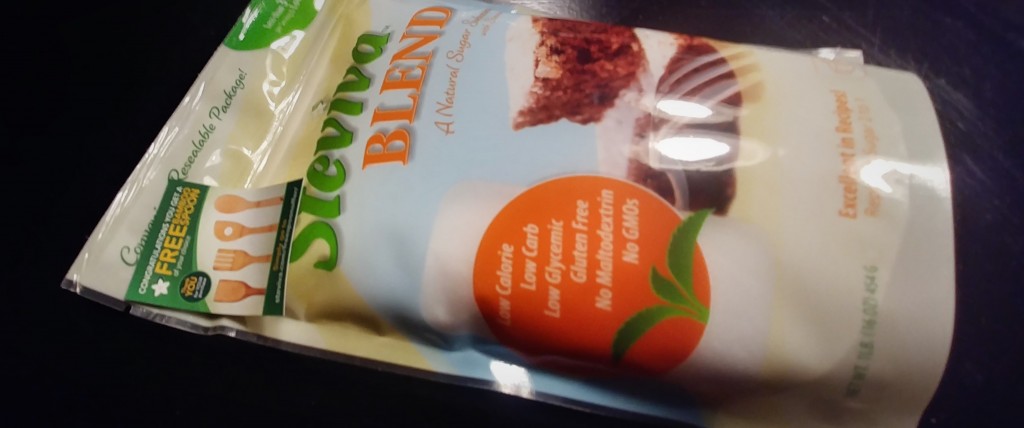 1x 1lb bag Steviva Blend granulated sweetener (value: $9.95)
I do a good amount of low carb baking, and since sweeteners and other ingredients can pretty pricey, I was thrilled to see this in this month's box! I hadn't tried this specific brand before, but erythritol/stevia blends are among my favorites for baked goods and other keto recipes.
I have used this in a number of recipes so far, including my keto cinnamon roll pancakes and low carb skillet brownie, and gotten good results. There is no bitterness or aftertaste, but it's also not too sweet. Some erythritol blends have a problem with grittiness since it is coarser than sugar, but I didn't notice that with this sweetener either.

1x 13oz jar Buff Bake, Rocky Road (value: $9.49)
This product from Buff Bake is a "protein peanut spread" made with sources of healthy fats like peanuts and organic coconut oil. I've had the red velvet flavor of the same product in the past, but I definitely preferred this rocky road variety more. It has a rich, chocolate flavor and seems like it would make a good dip or topping for a wider range of items.
I will note that the carb content is definitely something you have to look out for with this flavor though, since there are about 7g net carbs per serving. I have mostly stuck to having half of a serving at a time, which is still satisfying and a lot easier to fit in my macros.

1x 2.2oz pouch Skout Organic Roasted Pumpkin Seeds, Pink Himalayan Salt (value: $3.99)
Pumpkin seeds are a good fall snack, so it's not to surprising that I've gotten them in more than one keto box recently. Here's some of my thoughts on this product from last month's Keto Krate:
Pumpkin seeds are a great keto snack because they are a good source of protein, omega 3's, antioxidants, and key electrolytes. These have just three ingredients: organic, USA grown pumpkin seeds, organic oil, and pink Himalayan sea salt.

I thought the salt level on these was well balanced and they have a satisfying amount of crunch as well. I thought the seeds tasted nice and fresh (I've had store-bought brands that tasted slightly stale before) and I like the sustainable goals of the company behind them.

2x single serving packs 2Go Coconut Oil with MCT Oil (value: about $3.00)
I like carrying quick sources of keto energy like this in my bag when I'm away from home; you never know when you're going to need a quick dose of healthy fats! Products like this are great for adding to coffee or even using as an impromptu salad dressing when you're somewhere that doesn't have a lot of keto friendly options.
I like that this is a blend of coconut oil and the even more ketogenic MCT oil to really up the "eat fat, burn fat" power. It can start to solidify now that the weather is getting colder, but it's easy to warm it between your palms before opening.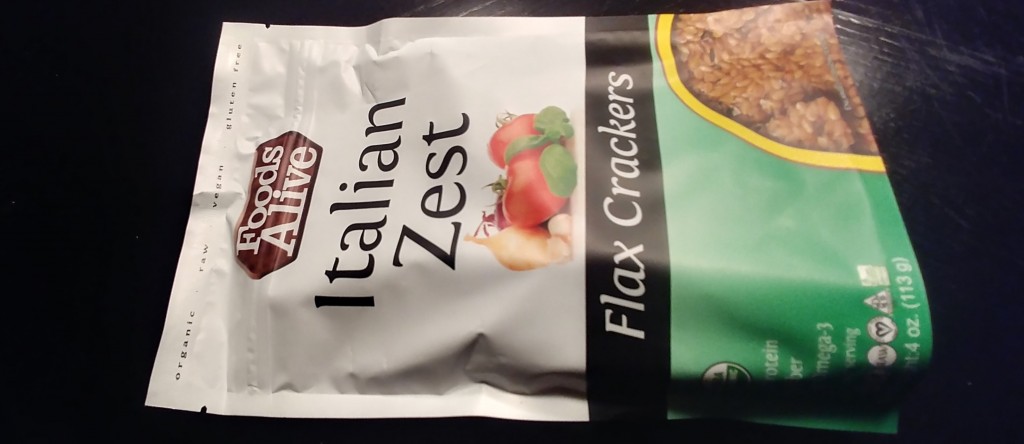 1x bag Foods Alive Flax Crackers, Italian Zest (value: $6.99)
Flax crackers usually aren't my favorite low carb snack, but I have been impressed by this brand's offerings before. Here's what I thought about another flavor I tried previously:
The texture of these Foods Alive flax crackers is also an improvement over other brands I've tried; they are thinner and crispier, which makes them better for dipping and less likely to get stuck in your teeth. I've never thought I'd be going out of my way to buy flax crackers again after trying them the first time, but I'm definitely interested in trying other flavors from this brand!
I ended up liking this flavor too. They still aren't something I would eat on their own, but they make a nice pairing with low carb dips or cheese.
In addition to the items in the October The Keto Box, subscribers also received the following discounts:
20% off @ 2Go Coconut Oil
20% off @ Foods Alive
20% off @ Know Foods
15% off @ Buff Bake
20% off $21+ @ Simply Delish
15% off @ Role Tea
25% off @ Skout Backcountry
Overall Thoughts
This month of The Keto Box was packed! It covered pretty much all of the bases, with some sweets, some savory snacks, some pantry ingredients, and even a drink! I really like the variety of The Keto Box and this month might have been the best example of that so far! We also got some pretty high value items, adding up to one of the highest value boxes that I've received so far.
I will get use out of pretty much everything in the box, but I was especially excited to find a new erythritol blend to bake with that I liked as well as getting to try the vegan jello-style mix from Simply Delish! The Cauli Rice was a nice find too.
Want to sign up for next month? Use the code THEKETOBOX10 to save 10% and get FREE SHIPPING on your order!