Keto Krate November 2017 Review
Keto Krate has been pretty consistent with its product mix so far, so I have a good idea of what to expect at this point: about two jerky/meat snacks, a couple other savory/salty snack options, some keto-friendly sweet treats, and then maybe a unique ingredient or pantry item. I've been happy with my Keto Krates so far, so I figured this month would be likely to keep up the quality and variety that I've come to expect.
As a reminder, Keto Krate costs $34.95 per month plus a $4.95 shipping fee ($39.90 total), and promises 6-8 keto-friendly snacks per month plus $20+ in coupons and discounts that subscribers can use to purchase more of the featured products. All products included are gluten free, aspartame/malitol free, and 5g net carbs or less per serving. You can view reviews of past Keto Krates here.
If you're a new subscriber, you can take advantage of the $5 discount offer when you sign up here using the Keto Krate promo code FIVE2017.
Here are the items featured in the November 2017 Keto Krate: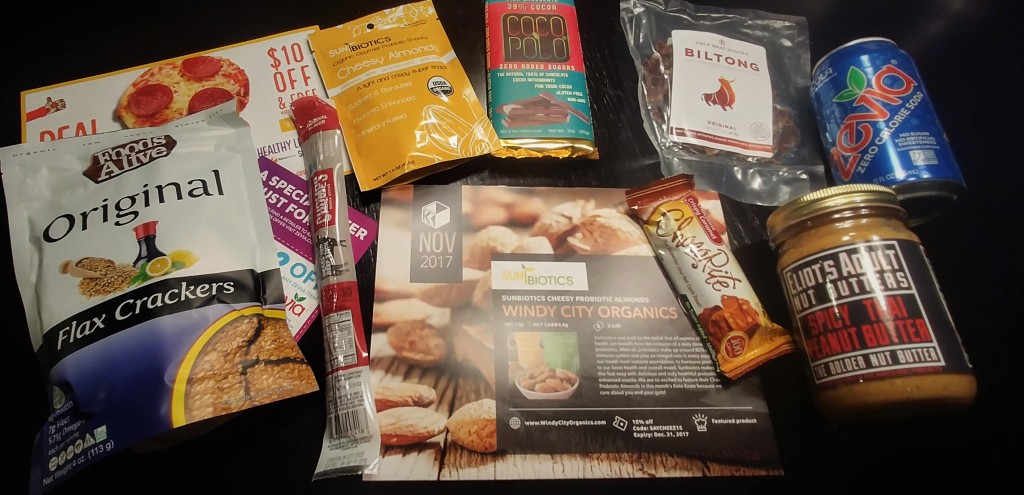 First up, I was eager to try this sweet treat:

1x 3oz Coco Polo 39% Milk Chocolate Bar (value: $5.99) [5g net carbs per serving]
I usually opt for dark chocolate options these days, but I found this no sugar added milk chocolate from Coco Polo to be pretty darn delicious! The texture is smooth and creamy, and it has that sweet milk chocolate taste without being overly sweet or artificial tasting. Thanks to the texture and flavor, it only took a few squares of this chocolate to make a satisfying treat.
It is sweetened with erythritol and stevia, a blend that I use pretty regularly. I didn't notice any aftertaste, and will definitely be on the look out for more products from this brand.

1x ChocoRite Chocolate Crispy Caramel Bar (value: about $2.00) [2g net carbs per serving]
Somewhat surprisingly for this keto subscription box, there were two chocolatey treats in this month's box! The second one was this chocolate crispy caramel "candy" from ChocoRite. Unless a lot of "sugar free" options out there, this product is made with no maltitol. In fact, all Keto Krate products are maltitol free, which is great since it's one of the least keto-friendly sugar alternatives out there!
As far as taste, I really enjoyed this treat! It might sound a little cliche, but it really did taste like "real" candy to me, which is always a good thing. Like the Coco Polo bar, I would also be interested in trying other low carb products from this brand.

1x Chomps Beef Snack Stick, Original (value: about $2.00) [0g net carbs per serving]
Now we get to the "meat" of the box. Keto Krate usually includes two meat/protein based snacks each month in my experience. The first one was this snack stick from Chomps. It's more tender and flavorful than your typical jerky stick, which I appreciated. It's also made with just 100% grass fed beef and a handful of spices; no icky sugars or other additives.
This means that in addition to being keto friendly, they are also gluten free and Whole30 compliant! Since jerky and similar snacks are a common feature in Keto Krate, I really appreciate that they manage to showcase a variety of brands/products in the category without sacrificing their quality standards.

1x 1oz pouch Pala Meat Snacks Biltong, Original (value: $3.99) [1g net carbs per serving]
This biltong from Pala Meat Snacks was the second Krate item in the jerky family. Biltong is similar to jerky, but uses shaved or thinly sliced dried meat instead. This particular biltong was a little drier than others I've had, which might be a pro or a con depending on your perspective. I personally would have preferred a bit more moisture.
I also wouldn't have minded if we got one of the more adventurous flavor options (like Peri Peri or Garlic & Parsley) instead of just the original. The salt, vinegar, coriander, and black pepper used to season this was a nice combination, but I would have liked something more flavorful.

1x 12oz can Zevia Soda, Cola (value: about $1.75) [0g net carbs per serving]
Every so often we get a beverage from Keto Krate, and I was glad to see Zevia's products featured. Although I personally don't mind the artificial sweeteners used in most zero calorie sodas, I know many people prefer a more natural option like stevia. I've had several flavors of Zevia in the past and liked them; subscribers received one of four flavors in this Krate.
Unfortunately, the cola Zevia isn't my favorite since I can't help but compare it to diet Coke/Pepsi which I find to be stronger in flavor (something I like in a cola). I do highly recommend Zevia's cream soda and strawberry flavors though! And Keto Krate folks, if you're listening…I definitely wouldn't be disappointed to see their new mixers in a future Krate!

1x 1.5oz package Sunbiotics Probiotic Almonds, Cheesy (value: about $2.75) [4g net carbs per serving]
I've had almonds from this brand before, in the chocolate flavor. After trying these as well, I have to admit that I much preferred the chocolate variety. I love the idea of adding probiotics to a healthy keto snack like almonds, but in order to keep these dairy free, the "cheesy" flavor comes from nutritional yeast rather than actual cheese.
That's probably a good thing if you're watching your dairy intake or enjoy the umami flavor of nutritional yeast, but for a cheese addict like me, it wasn't a super convincing substitute.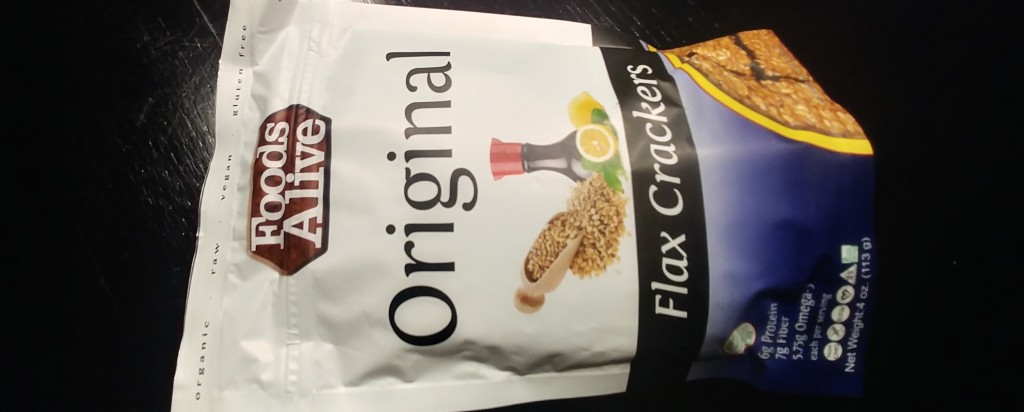 1x 4oz bag Foods Alive Flax Crackers (value: $6.99) [0.5g net carbs per serving]
Foods Alive are one of the better flax crackers brands that I've tried, but I can't help but notice just how often they show up in keto subscription boxes; between my three subscriptions, I've probably seen more repeats of these crackers (in various flavors) than any other single item.
This isn't a knock on the product itself, of course. They are thinner, crispier, and less likely to get stuck in your teeth than the vast majority of similar products out there, which is a huge plus if you are a fan of crunchy/crispy snacks.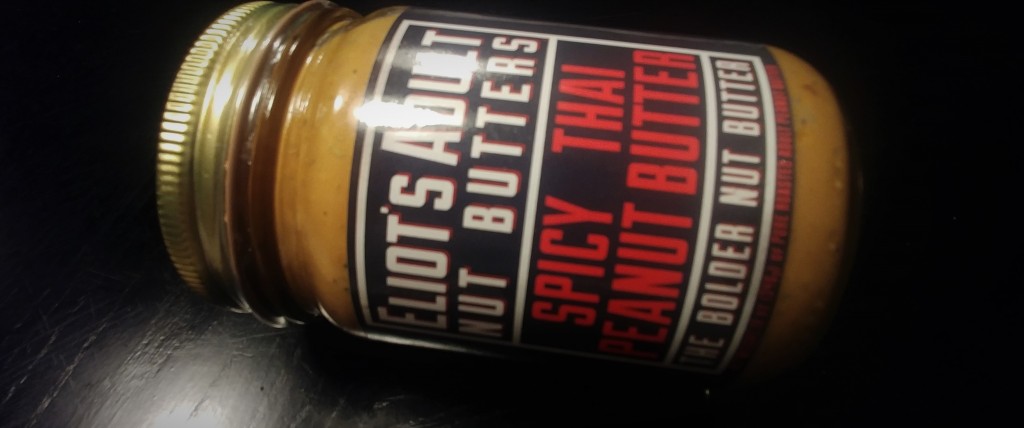 1x 12oz jar Eliot's Adult Nut Butters, Spicy Thai Peanut Butter (value: $8.99) [2g net carbs per serving]
How flipping fancy does this jar look? Definitely living up to that "adult" description, this spicy thai peanut butter is mature in both appearance and flavor. I initially wasn't sure how I would feel about the combination of peanut butter and Thai flavors, but this product pulls it off really well.
Not only is it a really nice addition to Thai/Asian themed dishes, but it's also pretty enjoyable on its own as a dip or topping. I also really liked being introduced to this new brand, because they also have other keto-friendly nut butters including a espresso cacao nib peanut butter that sounds to die for.
In addition to the products included in the November Keto Krate, subscribers also received the following discounts:
$10 off + free shipping at Real Good Pizza
$2 off coupon for Zevia
15% off Windy City Organics Sunbiotics
20% off Coco Polo
25% off Pala Meat Snacks
20% off Foods Alive
25% off Chomps
15% off ChocoRite
I appreciated the relatively generous discounts in this month's Krate! In addition, the box included an illustrated, easy to follow recipe for a Thai Shrimp Stir Fry with Cauliflower Rice, featuring the Eliot's Adult Nut Butter from the Krate!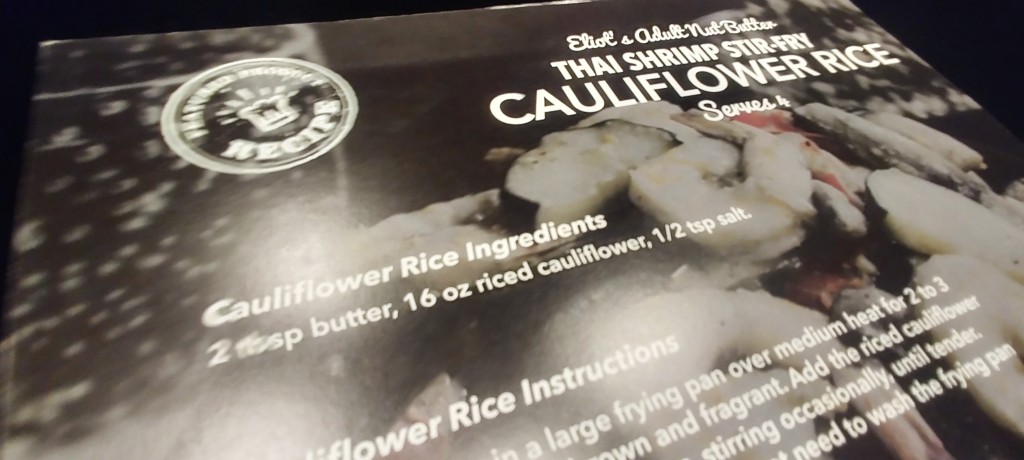 Overall Thoughts
I was pretty happy with this month of Keto Krate. In some ways, Keto Krate is the most "predictable" of my keto subscription boxes as far as product mix goes, but even so it managed to surprise me this month with the inclusion of a drink and the delicious Thai-inspired peanut butter.
Value-wise, this month was about middle of the road. It didn't have an especially high value, but it meets the $35 retail minimum promised by Keto Krate before factoring in the extras like the discount codes and recipe. The peanut butter and chocolates were my favorite items this month, and I like how Keto Krate tries to include "treat" items while still staying true to quality.
You can view past reviews here, and head here to sign up for your own Keto Krate. If you're a new subscriber, you can take advantage of the $5 discount offer when you use the code FIVE2017!