Keto Mint Chocolate Matcha Shake with MCTs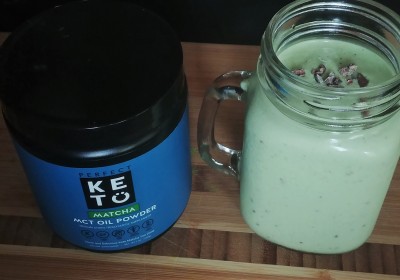 Milkshakes and smoothies are one of those things that can be harder to indulge in on keto while still meeting your macros. There are thankfully an increasing number of low carb ice cream brands out there, but once you start adding other ingredients, the total carb count often ends up higher than I'd like for a single treat or beverage. With this keto mint chocolate match milk shake recipe, the creaminess comes instead in the form of healthy fats from coconuts: rich coconut cream and super keto-friendly MCTs.
But not just any old MCT oil. I used the MCT Matcha Latte powder from Perfect Keto to really take this keto shake above and beyond. The powder provides 7g of quality MCT healthy fats, no icky fillers or sugars, and the flavor and antioxidant benefits of organic ceremonial grade matcha. It's lightly sweetened with stevia, so you don't have to worry about extra carbs there either. And best of all, it's delicious both on its own and in keto shake recipes like this.
Pick some up for 20% off here using the promo code TRYKETO.

Notes:
If you don't have any Perfect Keto Matcha Latte MCT powder on hand, you can order it here and save 20% when you use the code TRYKETO at checkout.
Coconut cream is not the same as coconut milk; the cream has a higher fat content and creamier texture. If you can't find coconut cream though, you can use full fat coconut milk, heavy cream, or even avocado instead.
Feel to substitute your favorite unsweetened nut milk, like cashew or macadamia, for the almond milk.
This shake is fully adaptable to meet your macros! Want to add extra healthy fats instead of extra protein? Use a scoop of vanilla MCT powder instead of protein powder.