Keto Krate March 2018 Review
Time for another Keto Krate! This keto subscription has been pretty consistent with its product mix so far, so I have a good idea of what to expect at this point: about two jerky/meat snacks, a couple other savory/salty snack options, some keto-friendly sweet treats, and then maybe a unique ingredient or pantry item. I've been happy with my Keto Krates so far, so I figured this month would be likely to keep up the quality and variety that I've come to expect.
As a reminder, Keto Krate costs $34.95 per month plus a $4.95 shipping fee ($39.90 total), and promises 6-8 keto-friendly snacks per month plus $20+ in coupons and discounts that subscribers can use to purchase more of the featured products. All products included are gluten free, aspartame/malitol free, and 5g net carbs or less per serving. You can view reviews of past Keto Krates here.
If you're a new subscriber, you can take advantage of the $5 discount offer when you sign up here using the Keto Krate promo code FIVE2018.
Here are the items featured in the March 2018 Keto Krate: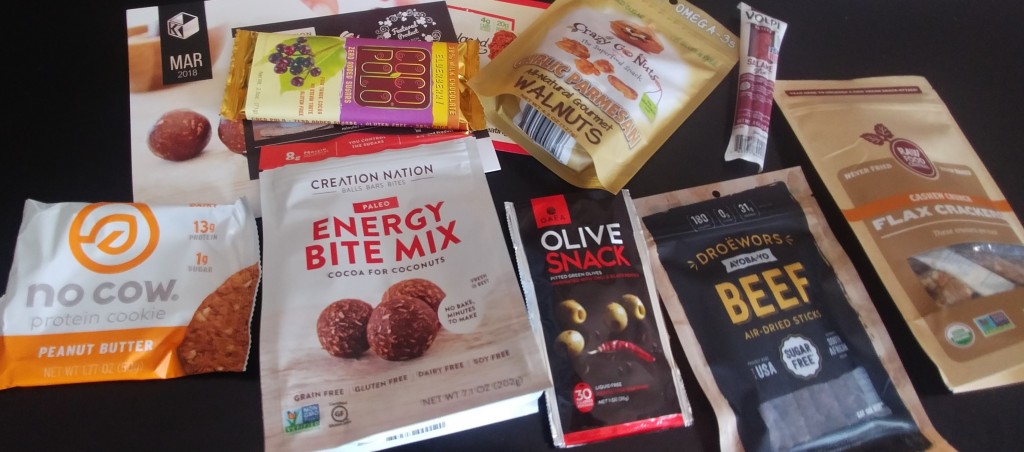 First up, I tried this unique item: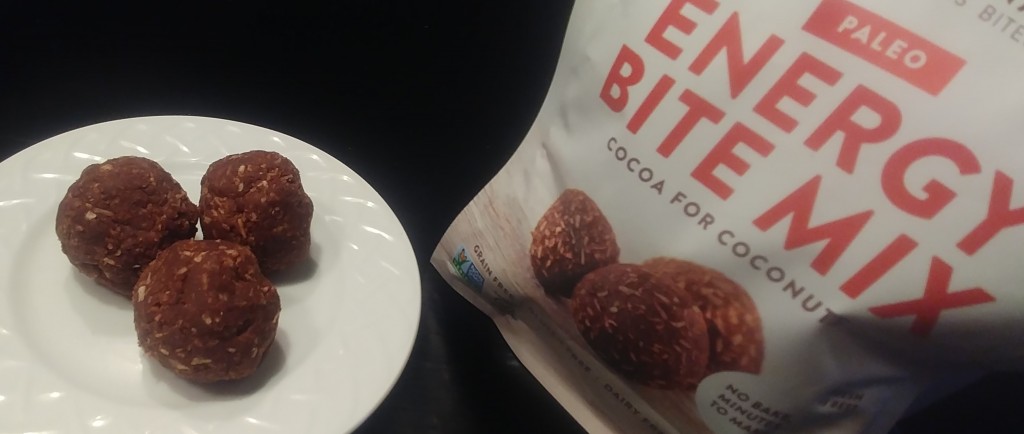 1x bag Creation Nation Paleo Energy Bite Mix (value: about $8.99) [2g net carbs per serving]
What a cool idea! This product was a bag of mix that you can add a couple ingredients to (a liquid and a fat, mainly) in order to make your own no-bake energy bites. The mix itself contains healthy ingredients like organic coconut, cocoa, flax, and brazil nut powder; the instructions include suggestions on what ingredients to add.
I ended up using a mix of coconut oil and Keto Butter for my healthy fats, and simple unsweetened almond milk as the liquid. The mix itself is lightly sweetened with monk fruit and a little ChocZero Honest Syrup rounded them out into a really satisfying treat. The bag is meant to make enough for about two dozen bites, so they lasted a while too!

1x bar CocoPolo 39% Milk Chocolate Bar, Elderberry (value: about $5.50) [5g net carbs per serving]
Hooray for more chocolaty goodness! I have gotten a couple CocoPolo sugar free chocolate bars from my keto subcription boxes, and I have yet to be disappointed! In fact, this particular bar might be in the running for my favorite CocoPolo variety. Although I usually prefer darker chocolate, this milk chocolate bar has dried elderberries added which really take it over the top.
In addition to packing some antioxidant power, the elderberries have a nice balance of sweet and tart that really balance out the flavor of the chocolate while adding a slight crisp to the texture. It was delicious, and I found 1/4 of the bar (2.5g net carbs) to be enough to satisfy.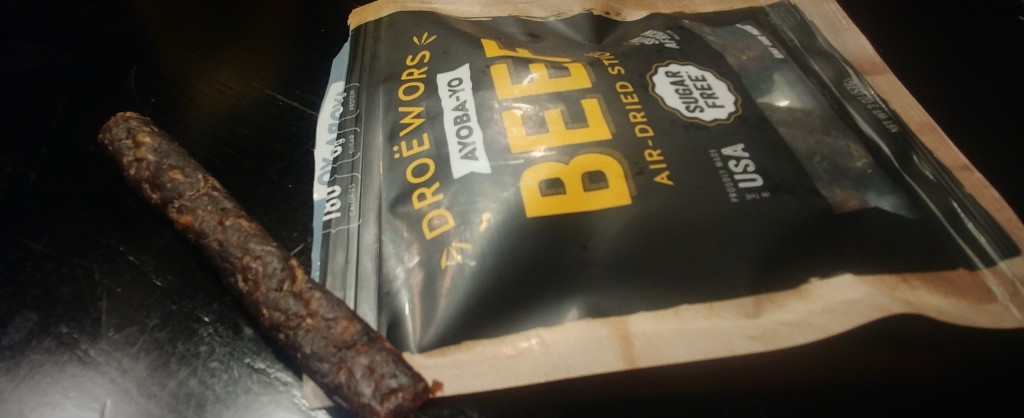 1x bag Ayoba-Yo Droewors (beef sticks) (value: about $7.99) [0g net carbs per serving]
On the savory side, we got these hand crafted beef sticks from Ayoba-Yo. For a box that includes meat-based snacks as such a staple in their rotation, I remain impressed with Keto Krate's ability to mix it up! This type of beef stick was totally new to me, and from a premium, quality brand on top of that.
This style of meat snack has its origins in South Africa, and apparently Ayoba-Yo tries to keep as close to the traditional production method as possible. The result is a really unique beef stick, with a more buttery texture and tart/tangy flavor from the coriander, cloves, and vinegar.

1x stick Volpi Salame Stix, Chorizo (value: about $1.75) [0g net carbs per serving]
Again, this was a far more interesting inclusion than your standard, run of the mill jerky sticks. It's a paprika-seasoned pork snack meant to taste like Spanish chorizo. I've had Volpi products from the deli before, but never their dried products like this.
I personally wasn't the biggest fan of it, because there was just something slightly off about the pairing of that flavor and the texture for me, but I was still happy to try something new.
1x pouch Gaea Olives (value: about $2.50) [0g net carbs per serving]
Well guys, I still don't like olives, but for some reason they've been a more common than usual inclusion in my keto boxes over the last couple of months. It's not a huge deal, since they are only a small part of the box and I can pass them on to others, but I wouldn't mind something like seaweed snacks or nuts instead.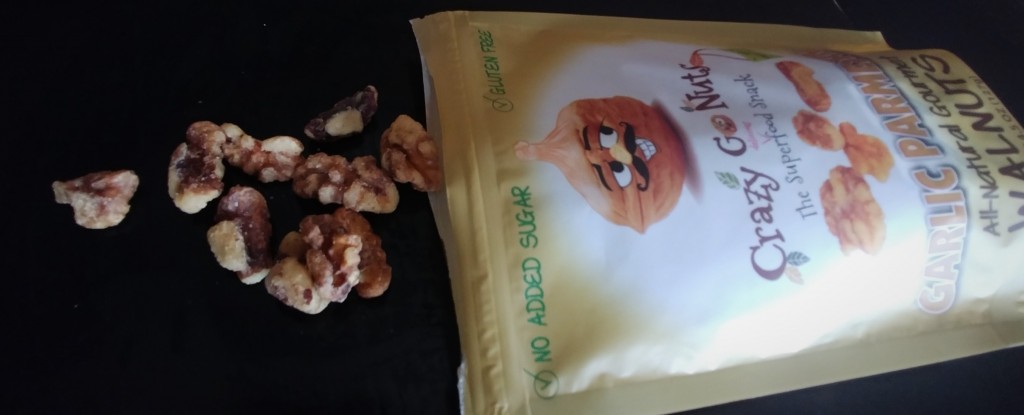 1x bag Crazy Go Nuts Walnuts, Garlic Parmesan (value: about $4.50) [3g net carbs per serving]
Which isn't to say that we didn't get nuts this month! These garlic parmesan seasoned walnuts are from a brand called Crazy Go Nuts, a fun name that's also appropriate if keto helped you discover (or newly appreciate) nuts as a healthy snack option. I tried these on a salad, as a snack, and even ground some to use in a breading for chicken.
I enjoyed them for all of those uses, so I'd say they were a win! Looking into the brand a little more, they have other flavors (like coconut and rosemary/sea salt) which might be worth looking into as well.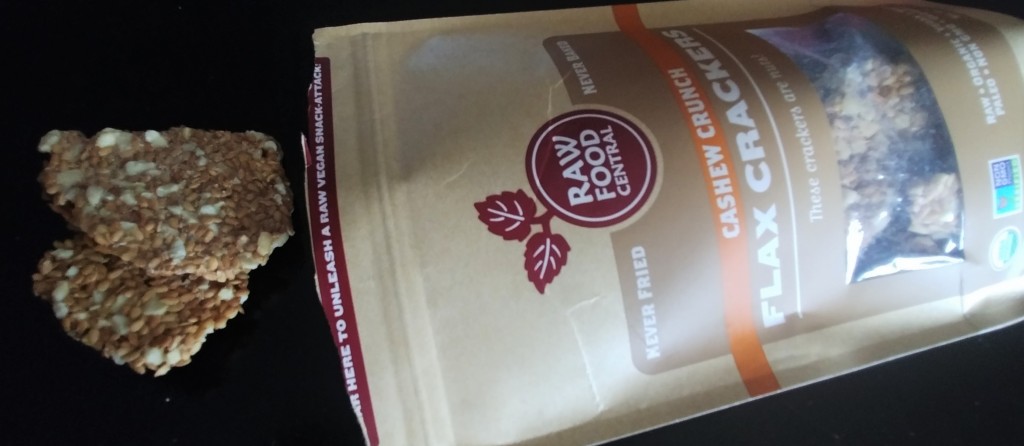 1x bag Raw Food Central Flax Crackers, Cashew Crunch (value: about $6.99) [3g net carbs per serving]
Flax crackers can sometimes be hit or miss for me, but I was hopeful about these from the start simply because they are raw. See, the most common complaint I have about flax crackers is an overwhelming flax taste/texture, which can be present depending on how they are cooked. Because these aren't cooked at all, I didn't except to have that problem.
Turns out I was right! Despite not being baked or fried, they have a nice crispy texture. And thanks to the inclusion of cashews, the flavor is mild enough to go with a wide range of dips and toppings without just tasting flax.

1x serving No Cow Protein Cookie, Peanut Butter (value: about $2.49) [3g net carbs per serving]
Ready? This cookie is low carb (of course), dairy free, soy free, gluten free, vegan, non-GMO AND has no added sugar. This makes it a good fit for almost any variety of keto. They are sweetened with erythritol, monk fruit, and stevia, and use a plant-based protein blend.
Overall, it was pretty good, especially considering how many dietary restrictions it can fit into. I ate it slightly warmed, it had a nice peanut butter flavor, and it was surprisingly filling. I think I'd go for homemade keto peanut butter cookies given the choice, but this could be a good on the go option.
Note: A ninth item from Burn Butter was meant to be included in this box, but it was delayed due to production issues. I don't think I would have noticed that an item was missing if Keto Krate didn't mention it, but I 100% appreciate the transparency and that they didn't let it delay the entire box.
In addition to the products included in the March Keto Krate, subscribers also received the following discounts:
20% off Creation Nation
10% off Ayoba-Yo
30% off Burn Butter
20% off Crazy Go Nuts
20% off CocoPolo
20% off Raw Food Central
20% off No Cow
In addition, the box also included an illustrated, easy to follow recipe for garlic parmesan walnut biscuits featuring the Crazy Go Nuts from the box.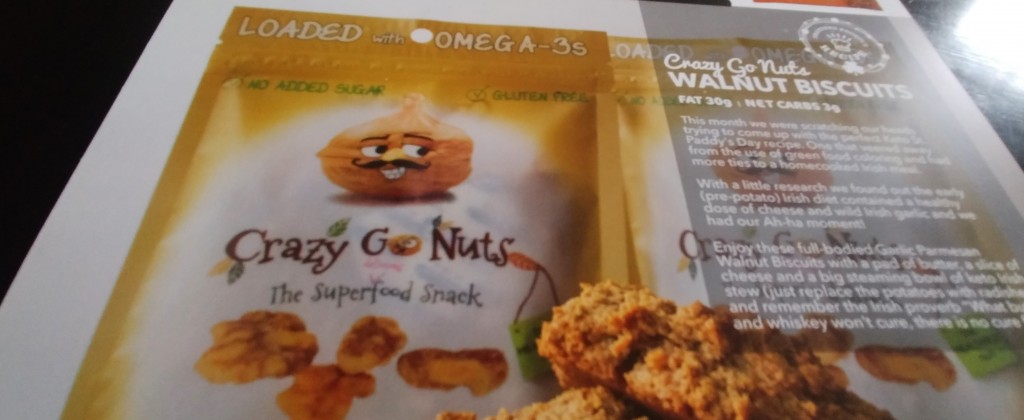 Overall Thoughts
Despite the missing item, this was a good box! The inclusion of several unique, high value items means that this Krate more than delivers on the value of the subscription. We also got a respectable array of discounts. I liked the mix of products this month, which remains in line with what I've come to expect from Keto Krate.
I also really liked that I got introduced to some new brands that might have been too pricey or obscure for me to consider otherwise. The Creation Nation DIY energy bite mix and the unique Ayoba-Yo droewor beef sticks are a good example of that!
You can view past reviews here, and head here to sign up for your own Keto Krate. If you're a new subscriber, you can use the code FIVE2018 to save $5!