My Keto Snack Box March 2018 Review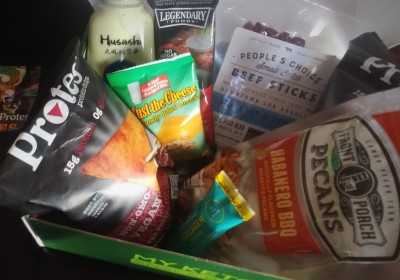 This is the newest keto subscription box in my rotation, and so far, it seems to have more products and brands that are new to me compared to some other keto boxes. I'm enjoying the variety, and the chance to learn about some less common keto brands. You can view past reviews here.
As a reminder, My Keto Snack Box is a $38 per month keto subscription that sends subscribers a box of 6-8 "unique" low carb products with free shipping. The products are guaranteed to be keto-friendly, with 5 net carbs or less per serving. It is meant to make it easy and convenient to have keto snacks on hand without having to shop around for them yourself. Ketoers who live abroad will also be happy to hear that My Keto Snack Box ships internationally!
Here's the contents of the March 2018 My Keto Snack Box: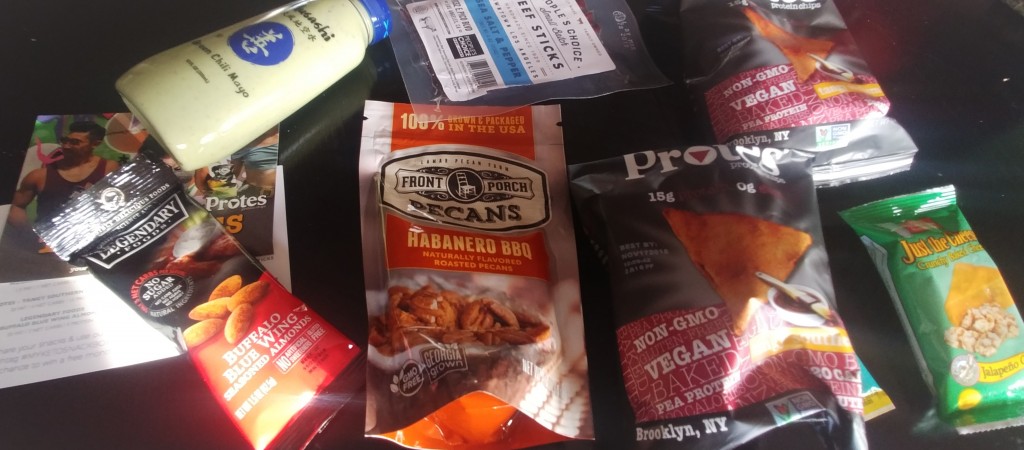 First up, I couldn't resist trying these:

1x bag Just The Cheese Mini Rounds, Jalapeno (value: about $1.25) [<1g net carbs per serving]
I am a total sucker for cheese based snacks, so I love to see all of the crisped and/or "puffed" cheese snacks that have been hitting the market lately. These little bites from Just the Cheese, as the name suggests, fall into that category.
Despite the jalapeno flavor, they aren't too spicy, and the crispy, crunchy texture is perfect for satisfying that snack craving! I enjoyed them, and would definitely try more in other flavors. I do wish the ingredient list was a little cleaner though, and the packaging easier to open.

1x bottle Musashi Green Chili Mayo (value: about $5.99) [1g net carbs per serving]
I previously tried the Japanese Spicy Mayo from this brand in my first My Keto Snack Box. This variety uses green chili instead, but is a similar spicy, creamy dip or topping for foods. I actually think I enjoyed this sauce a little more than the other version (which was also tasty). The spiciness here is a little milder, which makes it easier to pair this sauce with a wider range of different foods. I tried it on a burger with good results, and also used it as a dip for zucchini fries.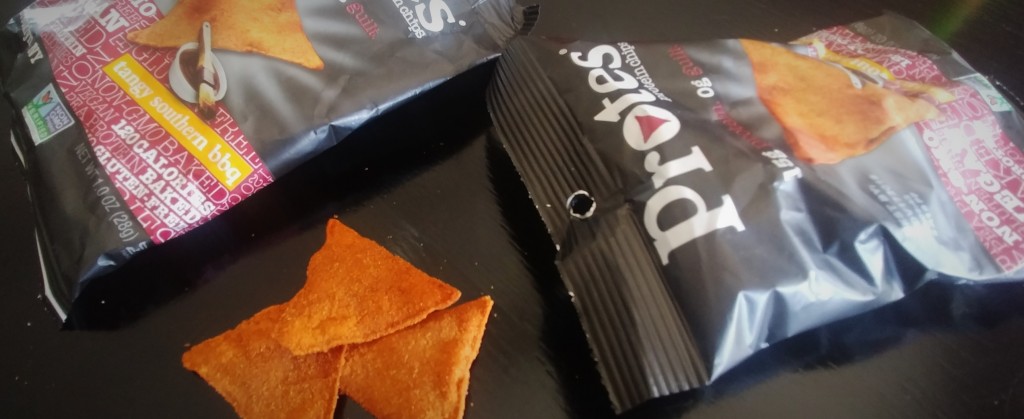 2x bag Protes Protein Chips, Tangy Southern BBQ (value: about $4.00) [4g net carbs per serving]
I've tried a couple different flavors of Protes, and I'm actually shocked to say that this one might be one of my favorites. Despite the fact that I never liked barbecue flavored potato chips, something about the smoky flavor actually works quite well with these protein chips instead.
As someone who is a bit sensitive to the aftertaste of certain plant protein powders (like pea protein, used in these chips), I think maybe the stronger flavor of the seasoning helps to counteract that here. I also liked that these were crispy and could stand up to dipping.

1x 1.5 oz bag Legendary Foods Seasoned Almonds, Buffalo Blue Wing (value: about $1.99) [3g net carbs per serving]
I've tried these before, and I remain a fan! Almonds are a great keto snack on their own, but sometimes they can feel a little routine. Legendary Foods has a variety of different flavored almonds, and these are among my favorites.They aren't particularly spicy, but they are flavorful, and definitely more fun than a handful of plain nuts.
1x serving Further Food Collagen Peptides (value: about $1.50) [0g net carbs per serving]
Collagen is a super beneficial nutrient, with benefits for joint health, gut health, and even healthy hair, skin, and nails. It's something I supplement pretty regularly, so it was cool to get to try this new way of taking it. I normally use flavored collagen from Perfect Keto or collagen rich food sources like bone broth, but this is an unflavored collagen that you can add to drinks (or even foods) as you please. I added it to my normal morning keto coffee to give it a try, and it seemed to mix fine without any aftertaste. I like the idea of being able to add it to other things as well since it's unflavored.

1x bag Front Porch Pecans, Habanero BBQ (value: about $6.00) [1g net carbs per serving]
I've tried these before, but I will literally never complain about getting more Front Porch Pecans. I swear, my first time trying these (in the plain salted variety) was like rediscovering pecans for the first time. So good! Here are some notes on this flavor from a previous review:
A bit of smokiness, a bit of heat, but balanced enough that it doesn't taste artificial or overpower the naturally delicious flavor of the roasted pecans underneath. Best of all, pecans are one of the best nuts to enjoy on keto since they are lower in carbs and higher healthy fats (and crucial electrolytes) than many other options.

1x 4oz package People's Choice Small Batch Beef Sticks, Sea Salt & Pepper (value: $6.00) [0g net carbs per serving]
Another favorite keto brand of mine! I love People's Choice Carne Seca jerky, but their beef sticks are a new release so I hadn't gotten the chance to try them yet. Salt and Pepper might sound like a plain flavor combination, but it actually works really well here.
The seasoning is just enough to complement the natural flavor of the beef without overpowering it. And of course I love that this is just beef and spices, with no added sugars or junk!
Note: My Keto Snack Box is also now including some discounts for subscribers in the box; we got a 15% discount for Protes this month.
Overall Thoughts
I liked the products in this month's My Keto Snack Box! There were more familiar brands/products than in most previous boxes, but many of them were favorites of mine like People's Choice, Front Porch Pecans, and Legendary Foods. It was nice to try a new jerky product from a brand I like, as well as replenish my stash of existing favorites with the nuts.
We also got some of the more unique items that I've come to expect from MKSB, like the chili mayo. The only downer was that this box felt a little light on item quantity/value compared to previous months. I feel like one more item (or just an extra pack of the cheese snacks or collagen peptides) would have helped to flesh things out.
Want to join in the My Keto Snack Box fun? Head over to their website to sign up, and try the code MKSB5 to save $5 on your first box!