Keto Krate April 2018 Review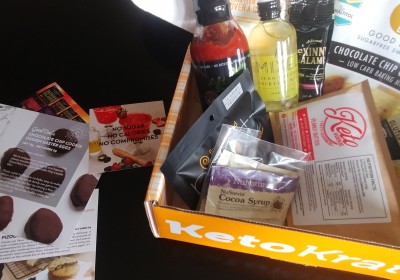 This month's Keto Krate review is early! That's in part because it arrived a couple days early, but mostly because I was so eager to try everything in it! This keto subscription has been pretty consistent with its product mix so far, so I have a good idea of what to expect at this point: about two jerky/meat snacks, a couple other savory/salty snack options, some keto-friendly sweet treats, and then maybe a unique ingredient or pantry item.
As a reminder, Keto Krate costs $34.95 per month plus a $4.95 shipping fee ($39.90 total), and promises 6-8 keto-friendly snacks per month plus $20+ in coupons and discounts that subscribers can use to purchase more of the featured products. All products included are gluten free, aspartame/malitol free, and 5g net carbs or less per serving. You can view reviews of past Keto Krates here.
If you're a new subscriber, you can take advantage of the $5 discount offer when you sign up here using the Keto Krate promo code FIVE2018.
Here are the items featured in the April 2018 Keto Krate: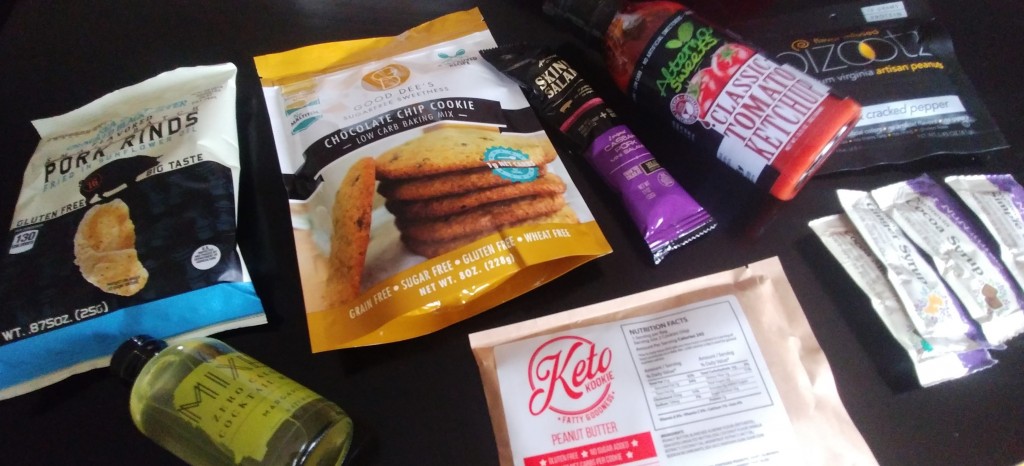 First up, I tried this low carb cookie mix: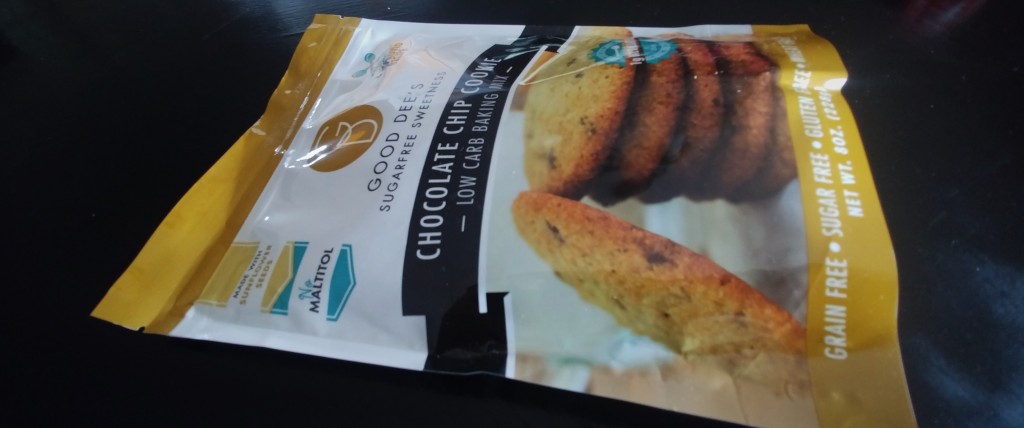 1x package Good Dee's Low Carb Baking Mix, Chocolate Chip Cookie (value: $11.99) [1g net carbs per serving]
Full disclosure: I didn't actually use this cookie mix from Good Dee's as directed on the packaging. This month's Krate came with a recipe for chocolate covered cookie dough bites, and I absolutely could not resist trying it! And I was still able to get a good feel for the product using it for that recipe.
The sweetness is pretty spot on, with no aftertaste that I noticed (they are sweetened with an erythritol/stevia blend). The bulk of the mix is sunflower seed "flour", but the end result didn't taste like sunflower seeds at all to me. When made traditionally, the mix calls for 1 egg, 1/4 cup of butte or coconut oil, and 1 teaspoon of vanilla. When made with the featured recipe, it required all of my willpower not to eat too many!

1x NuNaturals NuStevia Syrup Variety Pack (value: about $4.00) [1g net carbs per serving]
I have tried some of the NuStevia syrup line in previous boxes, but this time we got a variety pack of four to try. The flavors included were simple syrup, ginger syrup, cocoa syrup, and cocoa mint. The latter two mainly got used in coffee and shakes, while the former got used in tea and cocktails.
All of them had good, concentrated flavor/sweetness, without tasting artificial or overpowering. They are very concentrated too, so each packet actually lasted 4-5 uses for me. We also got a recipe for chocolate frosting using the cocoa syrup.

1x 4oz bottle Be Mixed, Margarita (value: $2.75) [1g net carbs per serving]
Not everyone drinks on keto, but for those that do, I imagine this was a welcome inclusion in this month's Krate! When you're already consuming alcohol calories, adding a bunch of carbs and sugars on top can really set you back. There are low carb options, but they are usually simple drinks like vodka soda or diet coke and rum.
Be Mixed is a line of low carb mixers that aims to change that, by using a sugar free blend of erythritol, stevia, and monk fruit to make flavored mixers. We got the margarita flavor to try, which I thought was tasty with tequila and a couple muddle berries. Compared to other sugar free mixers I've tried, it had a more natural flavor.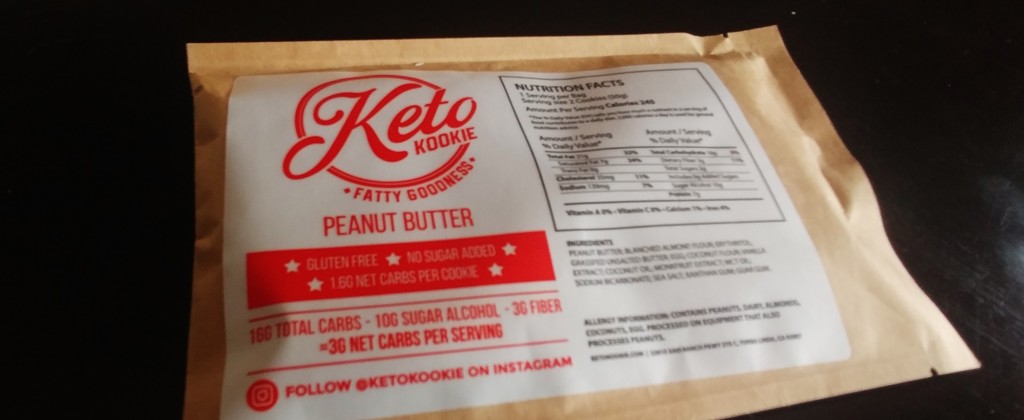 1x package Keto Kookies, Peanut Butter (value: $3.00) [3g net carbs per serving]
I'm a Keto Kookie fan, so of course I have tried these before. I find that I often prefer fresh baked keto peanut butter cookies, but when I don't feel like breaking out the mixing bowl and turning on the oven, these are a tasty option too.
I like them slightly warmed, which makes them a bit softer and more like a fresh baked cookie. They are also tasty with a bit of dark chocolate, or even a tiny bit of sugar free jam on top.

1x serving Skinny Salamis, Casbah Pork (value: $3.50) [<1g carbs per serving]
Yum! We only got one meat based snack in this month's Krate instead of the usual two, but the one we got was fantastic! I think this might have actually been one of the best new jerky discoveries that I've made from a keto subscription box in a while.
They are super flavorful, with a great texture, clean ingredients, and great macros as well. Each serving has less than 1 gram of carbs with 11g of protein and 4g of fat. I would love to try more varieties from this brand.

1x bottle Alterna Sweets Ketchup (value: $9.00) [2g net carbs per serving]
Finding out how much sugar was in standard ketchup was one of my first "whoa" moments after switching to keto. You don't think of it as a treat, but 5g of carbs (of which 4g is sugar) per tablespoon can add up incredibly quickly. I've tried a number of low carb alternatives with varying results, but this is one of my favorites.
It's thick, unlike some sugar free options which can feel syrupy and watered down. It's also flavorful, so you can taste the tomatoes and spices instead of just vague sweetness. And if you prefer natural sweeteners, you might prefer this option to artificially sweetened varieties.

1x bag Southern Recipe Small Batch Pork Rinds, Sea Salt & Cracked Black Pepper (value: about $1.50) [<1g net carbs per serving]
Slowly but surely, pork rinds are growing on me. I never used to be a big fan, but I guess trying some of the higher quality brands has made me more open to them. These are a brand I hadn't tried before, but I thought they were pretty good.
The sea salt and black pepper flavors are well balanced here, and the rinds themselves have a nice amount of crunch without making you feel like your teeth are at risk (a pet peeve I have with some other pork rinds).

1x 1.45oz bag Pizootz Flavor Infused Peanuts, Sea Salt and Cracked Pepper (value: about $3.00) [5g net carbs per bag]
We got a different flavor of these Pizootz peanuts in one of last year's Krates, but I don't mind getting to try a new one! These peanuts are "flavor infused" which basically means that the flavor comes from the "inside out" rather than just tossing the nuts in a mix of salt and spices.
This makes them less of a mess to eat obviously, but also tastes pretty good! At first I thought the flavor was underwhelming, but after the first few, the cracked pepper notes really start to pop.
In addition to the products included in the April Keto Krate, subscribers also received the following discounts:
15% off Skinny Salamis on Amazon
35% (!!) off NuNaturals
20% off Be Mixed
15% off Keto Kookie
20% off Pizoots
20% off Good Dee's
In addition, the box also included an illustrated, easy to follow recipe for the chocolate chip cookie dough bites mentioned earlier.

Overall Thoughts
I was super happy with this month's box. The product value beat the cost of the box, with additional value coming from the recipes (we got a cocktail recipe from Be Mixed in addition to the Good Dee's recipe) and the discounts. I've already used the Be Mixed discount, and will probably stock up on some of the other products too, like Keto Kookies and Good Dee's.
I like these keto subscription boxes because they are a pretty good way to discover new things even if I don't end up buying more of them, but this was one of those month's where I really enjoyed every product in the box. The past few months of Keto Krate have been some of my favorites, so I really hope they keep up this pattern!
You can view past reviews here, and head here to sign up for your own Keto Krate. If you're a new subscriber, you can use the code FIVE2018 to save $5!