Easy Keto Avocado Oil Mayo with MCTs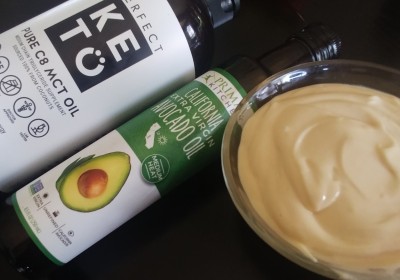 This keto mayo recipe is something that came together out of necessity, but it turned out well enough that I've made it more than once. I never used much mayo pre-keto, so I'm not really in the habit of treating it as a pantry staple. When I needed some for a low carb recipe and discovered I was all out of the avocado oil mayo I like, I thought maybe I could make my own. After all, it's basically just egg and oil right? How hard could it be?
Turns out, it's pretty darn simple! This keto mayo recipe takes maybe 10 minutes to whip up using an immersion blender or hand mixer. I decided to up the healthy fat factor a little bit by using MCT oil as well as avocado oil, but that's totally optional. The important part is adding the oil slowly at the start so that it emulsifies with the egg to make a rich and creamy mixture.
Notes:
I used Primal Kitchens Avocado Oil and Perfect Keto Liquid MCT Oil (20% off with code TRYKETO) for this. You can also swap out the MCT oil for olive oil, or just use all avocado.
If you don't have a hand mixer or immersion blender, you can also make this keto avocado oil mayo recipe using a food processor. With a little more time (and elbow grease) you can make it by hand as well.
If you'd like your mayo a little thicker, use only the egg yolk at the start or use an extra 1/4C of oil. To thin it, add a splash of water.
I haven't had this keto mayo recipe split, but if it does, you can add an egg yolk to a clean bowl and slowly blend your mayo mixture back into it until it emulsifies again.