The Keto Box April 2018 Review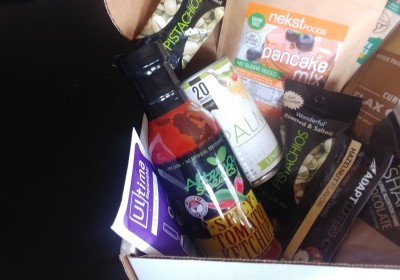 Time for the April edition of The Keto Box! Although this keto subscription regularly includes a couple of surprises, you can generally expect a mix of sweet and salty keto snacks alongside some pantry items or other unique low carb products. I was curious to see what this month would offer!
Before we get to what was inside, a quick refresher: The Keto Box is a monthly subscription that describes itself as a "low carb care package for your body." For $39.99/month, subscribers receive a box full of 5-8 keto snacks and other products delivered to their doorstep.
You can view my reviews of previous months of The Keto Box here.
Now on to the April 2018 The Keto Box: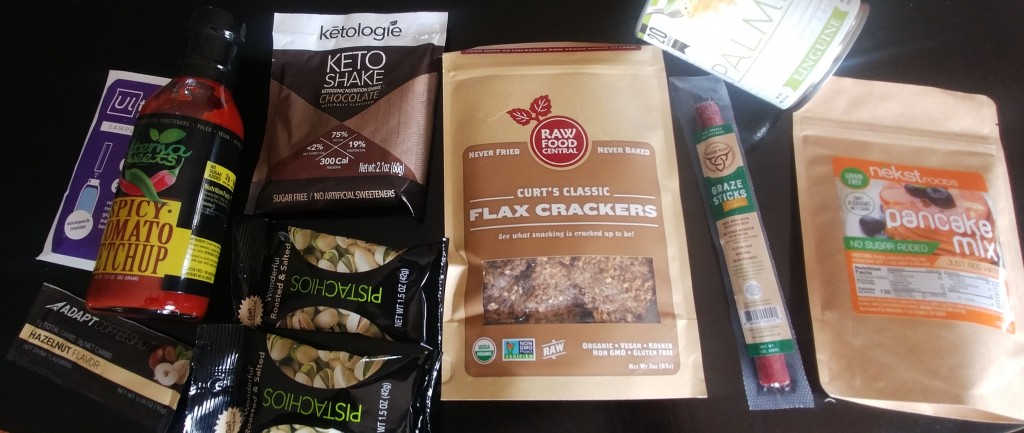 First up, I tried out this low carb pancake mix:

1x 4.23oz package Nekst Pancake Mix (value: about $4.00)
I have been making my own keto pancake recipe for so long that I've got it down to a science, but I was still excited to give this a go. This is a simple "just add water" mix, similar to what you might have used pre-keto. The main ingredients include almond flour and tapioca fiber.
They were simple to make as promised, and the taste was pretty authentic as well! They didn't have a dry or grainy texture like I've experienced with some other low carb pancake mixes. My only complaint is that the label seems to suggest a "serving" is a single pancake, which makes 4g net carbs per serving a little high for my macros.

1x serving Ketologie Keto Shake, Chocolate (value: about $2.50) 
I've had a full tub of this stuff since the first time I tried a sample in a previous keto subscription box! Ketologie shakes are super rich and creamy in both flavors, and are a tasty and filling way to get in some healthy fats. I recommend having them very cold, or even blended with ice.
This chocolate flavor reminds me of a chocolate Frosty or milkshake, especially if you opt for the blended route. They mix relatively easy in a standard shaker cup as well. Depending on your macro goals, this packet is good for one meal replacement or two smaller "snack" servings.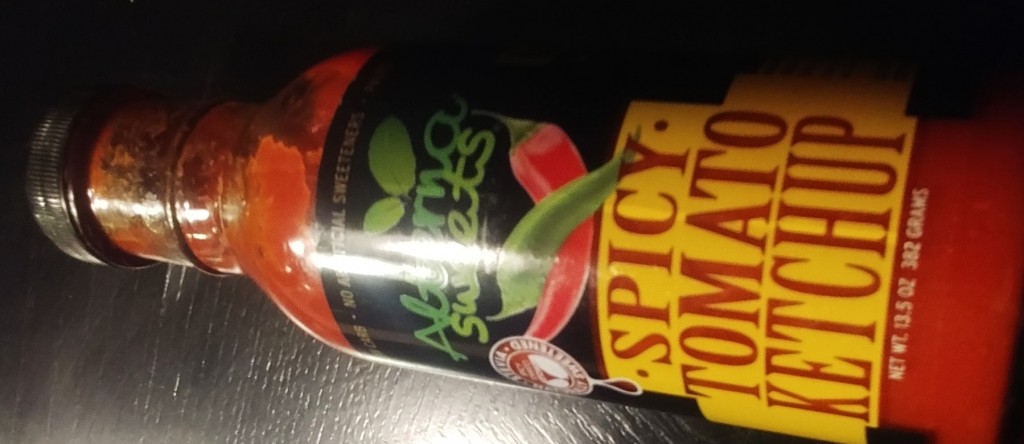 1x bottle Alterna Sweets Spicy Ketchup (value: $9.00)
I discovered Alterna Sweets relatively recently, but since then it's popped up in all of my keto boxes and quickly become a favorite. I love how thick and flavorful their original ketchup is, and this spicy variety takes that flavor and kicks it up a notch!
The two main differences between this brand and other low carb ketchup options I've tried is that this one is sweetened with stevia instead of artificial sweeteners and that it's nice and thick instead of being runny and watered down.

1x Ultima Replenisher Sample Pack (value: about $4.50)
1x packet Adapt CoffeeShot (value: about $1.25)
Electrolytes are super important on keto, especially if you work out regularly, so I was happy to get more of this Ultima Replenisher to try. This time I got a full sample pack of all five flavors of their sugar free drink mix! I'm not quite sure if there was a clear favorite, but all of them were tasty and hydrating!
The Adapt CoffeeShot is a flavored and stevia-sweetened blend of fats to add to your coffee, tea, etc. I divided the packet into two servings, and found that they added a nice mild flavor and creaminess to my morning coffee.

2x 1.5 oz bags Wonderful Pistachios, Roasted and Salted (value: about $3.00)
I'm not a big pistachio eater, but even I know that Wonderful is one of the biggest names that sells them. Having tried these, it's pretty easy to see why. They don't have any fancy flavorings or anything, just plain roasted and salted nuts, but the simplicity works here.
They aren't too salty or overroasted, and the 1.5oz size makes for a decent 120 calorie snack with 10g of fat. Pistachios are a little higher carb than some other nuts, but lower in calories overall.

1x stick Mission Meats Graze Stick, Tasty Original (value: about $2.00)
Mission Meats is a company that made my list of top keto jerky brands, thanks to their grass fed, sugar/gluten free, keto-friendly beef sticks! They leave out all the dextrose, nitrates, and other additives and fillers found in some other beef sticks, and focus on making a clean product that's still tasty.
This Tasty Original flavor is pretty well rounded, and I like that it isn't too mushy or too salty like some other brands can be. I also like that Mission Meats supports good causes with some of the proceeds from their sales.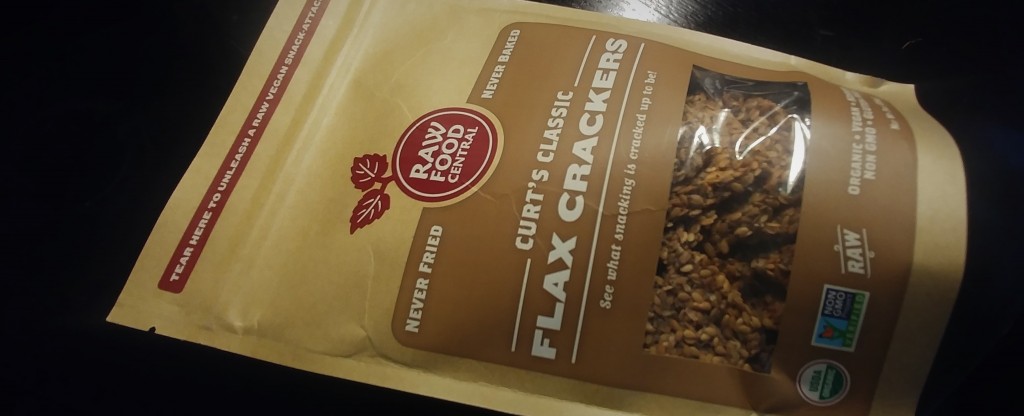 1x bag Raw Food Central Flax Crackers, Curt's Classic (value: $6.99)
This brand has been making the rounds in my keto subscription boxes lately, which I don't mind since these are better than your average flax cracker in my opinion. Here are some notes from a previous review:
The fact that they are raw means that they don't have that same overpowering flax aftertaste that can result from baking flaxseeds, which is something I've found with other brands. Overall, I liked the crisp and crunch of these, and the balance of the flavor.

1x can Palmini Pasta, Fettuccine (value: about $5.00)
I actually saw this product when the owners aired on Shark Tank, so it was pretty cool to receive it in this box only a little later! This is a low carb pasta substitute/replacement made from hearts of palm cut into strips. I've personally never had heart of palm on its own, but I like zoodles and other veggie-based pasta substitutes, so I was eager to try it.
I'm always wary when the packaging of a product gives you tips on how "neutralize the flavor and smell," but I've never had issues with shirataki pasta which has a similar process. I soaked/rinsed this twice in lightly salted water before adding it to a basic meat sauce and while it didn't really pass for the real thing, it held up to that style of sauce better than zucchini usually does and took on the flavor of the sauce nicely. It's something I would try again if it wasn't so pricey.
In addition to the items in the April The Keto Box, subscribers also received the following discounts:
10% off Palmini
15% off Ketologie
15% off Ultima
10% off Nekstella
20% off Raw Food Central
10% off Adapt
10% off + Free Shipping @ Alterna Sweets
10% off Mission Meats
Overall Thoughts
This was a good month for The Keto Box! We got 9 items and the item value just about met the cost of the box before factoring in curation, shipping, or the value of the discounts. It was especially cool to get to try Palmini, a relatively new product that I would have been hesitant to buy without trying first.
I got some products I already liked, including the Ketologie shake, Alterna Sweets ketchup, and Mission Meats stick. I also got to try some new products from familiar brands like the Adapt CoffeeShot and Nekst pancake mix. I look forward to seeing what the May box has in store!
If you want to find out with me, you can head here to sign up for your own The Keto Box and use the code APRIL5 to save 10%!