Keto Krate May 2018 Review
I was a big fan of the April Keto Krate, but would May live up? This keto subscription has been pretty consistent with its product mix so far, so I have a good idea of what to expect at this point: about two jerky/meat snacks, a couple other savory/salty snack options, some keto-friendly sweet treats, and then maybe a unique ingredient or pantry item.
As a reminder, Keto Krate costs $34.95 per month plus a $4.95 shipping fee ($39.90 total), and promises 6-8 keto-friendly snacks per month plus $20+ in coupons and discounts that subscribers can use to purchase more of the featured products. All products included are gluten free, aspartame/malitol free, and 5g net carbs or less per serving. You can view reviews of past Keto Krates here.
If you're a new subscriber, you can take advantage of the $5 discount offer when you sign up here using the Keto Krate promo code FIVE2018.
Here are the items featured in the May 2018 Keto Krate: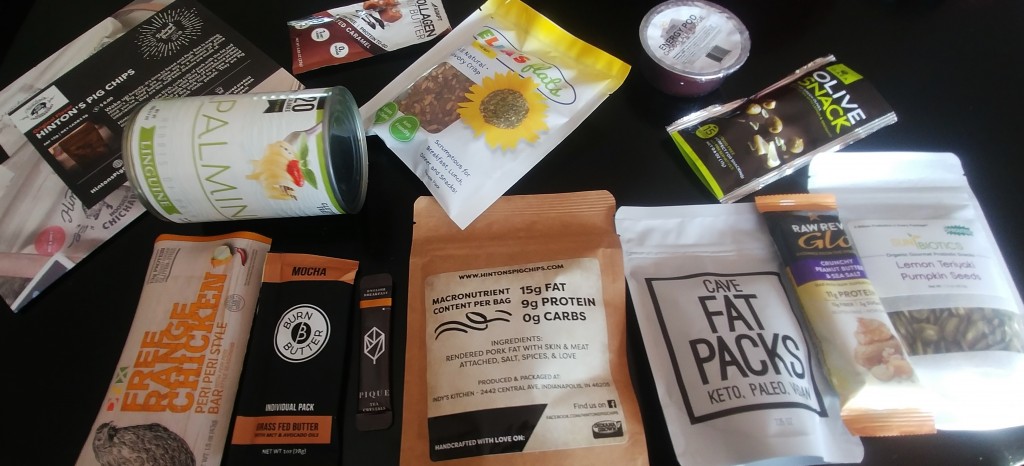 First up, I tried this unique snack:

1x 1.5oz bag Hinton's Pig Chips, Original (value: $6.00) [0g net carbs per serving]
At first glance, I thought there was only one meat snack in this box, but these flavorful "pig chips" have a meatiness of their own! They are similar to traditional pork rinds, but are fried with the fat and meat still attached. This makes then richer and denser than your usual pork rind.
I think the salt content on these could have been dialed back just a bit, but I liked the blend of spices used to season them. I also dig the combination of crunchy on one side and almost melt-in-your-mouth fatty goodness on the other.

1x DNX Free Range Chicken Bar, Peri Peri Style (value: about $3.00)[1g net carbs per serving]
This was the second meat-based snack in this month's Keto Krate. It's a flavorful chicken-based meat bar. Here are some of my thoughts on it from a previous review:
The texture is much more moist than I expected, perhaps because this was made with chicken rather than beef or pork. Unfortunately, I wasn't a huge fan of that effect. It felt similar to biting into a room temperate chicken patty or something. The flavor didn't scream peri peri to me, but I did like the blend of spices overall. I also like the clean ingredients in this bar, but I think I might prefer the beef or bison varieties texture-wise.
1x 0.6oz Gaea Olive Snack, Lemon and Oregano (value: about $1.25) [1g net carbs per serving]
Well, I'm still not an olive person, but because this was just a small inclusion in this box, I don't feel too bothered about it being something I'm not a fan of. I passed these on to someone who likes olives more than I do, and was told that they oregano is a bit heavy but they were still pretty good.

1x 1.5oz bag Sunbiotics Pumpkin Seeds, Lemon Teriyaki (value: about $3.50) [4g net carbs per serving]
Yum! I've tried a few different products from Sunbiotics from my keto boxes at this point, and this might be my favorite so far. I don't often go out of my way to find/eat pumpkin seeds at this time of year, but the lemon teriyaki flavor on these make them bright and summery. It's a nice sweet/savory blend that compliments the crunch of the seeds.
Like other products from this brand, these are also meant to help you get in some extra probiotics for gut health. Since food-based sources of probiotics can be a bit limited on a keto diet, I appreciate that extra benefit.

1x serving Adapt Collagen Nut Butter, Salted Caramel (value: about $2.50) [1g net carbs per serving]
This is another option for a quick fat boost, only this one has a good amount of protein as well. Like many natural fat butters, this can settle and separate, so it might take a quick knead to combine everything again. I liked the nutty, sweet flavor, although there was a slight grittiness to the texture.
1x Keto Geek Energy Pod, Chocolate Fudge (value: about $4.00) [2g net carbs per serving]
These "energy pods" from Ketogeek are a blend of healthy fats (from ghee, nuts, and MCT oil). This particular variety also includes vanilla and cocoa to achieve the "chocolate fudge" flavor, which tasted like delicious brownie batter to me. They are sweetened with monk fruit and erythritol, but not overly sweet. I had half on its own as a snack, and half warmed as a topping for low carb ice cream.
1x Burn Butter, Mocha (value: $2.50) [2g net carbs per serving]
This was yet another quick, on-the-go way to get in a boost of healthy fats. It's a blend of avocado oil, MCT oil, and ghee. This was the least sweet of the three. As a liquid, it mixed easily into coffee without overpowering it with oiliness. I wasn't a huge fan of eating it on its own though.

1x serving Ella's Flats, Hemp (value: about $2.50) [1g net carbs per serving]
Flax and seed crackers are a pretty common staple of keto subscription boxes, right up there with jerky and nuts. These "flats" are bigger than your average flax cracker, which makes them better for topping with spreads, meats, or cheeses.
I also like that these use a blend of seeds rather than just flax, including pumpkin, sunflower, and hemp. This gives them a milder, nuttier taste rather than the overpowering flax flavor of some other options out there. I like how crispy they are, and the amount of healthy fats.

1x pouch Cave Shake Fat Pack (value: $6.00) [3g net carbs per serving]
I love this stuff! It was in one of my very first keto boxes, and I've restocked every so often since then. Basiccally, it's powdered coconut milk. That means it has all of the creamy, fatty goodness of coconut milk in a form that you can mix into drinks, sprinkle on treats, or just eat with a spoon (it's lightly sweetened with stevia).
I especially like it in my coffee, but it works well for those other applications too. It can be an especially nice option if you are vegan or otherwise trying to cut down on dairy intake. It does have a mild coconut flavor, and seems to dissolve better in warm drinks than cold ones.
1x sachet Pique Tea, English Breakfast (value: about $1.00) [0g net carbs per serving]
If you've seen my Pique Tea review, you'll know that I'm a big fan of these little instant tea packets. They are high quality teas with all of the antioxidants and other benefits that tea offers, but much quicker and easier to make. This was a basic (but tasty) black tea, but I think flavors varied.

1x can Palmini Pasta, Fettuccine (value: about $5.00) [1g net carbs per serving]
This is a veggie-based pasta substitute made from hearts of palm. It's a bit more substantial in texture (and price) compared to making zoodles, but I like how it holds up to heavier sauces and it could be an option for those who don't like shirataki  or kelp noodles. Here are some notes from a previous review:
I soaked/rinsed this twice in lightly salted water before adding it to a basic meat sauce, and while it didn't really pass for the real thing, it held up to that style of sauce better than zucchini usually does and took on the flavor of the sauce nicely. It's something I would try again if it wasn't so pricey.

1x bar Raw Rev Glo, Crunchy Peanut Butter and Sea Salt (value: about $2.00) [4g net carbs per serving]
Note: The insert in the Krate listed the creamy variety of this bar (which is lower in net carbs, apparently), but I received the crunchy version. I'm not sure if this was a typo, or if there are flavor variations in the boxes like their are for some other items.
In any case, I've actually tried the creamy version before and I would say I prefer it to this one. Both have a great peanut flavor, but the texture of this one is a bit drier due to the chopped peanuts in the bar. Still, I think these are one of the better protein bar options out there that are both
In addition to the products included in the May Keto Krate, subscribers also received the following discounts:
15% off Hinton's Pig Chips
20% off Sunbiotics
$2.00 off Ella's Flats
10% Ketogeek
20% off DNX Bars
15% off Cave Shake
20% off Raw Rev Glo
10% off Palmini
10% off Adapt
10% off Pique Tea
30% off BurnButter
Phew! There were a bunch this month. The Krate also included a recipe for Keto coconut curry pasta using the Palmini and Cave Fat Pack.

Overall Thoughts
There were a dozen items in this month's Keto Krate! And even if you count the BurnButter towards the March Krate where it was initially slated to appear, the remaining items still add up to a good value. Plus the pile of items was matched by a pile of discounts. I will note that there were several smaller items without a real standout "hero" item like most month's, but some times those small items can be the hardest to try without committing to large orders.
Most of the items were new to me, and a few I had never even heard of before. I enjoyed getting to try so many new things. I will say that there could have been a little more variety (there were three sweet "fat bomb" style items for example), but since we got so many items, I don't mind too much.
You can view past reviews here, and head here to sign up for your own Keto Krate. If you're a new subscriber, you can use the code FIVE2018 to save $5!