My Keto Snack Box June 2018 Review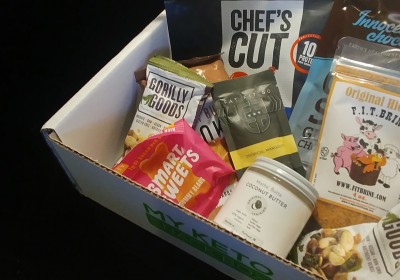 My Keto Snack Box has been in and out of my keto box rotation for nearly a year now, and I feel like I'm starting to get the hang of what to expect. It's a little less predictable than some of my other keto subscriptions, and I appreciate the chance to learn about some less familiar keto brands. You can view past reviews here.
As a reminder, My Keto Snack Box is a $38 per month keto subscription that sends subscribers a box of 6-8 "unique" low carb products with free shipping. The products are guaranteed to be keto-friendly, with 5 net carbs or less per serving. It is meant to make it easy and convenient to have keto snacks on hand without having to shop around for them yourself. Ketoers who live abroad will also be happy to hear that My Keto Snack Box ships internationally!
Here's the contents of the June 2018 My Keto Snack Box: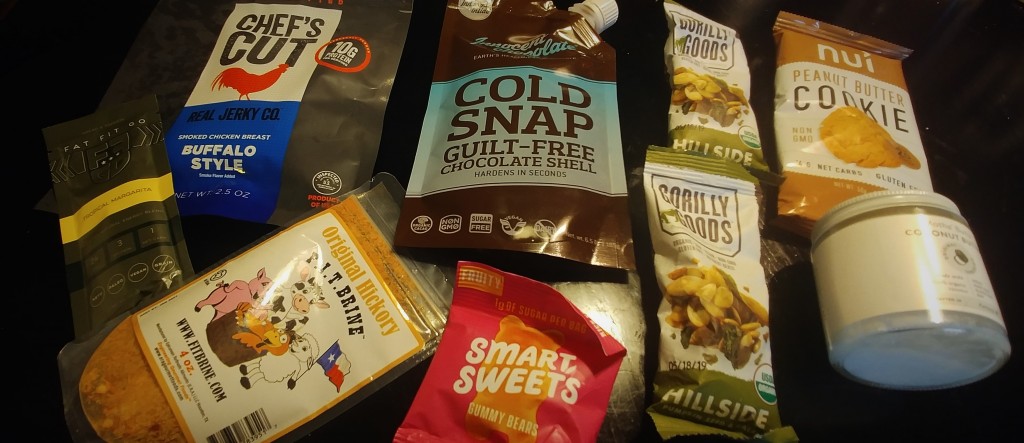 First up, I indulged my chocolate cravings with this product: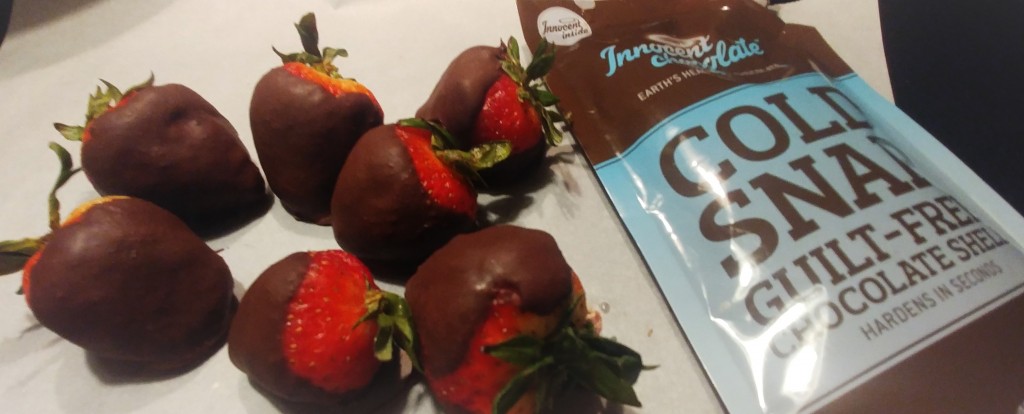 1x package Innocent Chocolate Cold Snap Chocolate Shell (value: about $6.00) [<1g net carb per serving]
How cool is this? It's a low carb version of a "magic shell" type topping, which hardens when poured on cold treats like ice cream or chilled fruit. I used it to make some delicious chocolate covered berries, and it was super easy and gave much more consistent results than when I've tried to make my own "magic shell" using coconut oil and chocolate.
To top it all off, this stuff was pretty darn tasty too! It just tastes like chocolate, maybe a bit on the dark side but not bitter or anything. I didn't notice any aftertaste from the blend of stevia and erythritol used to sweeten it, and I like that it's made with natural and organic ingredients.

1x 4oz jar Motha' Butter Coconut Butter (value: $6.25) [1g net carbs per serving]
Look at this cute little jar of coconut butter! If you haven't had coconut butter before, it's basically what would happen if you ran the inside of a coconut through a blender: a semi-smooth mix of coconut oil and coconut "meat." You can use it as a topping, spread, snack, or baking ingredient.
This jar was unflavored (other than the natural taste of coconut) and unsweetened, which made it suitable for a wide range of purposes. I used some to add healthy fats to drinks/shakes, and about half of the jar for the keto no bake cookie dough recipe in Keto Essentials.

2x bag Gorilly Goods Trail Mix, Hillside, Pumpkin Seed and Kale (value: about $6.25) [3g net carbs per serving]
Next up, we got two packs of low carb high fat trail mix from Gorilly Goods. This variety features a mix of pumpkin seeds and dried kale, seasoned with tamari, onion, cayenne, and nutritional yeast. I'm not a huge fan of the flavor of nutritional yeast, which is commonly used as a non-dairy cheese flavor substitute, but it works okay here.
I probably wouldn't munch a whole pack of this as a snack because of the nutritional yeast, but I have enjoyed a handful here or there as a snack, or some sprinkled over a salad.

1x package Chef's Cut Real Chicken Jerky, Buffalo Style (value: about $6.00) [2g net carbs per serving]
Yum! I'm at the point with my keto boxes where receiving new jerky products doesn't necessarily thrill me (since I've already discovered some favorites), but I was super impressed with this stuff! It's a chicken jerky, which makes it more moist and tender than most beef-based options, and the buffalo wing flavor is spot on here.
Seriously, this is one of the first jerky products in a while to really wow me. I took out a piece to try, and ended up nearly eating through the entire bag. It's a good way to get in some protein quickly, or you can enjoy it with some nuts or cheese to balance it out with fats.

1x 4oz FIT Brine, Original Hickory (value: about $8.00) [1g net carb per serving*]
I've had a different flavor of FIT Brine in the past, but this hickory flavor was perfectly timed for summer grilling! This is meant to be used to brine/marinade meats or just seasoning veggies and other dishes. Unlike many storebought options, it doesn't use fillers, artificial colors/preservatives, gluten, or MSG.
*It is worth noting that it does contain some sugar though. The amount works out to <0.5g of carbs per ounce of meat when you follow the brining instructions on the package, which worked out okay for my macros. I used it to marinade some baby back ribs from Butcher Box, as well as to season some veggies and skewers for the grill, and I really liked the flavor.

1x package Nui Peanut Butter Cookies (value: about $3.00) [4g net carbs per serving]
Keto Kookie is now Nui, and this box featured their new look, name, and formula for low carb peanut butter cookies! The new recipe seems a little cakier than the Keto Kookies I remember, but they are still plenty tasty and made with sources of healthy fats like almond flour, grassfed butter, eggs, and coconut oil.
Like always, they are also gluten free and non-GMO in addition to being low in carbs. They are pricier than making your own keto peanut butter cookies, but definitely easier to take on the go.

1x pouch Fat Fit Go, Tropical Margarita (value: about $2.50) [1g net carbs per serving]
So I've tried a number of these portable fat bomb style snacks, but tropical margarita has got to be one of the more adventurous flavors I've seen. Looking at the other ingredients in this, including nuts, cocoa butter, and chia seeds, I wasn't sure how the combination would work out, but it's actually pretty good! The combination of lime and "nutty" flavors make this more like a key lime pie or cheesecake flavor than a margarita.
1x sample Smart Sweets Gummy Bears, Fruity (value: about $1.50) [3g net carbs per serving]
Finally, we got a sample of these stevia-sweetened gummy bears from Smart Sweets. As a former Haribo addict, these definitely have the taste and texture of real gummy bears. Plus they aren't sweetened with maltiltol or another icky sweetener, so no worries of those bathroom horror stories associated with other "sugar free gummy bears." They are made with a fiber blend though, which always makes me feel like I shoud check my ketones afterwards. Thankfully it's been so far, so good with these if I stick to half servings.
In addition to the items in the box, this MKSB included some discounts:
20% off FIT Brine
10% off Motha' Butta
Overall Thoughts
This box put some of my favorite aspects of My Keto Snack Box on display! I got some relatively familiar brands, but also some brands like Motha' Butter and Innocent Chocolate that I had never heard of and would have been unlikely to try otherwise. I also liked that there was a good balance of sweet and savory in this box, as well as a couple of multi-use pantry items.
In fact, it turned out that this was one of the higher value MKSB boxes that I've received! This isn't even counting the discounts, or the fact that the Innocent Chocolate seems to be "early access" for subscribers here since it isn't available to purchase online yet. Definitely one of the better boxes I've gotten.
Want to join in the My Keto Snack Box fun? Head over to their website to sign up, and try the code TRYKETOWITHME to save $3 on your first box!