Perfect Keto Nootropic Review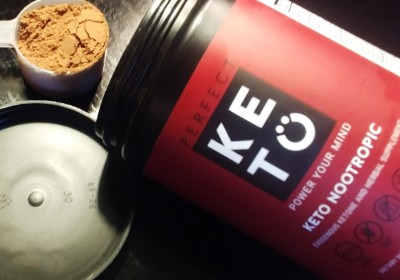 Perfect Keto is one of my go to sources for reliable keto supplements that aren't filled with junk, so I was excited to check out their newest product that they released last month: Perfect Keto Nootropic. If you haven't heard of a nootropic before, it's basically a supplement aimed at improving memory, focus, motivation, and/or other cognitive functions.
From mushroom coffee and MCT oil to herbal extracts like ginkgo biloba, there are a ton of products out there that promise to offer some sort of brain boost (although those claims obviously vary in accuracy). As someone who has found that ketone supplements can help with my mood, motivation, and mental focus, I was curious to see if the added ingredients in Perfect Keto Nootropic would have an even bigger impact.
What's In Perfect Keto Nootropic?
Here's a basic rundown of the ingredients:
Nootropic Ingredients: Phosphatidyl Serine, Gingko Biloba, Alpha Lipoic Acid (ALA), L-theanine, Cat's Claw, DHA (omega-3 fatty acid), Alpha GPC, Bacopa Herb Extract
Other Ingredients: MCT Oil Powder, Grass-fed Collagen, Acacia Fiber, Exogenous Ketones, Green Tea Extract, B vitamins
Flavoring: Cocoa Powder, Natural Flavors
Sweetener: Stevia Leaf Powder
Fillers/Starches/Sugars: None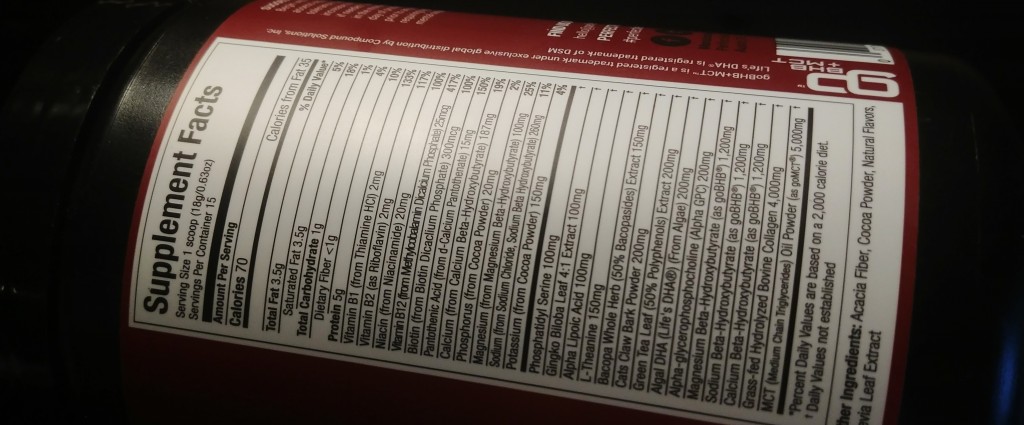 What Does the Science Say?
So if you're like me, you may have recognized a few things on that list of nootropic ingredients, but maybe not enough to gauge how effective the Perfect Keto Nootropic actually is. I'm not a doctor or scientist, but I do like to look into supplements before adding them into my rotation. Here's what some of the research says about those ingredients:
So there seems to be some evidence for the ingredients helping with mental performance (among other things). Additionally, many of the ingredients may actually work better in combination with each other and/or when taken with healthy fats (like the MCTs in Perfect Keto Nootropic) and B-vitamins to improve absorption.
What Does Perfect Keto Nootropic Taste Like?
As mentioned in the Perfect Keto Nootropic ingredients above, this is flavored with cocoa powder which of course gives it a chocolate flavor. Because of the nootropic ingredients, it does have some slightly herbal notes as well. It is naturally sweetened with stevia, which gives it a mild level of sweetness with no bitter aftertaste that I noticed. I almost always have it with unsweetened almond milk, but you could use water, coffee, or a different liquid if desired.
I also like using it to make this little keto brain boost shake, which I substitute for bulletproof coffee on those days when I think I'll need the extra mental stamina.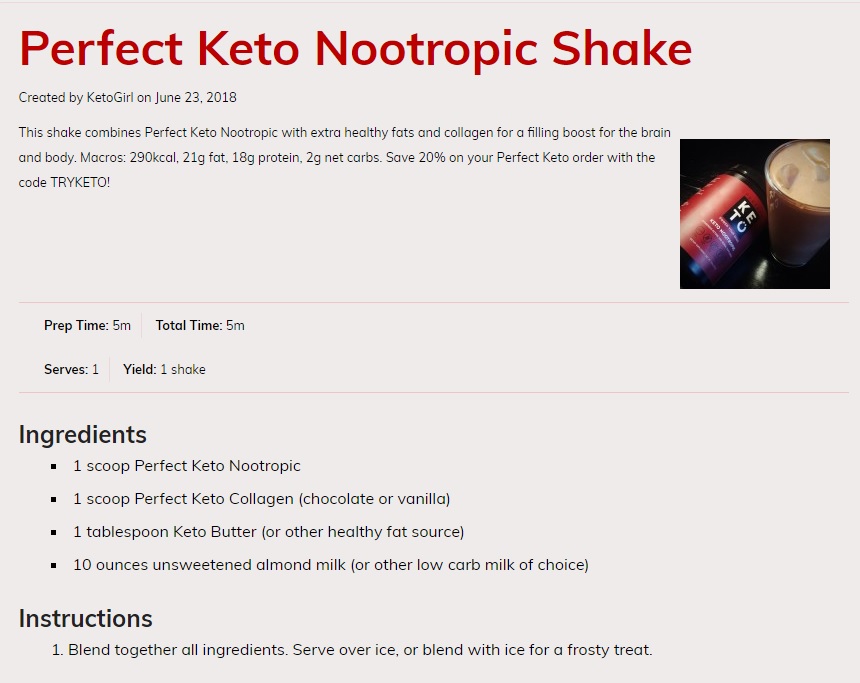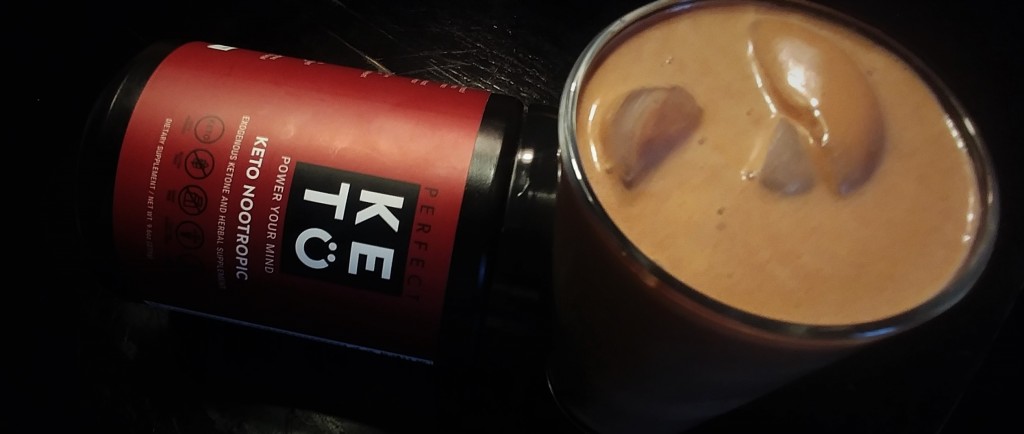 When To Take Perfect Keto Nootropic
I personally like to take it:
At the start of a day when I know I will need the focus
In the afternoon if I start to feel mentally drained
With my morning coffee if I feel groggy from not enough sleep
It can also be used:
Before a workout for increased energy/performance
At the beginning of a work or study session
Whenever you want a mental boost
I have taken it fasted in the morning several times, and it doesn't seem to upset my stomach or anything (but it does keep me satisfied for a while thanks to the MCTs/collagen).
Overall Thoughts + Discount
Perfect Keto Nootropic was a supplement that I enjoyed adding into my rotation. Sometimes I just use it in the place of Perfect Keto Base, but other times I am specifically looking for those extra mental benefits.
If you're familiar with Keto Base (or another ketone supplement), I would say that both have similar positive effects on mood and energy levels. However, the smaller amount of ketones in this supplement combined with the nootropic ingredients I would say offer a more focused "mental" energy compared to just the ketones alone.
It made it feel easier to sit down and dedicate my mind to a task without getting bored, frustrated, or distracted. That sense of mental focus and clarity was basically what I was looking for from a supplement like this, so I'd say I'm happy with the effects.
I feel like time will tell if it also helps with memory or prevents mental decline in the long term, but the research suggests that it certainly can't hurt.
Want to try Perfect Keto Nootropic for yourself? You can head to this link, and use the code TRYKETO to save 20% on your order!