Keto Krate June 2018 Review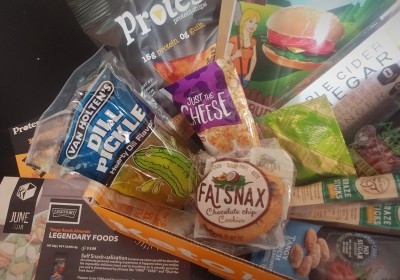 Summer usually means more time outside and on-the-go, which made me look forward to my monthly box of keto snacks even more this month. This keto subscription has been pretty consistent with its product mix so far, so I have a good idea of what to expect at this point: about two jerky/meat snacks, a couple other savory/salty snack options, some keto-friendly sweet treats, and then maybe a unique ingredient or pantry item.
As a reminder, Keto Krate costs $34.95 per month plus a $4.95 shipping fee ($39.90 total), and promises 6-8 keto-friendly snacks per month plus $20+ in coupons and discounts that subscribers can use to purchase more of the featured products. All products included are gluten free, aspartame/malitol free, and 5g net carbs or less per serving. You can view reviews of past Keto Krates here.
If you're a new subscriber, you can take advantage of the $5 discount offer when you sign up here using the Keto Krate promo code FIVE2018.
Here's what was in the June Keto Krate: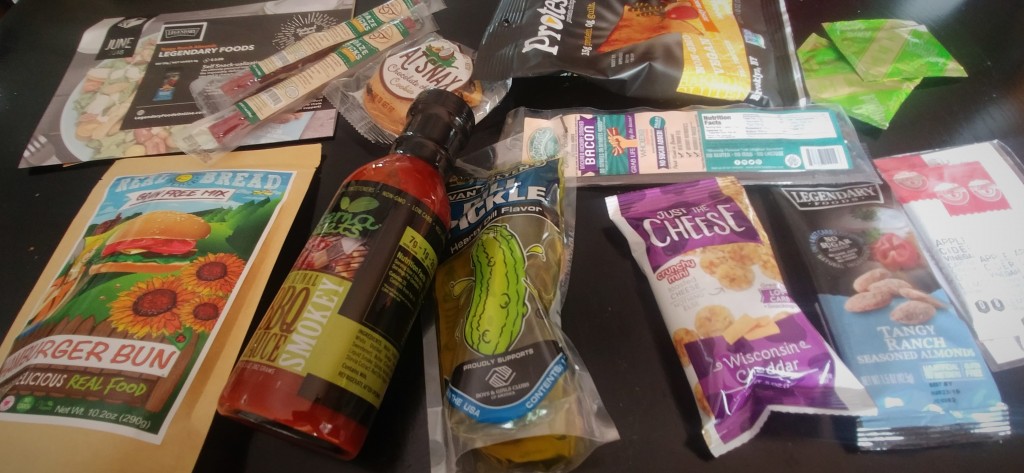 First up, I opted for this cheesy snack:

1x 0.5oz pack Just the Cheese Crunchy Minis, Wisconsin Cheddar (value: $1.50) [1g net carbs per serving]
I love cheesy snacks, so naturally this was one of the first things I tried. I have had other products from Just the Cheese in the past, and as the brand name suggests, they are all made with 100% cheese as the base ingredient (some varieties have added spices as well).
This was just a standard cheddar flavor, with a nice amount of crunch and a convenient size for a quick snack on the go. There's a certain buttery aspect to the flavor/texture of these that I really like, and I found them to be surprisingly filling since the 95 calories in this pack is mostly from fat.

1x package California Country Gal Hamburger Bun Mix (value: $8.99) [3g net carbs per serving]
This was a cool product to try out! When I get bored of lettuce wraps or want something more substantial, I occasionally make my own low carb buns with this dough recipe or turn to Smart Buns from Smart Baking Company. Thanks to this being in Keto Krate, I now have another option!
This is a premade grain free mix that you simply add egg, vinegar, and water to. I've used it to make both burger and hot dog buns with good results. The final product is very "breadlike", fluffy, and filling while remaining low carb. It was a cool new discovery, and I am definitely interested in checking out their other products.

1x bottle Alterna Sweets Original BBQ Sauce (value:$9.00) [4g net carbs per serving]
I've been a fan of Alterna Sweets' ketchup for a while now, and now that it's grilling season, I was happy to have the barbecue sauce to match. This is a little higher in carbs than some other options out there, but it's also higher in flavor and richness in my opinion.
I liked the balance of sweet and smoky flavor in this sauce, as well as how thick it is. Some other low carb barbecue sauces I've tried seem watered down or "one note" in comparison. I think this is a really tasty option to have on hand, as long as you keep an eye on serving sizes.

1x 1.5oz bag Legendary Foods Seasoned Almonds, Tangy Ranch (value: $1.99) [4g net carbs per serving]
This is from another favorite brand of mine. Legendary Foods makes low carb flavored almonds and nut butters. This is one of their three almond varieties, and even though I don't usually like "ranch flavored" snacks, I am a fan of these.
They are nicely seasoned without being overpowering or too salty. This package is a good size to take with you on the go this summer, or you can just grab a handful whenever you need to satisfy that crunchy snack craving.

2x bags Boh Tea, Lime and Ginger (value: about $0.50) [0g net carbs per serving]
Next up, we got two drink products to try. The first was a couple bags of Boh Tea. I got Lime and Ginger, but it's possible that flavors varied. In any case, I love the combination of lime and ginger flavors, so this tea was a win for me. I drank it iced and lightly sweetened, although it's mild enough that you could skip the sweetener if desired.
3x packets Squeeze Dried Apple Cider Vinegar (value: about $4.00) [2g net carbs per serving]
The other drink was basically the health benefits of apple cider vinegar and probiotics meets the flavor of a sweet and spicy lemonade. I say sweet and spicy because in addition to being flavored with lemon and sweetened with stevia, the packets also feature cayenne, ginger, and cinnamon for flavor and an extra kick. I enjoyed them cold, but you can also use them to make a hot drink instead.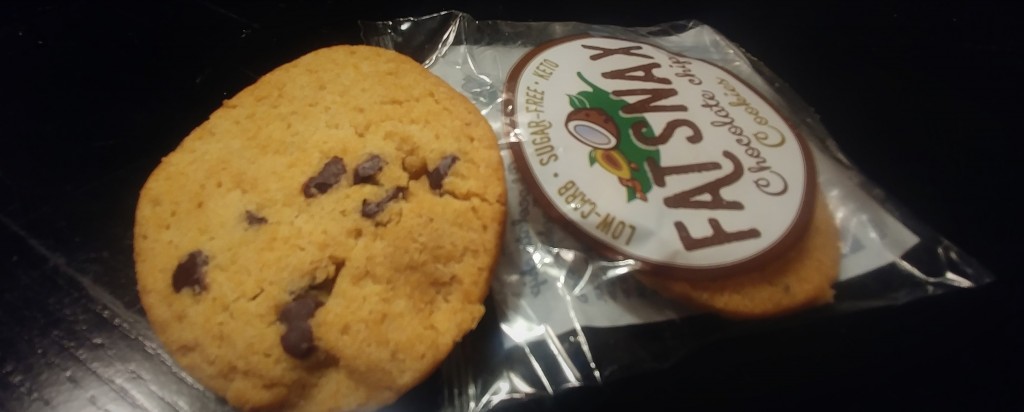 1x pack Fat Snax Cookies, Chocolate Chip (value: about $2.99) [2g net carbs per serving]
Being the chocoholic that I am, I will never turn down a good chocolate chip cookie. These cookies from Fat Snax are made with a low carb, high fat lifestyle in mind. They are sweetened with erythritol and stevia, and use familiar low carb baking ingredients like almond flour, coconut flour, and butter.
Texture-wise, I would describe them as being kind of cake-like. I usually prefer the crisp on the outside, chewy on the inside texture of a traditional cookie, but these are a good option when you want to satisfy your sweet tooth without turning on the oven.
1x Van Holten's Pickle, Hearty Dill (value: $1.59) [1g net carbs per serving]
I'm not really a pickle person, so I probably wouldn't just chomp on this as a snack, but since it's grilling season I definitely found opportunities to add a slice or two to burgers and other meals. This pickle is nice and crunchy with a classic dill flavor. I did find it to be a bit on the salty side for my personal taste, but not enough that it overpowered other flavors.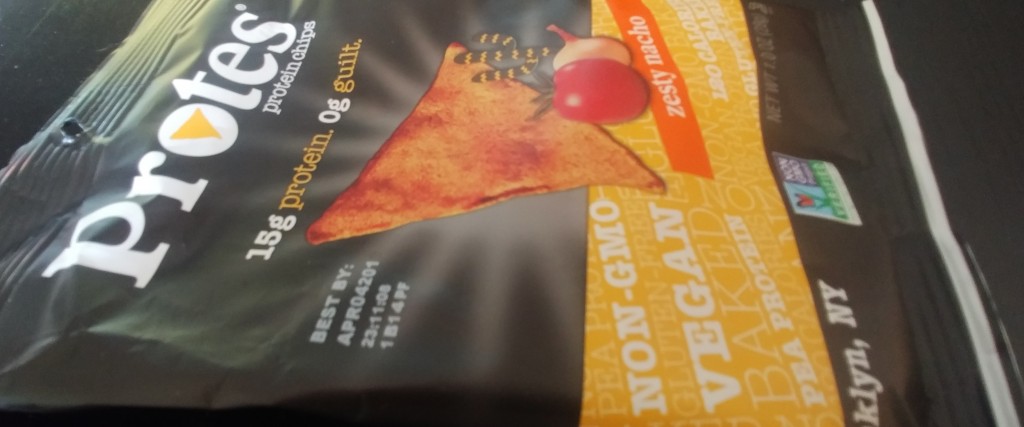 1x bag Protes Protein Chips, Zesty Nacho (value: $1.99) [4g net carbs per serving]
I've had a couple different flavors of Protes at this point, with this flavor being one near the top of my list to try. As someone who doesn't like the taste/texture of most pea protein based products, I've found that stronger, savory flavors counteract that better than more mild options.
Unfortunately, the zesty nacho flavor here didn't quite mask the pea protein enough for me to really get into these chips (the barbecue flavor is better in that regard). If I could top them with cheese and other goodies, I would probably like them more, but they are a bit too fragile to make actual nachos.

2x Mission Meats Graze Sticks, Original (value: about $3.50) [1g net carbs per serving]
This brand made my list of the best keto jerky options for a reason! These grass-fed beef snack sticks are proof that you don't need fancy flavor combinations or tons of artificial ingredients to make a good jerky. They are basic, but in a good way. The seasoning is well balanced and lets the flavor of the meat shine through.
1x pack Pederson's Bacon Snack Pack, Hickory Smoked (value: $2.50) [0g net carbs per serving]
This was the second meat-based snack in this month's Krate. I love bacon of course, so this automatically put a smile on my face when I saw it. It isn't bacon jerky, but instead just a snack pack of precooked uncured sugar free bacon that's perfect to eat on the go. I'm no stranger to enjoying bacon as a snack, although I did pop this in the microwave for a bit to give it back some of the crispiness that I like in my bacon.
In addition to the products included in the June Keto Krate, subscribers also received the following discounts:
10% off Legendary Foods
10% off Fat Snax
20% off California Country Gal
10% off Just the Cheese
10% off + free shipping @ Alterna Sweets
15% off Protes
Free bacon jerky @ Mission Meats
10% off Pederson's
25% off Squeeze Dried
15% off Boh Tea @ Amazon
The box also included a recipe for BBQ bacon sliders featuring the burger mix, barbecue sauce, and other items from the box. I thought it was really cool to get a recipe featuring multiple products!

Overall Thoughts
I really liked this month's box! I felt like there was a cohesive summer theme to the items, especially since the recipe included a way to use them all together to make the bacon sliders. The contents of the box were well within what I've come to expect as far as the mix of snacks and pantry items, though I wouldn't have minded the inclusion of other "sweet" item since there was a lot of savory this month.
This box also hit the mark in terms of value. We got 11 different products, with two being large multi-use pantry items (the baking mix and sauce) and the drinks and Mission Meats having multiple single serving items.
You can view past reviews here, and head here to sign up for your own Keto Krate. If you're a new subscriber, you can use the code FIVE2018 to save $5!