Butcher Box for Keto – Worth the Price?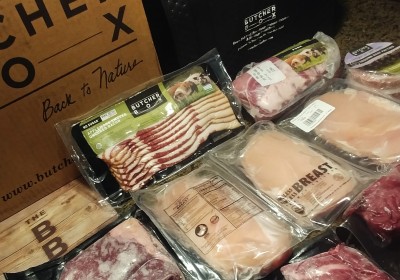 I'm not sure I can tell you how many times I started putting together a keto Butcher Box before finally following through with the order. Grass-fed beef, heritage raised pork, and free range chicken, all sustainably farmed? Sounds great! Getting all of that without having to go to the store and hope my favorite cuts are on sale and in stock? Even better!
But then I would get to the final stage of ordering, look at the price tag, and hesitate. Was Butcher Box really worth it for keto? I go to the store anyway, and if I look around, couldn't I maybe find some affordable grassfed options there? Well, I tried. And was true that some of my usual stores carry grassfed ground beef, and maybe a couple cuts of steak on a good day. Cage free chicken breast I could find pretty reliably, but wings, thighs, etc. were harder to find. As for pork…other than one or two uncured bacon brands, options were very limited there as well.
So eventually, I submitted my order. At the very least, I'd try out a box, see if I could taste a difference in the higher quality meats, and decide if it was worth it for me. Was it?
Ordering a Keto Butcher Box
If you're thinking about signing up for a keto Butcher Box, I would definitely recommend taking advantage of a Butcher Box promo when you order. I've found the value of the box to be worth it for me (as I'll get to in this post) but it certainly doesn't hurt to get an extra bonus if you can. For example, some offers will add steaks to your first box for free. Others will add a freebie to every box for as long as you keep your subscription! Check out what the current offer is over on my Recommendations page.
Next up, you'll need to pick your box. You can opt for a $129 "classic box" (9-14 pounds) or the $238 "big box" which is about twice that. Then you choose your mix of meats: all beef, beef & chicken, beef & pork, mixed (all three meats), or custom. The first four boxes are curated by Butcher Box staff, and the custom box lets you pick your own cuts each month and offers about 20% more meat for a slight upcharge ($149 for the classic size).
Butcher Box Meat Quality
Beef
The grass fed beef is what I was most interested in trying out from Butcher Box, since I had heard good things about it. The key thing to note is that it is grass-fed and grass-finished, which mean the Butcher Box cows eat only grass and forage for their whole lives. This leads to higher levels of some healthy fats and vitamins in the beef. Additionally, the cows are humanely raised on pastures where they are free to roam and not given hormones or antibiotics.
Pork
The pork in Butcher Box comes from heritage breed pigs. Because they mature more slowly than factory farm pigs, the meat is naturally more flavorful. They are also pasture raised in certified humane, sustainable conditions. This means no antibiotics or hormones here either.
Chicken
Butcher Box chickens are raised cage-free, mostly on sustainable small farms. They are fed vegetarian, non-GMO diets, and never given hormones or antibiotics. The chicken is certified organic by the USDA.
Keto Butcher Box Review
Beef
I've tried most of the Butcher Box beef offerings at this point (including some cuts, like coulotte roast, that I had never even heard of before), and I have literally never been disappointed. The steaks are definite standouts, and they turn out tender and juicy even when I don't bother breaking out the meat thermometer to get just the right temperature. Even the ground beef, which you would expect to have minimal noticeable difference, is more flavorful than the standard grocery store stuff!
Pork
The bacon was always going to be a hit with me…because it's really hard to find bacon that doesn't taste good! I do appreciate that I don't have to worry about dodging added sugars or nitrites though. When available, the baby back ribs are probably my favorite cut of pork from Butcher Box. I've had them grilled, baked, and pressure cooked, and they turn out great either way! And as someone who was never a fan of pork chops (the ones I had as a kid were always tough and dry), the chops from Butcher Box were tender and among the best I've ever had.
Chicken
Although the chicken was definitely delicious too, it didn't quite blow my mind to the same extent as the beef and pork. The quality was most noticeable with the chicken breasts, which seem to stay nice and juicy no matter how I cook them. I haven't tried a whole chicken from Butcher Box yet, but it's next on my list.
Butcher Box Value for Keto
I think the value of Butcher Box will depend on how much meat you eat, and how easy it is to find grass fed beef, cage free chicken, and heritage pork where you are. For me, I can pretty reliably find grass fed ground beef at local stores for a reasonable price on sale, but things like grass fed ribeye, when they are available at all, can be over $20/pound.
Similarly, you can usually find cage free chicken breast at club stores like Sam's or Costco, and the prices might work out better if the bulk package size makes sense for your household. As for pork, I'm not sure if I have ever seen pasture raised heritage pork cuts near me.
To get the best value out of your keto Butcher Box, I would recommend:
Try the curated boxes. If you're not picky about the specific cuts you get, you will save $20 over the custom box.
Look for a promo offer. As mentioned earlier, some of these will add free items to every box.
Evaluate how much meat you use/buy. I thought Butcher Box was "too expensive" for me, until I realized I already spend a fair amount on (often lower quality) meat.
For me personally, I usually opt for a custom classic box every other month. I basically use it to "fill in the blanks" of the meats that are available/on sale locally at a price/frequency that works for me.
What's In A Butcher Box?
To give you a better idea of the amount of meat to expect in your keto Butcher Box, here are the contents of some of my past boxes:
Keto Butcher Box #1
3lbs boneless skinless chicken breast
2.75lbs baby back ribs
3.5lb pork loin roast
4x 6oz flat iron steaks (1.5lbs)
2lbs beef stew meat
3lbs chicken wings
10oz uncured sugar free bacon (free add-on)
Keto Butcher Box #2
6x 1/3lb Butcher Box burgers
1.5lb sirloin cap roast
2x 6oz filet mignon
2x 10oz ribeye steaks
4x 8oz pork chops
3lbs chicken drumsticks
10oz uncured sugar free bacon (free add-on)
Everything comes packed chilled and securely in an insulated (and reusable!) tote inside of a cooler with dry ice.
Overall Thoughts + Promo Code

I have really enjoyed my experience with Butcher Box so far! Keto isn't just about getting in a good amount of protein and healthy fats, but also about the quality of where those nutrients come from. As someone who is also concerned about the sustainability and environmental impact of what I eat, making the effort to seek out more humanely raised and antibiotic/hormone free options made sense for me.
I have generally been impressed with the quality of the meat I've gotten, and I like that I've been able to try new cuts that I would have trouble finding at local stores. The option to swap or add on items to my box, as well as to skip a month in between shipments, keeps it flexible enough to work for my needs.
Best of all, if you sign up for Butcher Box now through this link, you will get a FREE BBQ bundle (2 New York Strip Steaks, Baby Back Ribs, and 2LBs of Ground Beef – a $59 value) with your first box! Just head here to sign up.