My Keto Snack Box July 2018 Review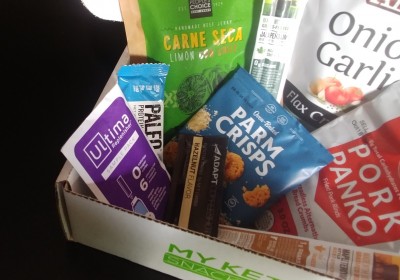 My Keto Snack Box has been in and out of my keto box rotation for nearly a year now, and I feel like I'm starting to get the hang of what to expect. It's a little less predictable than some of my other keto subscriptions, and I appreciate the chance to learn about some less familiar keto brands. You can view past reviews here.
As a reminder, My Keto Snack Box is a $38 per month keto subscription that sends subscribers a box of 6-8 "unique" low carb products with free shipping. The products are guaranteed to be keto-friendly, with 5 net carbs or less per serving. It is meant to make it easy and convenient to have keto snacks on hand without having to shop around for them yourself. Ketoers who live abroad will also be happy to hear that My Keto Snack Box ships internationally!
Here's the contents of the July 2018 My Keto Snack Box: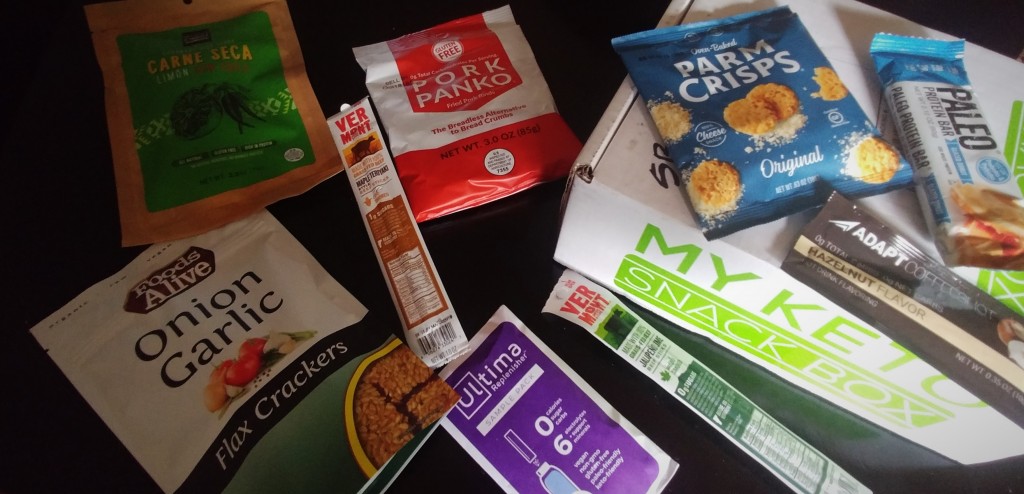 I was happy to start with an old favorite of mine:

1x 2.5oz package People's Choice Carne Seca Limon Con Carne Jerky (value: $6.00) [0g net carbs per serving]
If you've seen my post on keto jerky brands, you'll already know that People's Choice is one of my favorite brands and this is my favorite flavor from them so far! This product did come in a MKSB last year as well, but since I like it so much, I'm certainly not complaining. Some notes from a past review:
It's rare to find a jerky that has a bold flavor without added sugars, but this definitely fits that bill. It's relatively spicy thanks to the inclusion of cracked red pepper and chili powder, but the spice is balanced by the lemon flavor so it isn't overpowering.

1x 4oz bag Foods Alive Flax Crackers, Onion Garlic (value: $6.99) [1g net carb per serving]
This is another product I've had before. Foods Alive is one of the few brands that make flax crackers that don't just taste like burnt seeds to me. The onion and garlic flavor isn't my favorite from them, but the strong savory taste does help to mitigate the flax taste which I can be sensitive to. Other than that, these provide a nice amount of crunch and are sturdy enough to hold up to most dips and toppings.

1x bag ParmCrisps, Original (value: about $1.50) [0g net carbs per serving]
Parmesan crisps are an increasingly more common low carb snack, and this brand is one of the best. This small bag of mini crisps is perfect for a single serving snack, or you can add them to a salad or bowl of soup for a crunchy bonus.
1x Julian Bakery Paleo Protein Bar, Glazed Donut (value: about $2.99) [5g net carbs per serving]
I'll fess up to occasionally eating a Quest bar or other low carb protein bar to keep me going on a long day or top off my protein macros. I like most of them, so I had high hopes for this bar, especially with the cleaner ingredient list. Unfortunately, the flavor and texture just weren't for me. I even tried heating it briefly, which normally improves other bars, but I still didn't enjoy it. It seems like maybe the bars have been reformulated recently, so perhaps this was the older recipe because the new one seems to have better reviews.

1x 3oz bag Bacon's Heir Pork Panko (value: about $4.00) [0g net carbs per serving]
These are brilliant! Crushed pork rinds are a common "breading" ingredient for keto recipes since breadcrumbs, flour, and so on are obviously out of the question. This saves you the hassle of crushing them yourself, which sounds like a small convenience, but actually saves a bunch of time, effort, and mess for me.
I especially like being able to just measure the pork panko directly, rather than guessing how many handfuls of pork rinds I need to run through the food processor. These also have a nice consistency to the size of the crumbs, which I have found leads to more evenly crispy breading.

1x stick Vermont Smoke & Cure Grass Fed Beef, Jalapeno Lime (value: about $2.49) [3g net carbs per serving]
1x stick Vermont Smoke & Cure Grass Fed Beef, Maple Teriyaki (value: about $2.49) [3g net carbs per serving]
Next up, we got these two grass fed beef sticks from a brand that is quickly becoming a favorite of mine. Both are flavorful and moist but not mushy. I especially like that they are free of antibiotics and have no added hormones, nitrites, or preservatives. Both have a small amount of natural sugars added, but not enough to affect my ketosis.
The jalapeno lime was definitely my favorite, because I love the combination of citrus and spice (just like with the People's Choice jerky). Both are tasty though, as are the other flavors from this brand that I've tried since. Pick some up here, and save 20% with the code TRYKETOWITHME20.

1x packet Adapt CoffeeShot Hazelnut (value: about $1.25) [0g net carbs per serving]
As a daily coffee drinker, I always appreciate getting healthy fats that I can add to my morning brew. Hazelnut isn't my coffee flavor of choice usually, but the flavor in this wasn't overpowering or artificial tasting at all. I liked the creaminess that it added to my coffee.
1x Ultima Replenisher Sample Pack (value: about $4.50)
I really like these, so I'm actually happy that they've showed up in a couple boxes this summer. These sugar free electrolyte drink mixes are a great way to stay hydrated and get in those crucial minerals like sodium, potassium, magnesium, and calcium. I don't know if I have a favorite flavor, but all of them were pretty tasty!
Overall Thoughts
This was a pretty good selection from My Keto Snack Box. We got a lot of savory snacks, including three jerky products, but also some additional variety in the form of the protein bar, Ultima drink mixes, and Coffee Shot. We also got a pair of crispy/crunchy snacks which is always appreciated on keto.
I do feel like the inclusion of one sweet snack would have really helped to round this box out both in terms of value and variety. However, I used and enjoyed every single item in the box aside from the protein bar, so I'm not too disappointed.
Want to join in the My Keto Snack Box fun? Head over to their website to sign up, and try the code MKSB5 to save $5 on your first box!