My Keto Snack Box September 2018 Review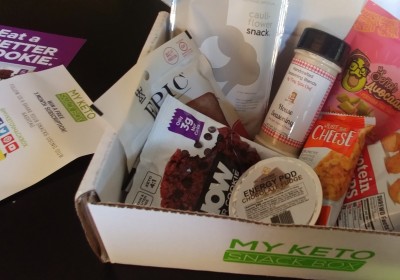 Last month's box was one of my favorites from My Keto Snack Box, so I was eager to see how this month would hold up in comparison. This box is a little less predictable than some of my other keto subscriptions, and I appreciate the chance to learn about some less familiar keto brands. You can view past reviews here.
As a reminder, My Keto Snack Box is a $38 per month keto subscription that sends subscribers a box of 6-8 "unique" low carb products with free shipping. The products are guaranteed to be keto-friendly, with 5 net carbs or less per serving. It is meant to make it easy and convenient to have keto snacks on hand without having to shop around for them yourself. Ketoers who live abroad will also be happy to hear that My Keto Snack Box ships internationally!
Here's the contents of the September 2018 My Keto Snack Box: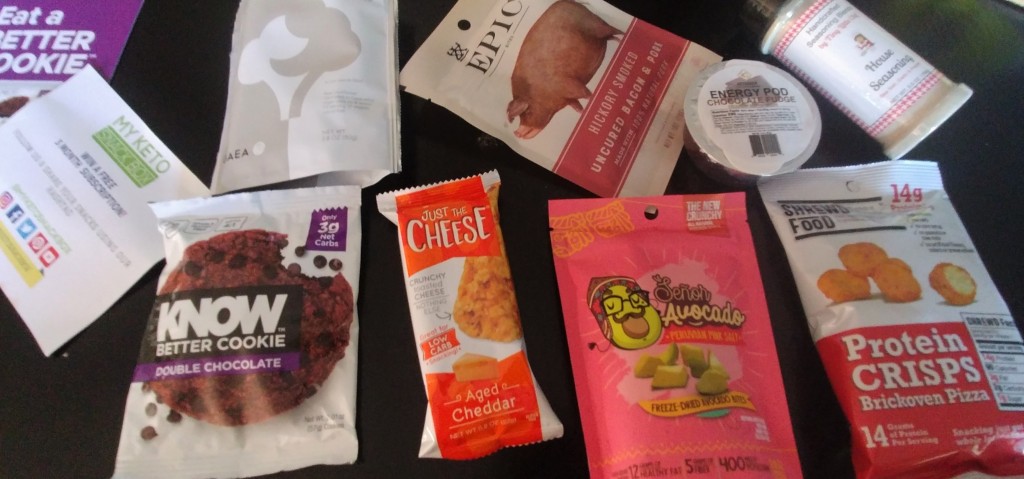 First up, I went for these chocolaty treats:

1x Know Better Cookie, Double Chocolate (value: about $2.99) [3g net carbs per serving]
I know there was some controversy a year or two ago about whether the macros on these cookies were "too good to be true", but I personally haven't had an issue with them kicking me out of ketosis. In any case, there is a new recipe and smaller size for these cookies compared to the huge meal replacement size they were before. They are dense (but soft), rich, and very filling. I generally find that half a cookie is enough to satisfy.
1x Keto Geek Energy Pod, Chocolate Fudge (value: about $4.00) [2g net carbs per serving]
Yum! This is a portable "fat bomb" style snack made with healthy fats (like ghee, coconut oil, and nuts) and cocoa. To me, it tasted like a creamy, spreadable version of brownie batter. You can use it as a topping or spread, but I just ate it with a spoon! It has just enough sweetness to be tasty but not overpowering.

1x bag Shrewd Foods Protein Crisps, Brickoven Pizza (value: about $1.99) [2g net carbs per serving]
These are a crispy, crunchy, cheesy keto snack that reminds me of something like Cheetos. They are high in protein and low in carbs. I thought they could have used a bit more cheese flavor and the texture is a little on the dry side, but they can definitely help to satisfy a craving in a pinch, especially if you find 100% cheese snacks to be too heavy.

1x 5.5oz jar Tiny Little Chef Seasoning, House Seasoning (value: $9.99) [<1 net carb per serving]
Keto-friendly seasoning blends without fillers, starches, and sugars can be somewhat hard to find, so I'm always happy to try a new one. This house seasoning is from Tiny Little Chef, a brand I've tried before. It's a basic mix of garlic, salt, and pepper, perfect for adding flavor to meat and veggies. It's a simple formula, but very tasty and well balanced.

1x pack Just the Cheese Bars, Aged Cheddar (value: about $1.99) [<1g net carbs per serving]
I'm a fan of crunchy cheese snacks, and these bars are no exception. They are made from 100% cheese, and I personally prefer this flavor to the "grilled cheese" variety because of the stronger cheese flavor. I appreciate that they aren't too salty or heavy.
1x bag Senor Avocado, Peruvian Pink Salt (value: about $4.00) [2g net carbs per serving]
I got to try the smoked sea salt flavor of these freeze dried avocado bites in another box last month, and I think I actually prefer the milder flavor of this plain salted version. They are somehow crispy and creamy at the same time. Though I would prefer a fresh avocado, this an interested on-the-go option.

1x 1oz bag Epic Jerky Bites, Uncured Bacon & Pork (value: $2.99) [0g net carbs per serving]
I love bacon and am generally a fan of bacon jerky too, but this particular product fell a little short for me. Although it's made with quality meat, the texture didn't have the "bite" that I normally look for in a jerky. I might not have minded the soft texture as much if there was an interesting flavor profile, but that's missing too.
1x pouch Gaea Cauliflower Snack (value: about $3.50) [2g net carbs per serving]
This is another savory snack of marinated cauliflower. The ingredients are simple: cauliflower, salt, olive oil, and lemon essential oil. I actually liked it more this time than the first time I tried it months ago, but still found the salty flavor of the brine to be a bit overpowering.
Additional promos/discounts are also becoming a regular addition in MKSB. This month we got a coupon for Know Foods.
Overall Thoughts
This was a pretty well rounded My Keto Snack Box, though I wouldn't have minded if there was another item to top up the value of the box (I would have loved a second energy pod!). In any case, we got a nice mix of sweet treats, savory snacks, and a pantry item in the form of the TLC seasoning. I also like that the pattern of including discounts is still going.
I'm expecting/hoping for some fall-themed foods or Halloween treats next month!
Want to join in the My Keto Snack Box fun? Head over to their website to sign up, and try the code TRYKETOWITHME to save $3 on your first box!