Perfect Keto Instant Keto Coffee Review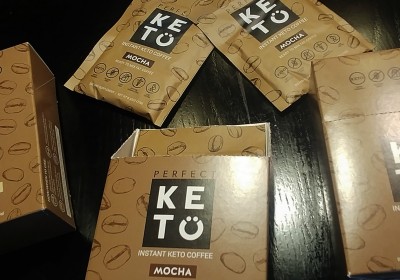 I usually like starting my mornings off with a nice cup of coffee, preferably with some healthy fats and/or collagen to keep me going through the day. Unfortunately, I don't always have the time to whip up my keto coffee with freshly brewed coffee and all the fixings, and trying to order a keto-friendly coffee at most coffee shops is more complicated than I would like.
Because of that, I was pretty excited when Perfect Keto announced their new Instant Keto Coffee. I'm already familiar with many of their other products, so I had high hopes for the Keto Coffee and couldn't wait to try it out for this review!
What is Perfect Keto Instant Keto Coffee?
Perfect Keto Instant Keto Coffee is basically what it sounds like: an instant coffee drink targeted towards those living a keto lifestyle. It comes premixed in a single serving packets that you can make at home or on the go.
Perfect Keto Instant Keto Coffee Ingredients
The ingredient list is pretty straightforward:
Organic Coffee. Naturally, it wouldn't be coffee without the actual coffee (including 60mg of caffeine).
MCT Oil Powder. This provides 7g of MCT healthy fats for energy and a bit of fiber.
Stevia (flavored varieties only). A small amount of stevia is used for sweetness.
Organic Cocoa Powder (Mocha only). Adds a creamy chocolate flavor.
Natural Vanilla Powder (French Vanilla only). Adds a rich vanilla flavor.
That's it! No sugar, no junk, and no fillers!
What Does It Taste Like?
Right now, there are three flavor options for Perfect Keto Instant Keto Coffee: Mocha, French Vanilla, and Unflavored. I generally like my coffee on the stronger side, so I was very happy to discover that none of them taste watered down like a lot of the instant coffees out there.
Mocha is probably my favorite overall, because of the creaminess and rich flavor from the cocoa powder. The French Vanilla has a milder taste, which makes it good for when you want to add your own extras like a scoop of collagen or a pinch of pumpkin spice. Both have a bit of added stevia, but the sweetness level is mild so that you can adjust to your taste.
The Unflavored, of course, just tastes like a medium roast black coffee! It's the most versatile option if you want to use your own coffee additions (or just like plain black coffee).
Is It Easy To Make?
Yup! You can literally just add water for a quick keto coffee drink, although I usually add an extra splash of cream and a bit of sweetener too. If I really want an extra energy (or flavor) boost, sometimes I add a scoop of collagen as well.
I would definitely say that it mixes best with hot water. Perfect Keto Instant Coffee makes a good iced drink too though, you just have to stir a bit more if you don't have access to a blender or frother. I recommended stirring into a small amount of water to dissolve and then adding the rest after.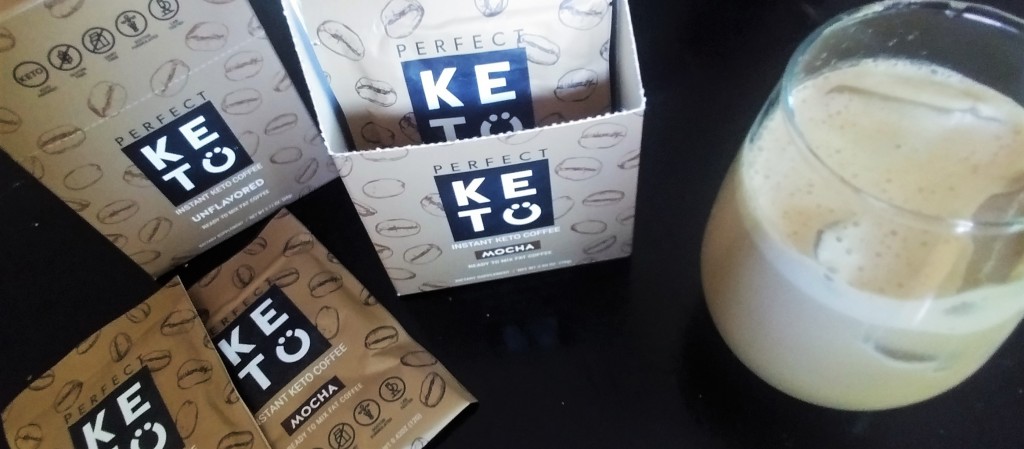 Does It Contain Exogenous Ketones?
Nope. Some people avoid exogenous ketones, only use them as needed, or just take them later in the day (ie. as a preworkout supplement). To keep things accessible to as many ketoers as possible, there are no added ketones in Perfect Keto Instant Keto Coffee (though MCT oil itself may increase natural ketone production). If you usually add exogenous ketones like Perfect Keto Base to your morning coffee, you can easily mix them in.
Why Would I Use Perfect Keto Keto Coffee?
If you're already drinking keto coffee with some kind of added healthy fats, then you know the benefits it has for energy and satiety. This just provides those benefits in a more convenient package, for those times when you don't want to wait for the coffee maker or deal with measuring coconut oil.
Most days I have time to brew my own keto coffee, but I love having this option for those times when I don't! Plus it makes a good on-the-go or travel option, so I can leave my container of MCT oil powder at home and still have a tasty keto coffee while I'm out.
Overall Thoughts + Discount
I am super happy to have a clean and tasty Instant Keto Coffee product out there on the market! It's been a lifesaver when I'm in a rush but don't want to sacrifice my daily dose of caffeine and healthy fats. I was worried about the coffee itself being weaker because it's instant, but that turned out to not be a problem at all. The flavored varieties are especially tasty, but I like that there's an unflavored/unsweetened version too.
If you're a fellow keto coffee drinker who wants to save some time and effort while still enjoying a fat fueled coffee at home or on the go, you can find Instant Keto Coffee on the Perfect Keto website here.
Best of all, you can save 20% on your order of Perfect Keto Instant Keto Coffee when you use head to this link and use the code TRYKETO at checkout!