My Keto Snack Box October 2018 Review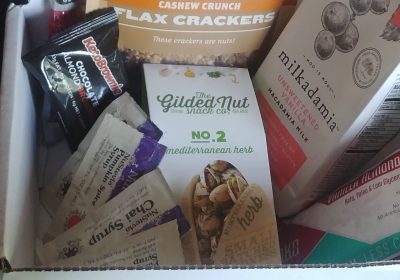 I got a pretty good run of summer boxes from MKSB, so I was hoping that the fall boxes would hold up nicely too. This box is a little less predictable than some of my other keto subscriptions, and I appreciate the chance to learn about some less familiar keto brands. You can view past reviews here.
As a reminder, My Keto Snack Box is a $38 per month keto subscription that sends subscribers a box of 6-8 "unique" low carb products with free shipping. The products are guaranteed to be keto-friendly, with 5 net carbs or less per serving. It is meant to make it easy and convenient to have keto snacks on hand without having to shop around for them yourself. Ketoers who live abroad will also be happy to hear that My Keto Snack Box ships internationally!
Here's the contents of the October 2018 My Keto Snack Box:

First up, these two sweet treats:

1x Stoka Bar, Vanilla Almond (value: $2.99) [4g net carbs per serving]
1x KetoBrownie, Chocolate Almond (value: $3.00) [4g net carbs per serving]
Both of these are items that I've tried before, which isn't a problem since both are pretty tasty. The Stoka Bar is like a low carb version of a Nature Valley granola bar. It's crunchy and not overly sweet, so it works just as well as a quick breakfast or afternoon snack. I like to add a little sprinkle of cinnamon or crumble it into some low carb yogurt.
As for the KetoBrownie, I wouldn't say that it passes for a freshly baked brownie, but it's still nice and chocolatey (plus you don't have to turn on the oven!). It's smaller compared to many other low carb bars/snacks, but more filling than it looks thanks to a good amount of healthy fats.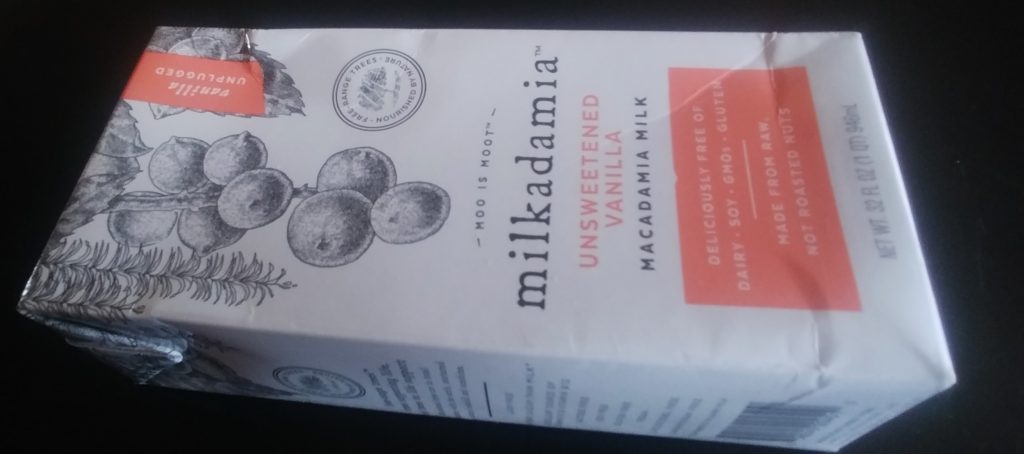 1x 32oz carton Milkadamia Macadamia Milk, Unsweetened Vanilla (value: about $5.00) [0g net carbs per serving]
Next up, another favorite of mine that I discovered from keto boxes. As the name suggests, Milkadamia is macadamia nut milk. Like other nut milks, it's a low carb alternative to dairy milk. I find it to be a bit creamier and richer in flavor than most almond milk brands. It works well in keto shakes, MCT matcha lattes, and with low carb cereal/granola. It was also good for washing down the previous two items.

2x packets NuNaturals NuStevia Chai Syrup (value: about $2.00) [0g net carbs per serving]
2x packets NuNaturals NuStevia Pumpkin Spice Syrup (value: about $2.00) [0g net carbs per serving]
I've also had various flavors of these NuStevia packets before. This time, the two flavors MKSB sent were perfect for fall: chai and pumpkin spice. These flavored stevia based syrups are pretty concentrated, so one packet lasts me through multiple coffees. The chai could be a little "spicier" for me, but a sprinkle of actual chai spices rounds it out nicely. I also usually balance them with another sweetener since I'm not a huge fan of a lot of stevia in beverage form.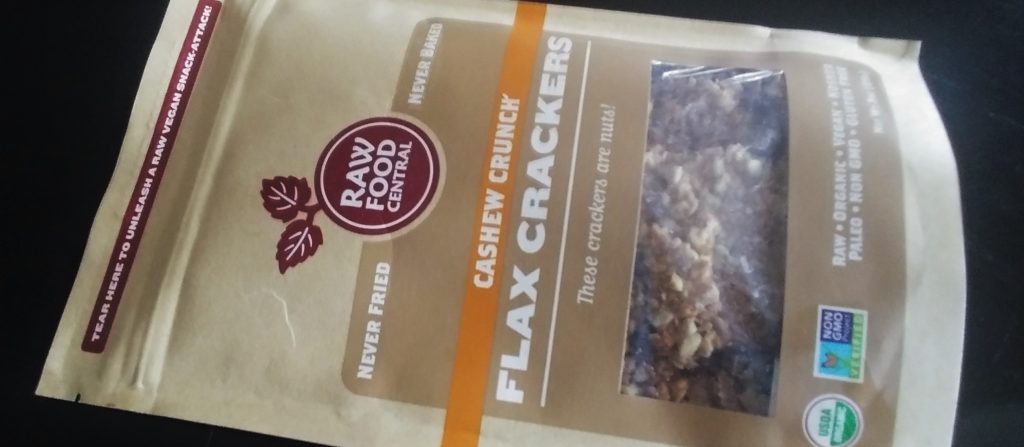 1x bag Raw Food Central Flax Crackers, Cashew Crunch (value: about $6.99) [3g net carbs per serving]
I'm a bit picky when it comes to flax crackers, but the addition of nuts makes these among the better ones I've had. Here are some notes from a previous review:
The most common complaint I have about flax crackers is an overwhelming flax taste/texture, which can be present depending on how they are cooked. Because these aren't cooked at all, I didn't except to have that problem. Turns out I was right! Despite not being baked or fried, they have a nice crispy texture. And thanks to the inclusion of cashews, the flavor is mild enough to go with a wide range of dips and toppings without just tasting like flax.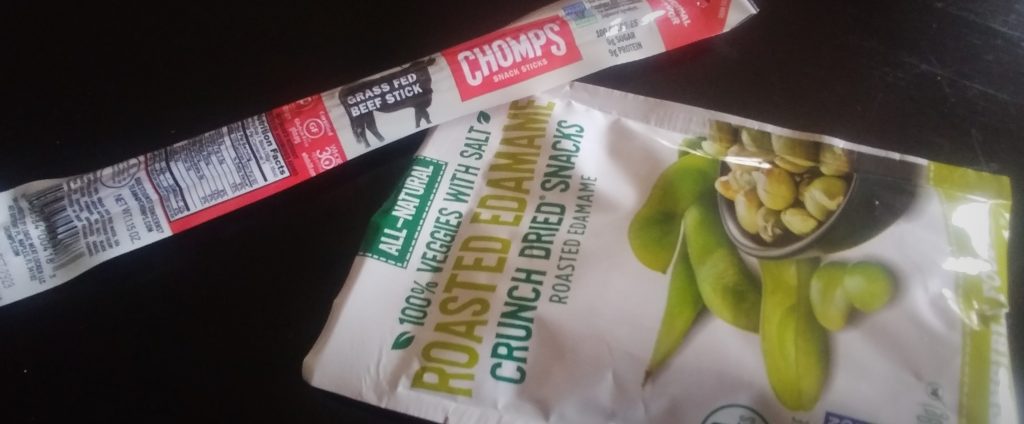 1x Chomps Beef Snack Stick, Original (value: about $2.00) [0g net carbs per serving]
1x pouch Sensible Foods Roasted Edamame (value: about $2.50) [2g net carbs per serving]
Next up, two more savory snacks. The first is a jerky stick from a brand on my list of top keto jerky options. It's pretty straightforward, made with just grassfed beef and a handful of spices. I really enjoyed the flavor and texture.
As for the edamame, here are some notes from when MKSB included this in the February box:
Although I have started eating more edamame since going keto (it now replaces rice as my side dish at my local hibachi place), I usually stick to having it steamed/cooked as a veggie side dish rather than roasted as a snack. It makes a surprisingly good snack though! This product was very simply seasoned with just salt, but it had a nice amount of crunch and the whole pouch only sets you back 80 calories and 2 net carbs.

1x box Gilded Nut Pistachios, Mediterranean Herb (value: about $4.00)
Pistachios aren't my first choice for nuts usually, but when I do have them, The Gilded Nut is one of my favorite brands. Their pistachios are roasted in small batches and come in a number of flavor options. This variety is seasoned with a floral blend of Mediterranean herbs, including oregano, basil, lavender, and sage.
Additional promos/discounts are also becoming a regular addition in MKSB. This month we got: 40% off NuNaturals
Overall Thoughts
I think this might be my very first My Keto Snack Box that didn't have a product/brand that was new to me…and that's really saying something, since I've gotten more than a year of boxes at this point! Still, I liked all of the products that were included so I didn't really mind them being repeated. A lot of them are keto classics for a reason. Similar to last month's box, this box had a good number of different items to try.
Want to join in the My Keto Snack Box fun? Head over to their website to sign up, and try the code TRYKETOWITHME to save $3 on your first box!