Perfect Keto Keto Bar Review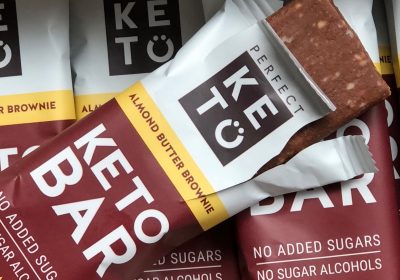 I don't usually mind cooking too much, but there are definitely times where I either don't have the time/energy or just need something keto friendly that I can have on the go. Thankfully, my keto subscription boxes have introduced me to some portable snack options like keto jerkies, nuts, and cheese snacks that I can keep on hand…but I have been a little disappointed when it comes to the options for keto snack bars.
Most traditional "healthy" snack bars are loaded with things like oats, dates, and honey, which are obviously too high carb for keto. Low carb/sugar options exist…but once you weed out the ones with iffy sweeteners like maltitol, most of what's left tends to be high protein rather than a truly keto bar.
Now that's fine for when you actually need the protein, but other times a 20-25g protein bomb can throw off your macros for the day. That's why I was super excited when Perfect Keto announced their new Keto Bar!
What Is Perfect Keto Keto Bar?
Perfect Keto is one of my favorite keto brands, and Keto Bar is one of their newest products. It's exactly what it sounds like: a snack/nutrition bar made with keto macros in mind. Unlike most other bars, it's low in carbs with no added sugars/sugar alcohols and a good amount of healthy fats!
Keto Bar Ingredients
Like all Perfect Keto products, the ingredient list is pretty straightfoward:
Organic Almond Butter & Almonds. These provide healthy monounsaturated fats and a buttery texture.
Tapioca Fiber. Prebiotic fiber supporting gut health, healthy blood sugar, and satiety.
Cacao Butter. More healthy fats, antioxidants, and creamy, chocolatey deliciousness.
Collagen Protein. Supports healthy skin, hair, nails, joints, and muscles!
Organic Cocoa. More chocolate goodness, plus antioxidants and minerals.
Sunflower Lecithin. Healthy fat that contains the essential nutrient choline, helps the other healthy fats to mix together smoothly.
Organic Coconut Oil. Even more healthy fats, including MCTs!
Sea Salt. Adds just enough salty to complement the sweet.
Natural Flavors. Rounds out the taste with no artificial additives.
Stevia. Adds natural, keto-friendly sweetness.
Ten ingredients, with none of them being fillers, sketchy sweeteners, or other junk. Everything is designed to make a keto bar that tastes good while fueling you with healthy fats and supporting your overall health journey.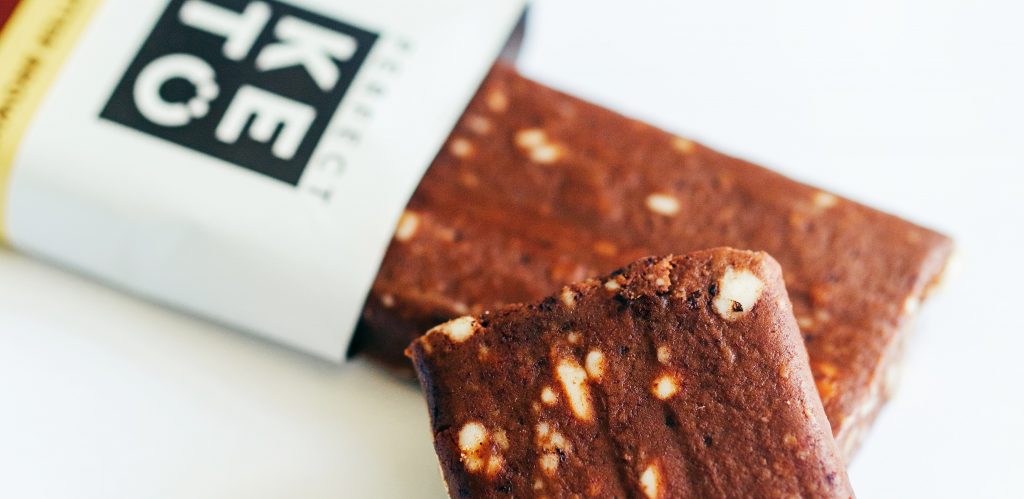 What Does Keto Bar Taste Like?
I don't know if there will be more flavors in the future, but the original Keto Bar flavor is Almond Butter Brownie and honestly, it's delicious! The way I usually describe it is "like a brownie and a chocolate bar had a low carb, high fat baby." The taste will definitely remind you of a good chocolatey brownie, but the bar is slightly firmer with a super satisfying melt-in-your-mouth texture. Plus there are creamy little bits of cacao butter inside!
How Does Keto Bar Compare to Other Low Carb Bars?
For me, there are two big differences between Keto Bar and other options out there:
The macros. This bar is 230 calories with 19g of fat, 10g of protein, and 3g net carbs. The fat/protein ratio is basically the opposite of something like a Quest Bar which is 20g of protein and just 6g of fat for the Brownie flavor. A Brownie B-Up bar is 20g of protein and 8g of fat (while also packing 7g net carbs, including 5g of sugar).
The texture. I'm sure I'm not the only one who has had to pop my low carb bars in the microwave to make them more palatable…which basically defeats the purpose of an "on-the-go" snack! I love that Keto Bar has a buttery texture instead of being either weirdly chewy/gummy or hard and chalky like other bars I've tried.
Does Keto Bar Raise Blood Sugar?
Not for me! I have been burned by other bars before, so this is one of the first things I tested. I checked with my trusty Keto-Mojo meter, which I would definitely recommend if you ever have questions about if something is kicking you out of ketosis. My blood glucose was 83 mg/dL in the morning on an empty stomach, and when I checked it again an hour after eating a Keto Bar, it was 86 mg/dL. No ketosis-killing sugar spikes here!

When Would I Eat a Keto Bar?
It's good for whenever you need a keto snack, but here's how I've been using them:
Overall Thoughts
I try new keto products basically whenever I can, but Keto Bar is one of those rare products that made me actually ask, "Where has this been all of my (keto) life?" I'm so used to having to sacrifice something when it comes to having a low carb bar like this on the go. Either the ingredients aren't very clean, or the macros aren't right, or the taste/texture are disappointing…but with Keto Bar, I don't have to give up anything!
Keto Bar tastes great, there are no junk ingredients, and the macros are specifically designed for keto. There are no added sugars or sugar alcohols, so they don't spike my blood sugar. They are packed with healthy fats and collagen protein, so they keep me satisfied for hours. And did I mention they are super tasty?
Keto Bar has easily become one of my favorite products from Perfect Keto (and there is plenty of competition!) so if you're looking for a convenient and satisfying on-the-go option, I would recommend checking them out with the discount offer below.
Keto Bar Promo Code
If you want to give Keto Bar a try, I've secured an exclusive Keto Bar promo code that's good until the end of November 2018. To save 30% on Keto Bars, just click this link and use the discount code Try-Bars30.
Missed the launch month, or want to stock up on other Perfect Keto goodies too? You can always head here and use the promo code TRYKETO to save 20% on any Perfect Keto order!