Onnit Keto Box January 2019 Review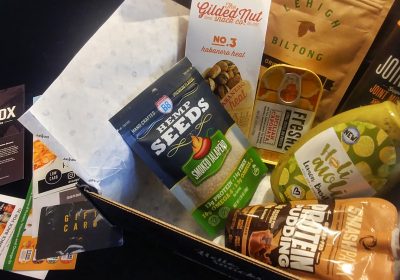 A new year means new Onnit Keto Boxes! I'm always curious to see what will be in this box. In general, you'll get a full sized Onnit product, a selection of higher end keto snacks, and perhaps an additional keto supplement or pantry item. There are fewer items than with my other keto subscriptions, but they seem to be of higher value to match the higher price of the box.
As a refresher, Onnit Keto Box is a premium keto subscription that costs $55.95 per month. For that fee, subscribers are promised a box "personally curated" by Onnit founder Aubrey Marcus and comedian/former UFC fighter Brendan Schaub to include the "highest quality low-carb snacks and supplements." It seems to be targeted for those interested in getting more full sized items, supplements, and trying out new Onnit products in particular. You can review my reviews of past months here.
This post may contain affiliate links. More details.
Here's what was in my January Onnit Keto Box: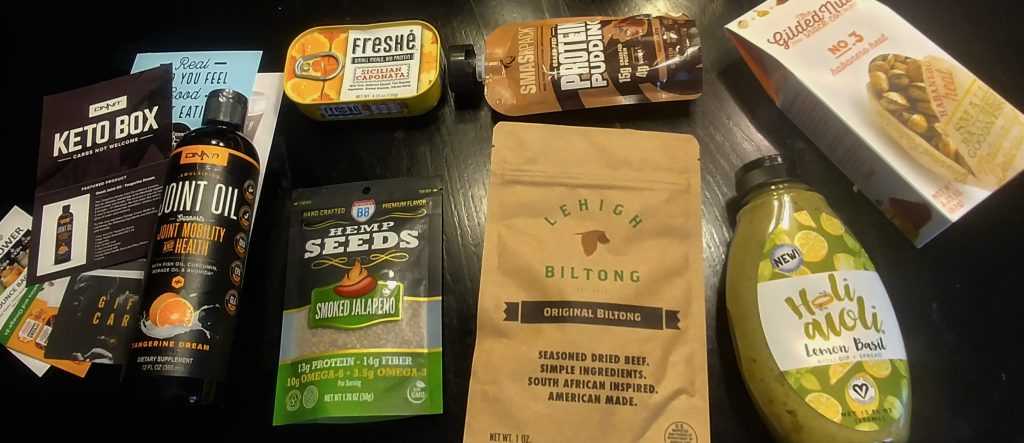 First up, the featured Onnit product for this month:

1x 12oz bottle Onnit Joint Oil, Tangerine Dream (value: $32.95)
This is a healthy fat-based supplement for joint health, with the active ingredients including fish oil, borage oil, avocado, and turmeric. The combination of omega fatty acids and anti-inflammatory ingredients is supposed to help protect and maintain joints. I don't have any joint issues, but I still like to take supplements like fish oil and collagen to help with recovery after workouts and prevent any future issues.
With that said, this is easily the best tasting fish oil supplement I've aver had. There are no fishy flavors anywhere, and it basically tastes like a spoonful of melted creamsicle! I'm no stranger to supplements, but this is one of those rare ones that I actually look forward to taking.

1x 12oz bottle Holi Aioli Dip + Spread, Lemon Basil (value: $12.99)
Mayos and aiolis are great keto condiments due to their high fat content, so I never mind giving a new variety a try. This one is naturally flavored with lemon, basil, and garlic, and can be used in a variety of ways including as a spread, dip, and dressing. It's lower in calories per serving than a traditional mayo, which can be a plus or minus depending on if you primarily use it to boost flavor or fat content.
I thought the flavor was pretty good, though I wouldn't have minded if there was a bit more tartness from the lemon. The texture is thinner than a "spreadable" mayo, but thicker than something like a salad dressing.

1x 2.25oz The Gilded Nut Pistachios, Habanero Heat (value: about $4.00)
This is a snack that I've had before, but I don't mind getting more! Here are some notes from a past review:
Although the name might suggest they are super spicy, it actually has just the right amount of kick balanced with other flavors like garlic, sea salt, and oregano. I really enjoyed them! Pistachios aren't normally my "go to" nut to snack on (the shells are more hassle than I'm usually in the mood for), but this brand is among the best I've had, and this flavor might be my new favorite from them.
Needless to say, I'm still a fan!
1x 50g bag Insterstate Bait  Hemp Seeds, Smoked Jalapeno (value: $1.99)
Hemp seeds have a lot of healthy fats and fiber, and I like using them in smoothies or in recipes like my keto protein noatmeal. I've never really thought of them as something I'd eat as a snack alone though, and I'm not sure if this product really changed my mind about that. The texture of roasted hemp seeds combined with their tiny size make them a bit awkward to munch on. I've been adding these to salads instead, and I find that to be a much better/easier use of them! They add just a bit of heat without being overpowering.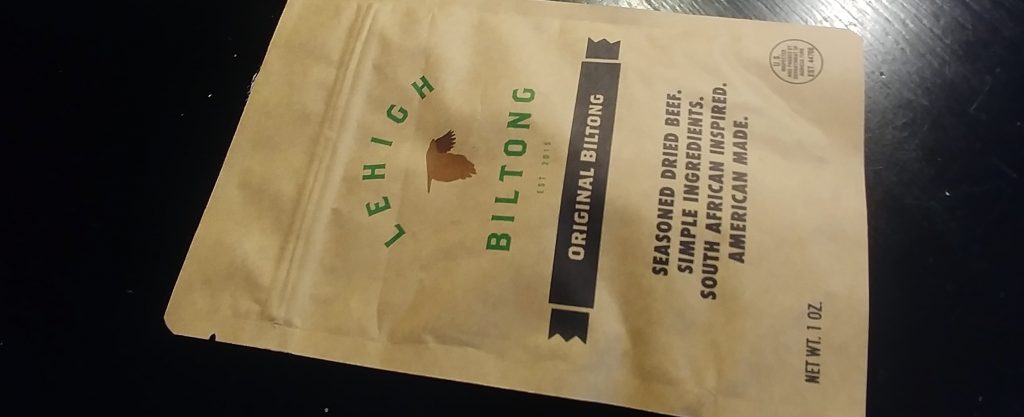 1x 1oz bag Lehigh Biltong, Original (value: about $4.00)
If you're not familiar, biltong is like jerky's thinner, more tender cousin. Even though this is just an "original" favor, it was actually surprisingly flavorful! Coriander and black pepper are the spices at work here, though you can also taste some notes from a vinegar. It's not to soft, not too salty, and overall a pretty satisfying, high protein snack.

1x 4.25oz tin Freshé Gourmet Canned Tuna, Sicilian Caponata (value: about $4.00)
Okay, I have to admit that I wasn't super excited to try this product out at first glance. Canned tuna is something that has only recently started growing on me since going keto, but this product is a bit more adventurous with the addition of veggies and seasoning. It was the last product I reached for in the box, and it didn't look super appetizing upon opening the can…
But somehow, it was freaking delicious! It was super flavorful and perfectly seasoned, the veggies weren't soggy or weird in texture, and the combination just worked so well. It wound up being a very pleasant surprise.

1x 4.27oz Smash Pack Protein Pudding, Chocolate (value: about $3.00)
This was the only sweet treat in the box, and it's definitely a little on the higher carb side (7g total, 5g sugar) so I ended up dividing it into two servings. Taste wise, it was definitely reminiscent of like a reduced fat pudding pack you might buy in a store. Tasty, but not as rich/creamy as I might prefer. The squeeze pack style packaging isn't my favorite either, but the combination of 15g of grassfed protein and the decent flavor was enough to win me over.
In addition to the products in the box, we also got some discount offers:
10% off Onnit
20% off Freshé
20% off Interstate Bait Hemp Seeds
$15 off + Free Shipping @ Real Good Foods
Overall Thoughts
Just like last month, the full size supplement was really the star item for me. I'm really enjoying getting to try out new supplements, and the joint oil was especially good in my opinion. On top of that, we got a selection of mostly savory keto food items for a total of 7 new products to try. The total retail value of the products was about $63, a bit over the cost of the box.
It's not the highest valued Onnit Keto Box I've received, but I continue to enjoy the curation of this box with its focus on supplements and savory sources of protein and healthy fats.
Want to try out this premium keto subscription? You can sign up for your own Onnit Keto Box at their website here.