Keto Krate January 2019 Review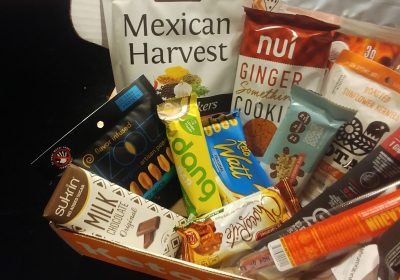 It's the first Keto Krate of the year, so I couldn't wait to see what was inside! This keto subscription has been pretty consistent with its product mix over time, so I have a good idea of what to expect at this point: about two jerky/meat snacks, a couple other savory/salty snack options, some keto-friendly sweet treats, and then maybe a unique ingredient or pantry item.
As a reminder, Keto Krate costs $34.95 per month plus a $4.95 shipping fee ($39.90 total), and promises 6-8 keto-friendly snacks per month plus $20+ in coupons and discounts that subscribers can use to purchase more of the featured products. All products included are gluten free, aspartame/maltitol free, and 5g net carbs or less per serving. You can view reviews of past Keto Krates here.
If you're a new subscriber, you can take advantage of the $5.99 discount offer when you sign up here using the Keto Krate promo code KRATE15.
Here's what was in the January Keto Krate: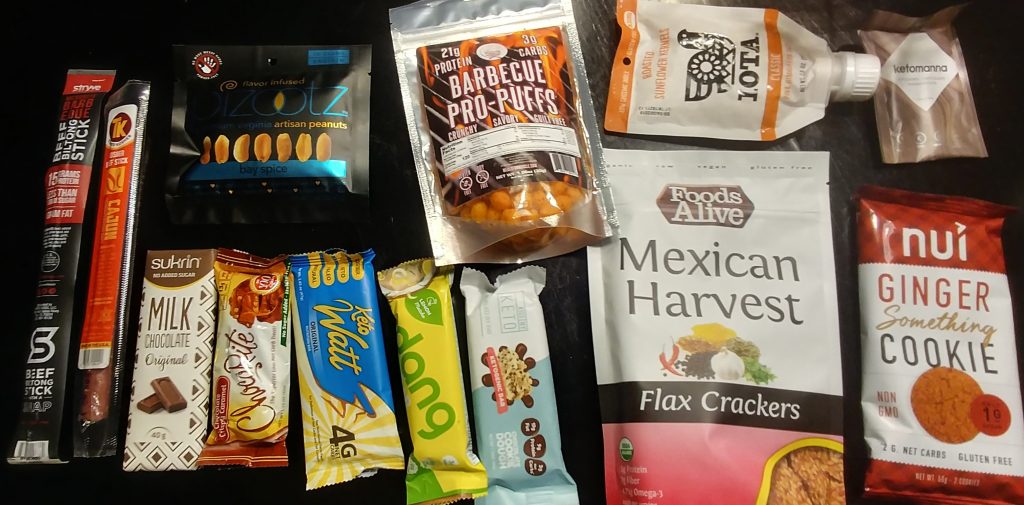 Keto Krate is definitely packing the chocolate goodies lately:

1x pack ChocoRite, Chocolate Crispy Caramel (value: about $1.50)[2g net carbs per serving]
These sweet little treats from ChocoRite are pretty darn tasty! There is a chocolate coating with a layer of caramel and a protein crisps inside. I especially liked that these are maltitol free; many similar products use that lower quality sugar alcohol which is known for blood sugar spikes and stomach upset. Instead, this is sweetened with erythritol (natural sweetener) and sucralose (artificial sweetener).
1x bar Sukrin Milk Chocolate, Original (value: about $3.00)[3g net carbs per serving]
Yay for more chocolate! This time it's a bar of Swiss milk chocolate from Sukrin, sweetened with erythritol and stevia. I generally prefer darker chocolate, especially with that sweetener combo, because it keeps the sweetness from being overpowering. Still, this was a good milk chocolate option with a smooth, creamy texture and 13g of fats per bar to make it surprisingly satisfying.

1x stick Tomer Kosher Beef Stick, Cajun (value: about $1.50)[1g net carbs per serving]
We got a return to form with two meat snacks this month! I really liked the spice level of this beef stick! Rather than being one "spicy" note, it balances a blend of red, white, and black pepper with onion, garlic, and other spices. The end result is really tasty, with a good amount of heat. The texture is a bit on the softer side for a beef stick, which can be a pro or a con depending on your preferences.
1x stick Stryve Beef Biltong Stick, Mesquite Barbecue (value: about $1.99)[1g net carb per serving]
This beef stick isn't as spicy as the previous stick, but it has its own flavor appeal for sure! It has a nice smoky mesquite flavor in addition to being well seasoned with garlic, onion, salt, and spices. I also found the texture really interesting. This is a biltong stick rather than a typical jerky stick, so it has a bit of "snap" bite to it from the natural casing (although the meat itself isn't tough or too chewy).

1x bar Dang Bar, Lemon Matcha (value: about $3.00)[5g net carbs per serving]
I've had this plant-based keto snack bar before and enjoyed it overall. Here are some notes from that review:
With a base of almonds, fiber, and cocoa butter, the ingredients here are similar to other products on the market with the distinction of being all plant based. I thought it was tasty overall, but the texture was a little dry and the lemon flavor had a slightly artificial aftertaste.
1x bar Keto Watt Nutrition Bar, Original (value: about $2.50)[4g net carbs per serving]
This is the second keto snack bar included in the box. This bar from Keto Watt is made with a base of almond butter, fiber, protein, and cacao. It also has some added nutritional boosts from maca, chia, flax, and greens powder. The bar has a soft texture with a mild chocolate flavor and slight nuttiness. There's no added sweeteners that I can see, just the the small amount of natural sweetness from the ingredients like cocoa and almonds. It's filling with 17g of healthy fats and 8g of protein, but I definitely wouldn't have minded a bit of sweetness to bring out more flavor.

1x pouch Synchro KetoManna (value: about $2.50)
Here are some notes on this fat-fueled treat from a past review:
This is a fat bomb style product made with coconut and MCT oil as the main fats and flavored with vanilla and cocoa. The flavor ends up somewhere between a dark chocolate fudge and brownie batter, so I was definitely a fan. You could probably whip up something similar on your own, but the convenience of these grab and go packs is always nice. I'm guessing it would be good blended with coffee as well.
1x bar Kiss My Keto Ketogenic Bar, Chocolate Chip Cookie Dough (value: about $3.50)[3g net carbs per serving]
This product/brand was new to me, so I was pretty excited to check it out. It's another snack/treat bar, although this one definitely goes for more of a "candy bar" taste and texture. There is a chocolate coating and a filling that actually does remind me of cookie dough in taste and texture. There are plenty of familiar keto ingredients like coconut oil, fiber, almonds, egg, and MCTs. It's sweetened with erythritol, stevia, and monk fruit. I thought it was pretty tasty and very filling thanks to the fat, fiber, and protein content.

1x 1.45oz bag Pizootz Flavor Infused Peanuts, Bay Spice (value: about $3.00)[4g net carbs per serving]
I've had these peanuts before, but I still find it cool how flavorful they are without having a messy coating of seasoning. This flavor is made with celery seed/salt, paprika, black pepper, red pepper, and apple cider vinegar. The vinegar came across a little more than I would have expected, but it's a unique combination that's a nice change of pace.
1x 2.5oz package Iota Roasted Sunflower Kernels, Classic (value: about $4.00)[3g net carbs per serving]
This snack is pretty straightforward: roasted and salted sunflower kernels. The unique resealable packaging makes it easy to grab a handful for a quick snack or to top a salad, which is definitely appreciated It also can result in the salt settling to the bottom though, so definitely give it a shake first if you like your sunflower seeds on the saltier side like I do.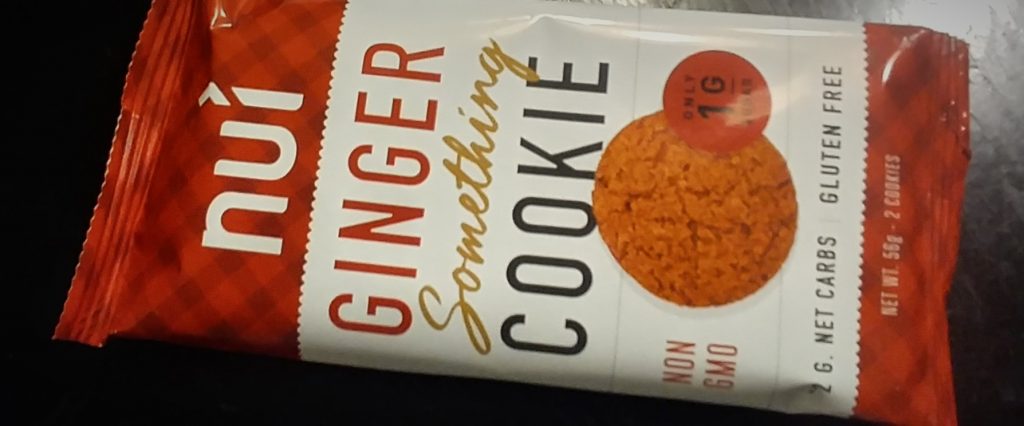 1x pack Nui Cookies, Ginger Something (value: about $3.50)
I've had these before, but definitely appreciated getting more of this limited time flavor before they sell out! Some notes from a recent review:
I enjoy Nui cookies, and this particular variety is there first seasonal flavor. It's like a gingerbread cookie meets a gingersnap which is why they ended up on the name "Ginger Something." I really love the balance of sweetness and warming spices in these, which you can complement with a cold glass of macadamia milk or a bit of cream cheese on top.
1x bag Meals for Muscle Pro-Puffs, Barbecue (value: $3.99)[3g net carbs per serving]
So I have slightly mixed feelings on this product. On the one hand, they do a pretty good job of recreating the flavor of barbecue chips. On the other hand…I've never been a fan of barbecue flavored chips! If you are, I think you'll enjoy these. Like many protein-based snacks, they are a bit on the dry side, so don't forget a drink. For me, I prefer the cheesy flavors of Pro-Puffs (and some of the sweet flavors are a surprisingly good cereal substitute!).
1x bag Foods Alive Flax Crackers, Mexican Harvest (value: $6.99)[4g net carbs per serving]
This final savory snack is another one I've tried before. Here are some notes from a past review:
I'm usually not a huge fan of the texture of flax crackers, but this brand is one of the better ones. The crackers are actually crisp rather than feeling gummy and weird after biting into them. This variety in particular is seasoned with cumin, chili powder, and other herbs. The flavor makes it nice with guacamole or even cheesy dips like queso or keto spinach dip.
In addition to the products included in the January Keto Krate, subscribers also received the following discounts:
20% off Kiss My Keto
30% off Tomer Kosher
15% off Keto Watt
15% off Dang Bar
15% off Foods Alive
20% off Stryve
15% off ChocoRite
15% off Nui
15% off Iota
15% off KetoManna
25% off Meals for Muscle
20% off Pizootz
Phew! Tons of discounts this month. We also got a recipe for Bay Spice Salmon Cakes featuring the Pizootz from the box.
Overall Thoughts
What a great start to 2019 for Keto Krate! We got a whopping 13 products, plus a ton of discounts to match! The retail values of all the products beats the cost of the box even before factoring the discounts and shipping. I also enjoyed the product mix this month! We returned to getting two meat snacks this month, after the holiday season boxes which focused more on sweets.
Not that there was a shortage of sweets here, of course! We got a couple of chocolate treats, plus some keto snack bars that lean towards the sweet side. But the savory side was represented well too; in addition to the jerky, we got nuts, flax crackers, and the barbecue protein crisps.
You can view past reviews here, and head here to sign up for your own Keto Krate. If you're a new subscriber, you can take advantage of the $5.99 discount offer when you use the code KRATE15.