My Keto Snack Box January 2019 Review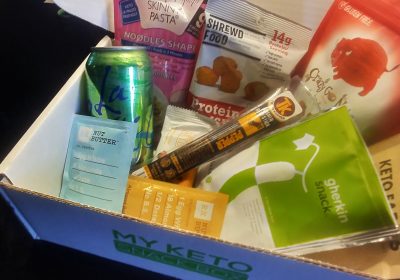 Here's to a new year of My Keto Snack Box! I was looking forward to seeing how MKSB would start off 2019. This box is a little less predictable than some of my other keto subscriptions, and I appreciate the chance to learn about some less familiar keto brands. You can view past reviews here.
As a reminder, My Keto Snack Box is a $38 per month keto subscription that sends subscribers a box of 6-8 "unique" low carb products with free shipping. The products are guaranteed to be keto-friendly, with 5 net carbs or less per serving. It is meant to make it easy and convenient to have keto snacks on hand without having to shop around for them yourself. Ketoers who live abroad will also be happy to hear that My Keto Snack Box ships internationally!
Here's the contents of the January 2018 My Keto Snack Box: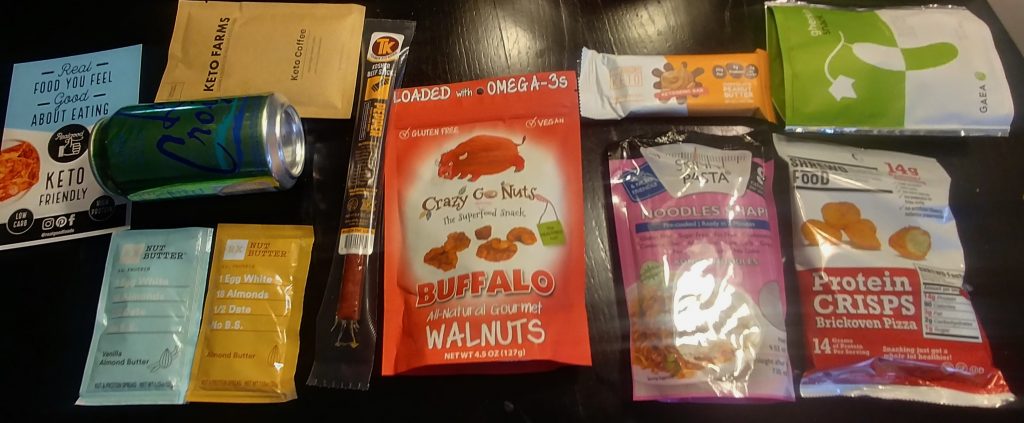 First up, a couple of high fat treats:

1x bar Kiss My Keto Ketogenic Bar, Chocolate Peanut Butter (value: about $3.50) [3g net carbs]
Chocolate and peanut butter are a classic combination for a reason! This bar had a dark chocolate coating and a peanut butter filling that had an almost "whipped" texture. I liked the combination of rich flavor and airy texture. There are plenty of familiar keto ingredients like coconut oil, fiber, almonds, egg, and MCTs. It's sweetened with erythritol, stevia, and monk fruit. I thought it was pretty tasty and very filling thanks to the fat, fiber, and protein content.
1x pouch RX Nut Butter, Vanilla Almond (value: about $1.50) [5g net carbs per serving]
1x pouch RX Nut Butter, Almond Butter (value: about $1.50) [5g net carbs per serving]
We also got two packs of this almond butter, one in vanilla and one plain. I usually stick to unsweetened almond butter with almonds as the only ingredient, which is naturally lower in carbs. However, the egg white in this made it more filling and I didn't mind the added sweetness from the date. It can be a tasty option if you have the carbs to spare.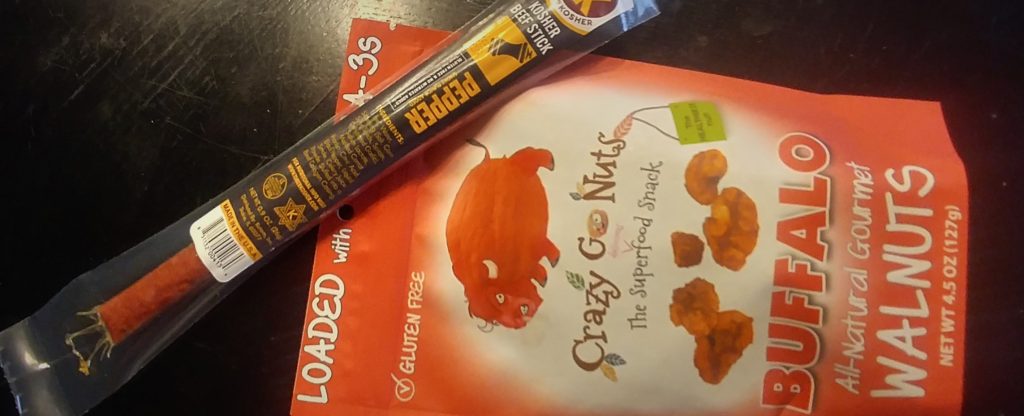 1 x stick Tomer Kosher Beef Stick, Pepper (value: about $1.50) [1g net carbs per serving]
This meat stick is made with 100% kosher angus chuck. There is a natural collagen casing on the outside and the meat itself has a soft (but not "mushy") texture. I personally don't mind a jerky stick with a bit more bite, but the nice peppery flavor was enough to compensate for me! With 6g of fat, it's also not as lean as some other jerky products, which I appreciate.
1x bag Crazy Go Nuts Walnuts, Buffalo (value: $6.49) [3g net carbs per serving]
I've tried these before and was happy to get more. Here are some notes from a previous review:
I've seen plenty of flavored almonds, peanuts, and pumpkin seeds, but for some reason flavored walnuts are a little harder to come by. This brand definitely does them justice though. This buffalo flavor is little spicy, a little umami, and the perfect addition to a salad. This is the third flavor I've tried (after garlic parmesan and rosemary sea salt), and they've all been tasty.

1x package Skinny Pasta, Noodles (value: about $4.00) [0g net carbs per serving]
We previously got this in the August 2018 My Keto Snack Box, but I'm a fan so I don't mind the repeat. I like this brand of shirataki/konjac noodles because I have never had an issue with weird taste or texture with them. This particular variety I like using to make dishes like stirfry and ramen. I find them easy to cook and quicker to prepare than something like zucchini noodles, and they absorb the flavors of whatever you cook them with.

1x bag Shrewd Foods Protein Crisps, Brickoven Pizza (value: about $1.99) [2g net carbs per serving]
This is another product from a previous box, this time the September MKSB. Here are some notes from that review:
These are a crispy, crunchy, cheesy keto snack that reminds me of something like Cheetos. They are high in protein and low in carbs. I thought they could have used a bit more cheese flavor and the texture is a little on the dry side, but they can definitely help to satisfy a craving in a pinch, especially if you find 100% cheese snacks to be too heavy.
Having now tried more varieties, I do prefer this flavor to the plain cheddar version.
1x pouch Gaea Gherkin Snack (value: about $3.50) [<1g net carbs per serving]
I'm not a big "pickle person" but they actually have been growing on me lately. These mini marinated gherkins are crunchy and flavorful, and I liked them better than I expected to. I'm not sure they will be something I regularly reach for as a snack, but I didn't mind having them.

1x can La Croix Sparkling Water, Lime (value: about $1.50) [0g net carbs per serving]
I like sparkling water drinks like LaCroix, and I'm always happy to get a drink in one of my keto boxes. This lime variety might not be the most exciting flavor, but I definitely enjoyed it over ice with dinner.
1x serving Keto Farms Keto Coffee (value: about $4.00) [<1g net carbs per serving]
I have a keto coffee or tea on a pretty much daily basis, so I already bake that time into my daily regime. Still, I definitely don't mind instant options like this to take on the go or to save some time on days when I'm really in a rush. This mix in made with coffee (duh!), coconut oil, MCT oil, butter, vanilla, heavy cream powder, and a dash of sea salt. I like my coffee creamy, so I did end up adding a bit of cream to it. It mixed easily with hot water and I enjoyed it with that extra splash of cream and some sweetener.
There was also a keto discount included in the box:
$15 off + free shipping @ Real Good Foods
Overall Thoughts
This month of MKSB had 9 items (counting the almond butters as 1), although I definitely wouldn't have minded if the value was a little higher. Another bar, jerky stick, and/or coffee packet would have really helped to round out the value of the box. With that said, many of these products are literally unavailable to order as a single item, so part of what you're paying for is the convenience of trying things out without spending a bunch on a whole package and/or paying for shipping.
With that in mind, I liked the mix of products in this box and definitely used everything. We got a mix of sweet and savory snacks, a couple of drinks, and the noodles. I look forward to seeing what we get next month.
Want to join in the My Keto Snack Box fun? Head over to their website to sign up, and try the code TRYKETOWITHME to save $3 on your first box!