Keto Krate February 2019 Review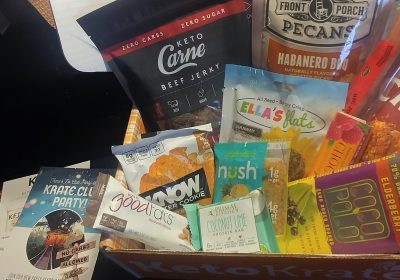 February is the shortest month of the year, but I had high hopes that my Keto Krate wouldn't come up short. This keto subscription has been pretty consistent with its product mix over time, so I have a good idea of what to expect at this point: about two jerky/meat snacks, a couple other savory/salty snack options, some keto-friendly sweet treats, and then maybe a unique ingredient or pantry item.
As a reminder, Keto Krate costs $34.95 per month plus a $4.95 shipping fee ($39.90 total), and promises 6-8 keto-friendly snacks per month plus $20+ in coupons and discounts that subscribers can use to purchase more of the featured products. All products included are gluten free, aspartame/maltitol free, and 5g net carbs or less per serving. You can view reviews of past Keto Krates here.
If you're a new subscriber, you can take advantage of the $5.99 discount offer when you sign up here using the Keto Krate promo code TRYKETOWITHME15.
Here's what was in the February Keto Krate: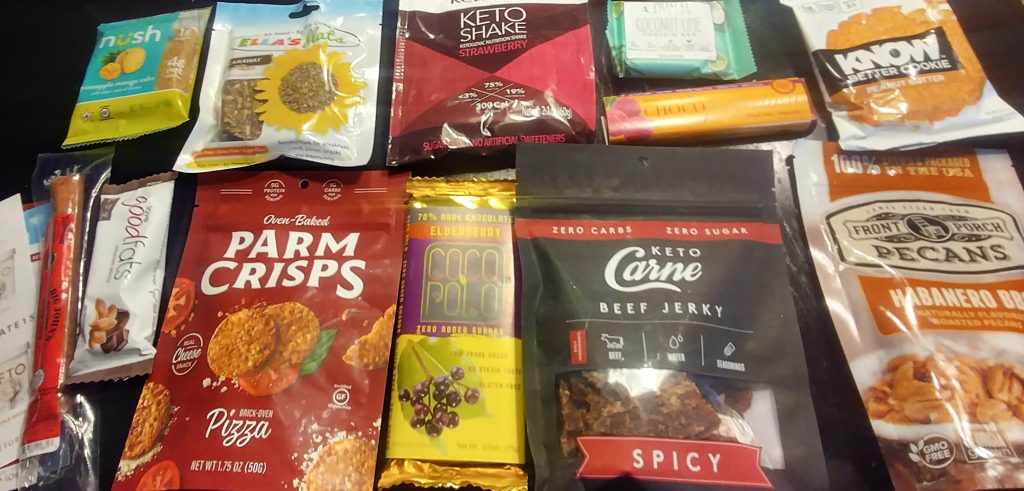 First up, some chocolate treats perfect for Valentine's day:

1x bar CocoPolo 70% Dark Chocolate Bar, Elderberry (value: about $5.50) [4g net carbs per serving]
We got the milk chocolate version of this bar in a previous Keto Krate back in March 2018. I prefer darker chocolate since going keto, so I was definitely happy to get to try this variety too. I really liked the combination of slightly bitter notes from the chocolate and the slightly sweet, slightly tart dried elderberries.
Half a bar is definitely not a bad way to spend 2g net carbs, and even if I end up eating the whole thing, 4g net carbs is still perfectly manageable on most days. The texture of the chocolate is rich and creamy, and the dried berries add a nice little crisp.
1x bar ChocoPerfection, Dark Raspberry (value: about $4.00) [2g net carbs per serving]
More chocolate! I like ChocoPerfection, but this was my first experience with this particular variety. It's rich and creamy like the other chocolate bars from this brand, with an added chocolate raspberry truffle center. Like the elderberry chocolate, I liked the combination of flavors.

1x serving Ketologie Keto Shake, Strawberry (value: about $3.00) [2g net carbs per serving]
Ketologie makes some really tasty keto meal replacement shakes, designed to be high in fat and low in net carbs. This strawberry flavor is new since the last time I ordered, so I was happy to get a pack to try. You can use the whole pack for a 300 calorie serving, or half for a 150 calorie "snack."
In any case, I'm a big fan! Blended with almond milk, it's super creamy and has a nice strawberry flavor without tasting too sweet or artificial. The main ingredients are coconut oil powder and collagen. It's sweetened with erythritol and a bit of added fiber for increased satiety.
1x serving Nush Cake, Pineapple Mango (value: $3.00) [4g net carbs per serving]
I've tried this flavor of Nush Cakes before, and even though it's not my favorite, it's still pretty good if you like the pineapple/mango combination. They are soft and moist, and not too sweet despite the fruity flavors. My favorite flavors are the blueberry and carrot cake varieties, but you can try a selection for 20% off with you use the code TRYKETOWITHME on the Nush website.

1x bag Keto Carne Beef Jerky, Spicy (value: $6.25) [<1g net carbs per serving]
I love Keto Carne jerky, and the spicy variety is my favorite! Here are some notes from a past review:
Keto Carne continues to be a favorite jerky of mine (including being featured on my list of the best keto jerky brands), and the spicy version is especially tasty. Naturally, it avoids all the sugars and fillers that you would find in gas station jerky, keeping it simple with just quality beef and spices. With that said, there is a ton of flavor in every bite and the texture is great.

1x bag ParmCrisps, Brickoven Pizza (value: about $4.75) [1g net carbs per serving]
I'm a fan of cheese snacks, and I'm a fan of pizza, so this pizza flavored cheese snack was perfect! It was nice and crisp with a bit of seasoning that definitely reminded me of pizza. I enjoyed them on their own as a snack, but I imagine you could have them with a soup or salad as well.

1x Love Good Fats Bar, Rich Chocolatey Almond (value: $3.00) [4g net carbs per serving]
Yum! I had never heard of this brand before, but it was a great discovery for me. It has a rich dark chocolate coating with a whipped, chocolate almond flavored filling. Definitely reminiscent of a candy bar, complete with little bits of almond. Like the name suggests, it's packed with healthy fats from ingredients like almond butter and coconut oil which makes it surprisingly filling.
1x Primal Kitchen Protein Bar, Coconut Lime (value: $3.00) [7g net carbs per serving]
This bar is higher in carbs than what I would normally reach for (and what's normally in Keto Krate), especially given the rather small size. With that said, it has 8 grams of protein and a good amount of healthy fats which makes it pretty filling despite the size. It definitely has a chewy and slightly dry "protein bar" texture though. Primal Kitchen makes some great keto friendly products, but I'm not sure this product/flavor is one I'd reach for again.

1x stick Big John's Nitrite Free Bacon Snack Stick (value: about $1.50) [<1g net carbs per serving]
We only got one meat/jerky snack this month instead of the typical two, but I really liked this one. It sounds basic on paper, but it was surprisingly flavorful. It's a well seasoned mix of pork and bacon, with a nice texture.
1x 4oz. bag Front Porch Pecans, Habanero BBQ (value: about $6.00) [2g net carbs per serving]
I love these pecans, which I've had previously. My thoughts on them are still as positive now as they were then:
I was a tiny bit hesitant about the habanero BBQ flavor selection, since I'm someone who doesn't usually like "barbecue flavored" snacks, but the seasoning on these was perfect! A bit of smokiness, a bit of heat, but balanced enough that it doesn't taste artificial or overpower the naturally delicious flavor of the expertly roasted pecans underneath. Best of all, pecans are one of the best nuts to enjoy on keto since they are lower in carbs and higher healthy fats (and crucial electrolytes) than many other options.

1x Know Better Cookie, Peanut Butter (value: about $3.00) [4g net carbs per serving]
I've tried other flavors of Know Cookies before, but the peanut butter variety is new. Like the others, this Know Cookie was a bit on the dense/chewy side whereas I tend to prefer a more buttery texture from my peanut butter cookies. They are made with ingredients like coconut, flax, chia, and almond, which works well for some of the other flavors, but kept the peanut butter flavor from shining here. It was filling, but probably wouldn't be my first choice.
1x Ella's Flats, Caraway (value: about $3.50) [3g net carbs per serving]
I've tried these caraway seasoned seed/crisps before. Here are some notes from a past review:
These large crispbread-style "flats" are made with a mix of seeds including pumpkin, flax, sunflower, and in this particular variety, caraway. They are crisp and sturdy, which makes them good for topping with spreads, cheese, etc. Just be aware that the caraway flavor is noticeable, and choose toppings accordingly.
In addition to the products included in the February Keto Krate, subscribers also received the following discounts:
15% off Ketologie
15% off Love Good Fats
20% off CocoPolo
$2.00 off Ella's Flats
15% off Front Porch Pecans
15% off ChocoPerfection
10% off Big John's
20% off Nush Cakes
15% off Keto Carne
We also got a recipe for the Dark Chocolate Raspberry Truffles using the ChocoPerfection bar from the Krate.
Overall Thoughts
This February Keto Krate brought a lot to love! We got a total of 12products, with a retail value of around $47. I especially liked getting a selection of chocolate treats, perfect for Valentine's day. My favorite new discoveries was the Love Good Fats bar and new Ketologie flavor, while my favorite repeats were the Keto Carne and pecans.
Once again, we got a good mix of sweet and savory. I feel like Keto Krate has been really killing it for the past few months in terms of item value and quality, so I'll be looking forward to next month!
You can view past reviews here, and head here to sign up for your own Keto Krate. If you're a new subscriber, you can take advantage of the $5.99 discount offer when you use the code TRYKETOWITHME15.