Keto Krate April 2019 Review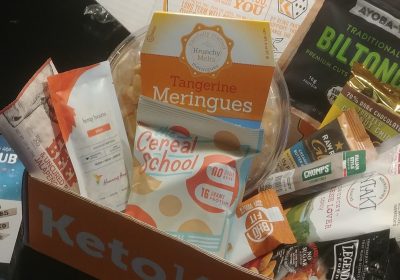 Time to spring into a new season of Keto Krate! This keto subscription has been pretty consistent with its product mix over time, so I have a good idea of what to expect at this point: about two jerky/meat snacks, a couple other savory/salty snack options, some keto-friendly sweet treats, and then maybe a unique ingredient or pantry item.
As a reminder, Keto Krate costs $34.95 per month plus a $4.95 shipping fee ($39.90 total), and promises 6-8 keto-friendly snacks per month plus $20+ in coupons and discounts that subscribers can use to purchase more of the featured products. All products included are gluten free, aspartame/maltitol free, and 5g net carbs or less per serving. You can view reviews of past Keto Krates here.
If you're a new subscriber, you can take advantage of the 15% discount offer when you sign up here using the Keto Krate promo code TRYKETOWITHME15.
Here's what was in the April Keto Krate: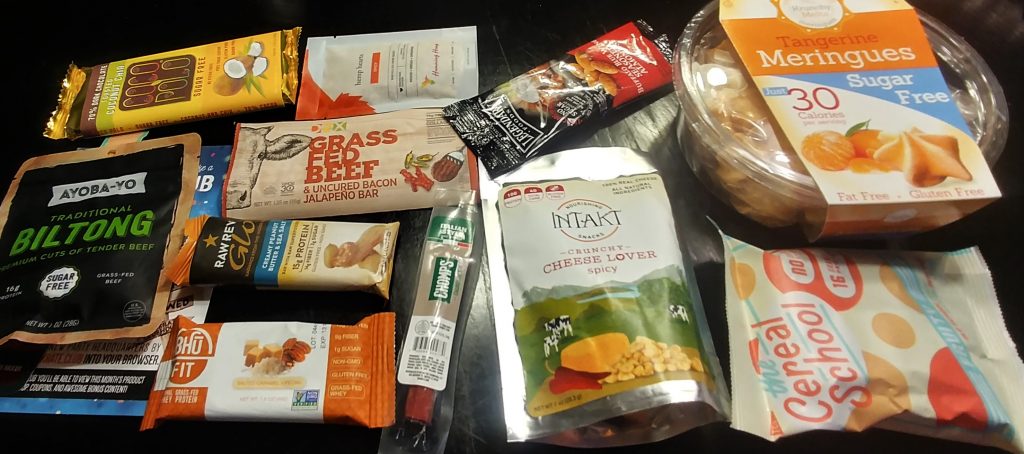 First up, a light, sweet treat perfect for spring: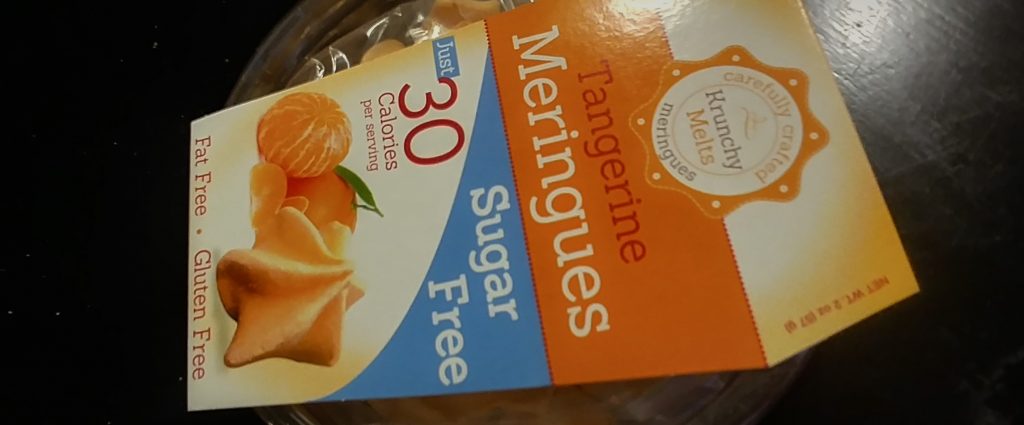 1x 2oz package Crunchy Melts Sugar Free Meringues, Tangerine (value: $7.99) [<1g net carbs per serving]
This product was included in a previous Keto Krate in a different flavor. I enjoyed them then, but this tangerine variety is even tastier! They are light and airy little meringue bites with the perfect balance between crunch and melt-in-your-mouth texture (which I guess is where the name comes from). They are also super light in calories/carbs, making it easy to fit a handful into your macros as a snack or treat.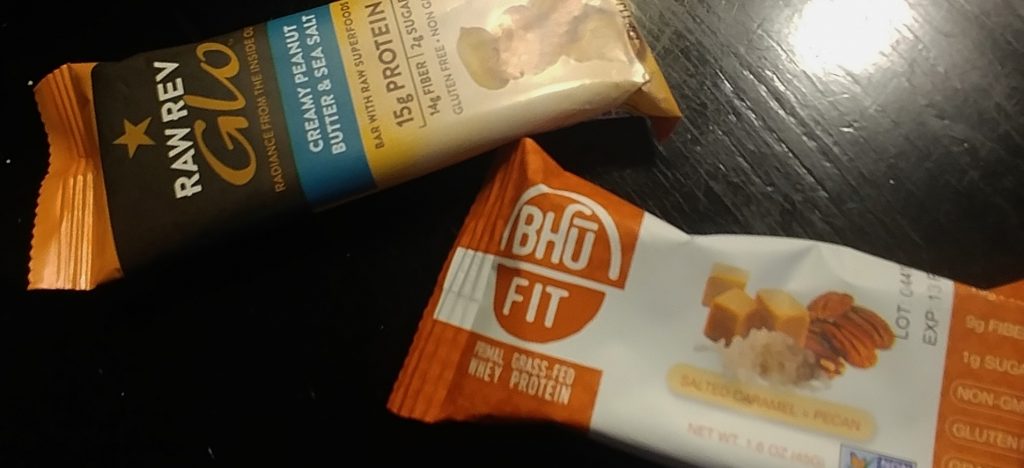 1x bar Raw Rev Glo, Creamy Peanut Butter and Sea Salt (value: about $2.50) [3g net carbs per serving]
Next up we got two snack bars, both of which I have tried before. This one in particular was last in the November 2018 Keto Krate. Here are some notes from that review:
This bar is both low in carbs and vegan which is a somewhat rare combination. I liked that the plant proteins weren't too overpowering in taste or texture which is a problem I sometimes have. The bar tasted almost like peanut butter cookie dough, just with a bit of added texture from the chia seeds.
1x bar Bhu Fit Primal Protein Bar, Salted Caramel + Pecan (value: $2.50) [1g net carbs per serving]
This bar was last in the October 2018 Keto Krate. My thoughts on the bar are essentially the same:
The texture is nice and soft (not tough or chewy like some protein bars can be) and the flavor is absolutely delicious! On top of all of that, the macros and ingredients are excellent for keto! With only 1 net carb, it's easy to fit these bars in even with very strict keto. And if the unconventional sweeteners and fibers in other bars make you nervous, these bars use a much smaller (and more familiar) list of ingredients.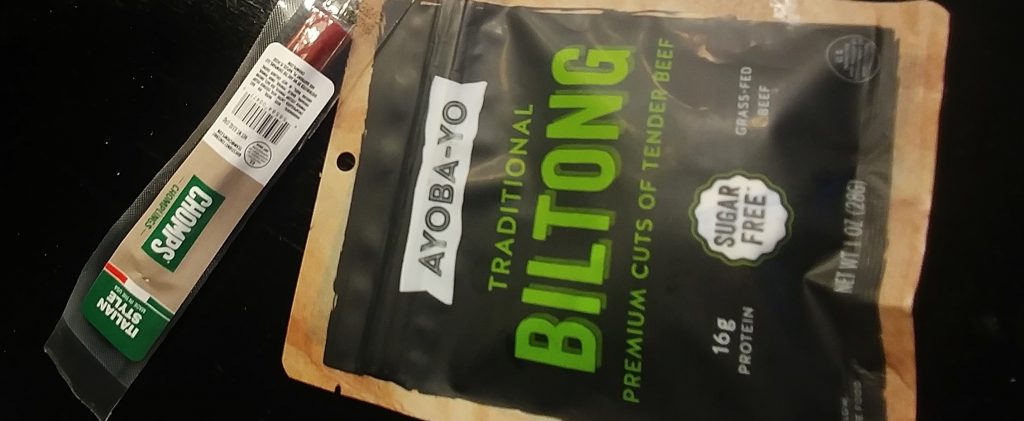 1x Chomps Chompling Mini Snack Stick, Italian Style Beef (value: about $1.50) [<1g net carbs per serving]
Next up, we got a couple of meat-based snacks. The first was a mini snack stick from Chomps, a brand featured on my list of the best keto jerky options. I think this is a new flavor variety from them, so it was pretty cool to get to try it out! I personally was a fan, since it had a nice texture and a great Italian-inspired flavor with oregano and basil. I would have liked to see a full sized snack stick though, or even a pair of the smaller ones.
1x 1oz bag Ayoba-Yo Biltong, Original (value: $4.99) [0g net carbs per serving]
This brand is also on my list of top keto jerkies! I typically prefer the spicy version of this biltong, but the original is tasty too! Both have the same thin sliced, air dried texture which is softer than most traditional jerkies. The seasoning is noticeable (and tasty!) but relatively mild, which lets the flavor of the meat shine through.

1x 1oz bag Humming Hemp Hemp Hearts, Spicy (value: about $3.00) [2g net carbs per serving]
Next, two more savory snacks! I'll be honest and say I wasn't quite sure what to do with these. Plain hemp hearts I might add to yogurt or use to make keto "oatmeal" for  a quick breakfast, but these are seasoned with smoked paprika, cayenne, garlic, onion, and other spices. Hemp hearts seem too tiny to eat as a snack on their own, so I ended up adding them to salads for the most part. I liked the kick they added!
1x DNX Bar, Bacon Jalapeno (value: $2.99) [1g net carb per serving]
I'm a bit picky about "meat bar" type snacks, since I find that the texture can rub me the wrong way if they're too tough, chewy, or mushy. Thankfully, none of those are a problem here! I really liked both the texture and flavor of this bar. The bacon adds some nice salty, smoky flavor and the jalapeno adds just the right amount of kick.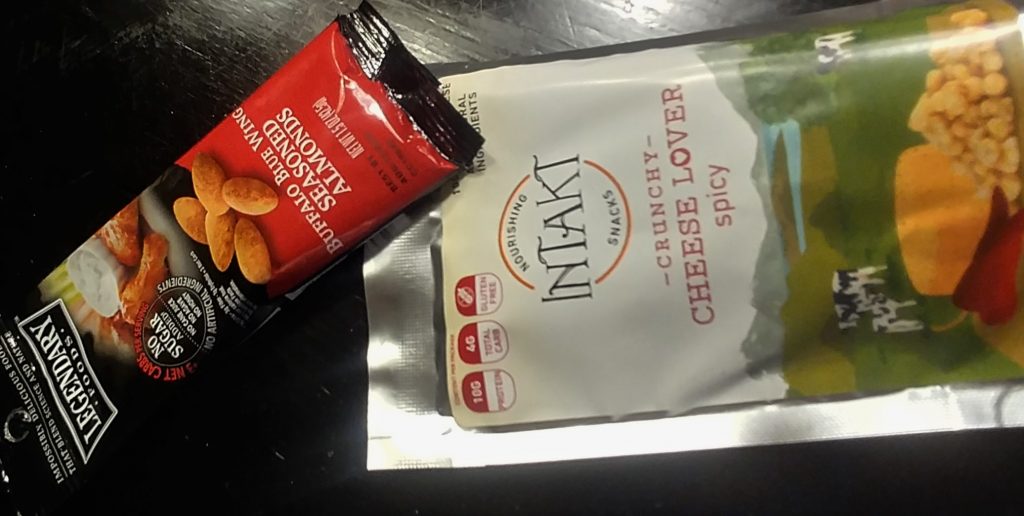 1x 1.5 oz bag Legendary Foods Seasoned Almonds, Buffalo Blue Wing (value: about $1.99) [3g net carbs per serving]
The savory snacks keep coming! These are a favorite of mine. Here are some notes from a past review:
Almonds are a great keto snack on their own, but sometimes they can feel a little routine. Legendary Foods has a variety of different flavored almonds, and these are among my favorites. They aren't particularly spicy, but they are flavorful, and definitely more fun than a handful of plain nuts.
1x bag Intakt Snacks Crunchy Cheese, Spicy (value: about $3.99) [2g net carbs per serving]
I've also had these before, and they similarly combine cheesy flavors with a bit of kick.
I like the buttery flavor/texture of the cheese used to make these. The flavored varieties add a bit of extra oomph, and I was a fan of this spicy version. It uses chili for heat, rounded out with some cumin and coriander. I definitely enjoyed them.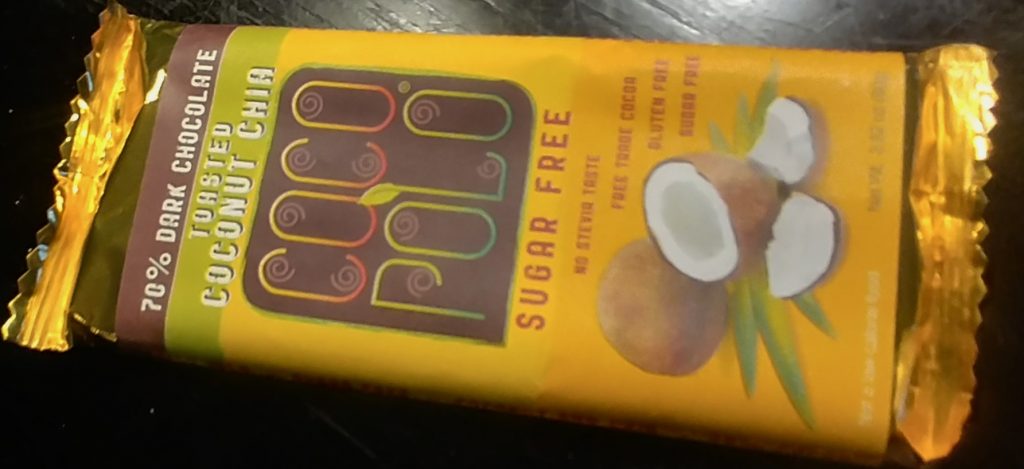 1x bar Cocopolo Dark Chocolate, Coconut & Chia (value: about $5.50) [5g net carbs per serving]
I've had Cocopolo chocolate before, but this was my first time having this particular variety. I already like the combination of dark chocolate and coconut, so I was curious to see how the chia would affect things. Thankfully, there is just enough to add some texture without it overpowering the flavor of the chocolate and coconut. The combination works out really well.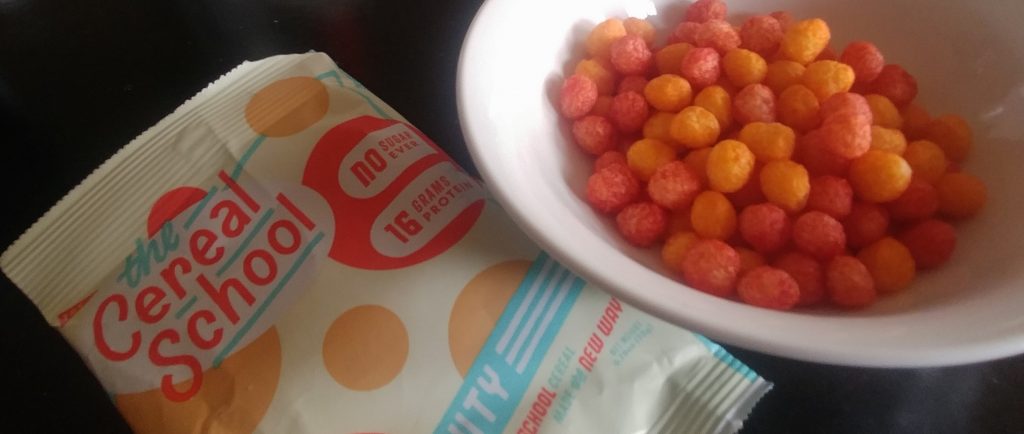 1x bag The Cereal School, Fruity (value: $2.50) [ <1g net carbs per serving]
I actually ordered a variety pack of this low carb protein cereal back when they first launched, but the recipe and shape has changed since then so I was curious to see the difference. The new formula is lower in carbs and has a shorter ingredients, though I actually thought the original recipe was more similar in taste/texture to "real" cereal. The cleaner macros are always welcome though. These puffs are crisp and slightly dry, with a light fruity flavor and mild sweetness.
In addition to the products included in the April Keto Krate, subscribers also received the following discounts:
15% off Legendary Foods
30% off Raw Rev
25% off DNX Bars
15% off Ayoba-Yo
10% off Bhu Foods
20% off Humming Hemp
15% off Intakt Snacks
20% off Cocopolo
15% off Chomps
We also got a recipe for buffalo chicken meatballs using the seasoned almonds from the Krate! You can find most items from the April keto subscription boxes on Amazon here.
Overall Thoughts
This month of Keto Krate leaned a bit more towards the savory side than usual, but I don't necessarily mind that (and we did still get some sweet treats!) In total, we got 11 items with a total retail value of around $40. It isn't the highest value I've seen from Keto Krate, but I also didn't really feel like the box was lacking much. I will note that there were a couple repeat products, which was fine for me since I liked them both. I normally don't see repeats within at least six months or so.
Last year's summer boxes were pretty impressive if I recall correctly, so I'm definitely looking forward to the next few months of Keto Krate.
You can view past reviews here, and head here to sign up for your own Keto Krate. If you're a new subscriber, you can take advantage of the $5.99 discount offer when you use the code TRYKETOWITHME15.