Keto Krate July 2019 Review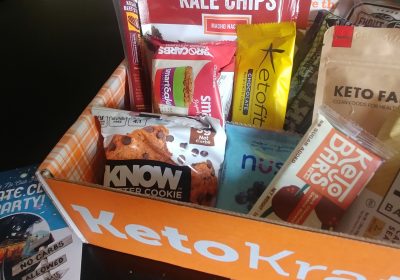 Summer Keto Krates have been some of my favorites in the past, so I was looking forward to this one! This keto subscription has been pretty consistent with its product mix over time, so I have a good idea of what to expect at this point: about two jerky/meat snacks, a couple other savory/salty snack options, some keto-friendly sweet treats, and then maybe a unique ingredient or pantry item.
As a reminder, Keto Krate costs $34.95 per month plus a $4.95 shipping fee ($39.90 total), and promises 6-8 keto-friendly snacks per month plus $20+ in coupons and discounts that subscribers can use to purchase more of the featured products. All products included are gluten free, aspartame/maltitol free, and 5g net carbs or less per serving. You can view reviews of past Keto Krates here.
If you're a new subscriber, you can take advantage of the 15% discount offer when you sign up here using the Keto Krate promo code TRYKETOWITHME15.
Here's what was in the July Keto Krate: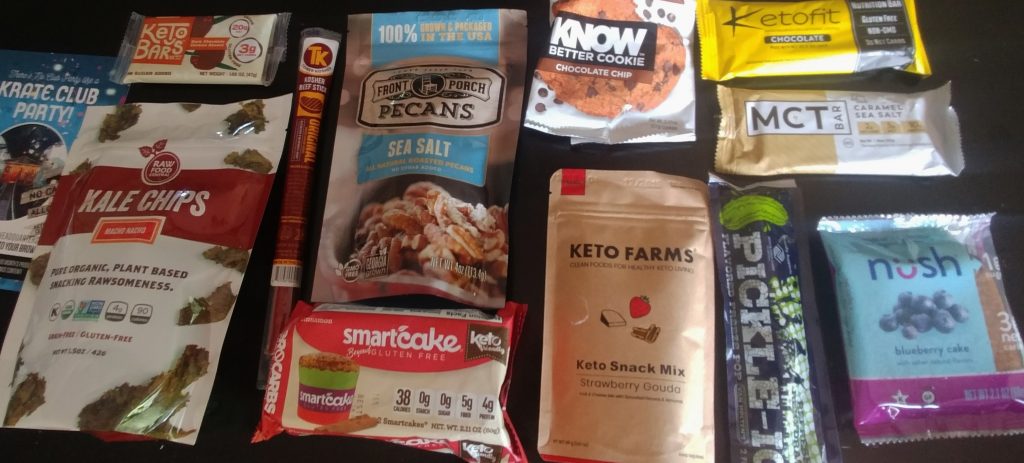 First up, a familiar favorite: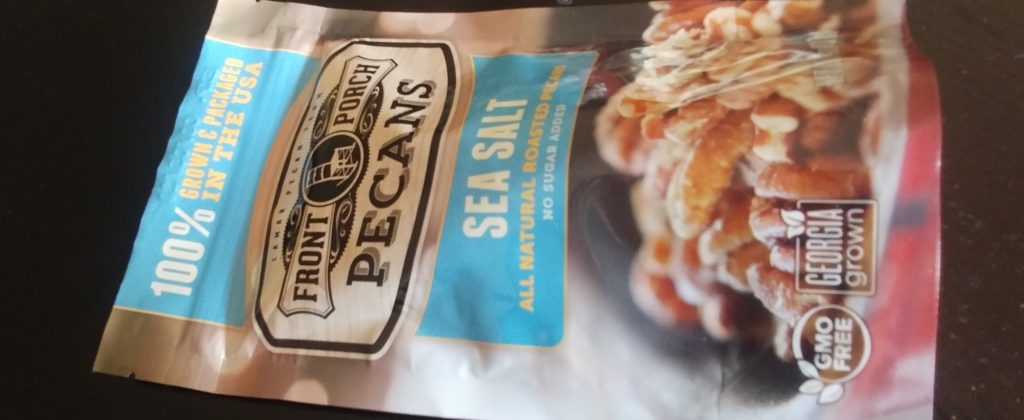 1x 4oz bag Front Porch Pecans, Sea Salt (value: $5.99) [1g net carbs per serving]
These nuts are a big favorite of mine, and they show up pretty often in my various keto subscription boxes. Here are some notes from a past review:
I could eat these all day! This is one of those products that I was introduced to via keto subscription boxes and have absolutely fallen in love with since. I went from being pretty neutral on pecans (I didn't dislike them, but also didn't go out of my way to buy them) to being a pretty big fan! These nuts are perfectly roasted with just the right amount of salt and a delightfully buttery texture.

1x pack Smart Baking Company Smart Cakes, Cinnamon (value: about $3.25)[<1g net carbs per serving]Save 10% w/ code tryketowithme
These are a favorite of mine, so I'm always happy to get more! They are super soft and fluffy mini cakes with a light sweetness and cinnamon flavor. I like this particular flavor slightly warmed and topped with a bit of butter or cream cheese. Since the main ingredients are flax, egg, fiber, and erythritol, they end up being very filling for very few carbs.
1x serving Nush Cake, Blueberry (value: about $3.00) [3g net carbs per serving]
This is another keto cake option that I enjoy. It also has flax as a main ingredient, though it is more moist and dense compared to the SmartCakes. Like a blueberry muffin, it's especially good if you warm it up and add a bit of butter. They aren't overly sweet though, so I sometimes add a little cinnamon or sugar free syrup for a bit of extra flavor.
1x Van Holten's Pickle Ice Freeze Pop (value: about $1.00) [1g net carbs per serving]
This is definitely among the most unique products I've gotten in a keto subscription box, but it kind of makes sense when you think about it! Frozen snacks are a great way to cool down during the summer heat, and pickle juice will offer some electrolytes for bonus hydration. It tastes pretty much exactly like what you would expect.
1x stick Tomer Kosher Beef Stick, Original (value: $1.99) [1g net carbs per serving]
I was already familiar with this jerky brand since they are pretty local to me, and I definitely understand why they were included here. Tomer Kosher beef sticks are clean ingredient-wise compared to a lot of other options, with no added nitrates or gluten. I generally like the spicier varieties, but this original flavor with garlic and pepper notes was good too!

1x 1.5oz bag Raw Foods Central Kale Chips, Macho Nacho (value: $5.99) [5g net carbs per serving]
These kale chips are organic, gluten free, vegan, and kosher which makes them a great fit for a lot of different lifestyles. I actually expected not to like them though, since vegan "cheese" flavored products are usually made with nutritional yeast which I'm not the biggest fan of (and I'm a little picky about kale chips as it is). However, the combination of cashews to help simulate a cheesy flavor and a mix of spices actually worked pretty well here.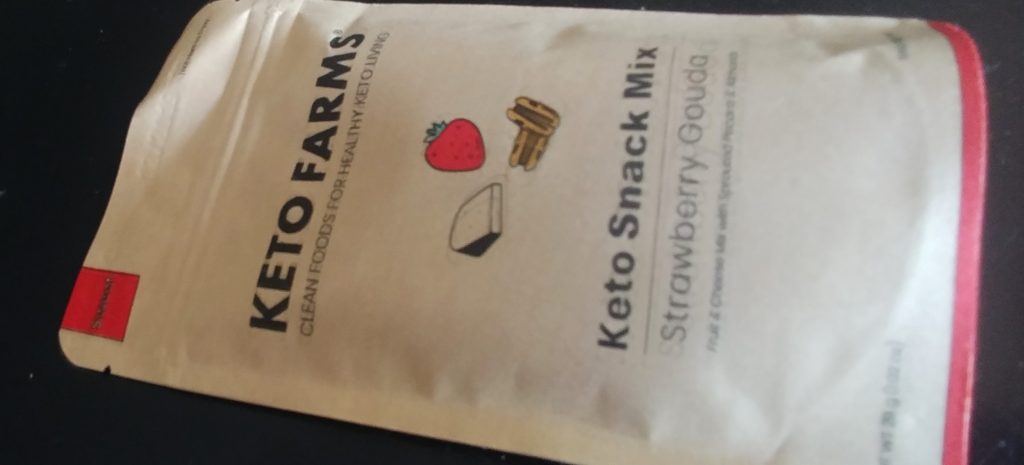 1x 1.02oz bag Keto Farms Snack Mix, Strawberry Gouda (value: $3.99) [3g net carbs per serving]Save 10% w/ code tryketowithme
Yum! This keto snack mix is made with a mix of low carb ingredients including gouda cheese crisps, almonds, pecans, and dried strawberries. There is a nice amount of crunch and a great balance of sweet and savoury flavors. I really enjoyed it! It could be a nice on the go snack or even paired with a glass of low carb wine at home.

1x MCT Bar, Caramel Sea Salt (value: $3.00) [2g net carbs per serving]
This is one of the snack bars we got in this month's Keto Krate. It has a sweet caramel flavor with hints of salt and a somewhat buttery texture. It's made with quality keto ingredients like almond butter, collagen, MCT oil and cacao butter. I enjoyed it!
1x Keto Bar, Dark Chocolate Coconut Almond (value: $3.00) [3g net carbs per serving]
This keto bar was super rich and chocolatey with shredded coconut throughout and a light almond flavor. The texture is definitely more fudge-like than the previous bar, and I actually think it could be quite good chilled in the freezer too! As is, I thought it was super satisfying and liked that it wasn't overly sweet.

1x Ketofit Bar, Chocolate (value: $3.00) [3g net carbs per serving]
This bar was almost like a middle ground between the previous two, with rich chunks of dark chocolate embedded in a buttery, almost cookie-flavored base. Again, it was very satisfying thanks to filling low carb ingredients like almond butter, cacao, MCT oil, and collagen. I was a fan!
1x KNOW Better Cookie, Chocolate Chip (value: about $3.00) [3g net carbs per serving]
Another sweet treat! These cookies are quite dense, but still soft in texture (especially when warmed). The texture is more similar to an oatmeal cookie than a traditional chocolate chip. They are made with filling ingredients like almonds, coconut, and flax and sweetened with allulose.
In addition to the products included in the July Keto Krate, subscribers also received the following discounts:
15% off Front Porch Pecans
10% off Keto Bars
15% off Keto Farms
20% off Ketofit
15% off Know Foods
20% off Nush
15% off SmartCakes
20% off Tomer Kosher
15% off Van Holten's
We also got a recipe for Beefy Jalapeño Poppers using the beef stick from the Krate!
Overall Thoughts
The July Keto Krate included 11 items with a total value of around $38.00 (not including the bonus coupons and discounts). This box seemed to lean a bit more towards the sweet side, with quite a few cakes, cookies, and chocolate treats.  Although getting so many bars might seem a little repetitive, it was actually pretty cool to be able to compare the different options out there.
I also felt like the focus on on-the-go snack options was a good fit for a summer box, with the snack mix and even the pickle ice feeling especially suited for warm days. I look forward to seeing what next month has to offer!
You can view past reviews here, and head here to sign up for your own Keto Krate. If you're a new subscriber, you can take advantage of the $5.99 discount offer when you use the code TRYKETOWITHME15.