Keto Krate August 2019 Review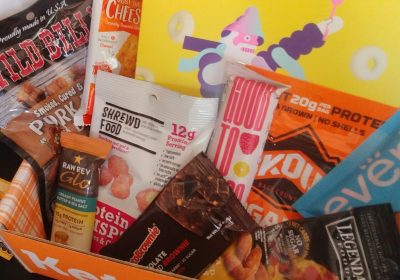 Based on last year, I had pretty high hopes that the August Keto Krate would finish the summer out with style. This keto subscription has been pretty consistent with its product mix over time, so I have a good idea of what to expect at this point: about two jerky/meat snacks, a couple other savory/salty snack options, some keto-friendly sweet treats, and then maybe a unique ingredient or pantry item.
As a reminder, Keto Krate costs $34.95 per month plus a $4.95 shipping fee ($39.90 total), and promises 6-8 keto-friendly snacks per month plus $20+ in coupons and discounts that subscribers can use to purchase more of the featured products. All products included are gluten free, aspartame/maltitol free, and 5g net carbs or less per serving. You can view reviews of past Keto Krates here.
If you're a new subscriber, you can take advantage of the 15% discount offer when you sign up here using the Keto Krate promo code TRYKETOWITHME.
Here's what was in the August Keto Krate: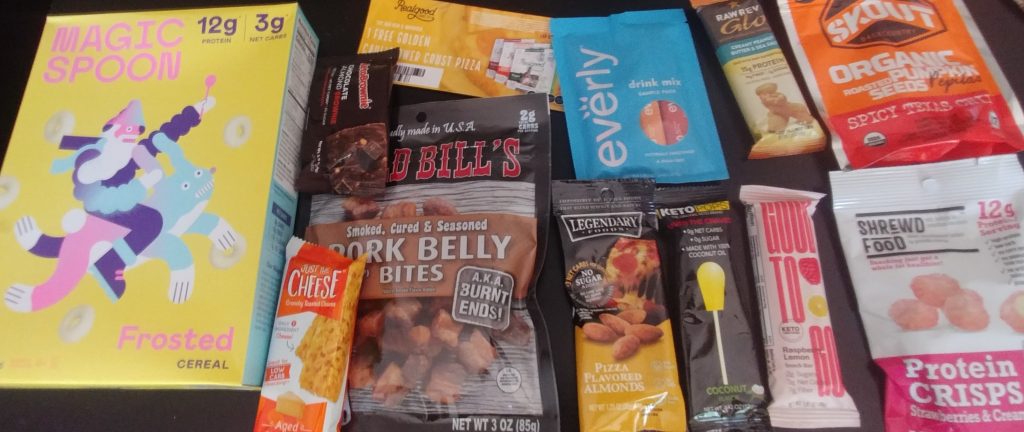 First up, this keto version of a childhood favorite: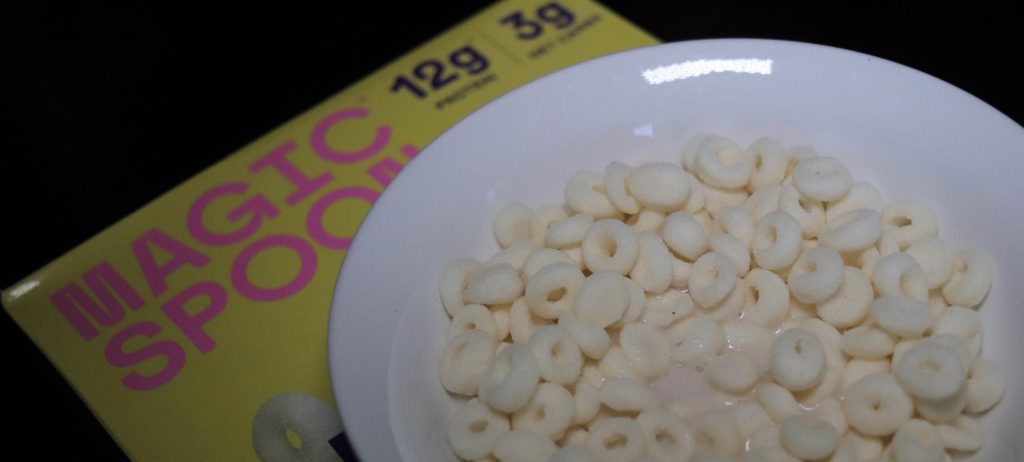 1x box Magic Spoon Cereal, Frosted (value: $9.99) [3g net carbs per serving]
Alongside pizza and chocolate, cereal is probably one of the most common foods that people seek out keto friendly options for. I've seen this low carb cereal brand floating around on social media for a bit now, so I was pretty excited to get to check it out! I have to say that I was pleasantly surprised!
A serving size actually felt like a full bowl of cereal rather than a measly few spoonfuls, and the actual taste/texture definitely reminded me of the "real thing." It was nice and crisp, sweet (but not too sweet), and had none of those weird aftertaste problems that can occur with other protein-based products like this. I definitely would be interested in trying the other flavors!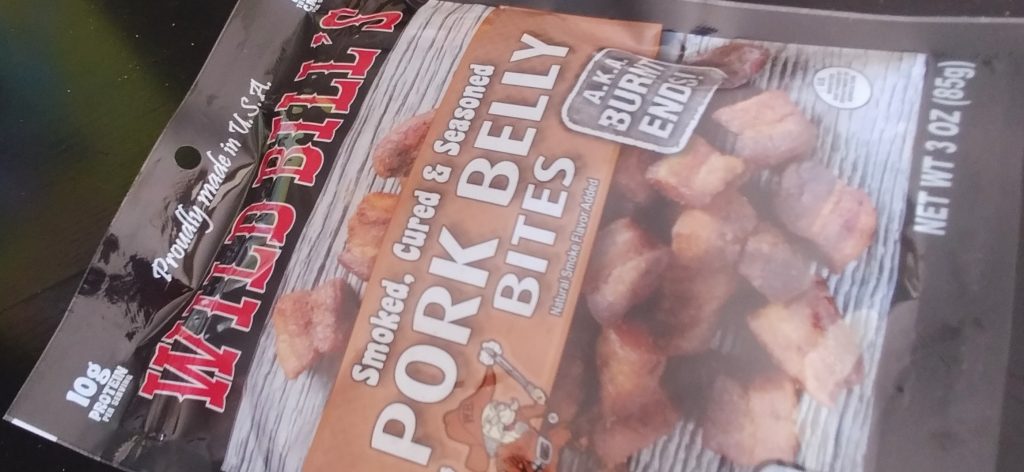 1x 3oz bag Wild Bill's Pork Belly Bites (value: about $6.00) [2g net carbs per serving]
This month, we got one meat-based snack instead of the usual two, but the larger size of this bag kind of balances things out. I like bacon jerky and pork belly, so I expected to like this pork belly jerky more than I actually did. The pork flavor is nice, as is the seasoning, but for some reason I wasn't a super fan of the thicker cut/texture of these "bites."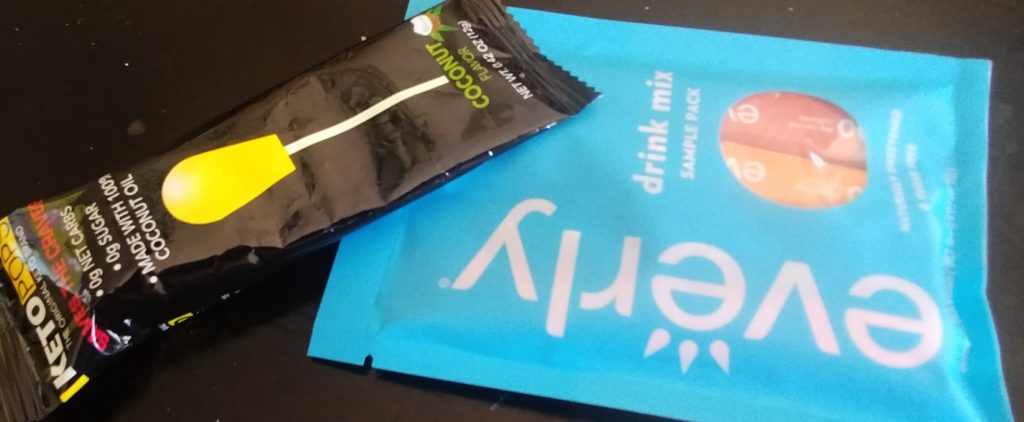 1x sample pack Everly Drink Mix, Variety (value: $3.00) [1g net carbs per serving]
I am already a fan of Everly drink mixes, so this sample pack was a welcome surprise! Staying hydrated is important in the summer, especially while on keto. This pack included a handful of different flavors to try. What I like about Everly is how easy they are to mix, that they use natural sweeteners (erythritol and stevia) and colors, and that they give back by providing hydration treatment to those in need for every pack sold! And of course, they taste good!
1x Keto Pop, Coconut (value: $1.99) [0g net carbs per serving]
I'll be honest and admit that the taste and texture of this product wasn't what I expected. Based on the name, packing, and appearance, I thought this would be like a keto lollipop with a hard candy texture. Instead, it's actually made with a base of coconut oil and erythritol, giving it a texture that's a mix of buttery/creamy and grainy. I personally wasn't a huge fan of the combination, and found the flavor/sweetness a little too strong.

1x bag Shrewd Foods Protein Crisps, Strawberries & Cream (value: about $2.50) [4g net carbs per serving]
Interestingly, this is another potential option for a keto cereal alternative. Although these protein puffs come in some flavors that are obviously meant for snacking on by the handful, I decided to try this sweet variety served with cold almond milk like cereal. I liked the crisp crunch of it, but I did find myself wishing that the flavor was a bit stronger.
1x Good to Go bar, Raspberry Lemon (value: $2.99) [3g net carbs per serving]
This bar was pretty unique compared to many other keto bar options I've tried for two reasons: the fruity flavor, and the "baked" texture. It's like a denser cake-like texture, which reminded me of the soft breakfast bars I ate as a kid. I personally would have liked a bit more tartness from this raspberry lemon flavor, but it was still tasty overall.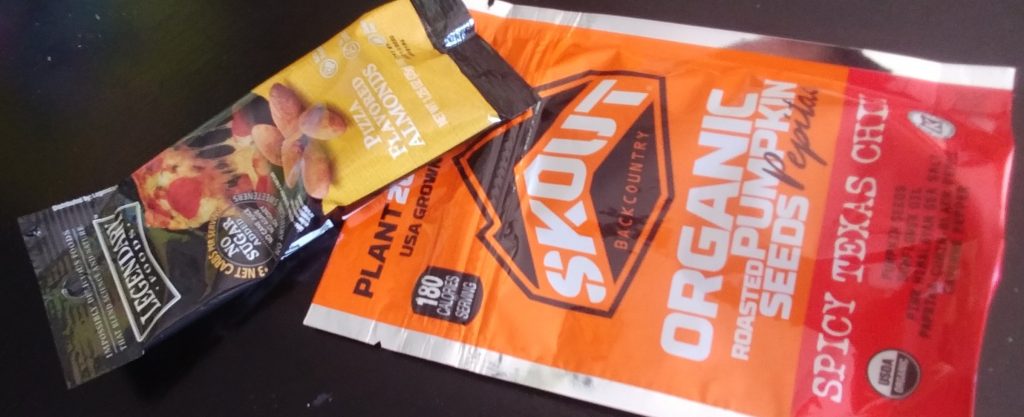 1x bag Legendary Foods Seasoned Almonds, Pizza (value: $2.50) [3g net carbs per serving]
I love pizza, but "pizza flavored" snacks can be a bit hit or miss for me. I had high hopes for these, since I like the other Legendary Foods seasoned almonds that I've tried. These were definitely pretty flavorful, but I'm not sure they really reminded me of pizza. I would eat them again if they were around, but if I was picking the flavor for myself I would probably go for the cheddar bacon or buffalo wing options which I think have more "oomph."
1x 2.2oz bag Skout Backcountry Organic Pumpkin Seeds, Spicy Texas Chili (value: about $4.00) [2g net carbs per serving]
I've had these a couple of times before, and they remain a nice keto snack option. Here are some notes from a past review:
Pumpkin seeds aren't my first choice for a nut/seed to snack on, but they are definitely a great low carb option. These are well seasoned, though not particularly spicy. The bag is resealable for snacking.
1x KetoBrownie, Chocolate Almond (value: $3.00) [4g net carbs per serving]
This is another item I've tried before. Some of my past thoughts:
This brownie is denser than a fresh baked version, but it's good if you're looking for something more portable and convenient. I like to pop it in the microwave for a bit to make it feel more like the real thing. It's still nice and chocolaty (plus you don't have to turn on the oven!). It's smaller compared to many other low carb bars/snacks, but more filling than it looks thanks to a good amount of healthy fats.
1x bar Raw Rev Glo, Creamy Peanut Butter and Sea Salt (value: about $2.50) [3g net carbs per serving]
This is another product I have tried before. It seems to pop up regularly, and was in both the November 2018 Keto Krate and April 2019 Keto Krate. Here are some notes from that review:
This bar is both low in carbs and vegan which is a somewhat rare combination. I liked that the plant proteins weren't too overpowering in taste or texture which is a problem I sometimes have. The bar tasted almost like peanut butter cookie dough, just with a bit of added texture from the chia seeds.

1x pack Just the Cheese Bars, Aged Cheddar (value: about $1.99) [<1g net carbs per serving]
I've had these a few times before and continue to be a fan!
I'm a fan of crunchy cheese snacks, and these bars are no exception. They are made from 100% cheese, and I personally prefer this flavor to the "grilled cheese" variety because of the stronger cheese flavor. I appreciate that they aren't too salty or heavy.
In addition to the products included in the August Keto Krate, subscribers also received the following discounts:
1x free Real Good Foods Cauliflower Crust Pizza
15% off Everly
Free Shipping @ Magic Spoon
20% off Keto Brownie
20% off Legendary Foods Almond Sampler
15% off Just the Cheese
30% off Skout Backcountry
30% off Raw Rev
15% off Shrewd Food
We also got a recipe for gummies using the Every drink mixes from the Krate!
Overall Thoughts
This month's Keto Krate featured 11 items with a total value of around $41. If the Real Good Foods pizzas are sold in stores near you (there is a store locator here), the free pizza adds another $6 or more to the value. My favorite new discovery was definitely the Magic Spoon cereal, which is also the highest value item in the box. It was definitely appreciated to be able to try it out without having to pay full price upfront!
I liked the mix of items overall this month, although a few of the items have definitely been included in Keto Krate before. I'm still looking forward to seeing what next month's Krate will bring to the table!
You can view past reviews here, and head here to sign up for your own Keto Krate. If you're a new subscriber, you can take advantage of the discount offer when you use the code TRYKETOWITHME.