Keto Pumpkin Spice Doughnuts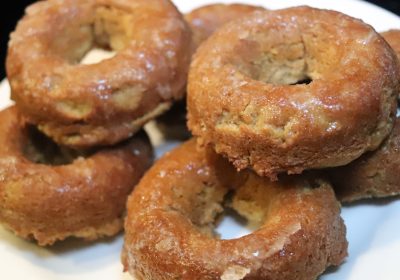 It's finally fall, and thankfully being keto doesn't have to mean giving up on classic fall flavors like pumpkin spice! You can keep it simple and just add a splash of pumpkin spice flavor to your morning coffee or low carb fauxtmeal, or you can make things a little more interesting with this keto pumpkin spice doughnut recipe. They are surprisingly easy to whip up, and the perfect low carb fall breakfast or dessert.
The main ingredient is almond flour, which adds minimal net carbs but a good amount of healthy fats. It also makes them nice and soft! The addition of my favorite keto collagen powder and a pinch of xanthan gum helps to hold these keto pumpkin spice doughnuts together. Unlike a lot of other almond flour based recipes, they shouldn't turn out crumbly.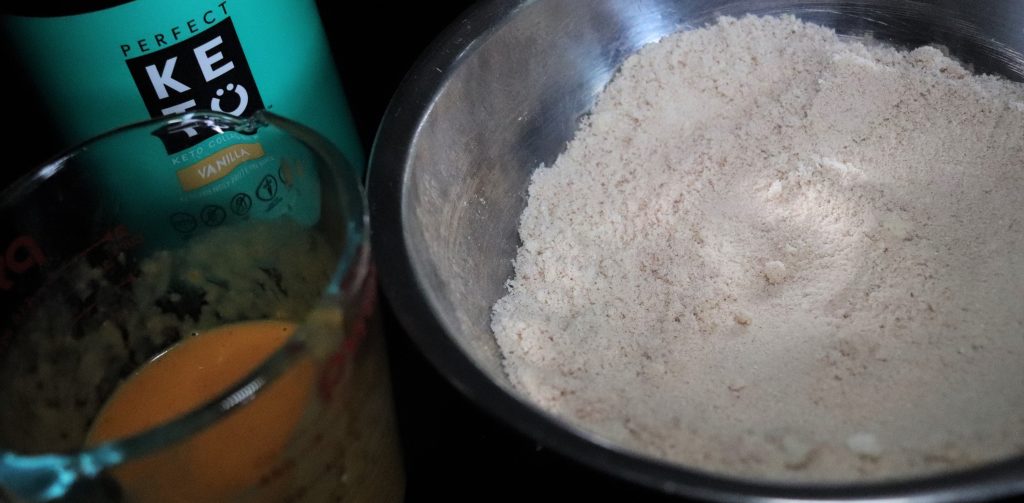 Of course, they wouldn't be keto pumpkin spice doughnuts without actually adding the pumpkin spice! You can use a store-bought spice blend or just DIY your own. For the amount in this recipe, just combine a teaspoon of cinnamon with 1/4 teaspoon each of nutmeg and ginger, and a pinch each of ground allspice and cloves. To really make the pumpkin flavor pop, this recipe also uses a bit of actual pumpkin puree.
Finally, I like to finish these low carb pumpkin spice doughnuts with a quick sugar free glaze. A lot of baked doughnuts can end up with more of a cake-like texture, and the glaze helps them to feel more like doughnuts rather than oddly shaped cupcakes. You can skip the glaze to save time/calories, or toss them in cinnamon "sugar" instead!
Looking for more keto pumpkin spice recipes? Try this Keto Pumpkin Spice Cheesecake!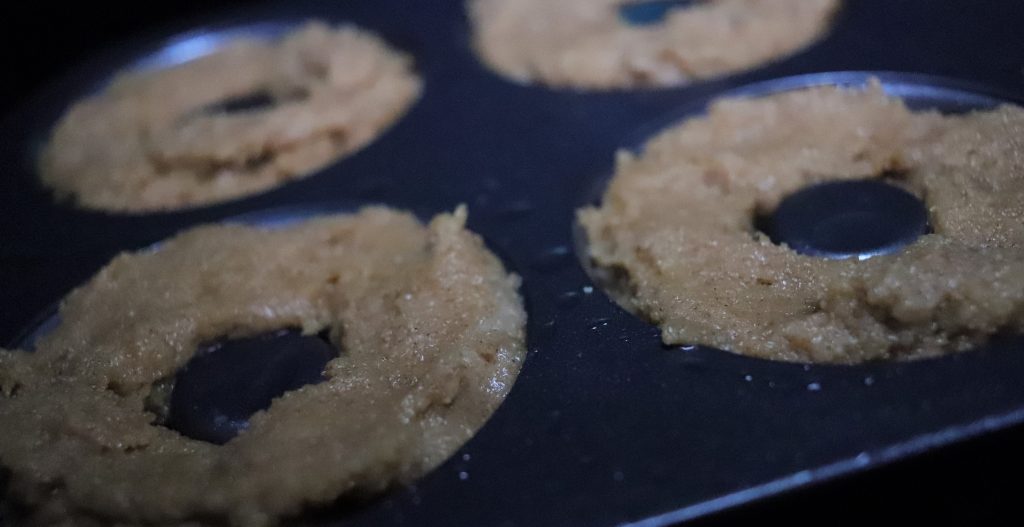 Keto Pumpkin Spice Doughnuts
These keto pumpkin spice doughnuts are baked in the oven and then finished with a quick sugar free glaze.
Ingredients
Keto Pumpkin Spice Doughnuts
Instructions
Preheat oven to 350F. Prepare a doughnut pan by brushing or spraying with coconut oil.
Bake Keto Pumpkin Spice Doughnuts
In a mixing bowl, combine all dry ingredients for the doughnuts: almond flour, Perfect Keto collagen, Lakanto, baking powder, salt, xanthan gum, and pumpkin spice.

Separately, whisk together the wet ingredients: melted butter, pumpkin puree, eggs, and vanilla.

Add the wet ingredients to the dry and mix until well combined.

Transfer the batter to your prepared doughnut pan. Bake for 12-15 minutes, or until golden brown. Remove from oven and allow to cool slightly.
Glaze the Doughnuts
Add glaze ingredients to a pan over medium heat and stir to combine.

Heat for 3-4 minutes, or until the sweetener is dissolved. Remove from heat.

Dip doughnuts in glaze to coat, then transfer to a cooling rack or plate to set.
Notes
The 1/4C of Lakanto sweetener in these low carb pumpkin spice doughnuts can be substituted with the same amount of another granulated keto-friendly sweetener like Swerve or with 5T of granulated erythritol. The same goes for the glaze: use the same amount of another sweetener blend, or about 3.5T of erythritol.
On a similar note, you can substitute the Perfect Keto Collagen with one scoop (about 25-30g) of a vanilla or unflavored whey powder.
If you want to make this keto pumpkin spice doughnut recipe using the same sweetener and collagen that I use, you can use the code TRYKETO to save 20% on both Lakanto and Perfect Keto!
The glaze is optional, so feel free to skip it to save calories if desired!
Nutrition
Calories:
295
kcal
|
Carbohydrates:
6.5
g
|
Protein:
11.5
g
|
Fat:
26
g
|
Saturated Fat:
9
g
|
Polyunsaturated Fat:
1
g
|
Monounsaturated Fat:
1
g
|
Cholesterol:
67
mg
|
Sodium:
170
mg
|
Potassium:
60
mg
|
Fiber:
3.8
g
|
Sugar:
1
g
|
Vitamin A:
700
IU
|
Calcium:
90
mg
|
Iron:
1.8
mg