Keto Fried Cabbage with Sausage and Bacon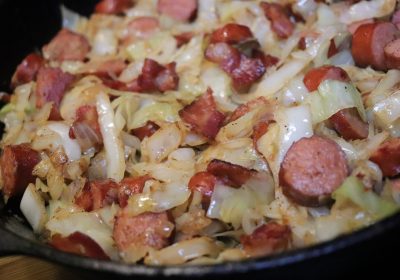 Cabbage is one of those veggies I used to be convinced that I would never like. I thought it was fine raw in a slaw or salad, but cooked? No thanks! Thankfully, it turns out that my problem wasn't really with cooked cabbage. The issue was just the bland, mushy boiled cabbage that I was used to seeing around. It turns out that if you cook it right, like in this keto fried cabbage recipe, it's actually pretty delicious!
First things first: no boiling! Boiling cabbage can make it bitter and unpleasant. This recipe is called keto fried cabbage for a reason. It's not fried in the traditional sense of being crispy, but it is sautéed in a mix of butter and bacon fat. These fats add to the flavor and texture, unlike boiling in water which can reduce both.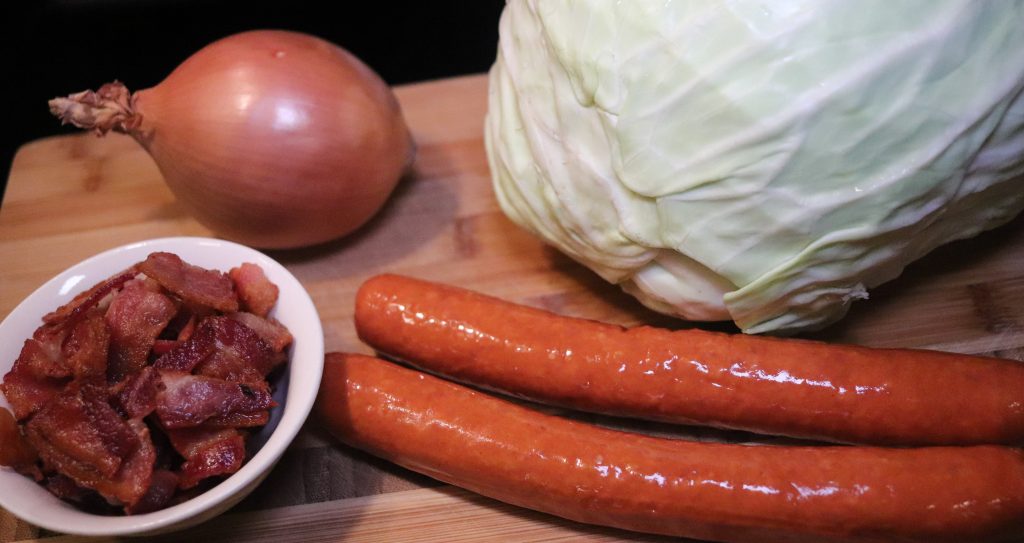 Next step: amp up the flavor! Salt and pepper are fine, but this cabbage is also cooked with onion, garlic, and red pepper. This makes the cabbage rich and savory instead of boring and bitter. It also compliments the sausage and bacon which we'll get to in a moment. Just like the cabbage itself, the onion and garlic are sautéed to make them even more tasty.
The final key to this keto fried cabbage is the bacon and smoked sausage. The bacon adds fat at the start and flavor in the finished dish. The sausage rounds everything out to make this keto fried cabbage recipe filling enough to work as a main dish. The final result is flavorful, buttery, and super satisfying to eat!
Looking for other keto one pan meals with sausage? Try this Cheesy Keto Zoodle Bake with Italian Sausage.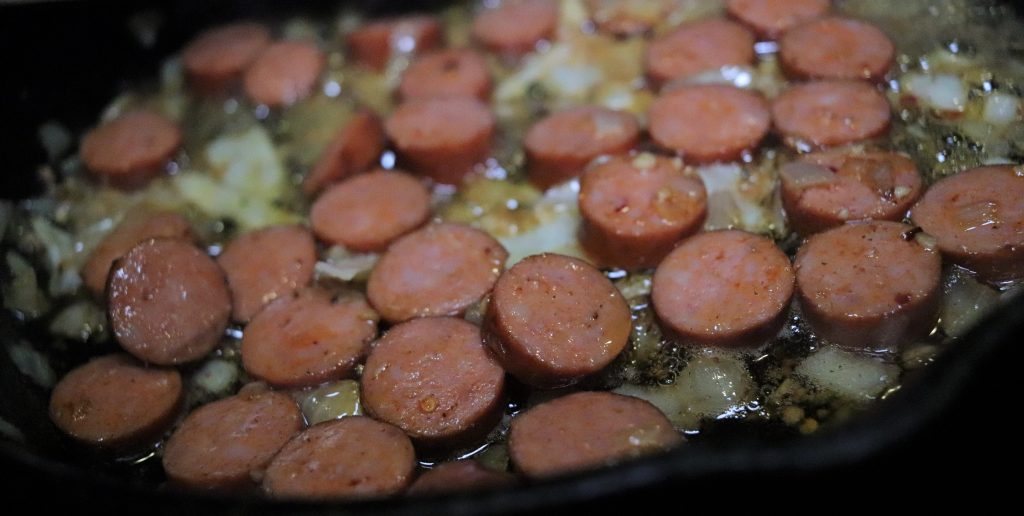 Keto Fried Cabbage with Sausage and Bacon
This keto fried cabbage is extra flavorful and satisfying thanks to the addition of smoked sausage and bacon.
Ingredients
6

slices

bacon

cut into 1-inch pieces

1

ounce

butter

12

ounces

smoked sausage

such as kielbasa or andouille, sliced

1/2

large

onion

diced

4

cloves

garlic

minced

1/2

tsp

red pepper flakes

1

medium head

cabbage

cored and sliced

1

tsp

black pepper

or to taste

1.5

tsp

sea salt

or to taste
Instructions
Heat a cast iron skillet or other large pan over medium high heat.

Add sliced bacon to pan and cook until crisp, about 8 minutes. Remove bacon and set aside, but keep the bacon fat in the pan.

Add butter to pan. Once melted, add onion. Saute onion in the melted butter/bacon fat until translucent, about 5 minutes.

Add minced garlic and red pepper to pan. Cook until fragrant (about 2 minutes), stirring regularly to prevent burning.

Add sliced sausage to pan. Cook until heated through and lightly browned, about 4 minutes.

Add cabbage to pan and toss to coat with the butter/onion mixture. Add salt and pepper.

Continue cooking until cabbage is tender and lightly browned, 10-15 minutes.

Return cooked bacon to the keto fried cabbage mixture and toss to combine.
Notes
If using preshredded cabbage, this keto fried cabbage recipe requires around 2.25lbs of cabbage.
For a bit of extra tang, add a splash of vinegar (apple cider, red wine, or balsamic) with the cabbage.
Reheating this keto fried cabbage in a pan on the stove (rather than in the microwave) results in a better texture for leftovers!
Nutrition
Calories:
320
kcal
|
Carbohydrates:
12
g
|
Protein:
13
g
|
Fat:
25
g
|
Saturated Fat:
10
g
|
Monounsaturated Fat:
1
g
|
Cholesterol:
56
mg
|
Sodium:
743
mg
|
Potassium:
306
mg
|
Fiber:
4.5
g
|
Sugar:
5
g
|
Vitamin A:
350
IU
|
Vitamin C:
88.3
mg
|
Calcium:
70
mg
|
Iron:
1.1
mg