Keto Krate April 2020 Review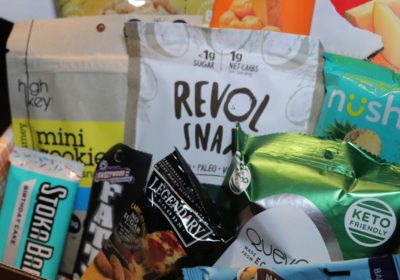 In our current socially distanced world, I appreciate my keto boxes more than ever! They make it easy to stay stocked up on keto snacks and support keto-friendly businesses without making unnecessary trips out. This keto subscription has been pretty consistent with its product mix over time, so I have a good idea of what to expect at this point: about two jerky/meat snacks, a couple other savory/salty snack options, some keto-friendly sweet treats, and then maybe a unique ingredient or pantry item.
As a reminder, Keto Krate costs $39.99 per month with free US shipping, and promises 10+ keto-friendly snacks per month plus $20+ in coupons and discounts that subscribers can use to purchase more of the featured products. All products included are gluten free, aspartame/maltitol free, and 5g net carbs or less per serving.
You can view reviews of past Keto Krates here.
If you're a new subscriber, you can take advantage of the $10 discount offer when you sign up here using the Keto Krate promo code TRYKETOWITHME.
Here's what was in the April Keto Krate: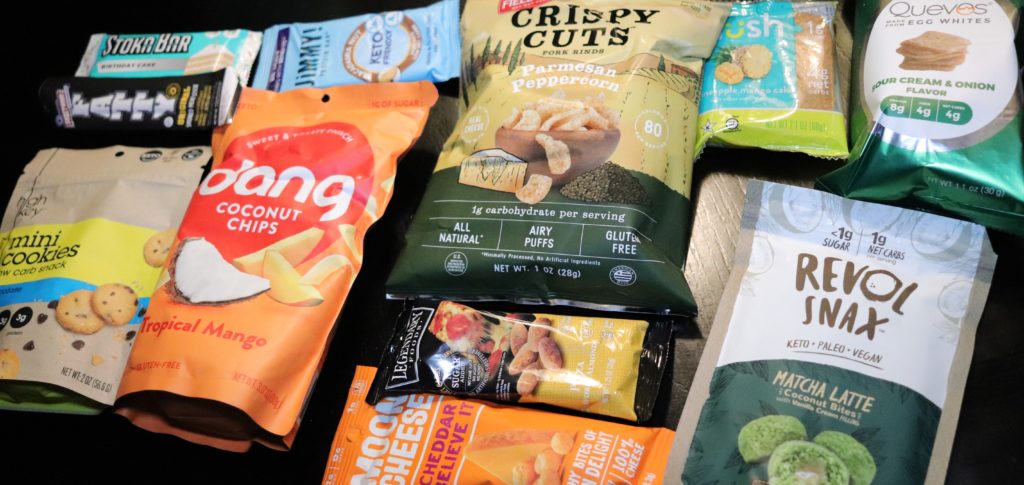 First up, I tried these unique snack bites: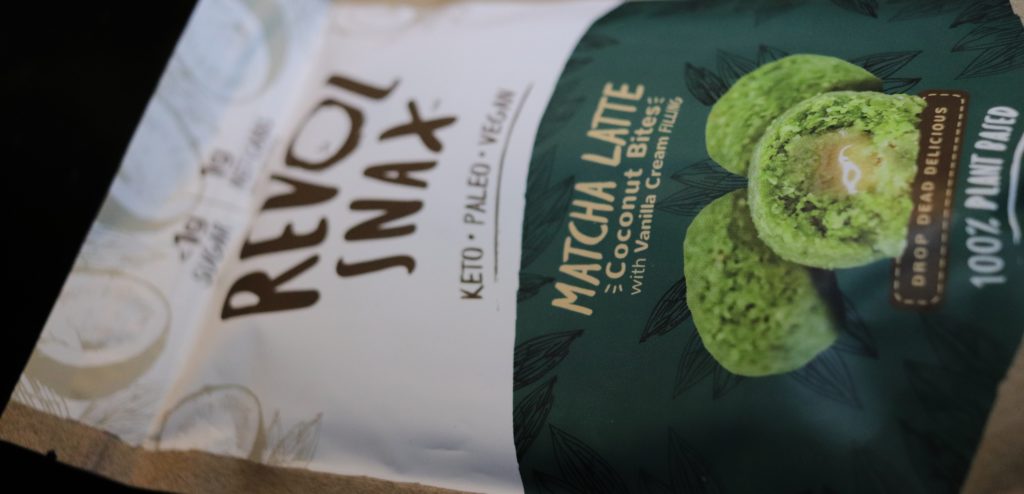 1x package Revol Snax Matcha Latte Coconut Bites (value: $7.99) [1g net carbs per serving]
I'm a big fan of matcha lattes, and I had previously enjoyed a chocolate flavor of these bites, so I had pretty high hopes for these. The outer layer is cakey but maybe a little dry from the coconut. There is a small amount of vanilla filling in the center. I liked them as a quick treat to get in some healthy fats, but I think I would have preferred the chocolate or another flavor. The sweetness of these bites is quite mild, which means there is a bit of aftertaste from the matcha.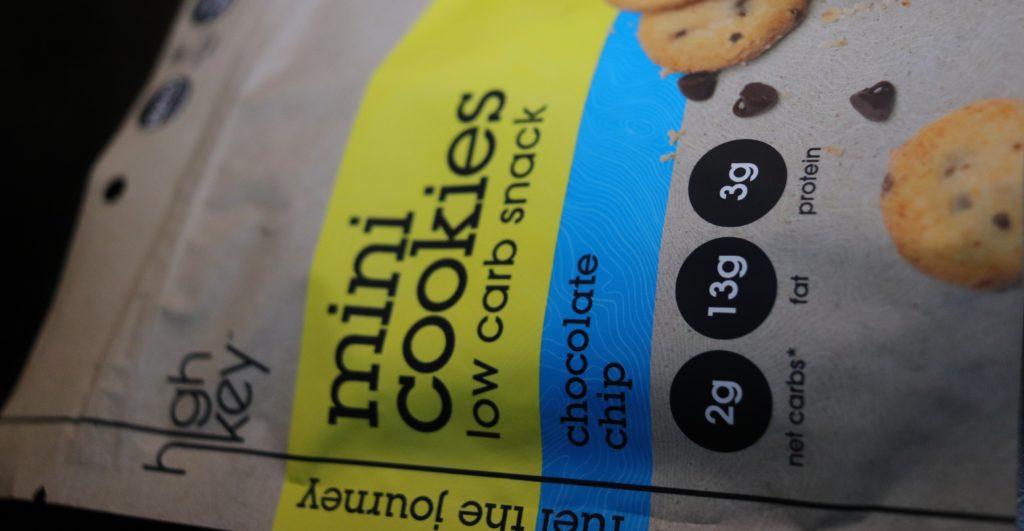 1x bag High Key Mini Cookies, Chocolate Chip (value: about $4.75) [2g net carbs per serving]
These were in the September 2019 Keto Krate as well, but I'm not complaining at all because they are so tasty! Here are some notes from a past review:
This was a bag of low carb mini chocolate chip cookies, and they were delicious! They are made with low carb ingredients like almond flour, erythritol, and coconut oil, but they taste very similar to mini Chips Ahoy cookies in my opinion. Slightly crisp and surprisingly filling, thanks to the healthy fats.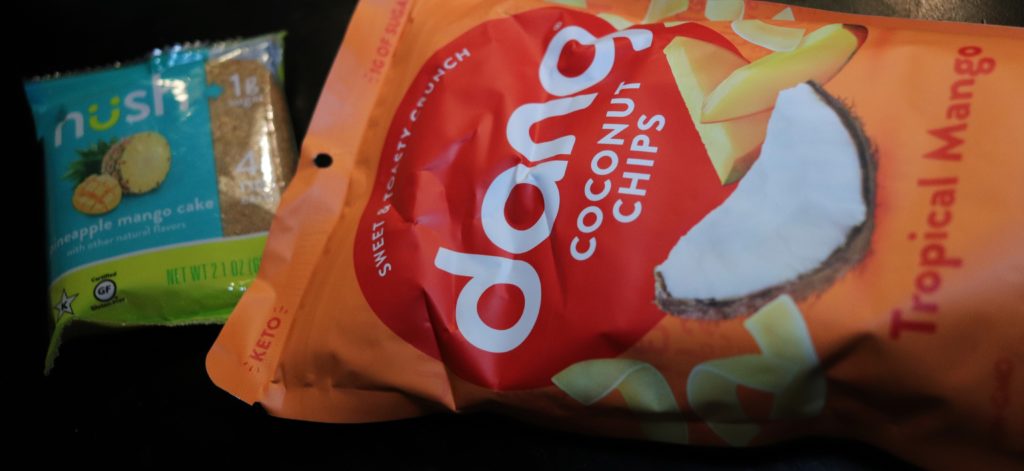 1x 90g bag Dang Coconut Chips, Tropical Mango (value: about $4.99) [5g net carbs per serving]
I was a little wary about these mango-flavored coconut chips because I expected them to have added sugar, but I was pleasantly surprised to see monk fruit and stevia used instead! Keto-friendly fruity flavored snacks can be a little hard to come by, so these were a pleasant surprise. I thought the flavors were pretty well balanced and I liked the light crunch. I think these would work really well in a keto granola or trail mix type snack too.
1x serving Nush Cake, Pineapple Mango (value: $3.00) [4g net carbs per serving]
This was the second tropical flavored treat in this box. I like Nush cakes, but definitely tend to reach for the carrot cake or blueberry options rather than this pineapple mango flavor. It has the same moist texture, healthy ingredients, and keto-friendly macros as the others, but I'm just not crazy about the combination of pineapple and mango in cake form. The flavors are bright and authentic though, so definitely try it if you like tropical cakes.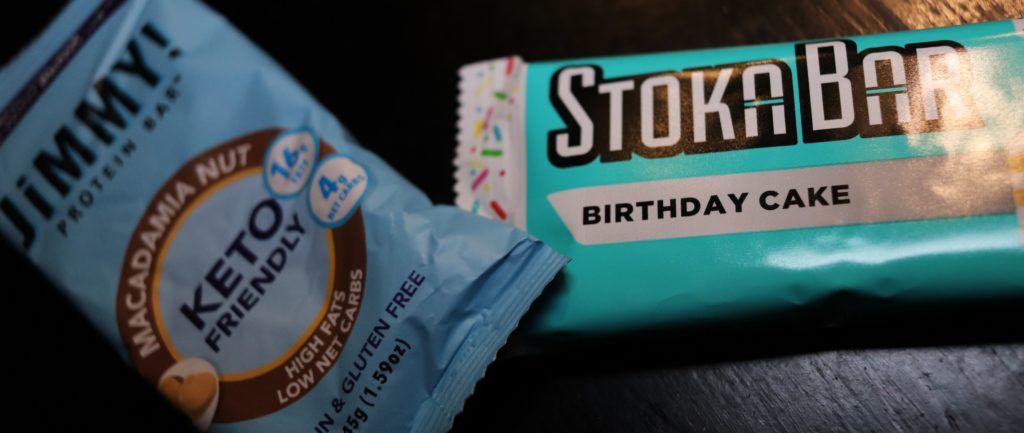 1x serving Stoka Bar, Birthday Cake (value: $3.00) [4g net carbs per serving]
I really like Stoka Bars, but this was my first time trying this flavor. Birthday cake flavored products can get artificial tasting pretty easily, but luckily that wasn't a problem here. This has the same buttery, crunchy texture of other Stoka bars with a vanilla cake flavor and the addition of their sugar free sprinkles! It's not overly sweet and doesn't have added artificial flavoring.
1x serving Jimmy Protein Bar, Macadamia Nut (value: about $3.00) [4g net carbs per serving]
This is the second snack bar we got this month, from a brand that was new to me. I can be a little picky about snack bars, but I was pleasantly surprised by this one! It has a nice mix of nutty flavor (from peanuts, macadamia nuts, and almonds) and dark chocolate chips. I wouldn't mind if the carb count was a little lower (by using sugar free chocolate for example), but it was a surprisingly filling and satisfying treat.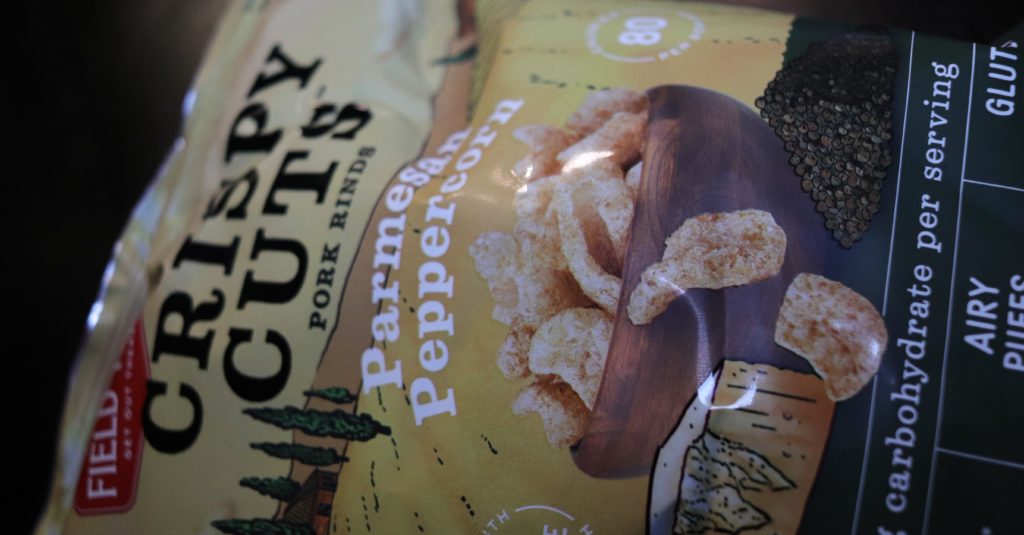 1x 1oz bag Field Trip Snacks Crispy Cuts, Parmesan Peppercorn (value: about $3.00) [1g net carbs per serving]
Coming from someone who did not like pork rinds much at all pre-keto, these are now among my favorites. I opened this bag basically the second I finished snapping pics of the box. They are perfectly crisp, and the combination of salty, cheesy, and peppery flavors is just so good. I ate the whole bag in minutes, and didn't feel bad about it at all.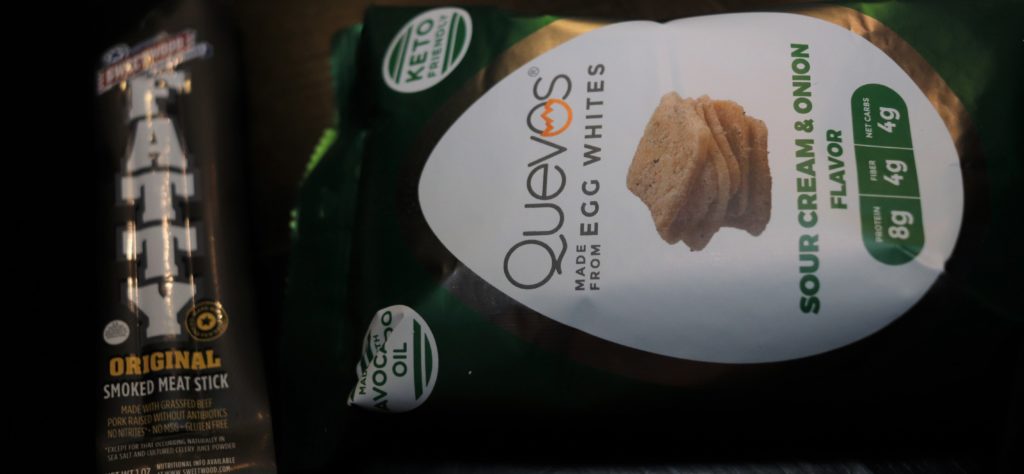 1x 30g bag Quevos, Sour Cream and Onion (value: about $3.00) [3g net carbs per serving]
If pork rinds don't work for you as a chip replacement, then this is another option made from egg whites. I personally think they come across more like light crackers than actual chips, but the sour cream and onion flavor is pretty spot on. They don't have the same snappy "crisp" that a potato chip might, but the tradeoff comes with the fact that the protein and fat content makes them much more filling. You might want to keep a drink nearby though, since they are a little on the dry side.
1x 1oz Sweetwood Smokehouse Fatty Smoked Meat Stick, Original (value: about $1.99) [1g net carbs per serving]
When it comes to meat snacks, I usually prefer more traditionally cut strips/pieces or thinner meat sticks because thicker varieties are more prone to feeling too chewy or mealy for me. Thankfully, this one didn't have that problem and still managed to be "snappy." I liked the smokey flavor with a good amount of pepper and garlic. I also appreciate the use of grassfed beef and minimal processing!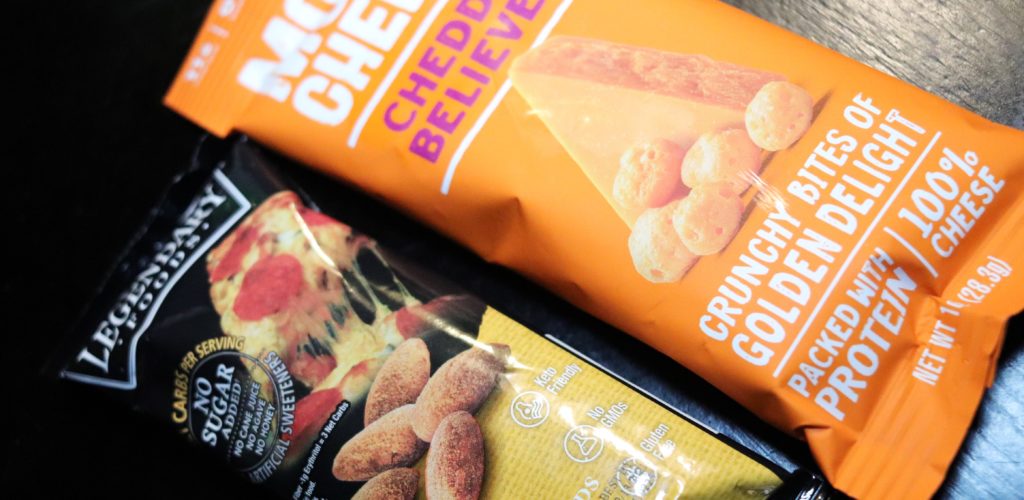 1x bag Legendary Foods Seasoned Almonds, Pizza (value: $2.50) [3g net carbs per serving]
These were previously included in the August 2019 Keto Krate. Here are some notes from that review:
I love pizza, but "pizza flavored" snacks can be a bit hit or miss for me. I had high hopes for these, since I like the other Legendary Foods seasoned almonds that I've tried. These were definitely pretty flavorful, but I'm not sure they really reminded me of pizza. I would eat them again if they were around, but if I was picking the flavor for myself I would probably go for the cheddar bacon or buffalo wing options which I think have more "oomph."
1x 1oz bag Moon Cheese, Cheddar Believe It (value: $2.00) [1g net carbs per serving]
This is one of the first popular keto snacks that I discovered, and I remain a fan of them now. It's cheese, baked and puffed into a crunchy snack! It's simple and satisfying when you get those salty snack cravings. I tend to reach for the more flavorful options like pepperjack and garlic parmesan these days, but it's still hard to go wrong with classic cheddar.
In addition to the products included in the April 2020 Keto Krate, subscribers also received the following discounts:
20% off Dang
15% off Jimmy Bars
15% off Revol Snax
15% off Legendary Foods
20% off Moon Cheese
15% off Quevos
20% off Stoka Bars
20% off Nush
15% off High Key
We also got a recipe for Spicy Thai Coconut Soup featuring the coconut chips from the krate, and a bonus recipe for Fluffy Strawberry Cream.
Overall Thoughts
This month's Keto Krate featured a total of 11 products with a total value of about $39.25 (not including the discounts and free shipping). My favorite new discovery from the box was probably the birthday cake Stoka Bar. The pork rinds were easily my favorite product that I've had before, but the High Key cookies are a close second. As is usually the case, we got a good mix of sweet and savory snack options.
I was satisfied overall with the contents and value of the box, but I definitely won't mind if next month has more multi-serving and/or pantry items included!
You can view past reviews here, and head here to sign up for your own Keto Krate. If you're a new subscriber, you can take advantage of the $10 discount offer when you use the code TRYKETOWITHME.