Bacon Blue Cheese Keto Broccoli Salad with Walnuts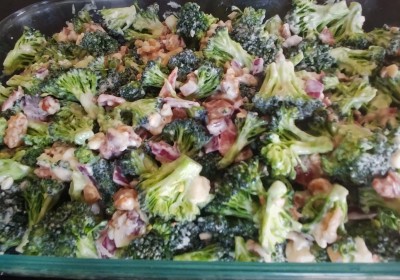 This keto broccoli salad is the perfect side dish for a spring picnic or summer barbecue. Per ~3/4C: 210kcal, 21g fat, 6g protein, 4g total carbs – 1.5g fiber = 2.5g net carbs.
Prep Time: 10m
Cook Time: 1h
Total Time: 1h 10m
Serves:

6 to 8 servings

Yield:

about 6 cups
Ingredients
12

ounces

(~340g) fresh broccoli, cut into small florets

1/4

teaspoon

salt

1/4

teaspoon

black pepper

1

tablespoon

apple cider vinegar

1/2

cup

mayo

2

tablespoons

(~14g) red onion, finely diced

4

slices cooked bacon, crumbled

1 1/2

ounces

(~42g) walnuts, coarsely chopped

3

ounces

(~85g) blue cheese, crumbled

1

tablespoon

keto-friendly sweetener (optional)
Instructions
Combine mayo, vinegar, salt, pepper, and sweetener (if using) to make the dressing. Set aside.
In a large bowl or dish, mix together remaining ingredients (broccoli, onion, blue cheese, bacon, and walnuts). Add dressing and toss to coat.
Refrigerate for at least 1 hour before serving. Store refrigerated in a sealed container for up to 5 days.