Keto Pesto Chicken Christmas Tree Bread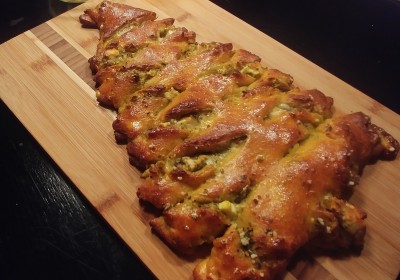 Need something to take to a holiday party but want to keep it keto? This keto Christmas tree bread filled with chicken, pesto and cheese is perfect! Per serving: 250 calories, 20g fat, 15g protein, 3.7g total carbs – 1.4g fiber = 2.3g net carbs.
Prep Time: 20m
Cook Time: 25m
Total Time: 45m
Ingredients
"Bread" Dough
5

ounces

shredded mozzarella

1

ounce

shredded cheddar

1

ounce

cream cheese

1

tablespoon

butter

1/2

teaspoon

Italian seasoning

1/2

teaspoon

garlic powder

1/2

cup

+ 2 tablespoons blanched almond flour

1

tablespoon

oat fiber

1/2

teaspoon

xantham gum

1

teaspoon

baking powder

1

teaspoon

active dry yeast

1

tablespoon

warm (~110F) water, for dissolving yeast

2

large eggs (one for dough, one for egg wash)

1

tablespoon

coconut (or almond) flour, for kneading dough
Filling
8

ounces

shredded chicken breast

1 1/2

ounces

shredded parmesan

1 1/2

ounces

shredded mozzerella

2

ounces

feta cheese, crumbled

5

tablespoons

low carb basil pesto
Garlic Butter
2

tablespoons

butter, melted

1

clove garlic, minced

1/2

teaspoon

Italian seasoning
Instructions
Preheat oven to 375F. Prepare a baking sheet by lining with parchment paper.
Combine garlic butter ingredients and set aside.
Add yeast to warm water and allow to dissolve, stirring to break up any clumps.
Sift together dry ingredients (almond flour, oat fiber, xantham gum, baking powder, garlic powder, Italian seasoning).
In a microwave-safe bowl, combine shredded cheeses, cream cheese, and butter. Microwave for 60-90 seconds, or until cheese is melted. Stir to combine.
Add dry ingredients, one egg, and yeast mixture to melted cheese mixture and mix well until dough forms a ball. Turn dough onto a flat surface sprinkled with the coconut flour and knead gently, 15-20 times or until no longer "sticky" to the touch.
Cover the dough with a damp cloth/paper towl and allow to rise in a warm place for 10-15 minutes while you prepare the filling.
Filling: In a bowl, mix together cheeses, chicken, and pesto. Add salt and pepper to taste. Set aside.
Roll dough into a rectangle, about 1/4" thick. Make two diagonal cuts from the center of one "short" side of the rectangle to the corners of the opposite side (see pictures for guidance). You will end up with one large triangle in the center and two smaller triangles on the sides.
Press the straight sides of the two smaller triangles together to form a larger triangle to match the size/shape of the center one. This will be the "bottom" of your bread. Optionally, press the seam downward to make a "trunk" for your tree.
Layer the filling on top of this dough layer, leaving a little space around the edges. Top with the other large triangle of dough.
Make horizontal slices on each side of the tree, being careful to leave them connected in the center. Carefully pick up each "slice" and twist 1-3 times (depending on the length).
Beat the remaining egg and evenly brush the the exposed dough with the egg wash.
Bake in the preheated oven for 25-28 minutes, or until golden brown. Brush with garlic butter before serving.
Best served warm. Store refrigerated for up to 5 days. Reheat in the microwave or in the oven at a low (~300F) temperature.