Keto Sesame Ginger Salmon Recipe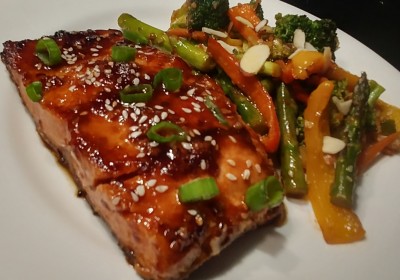 This keto salmon recipe pairs flaky fish with a flavorful sesame ginger sauce. Per ~6oz fillet: 510kcal, 36g fat, 42g protein, 2.5g total carbs – 1.5g fiber = ~1g net carbs
Prep Time: 30m
Cook Time: 10m
Total Time: 40m
Ingredients
2

salmon fillets, 5-7 ounces each
Marinade
1

tablespoon

olive oil

1

tablespoon

sesame oil (or additional olive oil)

1

tablespoon

fish sauce

1/4

teaspoon

crushed red pepper

1

teaspoon

fresh ginger, minced

2

cloves garlic, minced
Sesame Ginger Sauce
1

tablespoon

coconut or rice vinegar

1

tablespoon

fish sauce

2

tablespoons

soy sauce or liquid aminos

2

teaspoons

fresh ginger, minced

1

tablespoon

erythritol or other sweetener to taste

1

clove garlic, minced

1

teaspoon

Sriracha or 1/2t crushed red pepper flakes (optional)

2

teaspoons

toasted sesame seeds

1/4

teaspoon

xanthan gum
Instructions
Marinate Salmon
Whisk together all marinade ingredients. Place salmon in a plastic bag or shallow bowl. Add marinade and toss to coat. Allow to marinate in the refrigerator for at least 30 minutes, and up to six hours.
Prepare Sesame Ginger Glaze
In a small sauce pan over medium heat, whisk together all sauce ingredients, except for xanthan gum. Simmer for 4-5 minutes, until slightly thickened. Whisk in xanthan gum and simmer for an additional 2-3 minutes. Set aside to cool.
Prepare Salmon
Preheat oven to 425F. Add ~1T of oil to an ovensafe skillet/pan over high heat.
Once pan/oil are very hot (necessary to prevent sticking), remove salmon from marinade and add to pan, skin side up. Sear for 3 minutes.
Carefully flip salmon so that it is skin side down. Generously top each piece with sesame ginger sauce, reserving some for serving if desired. Place skillet in preheated oven and bake for 5-6 minutes, or sauce is set and salmon is cooked through.
Allow to rest for 3-5 minutes before serving. Serve topped with reserved sauce, chopped green onion, and/or additional sesame seeds.