The Keto Box May 2017 Review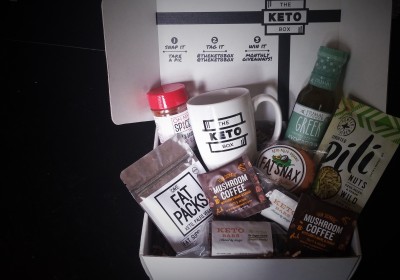 After enjoying my first The Keto Box last month, I was really excited to see what the May box would have in store. April's box had a really nice mix of keto "treats" and staple low carb pantry items, and I was hoping May would have a nice variety as well. I wasn't disappointed! As a reminder, The Keto Box is a $40/month subscription that sends you a box full of 5-8 keto snacks and food products.
If you haven't signed up for The Keto Box yet, this is the last month to get the awesome TKB mug (pictured below) included for FREE with your first box when you use the code MUG11 here. Don't miss out—the mug is perfect for coffee/tea and who can argue with free?
Here's the May lineup: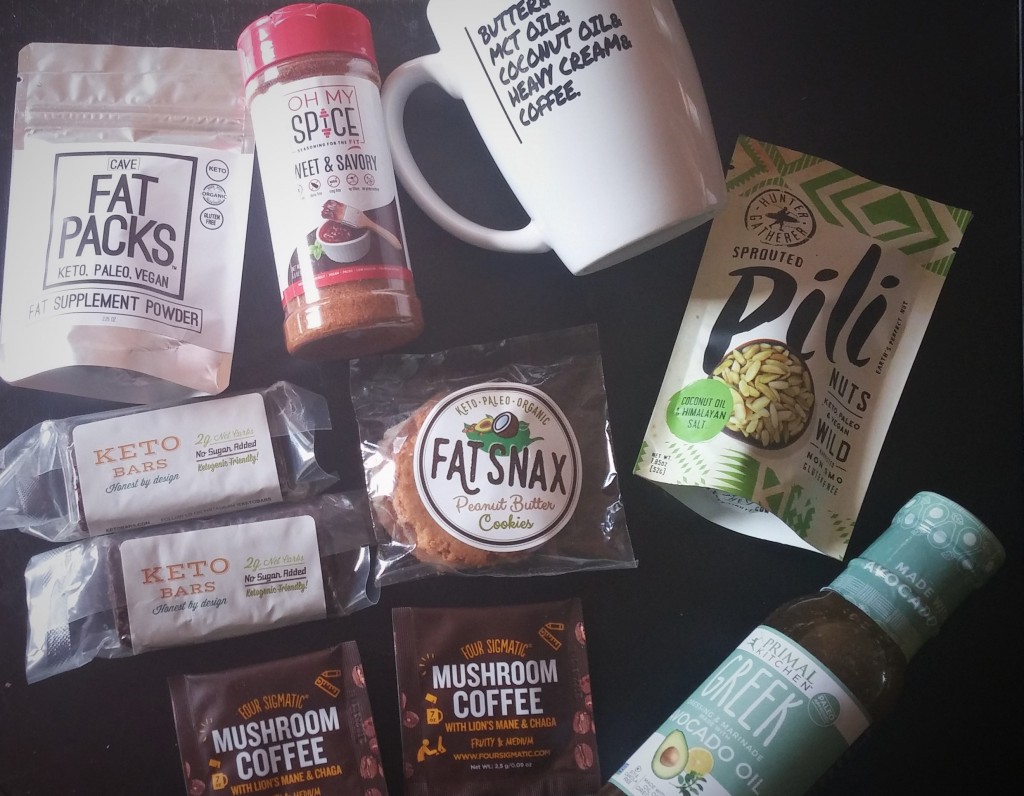 The first item I tried was the Oh My Spice seasoning blend.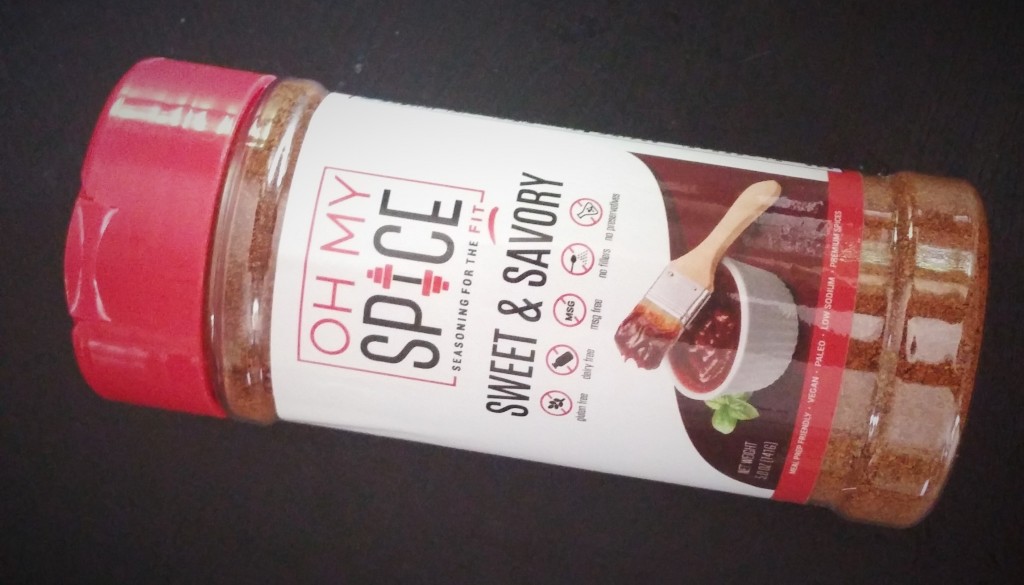 1x 5 oz. container of Oh My Spice, Sweet and Savory seasoning (value: $7.99)
This seasoning blend has a smoky paprika flavor that Oh My Spice recommends using for barbecue ribs, chicken wings, and blackened fish/meats. I tried it on chicken as recommended as well as on steak, burgers, and ribs on the grill. I really liked the smoky flavor, but I often found myself adding a bit of salt as well to really make it pop.
The main appeal of the brand is that, unlike a lot of premade seasoning blends in stores, their products low in sodium, gluten-free, dairy-free, MSG-free, and non-GMO. They are also free of fillers and artificial preservatives. This is good for keto because a lot of those fillers are a source of added carbs that could be better spent on nuts and veggies.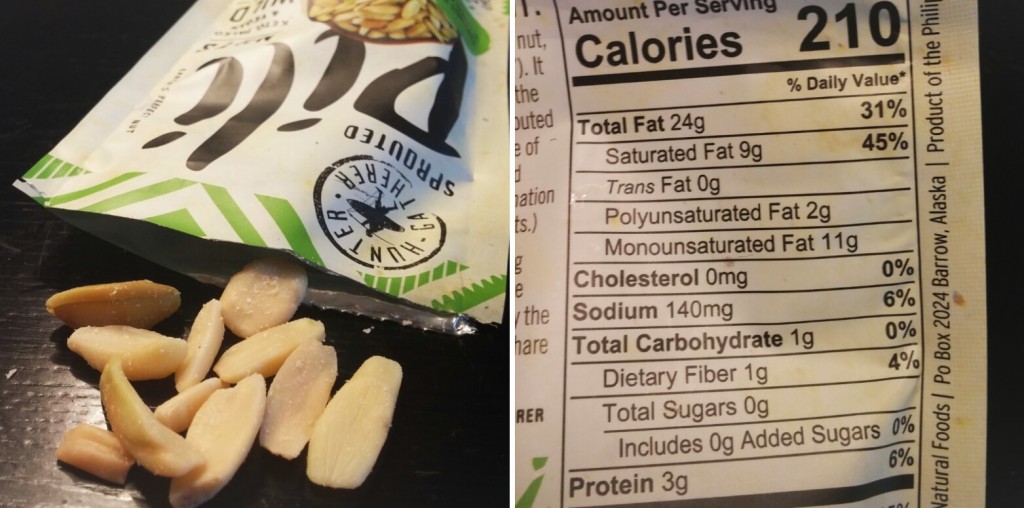 1x 1.85oz (52g) bag of Pili Nuts, Coconut Oil and Himalayan Sea Salt (value: around $7, based on Amazon price for a 5oz bag)
Although I usually do intermittent fasting during the week, I do still like to keep a variety of nuts on hand for snacking and baking. I consider myself to have a good grasp on the macros of various nuts, but somehow I had never heard of the miracle that is pili nuts. The macros on these are delightfully keto friendly, with next to no carbs and tons of healthy fats.
On top of the great macros, the extra fat content makes pili nuts extra buttery and delicious. Seriously, they taste like butter and nuts had some sort of rich, crunchy, satisfying baby together. The coconut oil and sea salt are an excellent touch as well. The nuts are great both alone as a snack, or as a topping for a salad or other meal.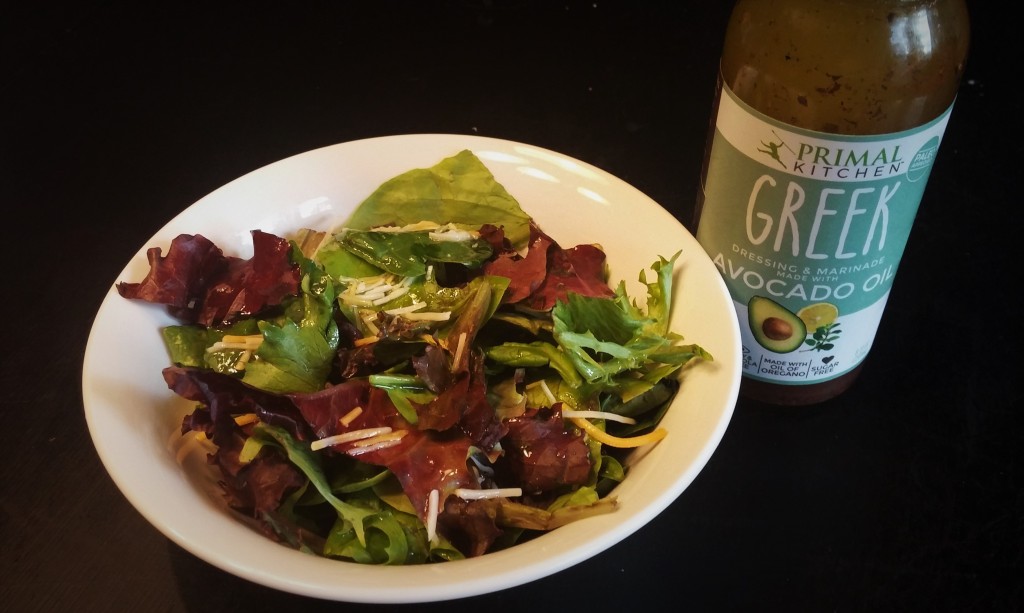 1x 8 oz. bottle of Primal Kitchen Greek Dressing & Marinade (value: $7.95)
Speaking of salads, I've gone through plenty of them over the past couple of weeks since my May edition of The Keto Box arrived, just as an excuse to have more of this delicious Greek dressing from Primal Kitchen. This vinaigrette is made with avocado oil and a blend of red wine and apple cider vinegars, and then flavored with oregano, coriander, garlic, and marjoram.
It's really tasty on salads, and also worked well when used to marinate chicken for grilling. I especially liked that it's sugar free unlike a lot of store bought vinaigrettes. In addition, it's also gluten free, non-GMO, and dairy free. Primal Kitchen has a variety of other dressings available on their website here.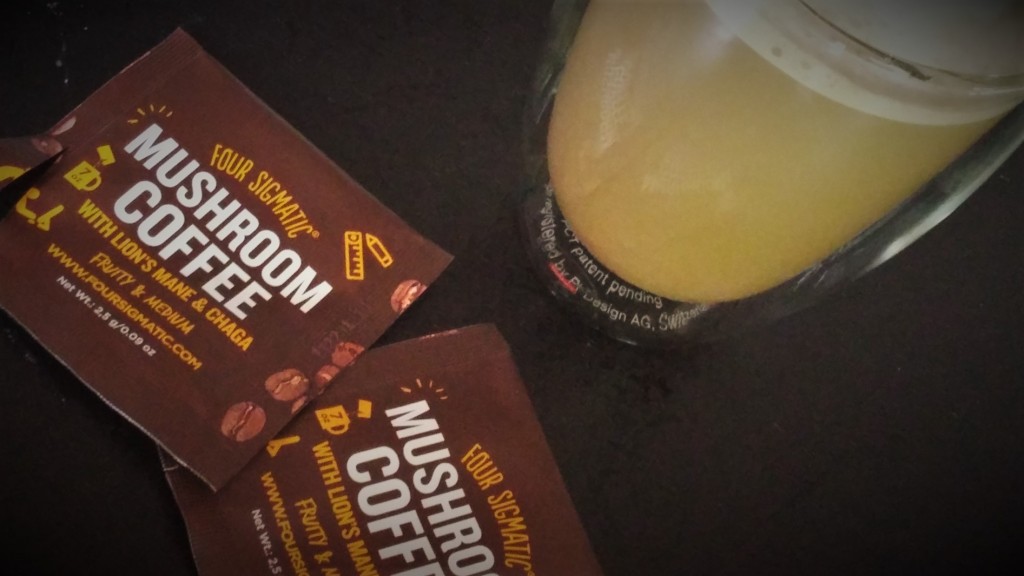 2x Serving of Four Sigmatic Mushroom Coffee with Lion's Mane (value: about $2.50)
I love coffee but hate mushrooms, so I wasn't quite sure what to expect out of something called "mushroom coffee" at first. I added hot water as instructed on the packet, as well as the cream that I would use in my usual morning coffee, and I have to say that I was pleasantly surprised by the taste!
The packet suggests that it's a medium roast with fruity notes, but I would describe it as more nutty or even caramel-y in flavor. In any case, it doesn't taste like mushrooms at all while still offering the health benefits of chaga and lion's mane mushrooms. This blend is called "Think" by Four Sigmatic because it's supposed to help with focus and concentration in addition to the antioxidant properties of the mushroom extracts.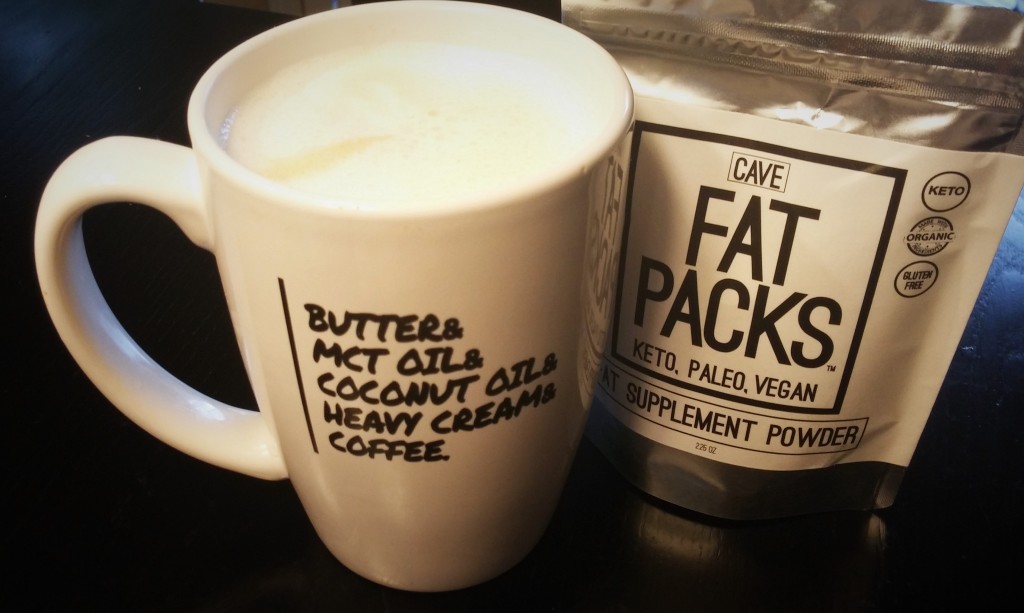 1x 2.25oz pouch of Cave Fat Packs Fat Supplement Powder (value: $6.00)
If you're looking for another way to up your coffee/beverage game, this "Fat Pack" powder from Cave Shake was also included. It's a powdered fat supplement mix that you can add to coffee or other beverages to make them more filling and macro-friendly. I intially thought that this was like a powdered MCT oil, so I was confused when the packaging suggested that you could also just eat it straight out of the pouch or use it as a topping, but it turns out that the formula uses coconut milk powder as its main ingredient which gives it a nice, mild coconut flavor.
It does complement coffee well, but I could also see it being nice sprinkled over some low carb granola or baked goods. Also unlike a straight MCT oil, Fat Packs do contain some carb content from the coconut milk powder.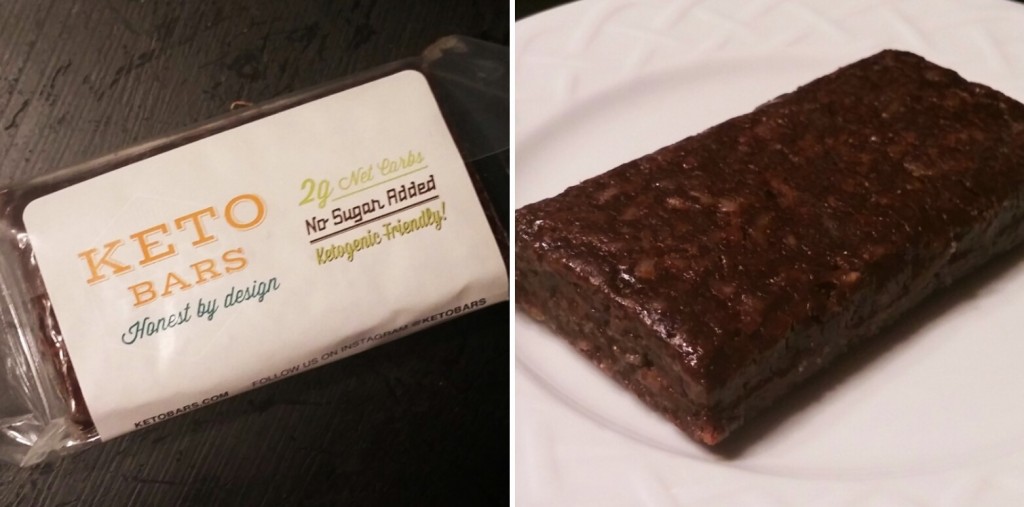 2 x Keto Bar (value: $4.60)
I have seen these bars all over social media, so I was really happy to finally be able to try them out first hand! With 2g net carbs per bar plus 18g of healthy fats and 7g of protein, the macros are perfect for keto. On top of that, the ingredient list is much cleaner than many of the other low carb snack bars out there.
The main ingredients are chocolate and coconut, which both come through in the flavor of the bar. I would say that the texture similar to a moist brownie with coconut flakes throughout, and I really enjoyed eating them warm.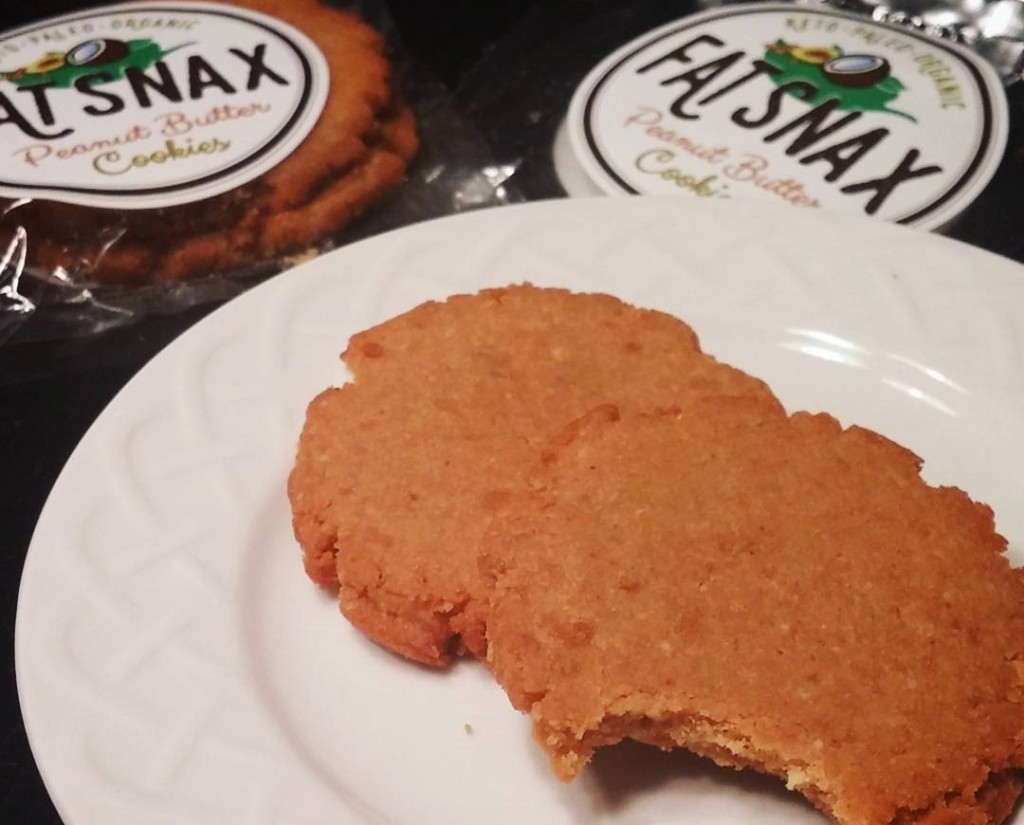 1x pack Fat Snax Peanut Butter Cookies (value: $2.50)
Hooray for more keto-friendly cookie options! The Keto Box featured Keto Kookie last month, and this month's box included these peanut butter cookies from Fat Snax. If you find Keto Kookies too sweet or you just want to try a different variety of flavors, these could be a nice option. Sweetened with erythritol and xylitol, they are 110 calories, 9g of fat, and 1 net carb per cookie.
In addition to having great macros, they are also tasty! The have a nice peanut butter flavor (of course), the texture is soft and buttery, and the sweetness is noticeable but mild enough that it doesn't overpower or leave an aftertaste.
Additionally, this month The Keto Box sent out promo codes for the items featured in the box. Subscribers received 15% off Pili Nuts, Fat Packs, Oh My Spice, and Fat Snax, and 10% off Mushroom Coffee and Keto Bars.
Final Thoughts
Once again, I would say this was a good month for The Keto Box. The total item value was a tiny bit lower than last month, but considering that most of the items in this box literally can't be bought individually, I still think it's worth it. I really enjoyed the Fat Snax cookies and Keto bars for example, but I doubt I would have been brave enough to order a full case of them without tasting them first. And of course, the free shipping for The Keto Box is obviously a huge savings over ordering all of these brands separately.
Also similar to my thoughts in my April Keto Box Review, I really felt like the May Keto Box had about an even mix of "treat" or snack items such as the cookies, nuts, and bars, and "staple" or pantry items like the dressing, seasoning, and Fat Pack. Whether the coffee goes in the treat or staple category is up to you!
But if you want drinking your morning coffee to always look like a treat, you can pour it into the lovely The Keto Box mug pictured below. This is the LAST MONTH to get the TKB mug included in your first box for free when you order The Keto Box with the code MUG11.