The Keto Box August 2017 Review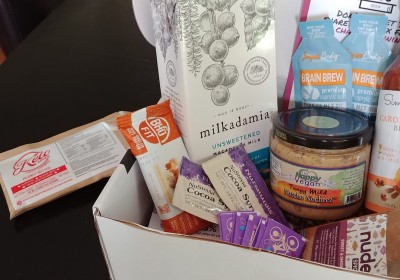 This is my fifth month of The Keto Box, and at this point I feel like I have a pretty good feel of what to expect: a nice balance between keto pantry items or condiments, and snacks/treats. This box had a lot of items that were new to me, so I was excited to try them!
Before we get to what was inside, a quick refresher: The Keto Box is a monthly subscription that describes itself as a "low carb care package for your body." For $39.99/month (and free shipping), subscribers receive a box full of 5-8 keto snacks and other products delivered to their doorstep.
You can view my reviews of previous months of The Keto Box here. If you haven't subscribed yet, you will receive the an exclusive first taste of the new Keto Kookie flavor with your first box when you sign up here using the code KOOKIE10. 
Now on to the August 2017 The Keto Box: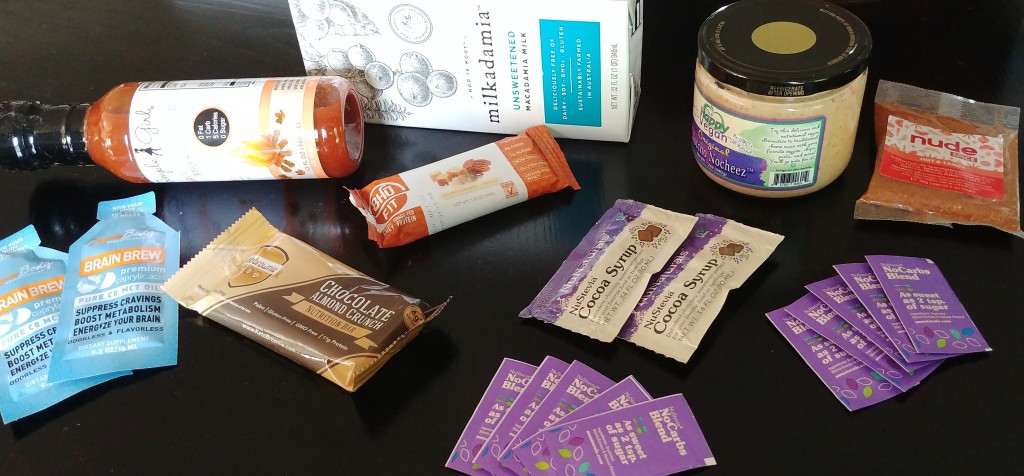 This month, I was especially excited to try the first item in the box: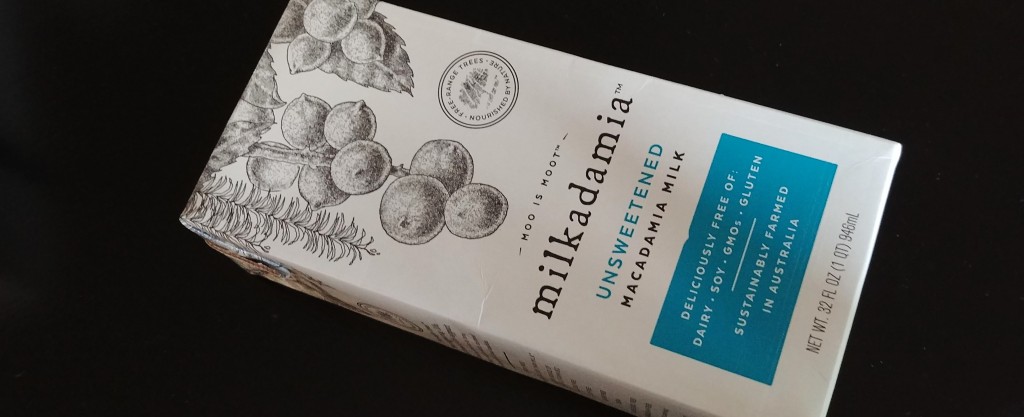 1x 32oz. carton of Milkadamia Unsweetened Macadamia Milk (value: about $4.00)
Unsweetened almond milk is a staple in my fridge, but I'm always trying out different nut milk varieties and blends to see which I like best. After previously discovering that I'm a fan of cashew milk, macadamia milk was next on my list to try, but I struggled to find it in stores around me. No worries, though…The Keto Box came to my rescue this month!
I tried this in a bunch of the usual ways I would use almond milk…served cold in a glass, as a base for my Keto Collagen and Chocolate Sea Salt ketone drink, and as an ingredient in other beverages and recipes. I find that it's a bit creamier than most brands of almond milk that I have tried while also having a milder flavor profile. Definitely worth checking out if you're looking for a replacement for traditional almond milk.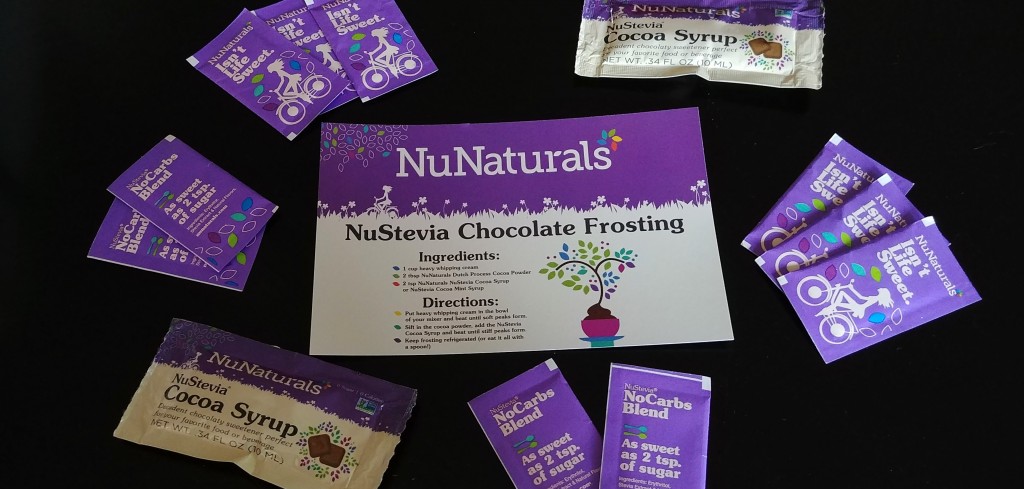 2x 10mL packet NuNaturals NuStevia Cocoa Syrup (value: about $0.75)
10x packet NuNaturals NuStevia NoCarbs Blend (value: about $1.50)
These items from NuNaturals also came packaged with a recipe for a keto-friendly chocolate frosting! The first item is their cocoa syrup, which I quickly learned is not the same as chocolate syrup. Rather than being meant as a condiment or topping/dip on its own, it's a concentrated cocoa-flavored sweetener that you can add to drinks and recipes. I haven't tried baking with it yet, but it was a good addition for coffees and protein shakes to add chocolate flavor and sweetness.
I was especially excited to try the second item from NuNaturals though. Most sweetener packets contain carb based fillers like maltodextrin, which makes them sugar free but not carb free. The NuStevia NoCarbs blend is made instead with stevia and erythritol, and doesn't use any carb fillers. I will definitely keep some on hand for when I'm out and about, since many restaurants and coffee shops don't have the most keto-friendly sweetener options.

1x 12oz. bottle Simple Girl Carolina Style Barbecue Sauce (value: about $6.00)
This sugar free barbecue is something that I've had before, so I already knew I was a fan! It isn't as thick as I typically like my barbecue sauce, but it has a nice tangy flavor that it perfect on wings and ribs. As a "Carolina-style" sauce, it does have more of a vinegar kick than the sweeter or spicier varieties out there, which may be worth considering if you're not a fan of apple cider vinegar.
But at only 5 calories and 1 carb per serving, this sauce is pretty easy to fit into a keto diet. It also fits a wide range of dietary restrictions, since it is free of gluten, sugar, animal products, artificial sweeteners, and preservatives!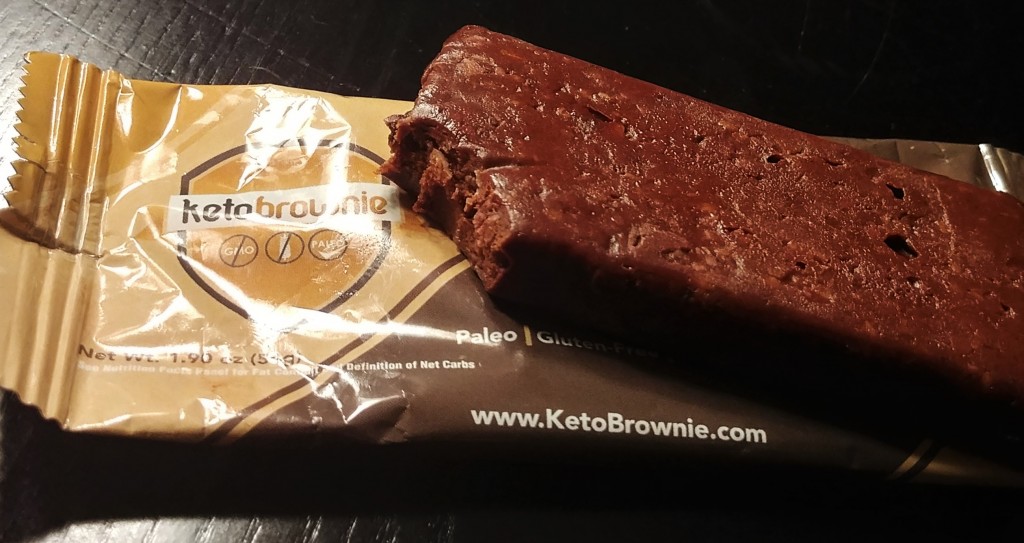 1x serving Keto Brownie Chocolate Almond Crunch (value: about $3.00)
Another product that I was already familiar with (but still happy to see)! Here are my comments on this Keto Brownie from a previous review:
This keto treat is closer to a protein/snack bar in texture than a traditional-style low carb brownie, but it's delicious nonetheless. The fudgy texture is softer and denser than something like a Quest bar, and when warmed it is definitely reminiscent of a rich, chocolaty brownie.

The macro and ingredient profile is also good for keto. There are no sugar alcohols, 16g of healthy fats from sources like coconut oil and almond butter, and plenty of fiber and protein for extra satiety.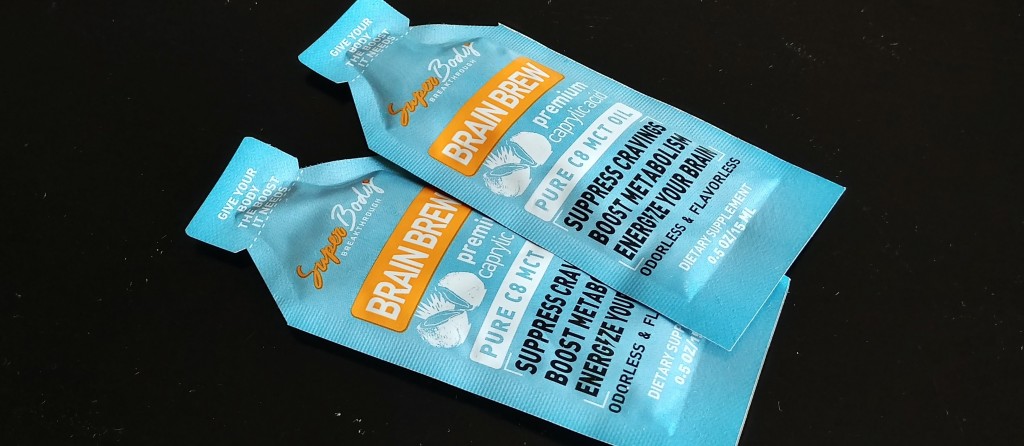 2x 0.5oz packets Brain Brew MCT Oil (value: about $3.00)
If you follow me on Instagram, you probably already know what a fan I am of Brain Brew. These super convenient little packets of MCT oil are a great, easy way to have a source of healthy fats on hand while on the go. It's not flavored or anything, which means you can use it as an impromptu salad dressing, add it to your Starbucks coffee, or just have it plain as a clean source of keto energy.
Combined with the NuStevia sweetener from this month of the Keto Box, I was able to restock my little "keto coffee kit" that I like to keep in my purse for when I need a caffeine fix but don't have access to my pantry at home. If you missed out on this month's box, order your own Brain Brew direct from Superbody Breakthrough and save 10% with the code TKW10!
1x 12oz. jar The Happy Vegan Notcho Nocheez [flavors varied] (value: $10.99)
I know us ketoers are supposed to be big on clean eating, and I try to keep things relatively clean most of the time, but I have to confess that I am totally a sucker for nacho cheese sauce. I am not even close to being vegan, but I hoped that this product might end up being a cleaner version of that melty, cheesy deliciousness that I've had to cut back on.
Unfortunately, I ended up being disappointed. The texture didn't have the meltiness I was looking for, and the flavor wasn't really cheesy to me. I think this is one of those "substitute" products that might be better received if it wasn't sold as a substitute. It's definitely closer to a veggie dip or something than a cheese sauce.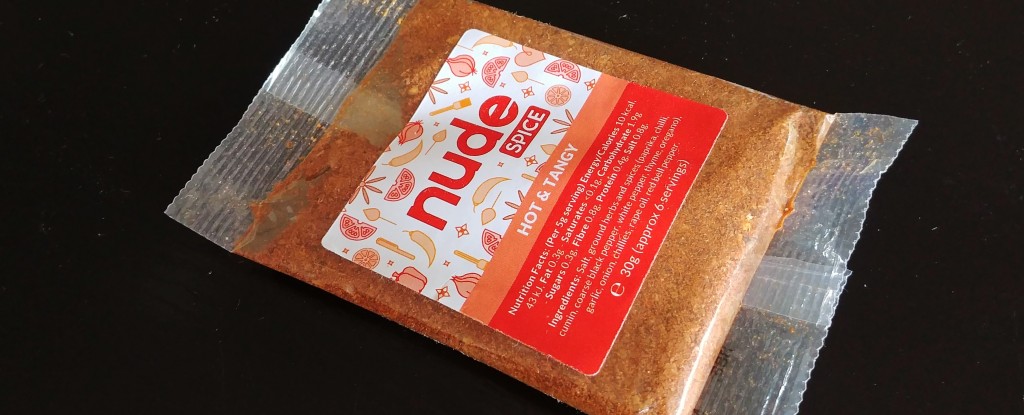 1x 30g packet Nude Spice Seasoning [flavors varied] (value: about $2.00)
I'm always looking for different seasoning combinations to mix things up, and The Keto Box has definitely been helpful in that regard since I subscribed. The August box included a sample packet of these low calorie, gluten free, and vegan spice mixes from Nude Spice. The first thing I tried it out on was chicken wings, and I loved the result!
The Hot&Tangy variety has just the right amount of heat to spice up a meat without totally overpowering it. In addition to using it for meats, I've also added a pinch or two to different veggies with good results.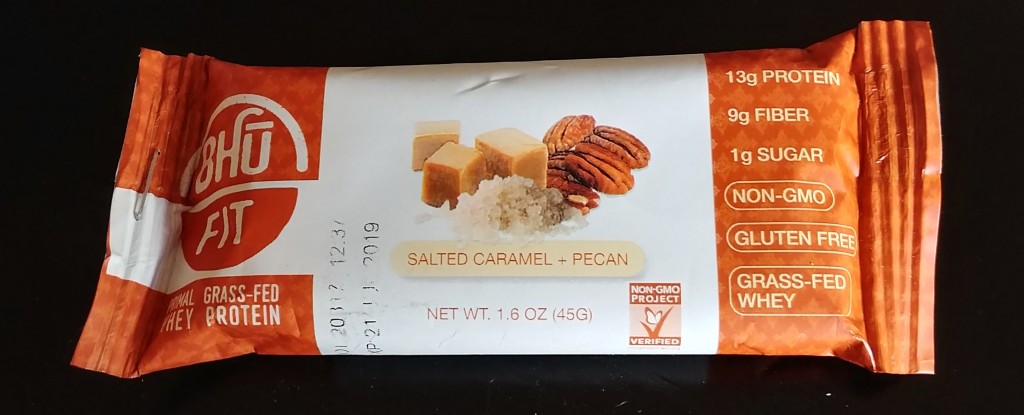 1x single serving Bhu Fit Primal Whey Bar, Salted Caramel + Pecan (value: $2.50)
Yum! I know there are a couple of big names already out there in the low carb protein bar market, but this bar from Bhu Fit definitely gives even my favorite Quest flavors a run for their money! The texture is nice and soft (not tough or chewy like some protein bars can be) and the flavor is absolutely delicious!
On top of all of that, the macros and ingredients are excellent for keto! With only 1 net carb, it's easy to fit these bars in even with very strict keto. And if the unconventional sweeteners and fibers in other bars make you nervous, these bars use a much smaller (and more familiar) list of ingredients. Definitely a great discovery for me!
In addition to the items in the August The Keto Box, subscribers also received the following discounts:
10% off @ NudeSpice
Free Shipping @ Notcho Nocheez
5% off @ Superbody Breakthrough (or save 10% with the code TKW10!)
15% off @ Keto Brownie
Free Shipping @ Bhu Fit
15% off Milkadamia @ Amazon
10% off @ Simple Girl
40% off (!!!!) @ NuNaturals
Overall Thoughts
At this point, I think I have a good feel for what to expect from each month of The Keto Box, and this month didn't disappoint. There were a few snack/treat items, some keto pantry items, and maybe a healthy fat source or other "supplement" to take your keto to the next level. This month leaned a little more towards the pantry side of things than some past months, but not in a bad way!
I don't always love everything in the box (this month, the Nocheez was a miss for me), but so far I've always discovered at least a couple new products that I love and might not have tried out otherwise (the Bhu Fit bar, NoCarbs sweetener, and Milkadamia were all great new discoveries for me)!
Want to sign up for next month? Use the code KOOKIE10 and you'll receive the exclusive new Keto Kookie flavor for free in your September box!