Keto Cilantro Lime Cauliflower Rice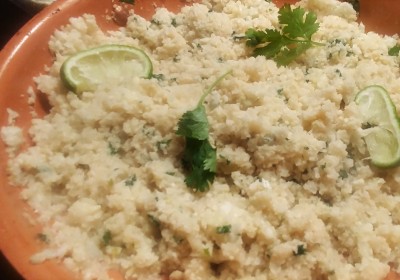 Cauliflower has really grown on me since going keto, in part because of its low carb content but also because of how versatile it is. Because it tends to absorb the flavors of whatever you cook it with, it works just as well in my keto garlic mashed cauliflower recipe as it does in this fresh and flavorful cilantro lime cauliflower rice recipe. The addition of garlic and spices really help to round out the flavor of this dish.
The key to getting fluffy cauliflower rice is using heat that is high enough to quickly cook off the moisture but not so high that it burns. Starting off with a bit of oil in the pan helps with both of these goals. Going from oil in the pan to keto cilantro lime cauliflower rice on your plate takes just 10 minutes or so, so it's a quick low carb side dish that you can whip up without too much hassle.
Notes:
I like coconut oil for this recipe, but any oil you have on hand should suffice. I wouldn't recommend using butter for this particular recipe though.
You can spice up this keto cilantro lime cauliflower rice by dicing up a jalapeno and adding it in with the garlic at the start, or adding a dash of cayenne with the other spices toward the end.
This should work equally well with pre-riced cauliflower and cauli that you rice yourself (ie. in a food processor). I haven't tried it with frozen cauliflower rice, but I imagine that would work too with maybe an extra few minutes of cooking time.