The Keto Box May 2018 Review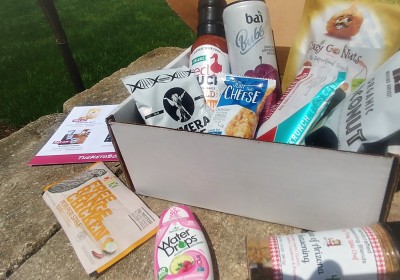 Time for the May edition of The Keto Box! Although this keto subscription regularly includes a couple of surprises, you can generally expect a mix of sweet and salty keto snacks alongside some pantry items or other unique low carb products. I was curious to see what this month would offer!
Before we get to what was inside, a quick refresher: The Keto Box is a monthly subscription that describes itself as a "low carb care package for your body." For $39.99/month, subscribers receive a box full of 5-8 keto snacks and other products delivered to their doorstep.
You can view my reviews of previous months of The Keto Box here.
Now on to the May 2018 The Keto Box: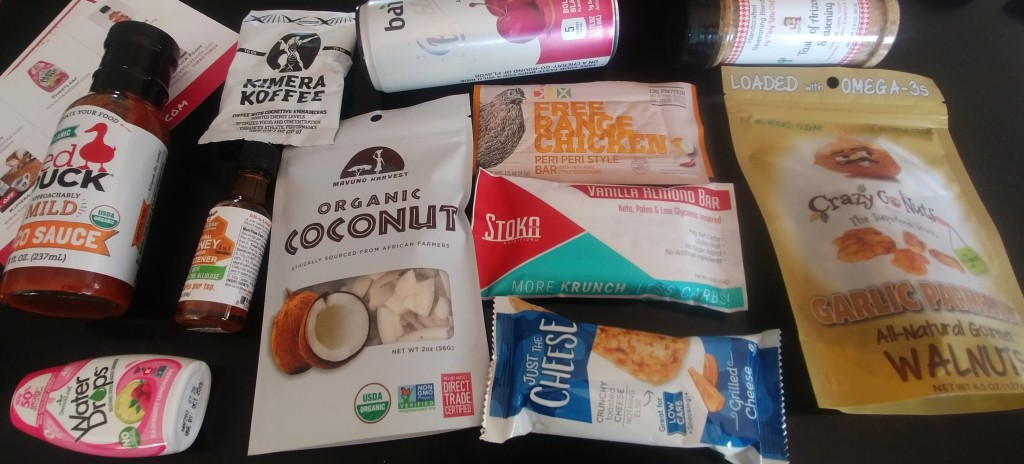 The box arrived on a nice, warm day, so I was eager to try this refreshing drink:

1x can Bai Bubbles, Bolivia Black Cherry (value: about $1.99)
I don't actually mind artificial sweeteners in most situations, but Bai is one of my go-to choices for a naturally sweetened low net carb/calorie drink. I usually opt for the original version, but the sparkling Bai is pretty good too (though usually more expensive). I don't think I had tried this flavor before, so I was glad to give it a go.
I drank it ice cold, and it was really refreshing! The sweetness could maybe be turned down just a smidge, but because the erythritol and stevia are pretty well balanced, it isn't overpowering. The cherry flavor reminds me of cherry coke minus the coke, and there's a nice amount of fizz. As a quick note though, not everyone received the same flavor.

1x 2.4oz bottle All-U-Lose honey flavored sweetener (value: about $2.50)
I've been on the lookout for a honey substitute that wasn't made with maltitol or another less-than-ideal sweetener. This one is made with allulose, which appears to not be metabolized by the body (similar to erythritol) while having a similar sweetness to sugar. The honey flavor of this is spot on (although it isn't quite as thick as real honey), and the allulose doesn't seem to affect my level of ketosis, but 0.5g net carbs per teaspoon mean you still need to be watchful of serving sizes.
1x bottle SweetLeaf Water Drops, Raspberry Lemonade (value: about $4.75)
I like water enhancers like this for those days when I need to up my water intake but am bored of plain water. It's a little sweeter than other similar products, and if you're sensitive to stevia, that might be a concern. I liked the raspberry lemonade flavor, though the fact that the liquid is clear can make it hard to judge how much you've added.
1oz Kimera Coffee nootropic infused ground coffee (value: about $1.99)
I'm a daily coffee drinker, so I definitely appreciated this inclusion. Interestingly, it's the second nootropic product I gave a try this month after the new one that Perfect Keto launched. It's pretty smooth and flavorful, but since this was only 2-3 cups worth, I can't really judge the nootropic effects.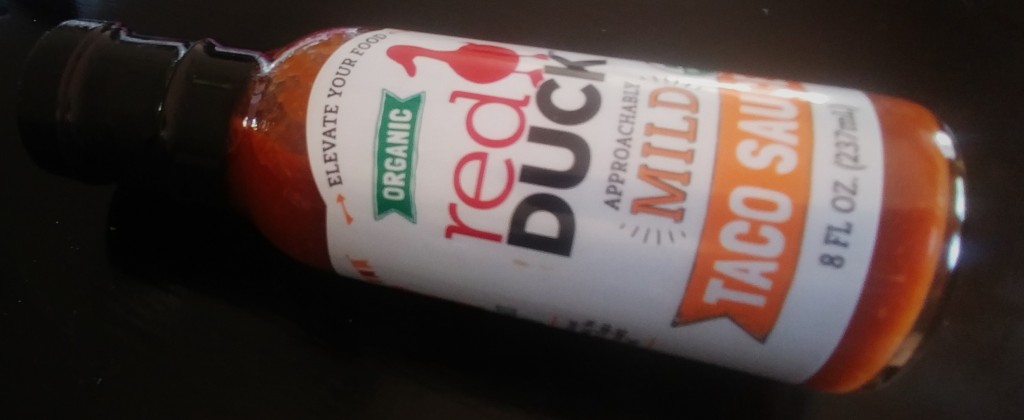 1x bottle Red Duck Taco Sauce, Approachably Mild (value: about $5.00)
Yum! If you follow me on Instagram, you probably already know that I'm a big taco Tuesday fan. This taco sauce is super rich and flavorful while avoiding the extra carbs in sugars found in a lot of other brands. In addition to being low carb, this sauce is also organic.
I really like the depth of flavor that this sauce has, which makes me eager to try out the spicy version of it. I understand that the mild variety was a safer bet to include in The Keto Box though, and I appreciate being introduced to the brand!

1x bottle Tiny Little Chef Taste of Arizona seasoning (value: $9.99)
Speaking of taco Tuesdays, this is another item that came in handy! Premade spice blends without added sugars and starches can be hard to find (which is why I sometimes just make my own), but Tiny Little Chef focuses on providing cleaner options. This "Taste of Arizona" blend is southwest inspired, as the name suggests.
It's made with a blend of salt, pepper, garlic, cilantro, coriander, cumin, paprika, and cayenne. It has a bit of heat to it, but I wouldn't describe it as being especially spicy. It's a good addition to chicken, steak, or other proteins (especially for fajitas), and I also really like it just sprinkled on top of avocado. I even added it to my keto avocado salsa when I found myself out of fresh cilantro, and I liked the depth of flavor it added.

1x bag Crazy Go Nuts Walnuts, Garlic Parmesan (value: about $4.50)
These are an item that I've tried before in a different keto box, but I enjoyed them then so getting more wasn't a bad thing! They actually worked surprisingly well in my keto broccoli salad recipe, although I used half plain walnuts to prevent the garlic parmesan flavor from overpowering things. Here are some notes from a past review:
These garlic parmesan seasoned walnuts are from a brand called Crazy Go Nuts, a fun name that's also appropriate if keto helped you discover (or newly appreciate) nuts as a healthy snack option. I tried these on a salad, as a snack, and even ground some to use in a breading for chicken. I enjoyed them for all of those uses, so I'd say they were a win!

1x DNX Free Range Chicken Bar, Peri Peri Style (value: about $3.00)
I'm a little picky when it comes to meat bar snacks, so I was a little weary to give this a try. The texture is much more moist than I expected, perhaps because this was made with chicken rather than beef or pork. Unfortunately, I wasn't a huge fan of that effect. It felt similar to biting into a room temperate chicken patty or something.
The flavor also didn't scream peri peri to me, but I did like the blend of spices overall. I also like the clean ingredients in this bar, but I think I might prefer the beef or bison varieties texture-wise.

1x package Just the Cheese bars, Grilled Cheese (value: about $1.99)
I love cheese based snacks, especially when they satisfy my crispy/crunchy cravings, and I'd had other products from this brand before. These thin snack bars are made from 100% baked cheese, with no added junk or fillers. This makes them a great snack with a good amount of both fat and protein.
I can't say that they taste specifically like grilled cheese, but they are cheesy, buttery, salty goodness. I really liked the texture, but I think the other flavors (aged cheddar and jalapeno) might have been even more up my alley.
1x bag Mavuno Coconut Chips (value: about $4.00)
This is another crispy snack item, but it leans more towards the sweet side. Only slightly though, since this doesn't have any added sugar. These coconut chips are fair trade, organic, and all natural. They are good as a snack on their own, as an ingredient in low carb granola, as a topping for low carb ice cream or yogurt, and more.
I like the natural sweetness and crispness that these have, especially since similar products I've tried have been dry or flavorless.

1x Stoka Bar, Vanilla Almond (value: $2.99)
In a box of fun new discoveries, this was one of my favorites! It's basically a low carb version of a Nature Valley bar or something similar. It has a really nice crunch and texture to it, and the vanilla almond flavor is great without being too sweet or artificial. I really enjoyed it.
I think a bit of cinnamon would have really pushed it over the top (and I actually ended up sprinkling some on top anyway), but it was still plenty tasty without it. Thanks to the healthy fats from the almonds and butter, it was also very filling as a quick breakfast with coffee or an afternoon snack.
In addition to the items in the May The Keto Box, subscribers also received the following discounts:
20% off + free shipping @ Tiny Little Chef
10% off Just The Cheese
20% off + free shipping @ DNX Bars
15% off Mavuno
20% off Crazy Go Nuts
20% off Kimera Koffee
20% off Red Duck Foods
Overall Thoughts
Wow! This box was absolutely packed, and I actually think it might be one of my favorite boxes ever! Almost everything in the box was new to me, including some excellent new discoveries like the Stoka bar, Red Duck sauce, and TLC seasoning. I'm a little disappointed we didn't get a Stoka bar discount, but I think I'll just end up ordering some anyway.
Value wise, this box was up there too. I'm really hoping they keep up this level of quality going forward!
If you want to find out with me, you can head here to sign up for your own The Keto Box and use the code MAY5 to save 10%!