The Keto Box June 2018 Review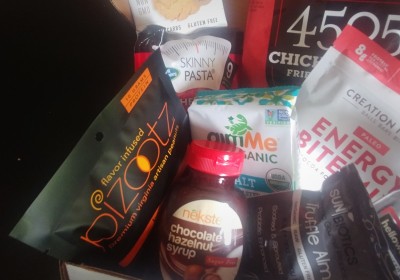 The June edition of The Keto Box is here! Although this keto subscription regularly includes a couple of surprises, you can generally expect a mix of sweet and salty keto snacks alongside some pantry items or other unique low carb products. I was curious to see what this month would offer!
Before we get to what was inside, a quick refresher: The Keto Box is a monthly subscription that describes itself as a "low carb care package for your body." For $39.99/month, subscribers receive a box full of 5-8 keto snacks and other products delivered to their doorstep.
You can view my reviews of previous months of The Keto Box here.
Now on to the June 2018 The Keto Box: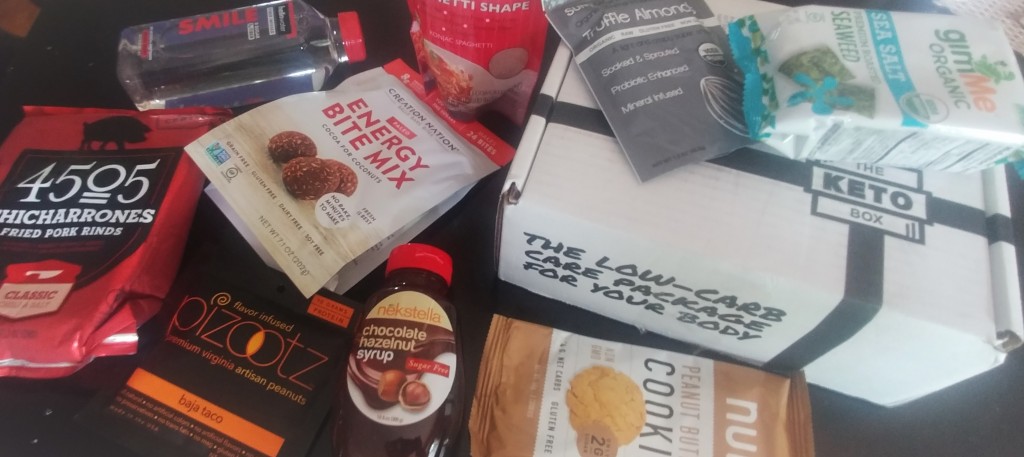 Keto drinks are a great fit for summer boxes, so I was eager to try this one:

1x bottle Hello Water, Mixed Berry (value: about $1.99)
Staying hydrated is important for keto and even moreso during the warm summer months. We got drink items in last month's box, and another new one to try in this one. This drink from Hello Water is a simple flavored water with a bit of added fiber for gut health and satiety.
I drank it very chilled and found it to be refreshing and not too sweet. It's sweetened with a mix of stevia and erythritol, with no added sugar or artificial flavorings. The added fiber made it feel a bit more filling than plain water, which is nice if you're fasting or just trying to make it through a day of errands.

1x bag Creation Nation Paleo Energy Bite Mix (value: about $8.99)
I tried these DIY protein treats in a different keto subscription earlier this year. Here are some notes from that review:
This product was a bag of mix that you can add a couple ingredients to (a liquid and a fat, mainly) in order to make your own no-bake energy bites. The mix itself contains healthy ingredients like organic coconut, cocoa, flax, and brazil nut powder; the instructions include suggestions on what ingredients to add.

I ended up using a mix of coconut oil and Keto Butter for my healthy fats, and simple unsweetened almond milk as the liquid. The mix itself is lightly sweetened with monk fruit and a little ChocZero Honest Syrup rounded them out into a really satisfying treat.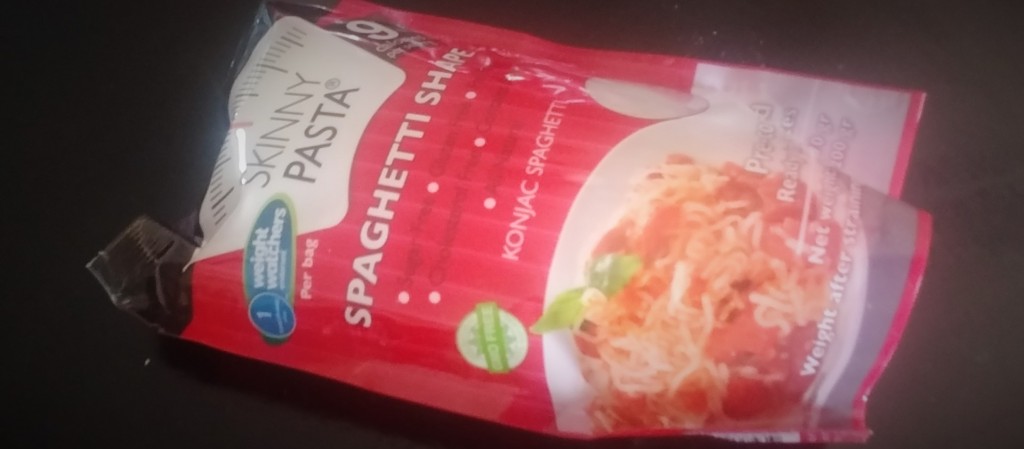 1x pouch Skinny Pasta, Spaghetti Shape (value: about $3.75)
Shiritaki noodles (or konjac pasta) is one of those things that seems to be "love it or hate it" for a lot of people. Some are big fans, while others find that they don't like the taste, texture, or smell. I personally enjoy it when prepared properly, and have found this brand to be one of the easiest to prepare without a lot of extra rinsing or soaking.
This particular variety is described as "spaghetti shape" but I've never really found shirataki to be a satisfying substitute for spaghetti because it has less "bite" to it than traditional pasta. Instead, I use these for noodle-based dishes like ramen or stirfry, and I've a huge fan of them for that purpose. They soak up flavors nicely and are very filling.

1x 1oz bag 4505 Chicharonnes, Classic Chili & Salt (value: about $3.00)
Okay, so over the year-ish that I've been subscribed to various keto boxes, I've grown to like pork rinds. I used to not like them at all, even after many months of keto, but now I'm thinking I just wasn't eating the right brands. Higher quality brands like this actually make for a satisfying snack that's good for a crispy/salty fix. This flavor doesn't have the kick that I was expecting for something with "chili" in the name, but they were tasty! I love that they offer an "airy" kind of crunch, rather than the dense, check-your-teeth-afterwards crunch of other options I've tried.
1x pack gimMe Organic Seaweed, Sea Salt (value: about $1.75)
This is another common low carb snack. I like dried seaweed snacks, and tend to prefer "basic" flavors to more adventurous options like wasabi, so this was right up my alley. They are light and crispy, with a nice umami flavor. I like that they are very low in calories/carbs, so you don't have to feel bad about munching through a bag or two.

1x 1.45oz bag Pizootz Peanuts, Baja Taco (value: about $3.00)
I've tried a couple of other Pizoots varieties in the past, but this Baja Taco flavor really stands out. Like all Pizootz, they are "flavor infused" rather than having a messy coating of flavor. This makes them much easier to eat on the go, so I appreciate it even though it takes a little getting used to. There were pretty flavorful, with a mild kick from the cumin and chili powder. I really enjoyed them, and think this might just be my favorite flavor tried so far.
1x 1.5oz bag Sunbiotics Almonds, Truffle (value: about $4.99)
I've had these before in a different keto box, and I'm a fan of the concept. In addition to being flavored with organic white truffle sea salt, they also have added probiotics to help with gut health and immunity. The truffle flavor isn't super strong, but I actually don't mind that. It makes these more fun that plain salted almonds but still mild enough to enjoy with other foods.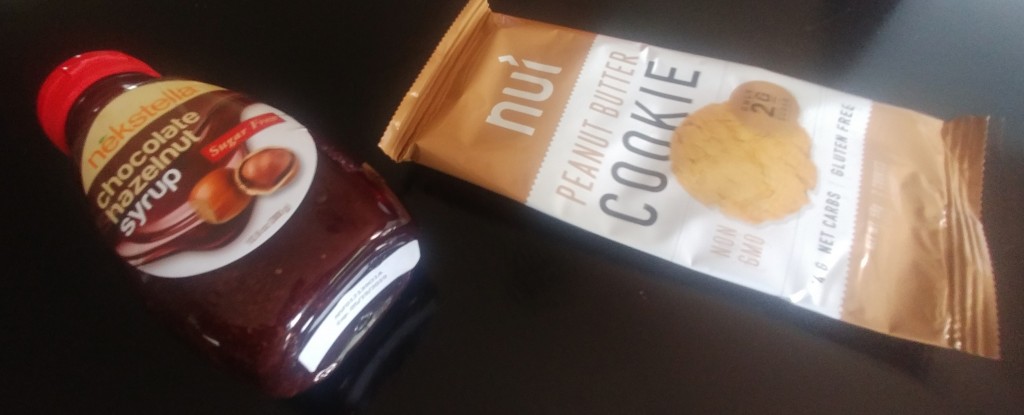 1x bottle Nekstella Chocolate Hazlenut Syrup (value: $7.98)
Yum! I was never a huge fan of standard Nutella pre-keto, but Nekstella's version is so creamy and delicious that I often just eat it by itself. This is the syrup version of it, which is perfect for drizzling on top of your favorite keto desserts, or even adding to a drink. It's not as buttery as the original, but it still packs a similar amount of sugar free chocolate hazlenut flavor.
1x package Nui Peanut Butter Cookies (value: about $3.00) 
Keto Kookie has relaunched as Nui, complete with a new name, look, and recipe (but with the same keto friendly macros). Here are some thoughts on this cookie from a previous review:
The new recipe seems a little cakier than the Keto Kookies I remember, but they are still plenty tasty and made with sources of healthy fats like almond flour, grassfed butter, eggs, and coconut oil. Like always, they are also gluten free and non-GMO in addition to being low in carbs. They are pricier than making your own keto peanut butter cookies, but definitely easier to take on the go.
In addition to the items in the June The Keto Box, subscribers also received the following discounts:
20% off Hello Water @ Amazon
15% off 4505 Chicharrones
15% off Nui
20% off Pizootz
15% off Creation Nation
20% off Sunbiotics
15% off Nekstella
Overall Thoughts
This was another good month for The Keto Box! It wasn't quite as packed as last month, but it still had plenty to offer in terms of value and variety. I liked that we got a good mix of sweet and savory snack items this month, alongside the drink and pantry items. It made the box feel really well rounded.
I thought last month's box had a more distinct "summer" vibe, but that doesn't necessarily take away from the quality of this month. I look forward to seeing if next month holds up too.
If you want to find out with me, you can head here to sign up for your own The Keto Box and use the code JULY5 to save 10%!