The Keto Box July 2018 Review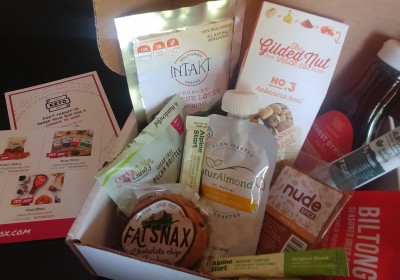 The July edition of The Keto Box is here! This keto subscription sometimes includes a couple of surprises, but you can generally expect a mix of sweet and salty keto snacks alongside some pantry items or other unique low carb products. I was curious to see what this month would offer!
Before we get to what was inside, a quick refresher: The Keto Box is a monthly subscription that describes itself as a "low carb care package for your body." For $39.99/month, subscribers receive a box full of 5-8 keto snacks and other products delivered to their doorstep.
You can view my reviews of previous months of The Keto Box here.
Now on to the July 2018 The Keto Box: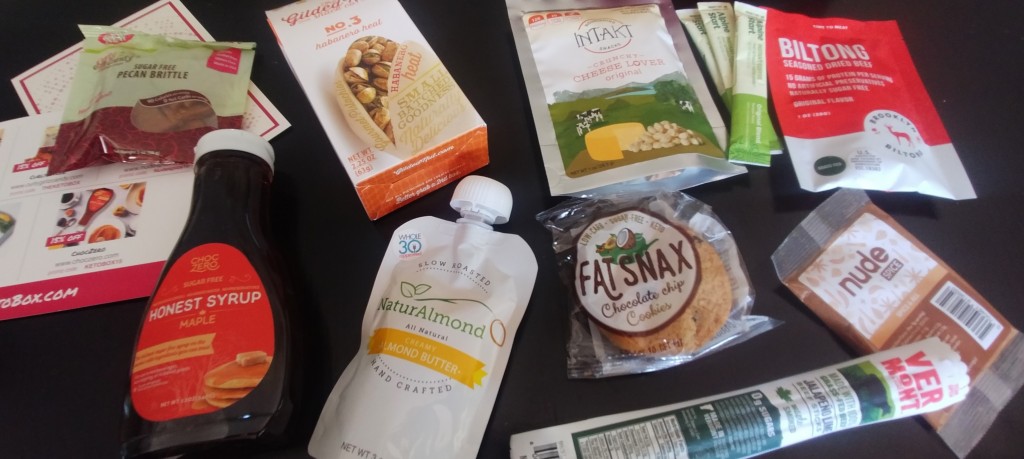 First, I went for this familiar face: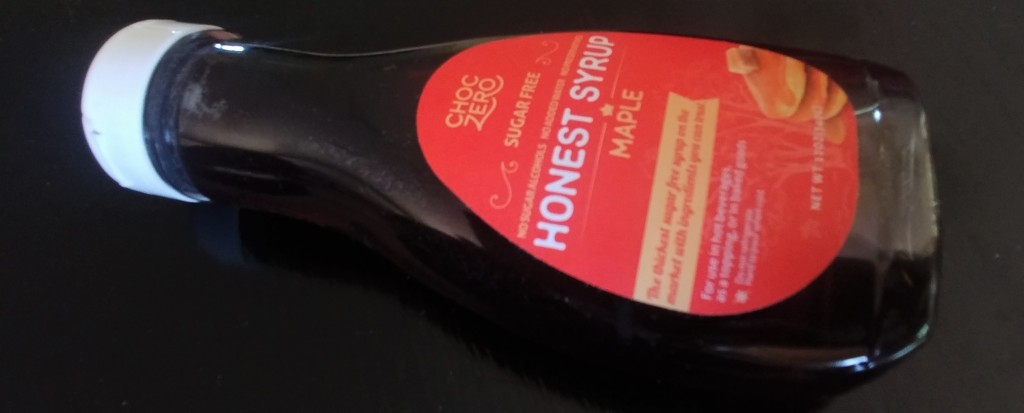 1x bottle ChocZero Honest Syrup, Maple (value: $7.99)Save 10% here w/ code tryketowithme
ChocZero's line of sugar free syrups is one of my favorites. This is a basic maple version, perfect for serving over fluffy keto pancakes or even almond flour biscuits. Unlike a lot of other low carb breakfast syrup options, this is nice and thick rather than being too thin or watery.
Like all ChocZero products, it's also made without sugar alcohols, gluten, and soy. It's rich enough that a serving goes a surprisingly long way, and even better: the upcoming new formula will lower the carb count per serving from 2 to 1.

1x 2oz package Curly Girlz Sugar Free Pecan Brittle (value: $5.79)
Yum! This crunchy pecan brittle is sweet and nutty, perfect for satisfying a quick craving. It can stick to your teeth a bit if you're not careful, but of course it's sugar free so your dental health should still be A-OK. It is sweetened with a blend of erythritol and xylitol, and has added fiber so a piece or two is surprisingly satisfying.
1x pack Fat Snax Cookies, Chocolate Chip (value: about $2.99)
From a past review:
These cookies from Fat Snax are made with a low carb, high fat lifestyle in mind. They are sweetened with erythritol and stevia, and use familiar low carb baking ingredients like almond flour, coconut flour, and butter. Texture-wise, I would describe them as being kind of cake-like. I usually prefer the crisp on the outside, chewy on the inside texture of a traditional cookie, but these are a good option when you want to satisfy your sweet tooth without turning on the oven.

1x 30g package Nude Spice, Spice & All (value: about $2.00)
I have tried other spice blends from this brand before, but this one might be my favorite simply because it is so unique. It is a blend of warm herbs and spices, like paprika, chili, nutmeg, and coriander. I tried it out on some chicken (and later, roasted veggies) and both were really tasty!
3x sachets Alpine Start Instant Coffee (value: about $3.50)
I'm usually a daily coffee drinker, so coffee-related inclusions in keto boxes are typically a plus for me. With that said, I don't often find myself reaching for instant coffee. I gave this a try anyway, and was actually pleasantly surprised. It's remarkably robust for instant coffee, probably one of the best I've tried! I'll definitely be keeping the remaining packets in my purse for those occasions when I need a coffee fix on the go.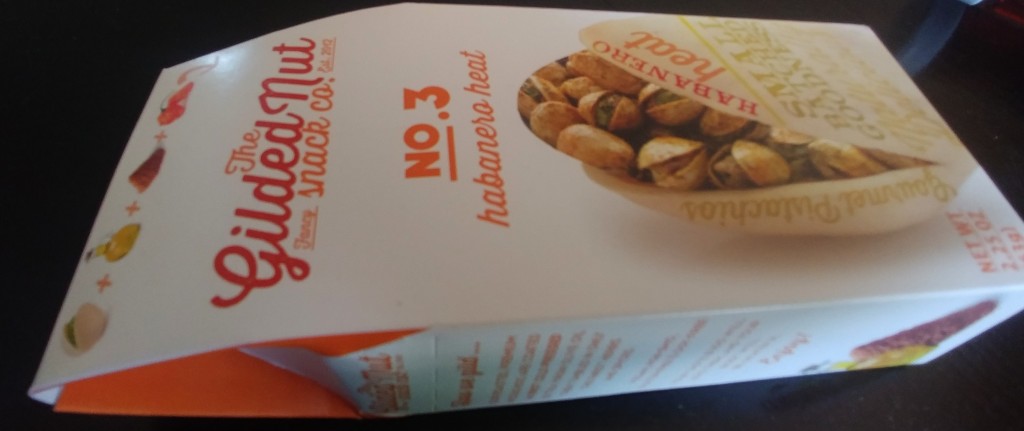 1x 2.25oz The Gilded Nut Pistachios, Habanero Heat (value: about $4.00)
This another brand that I've tried before, but this was my first time tasting the Habanero Heat flavor. Although the name might suggest they are super spicy, it actually has just the right amount of kick balanced with other flavors like garlic, sea salt, and oregano. I really enjoyed them!
Pistachios aren't normally my "go to" nut to snack on (the shells are more hassle than I'm usually in the mood for), but this brand is among the best I've had, and this flavor might be my new favorite from them.

1x stick Vermont Smoke & Cure, Jalapeno Lime (value: about $1.99)
Yum! I get a lot of jerky between all of my keto box subscriptions, and honestly some of them taste very similar to each other, but this particular meat stick made me sit up and take notice. The texture was perfect, the macros/ingredients are good, and this jalapeno lime flavor was delicious with just the right amount of heat.
1x 1oz package Brooklyn Biltong, Original (value: about $2.50)
Biltong is a jerky-like snack native to South Africa. Air dried instead of heated, it tends to have a more tender texture than many American jerkies. I really liked the flavor from the coriander and allspice, along with the slight zing courtesy of apple cider vinegar. The ingredient list is short and simple, another big plus.

1x pouch Georgia Grinders NaturAlmond Almond Butter (value: about $4.00)
I've only really seen applesauce or other fruit-based snacks come in packages like this, so it was a little weird to see almond butter in a resealable pouch. The almond butter itself is straightforward: roasted almonds and sea salt. It's tasty, and I love that there's no added junk.
With that said, I had a hard time getting used to the pouch. Like all natural nut butters, this can separate/settle over time, which made it a little difficult to get out of the spout at the top. You can knead the pouch to try resolve the separation, but obviously there isn't enough room to stir it with a spoon or something.

1x bag Intakt Snacks Crunchy Cheese Lover, Original (value: about $3.50) 
This is another relatively familiar product for me. Here are some notes from a previous review:
I really loved these. They were a perfect balance of creamy and crunchy, which is nice, since some similar cheese snacks can fall too far on one end of the spectrum or the other. According to the ingredient list, these are made with "Chilean buttery cheese" which might help to explain the smooth texture.
This brand also has flavored options, which are even tastier!
In addition to the items in the July The Keto Box, subscribers also received the following discounts:
15% off The Gilded Nut
10% off Fat Snax
20% off Alpine Start
20% off Georgia Grinders
20% off Brooklyn Biltong
20% off Vermont Smoke & Cure
15% off Curly Girlz
10% off Nude Spice
15% Intakt Snacks @ Amazon
15% off ChocZero
Overall Thoughts
With ten items to try (and ten discount codes to match!) this was a good month for The Keto Box and I went through everything in it pretty quickly! Some of the brands/products I have tried before, like the ChocZero syrup and Intakt Snacks, but since they are all things that I enjoy, I'm happy to get more.
This box, with its mix of sweet snacks, savory snacks, and pantry items is pretty representative of what you can expect from The Keto Box. I thought this box was a bit more interesting than June's, but TKB has been on a good run overall this summer.
Want to check out next month's box? Save 10% on your first month's box with the code AUG4!