Onnit Keto Box July 2018 Review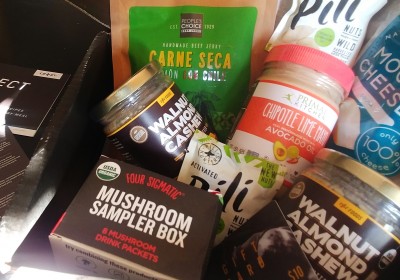 Keto boxes are really taking off now, and as you know I'm a pretty big fan! They can be a great way to try out a variety of keto friendly products without committing to a large order. This time, I'm checking out the Onnit Keto Box, a more "premium" offering compared to the typical keto subscription. At $55.95 per month, it carries a higher price tag than my other keto boxes.
I'm okay with that, if that also means higher quality products, more full size items, and perhaps more supplements or pantry items instead of single serving snacks. According to the product page, boxes are "personally curated" by Onnit founder Aubrey Marcus and comedian/former UFC Brendan Schaub to include the "highest quality low-carb snacks and supplements." That gave me some hope that it could justify the cost.
Here's the contents of my first Onnit Keto Box: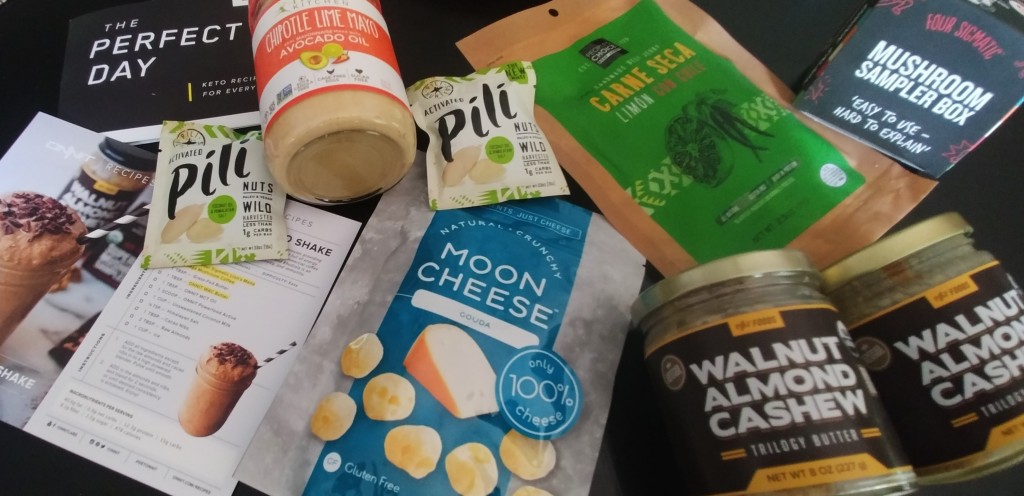 First up was a product made by Onnit themselves:

2x 8oz jars Walnut Almond Cashew Trilogy Butter (value: $33.90)
My hopes for more full size and pantry items were already fulfilled with this inclusion. Nut butters are a keto staple, and I'm always interested in something that goes beyond the basic peanut or almond butter. This is a blend of organic walnuts, almonds, and cashews…with literally nothing else added!
It has a nice nutty flavor, which really shines since there's no added flavoring or sweeteners. Like most natural nut butters, you'll probably want to give it a quick stir before using because it can settle. It has a pretty smooth texture overall though, and I've enjoyed it added to shakes and other recipes, or just as a quick boost of healthy fats on its own.

1x 2.5oz package People's Choice Carne Seca Limon Con Carne Jerky (value: $6.00)
Guys, I will literally never be disappointed to get this jerky in a keto box! As I've mentioned many times before (including in my post on top keto jerky brands), it is one of my absolute favorite jerky products in existence. It's bright and flavorful with just the right amount of kick.
Even though it's been in other keto boxes too, the inclusion of this product really boosted my hopes for the curation of this box overall. It's a great keto friendly product that's high quality and delicious. Knowing that the box curators seem to have the same high opinion of it that I do gives me some faith that they'll choose other products I'll like as well.

1x 12 oz jar Primal Kitchen Avocado Oil Mayo, Chipotle Lime (value: $9.95)
Hooray for more full size pantry items! Primal Kitchen is one of my favorite brands so that's another win for the box curation. I personally tend to stick to their plain mayo, but I've had this chipotle lime version before as well and I certainly wasn't disappointed to get another jar.
It's thick and creamy, with a hint of kick from the chipotle and brightness from the lime. I personally would maybe tweak the balance of the two flavors a bit, but it's still tasty as is. I like to use it for wraps (try it with ham, bacon, and cheddar), on burgers, or even as a dip for veggies.

1x 2oz bag Moon Cheese, Gouda (value: about $4.50)
Moon Cheese is another favorite snack of mine! I usually opt for the Pepper Jack or limited edition Sriracha varieties, but it's hard to go wrong with a classic like Gouda. It's a milder option for when you want to satisfy that crunchy/crispy craving without filling up on something heavier.
The only ingredient here is cheese, and the main difference between Moon Cheese and many similar snacks is that I find they are able to preserve the flavor of the cheese without introducing the weird burnt aftertaste I've found in some other brands. Great movie theater snack too!

1x Four Sigmatic Superfood Mushroom Sampler Pack (value: $10.00)
Yes please! This isn't technically the highest value item in the box, but it might be the one I was most excited about. I've been curious to try more Four Sigmatic products since I got a sample packet of it in a past keto box, but always had a hard time committing to the price tag of a full order when I had only tried one product.
This full sampler pack let me taste test and compare eight of their best sellers, complete with a packet providing more details on their best uses. I still have a couple more to try, but now I've got a pretty good idea of which ones work best for me personally.

1x $10 Onnit.com Discount Code (value: $10.00)
I'm not sure if this will be a regular inclusion or is maybe just a bonus for the first box, but we also got a $10 discount for any purchase at Onnit.com. If it's included every month, it would be almost like a $10 rebate on the purchase price of the box! But even if it's a one time thing, it never expires so I can use it to reorder something I like from the box or try something new at any time.
2x 0.53oz packs Pili Hunters Pili Nuts, Coconut Oil & Himalayan Salt (value: about $4.00)
I love pili nuts! They are like a milder macadamia nut with a more buttery texture, and ultra low in carbs compared to other nuts. Unfortunately, they are also pretty pricey, so I don't pick them up as often as I would like…of course, that makes them a great inclusion for a box like this! I suppose a larger package might have been nice, but I actually don't mind the single serving packs here since two were included and the nuts are rich enough in calories that the portion control will do more help than harm for me.
In addition, the box also included an insert with details on all of the products, a booklet featuring some keto recipes, and a discount code for Primal Kitchen.
Overall Thoughts
I was wary at the high price tag of this box, but ended up pleasantly surprised. The value of the items nears $70, plus another $10 for the Onnit.com credit, and the value of the recipes and curation itself. I was definitely happy with the quality of the items in the Onnit Keto Box; there was clearly an effort to focus on clean, quality keto products.
I do think it might have been nice to have another unique product included instead of two jars of the nut butter, but I'll personally use up both jars so I'm not too bothered. I guess there is a bit more risk with getting full sized products if it turns out you don't like something, but the curation seems good enough so far that the risk of getting a total "dud" item seems pretty minimal for me. I'll have a better idea after another box or two though!
Want to try out the Onnit Keto Box for yourself? Head right over here to sign up.