Onnit Keto Box September 2018 Review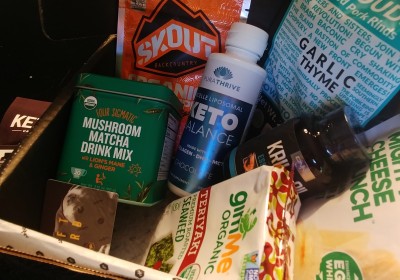 Month three of Onnit Keto Box! Will the third time be the charm? I generally like to try a keto subscription for 3 months to get an impression of it, so I was looking forward to this one. It's definitely pricier than my other keto subscription boxes, but I'm okay with the higher price if it also means higher value items and larger product sizes.
As a refresher, Onnit Keto Box is a premium keto subscription that costs $55.95 per month. For that fee, subscribers are promised a box "personally curated" by Onnit founder Aubrey Marcus and comedian/former UFC fighter Brendan Schaub to include the "highest quality low-carb snacks and supplements." It seems to be targeted for those interested in getting more full sized items, supplements, and trying out new Onnit products in particular. You can review my reviews of past months here.
Here's what was in my September Onnit Keto Box: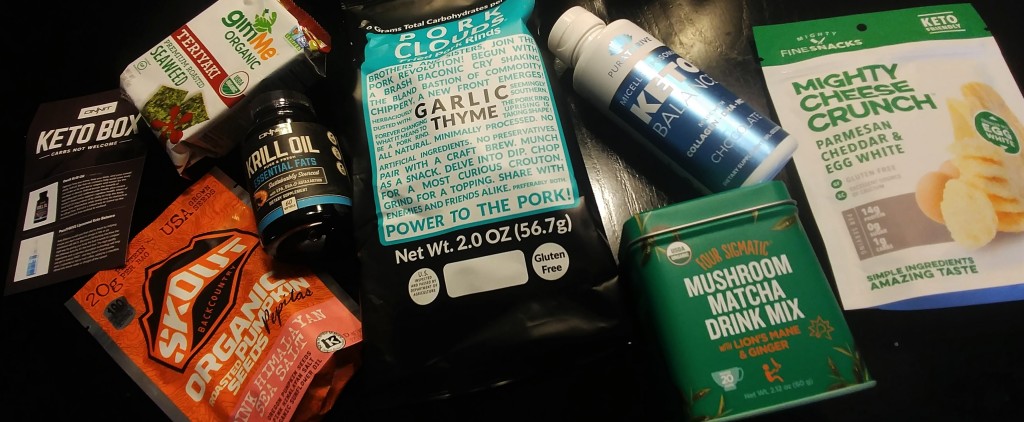 First up, we have the Onnit brand product for this month:

1x 60 count bottle Onnit Krill Oil (value: $29.95)
This is one of the full sized supplements we got to try out this month. I was really hoping supplements would be featured regularly in the Onnit Keto Box, and this 30 day supply of krill oil softgels did not disappoint! Ketonians are obviously no strangers to the benefits of healthy fats, and this is meant to be a source of essential omega-3's similar to fish oil.
Unlike fish oil, this krill oil is more sustainable, less likely to be contaminated by ocean pollutants, and contains the antioxidant astaxanthin along with EPA and DHA. It's recommended to take two softgels per day. They are easy to swallow and don't cause "fishy burps" like some fish oil pills.

1x 8oz bottle PuraThrive Liposomal Keto Balance (value: $49.95)
This is the second full size supplement for the month! And because the retail price of this is so high, just these two items more than cover the cost of the box. This is another fat-based supplement, this time in gel/syrup form. It's meant to provide a balanced source of omega-3's, MCT's, and collagen to support joint health, fight inflammation, and avoid the keto flu/"keto wall."
You can take it straight or mix it into a drink. I've been taking a half serving by itself, but there is definitely a noticeable bitterness to it, so I would recommend the mixing route if you plan to use a full serving. I probably wouldn't buy this at full retail price unless I see some amazing results from it, but it was certainly cool to try!

1x 60g tin Four Sigmatic Mushroom Matcha Drink Mix (value: $30.00)
Yet another high value item in the box! This matcha-based drink mix isn't quite a supplement in the strictest sense, but like all Four Sigmatic products, it has a range of healthy ingredients. The matcha itself is packed with antioxidants, and the addition of lion's mane mushroom extract and organic ginger are meant to fight stress and support digestion.
You can just add water for a basic version, or add it to nut milk or a smoothie instead. I also like to add a bit of sweetener, since it's unsweetened by default. The flavor is a bit more earthy than just plain matcha, so adding a bit of creaminess and/or sweetness really helps to balance everything out. This tin contains 20 servings.

1x 2oz bag Mighty Cheese Crunch, Parmesan, Cheddar, & Egg White (value: about $4.50)
I'm a big fan of cheese-based snacks, so I'm always happy to try a new one. What makes this one unique is that it uses a mix of cheeses (parmesan and cheddar) and also egg whites. In addition to adding extra clean protein, this gives them a lighter flavor and texture than many similar products.
They are more "airy" than plain parmesan crisps, and also have a milder flavor. This makes it easier to snack on them with other keto foods without worrying about the flavor being overpowering. I really liked them.

1x 2oz bag Bacon's Heir Pork Clouds, Garlic Thyme (value: about $4.00)
This was another crunchy, keto snack. I didn't used to like pork rinds much at all, but discovering higher quality brands like Pork Clouds has totally brought me around! These are perfectly crisp, and great for eating alone as a snack, dipping, or even crushing to use as a breading.
I like that they don't have a weird aftertaste or junk filler ingredients like some other flavored pork rinds. I also like that we got a big bag instead of a smaller single serving size.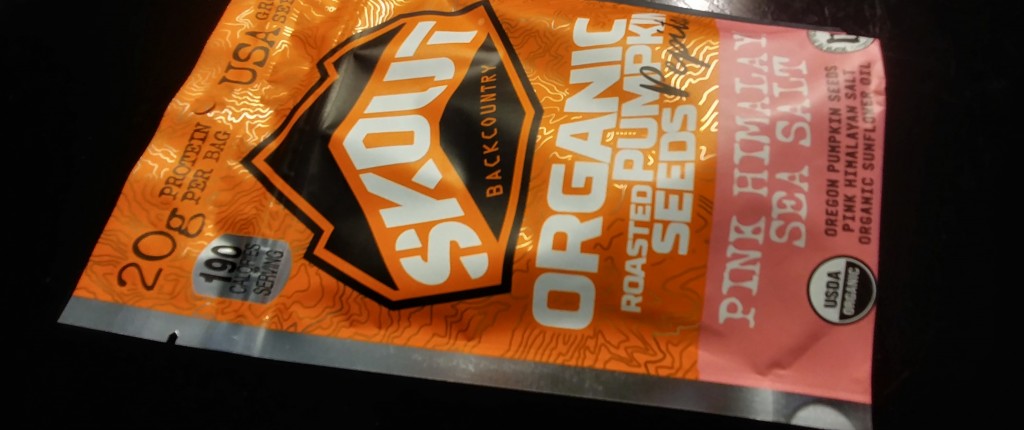 1x 2.2oz bag Skout Organic Roasted Pumpkin Seeds, Pink Himalayan Sea Salt (value: about $4.00)
Nuts and seeds are a classic keto staple, and pumpkin seeds are among the lowest carb options. These US-grown organic seeds from Skout are roasted with organic oil and pink Himalayan sea salt. The light crunch they offer makes them good for a snack, or to add to a salad or other dish.

1x package GimMe Organic Seaweed, Teriyaki (value: about $1.25)
Yum! I've had seaweed snacks before, but this teriyaki variety was especially tasty. The blend of flavors made them a bit more interesting than just plain salted nori, but you still get all of the vitamin and minerals found in seaweed. It is worth noting that that flavor is due in part to a tiny amount of organic cane sugar. Still, with just 25 calories and 1g of carbs, it's pretty easy to fit this light snack into your macros.
The Onnit Keto Box also included an insert with some details about the products, and a 10% discount for the Onnit website. I was slightly disappointed that there was no added recipes or other information like there was in previous boxes, though.
Overall Thoughts
Wow! This month we got two full-size supplements, a full-size pantry item, and four savory, keto friendly snacks for a total retail value of over $120! That's more than double the cost of the box. I've been really impressed with how Onnit Keto Box has managed to keep the value high and include supplements and other pricier items (like the matcha drink) that I wouldn't get in my more snack-focused boxes.
As far as the snacks that were included, they were all pretty classic keto items from higher quality brands. Based on what I've seen so far, Onnit Keto Box tends to stick to savory foods for the most part (every month so far has had some kind of cheese snack and some kind of nut/seed snack). There's also an Onnit brand item included each month. I'm curious to see if that pattern keeps up!
If you're curious too, you can sign up for your own Onnit Keto Box at their website here.