The Keto Box September 2018 Review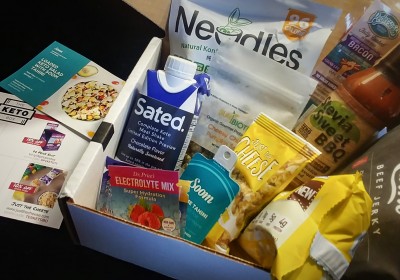 The Keto Box continues to include a mix of new and familiar keto brands, so I was looking forward to some new discoveries for this month. This keto subscription sometimes includes a couple of surprises, but you can generally expect a mix of sweet and salty keto snacks alongside some pantry items or other unique low carb products. I was curious to see what this month would offer!
Before we get to what was inside, a quick refresher: The Keto Box is a monthly subscription that describes itself as a "low carb care package for your body." For $39.99/month, subscribers receive a box full of 5-8 keto snacks and other products delivered to their doorstep.
You can view my reviews of previous months of The Keto Box here.
Now on to the September 2018 The Keto Box: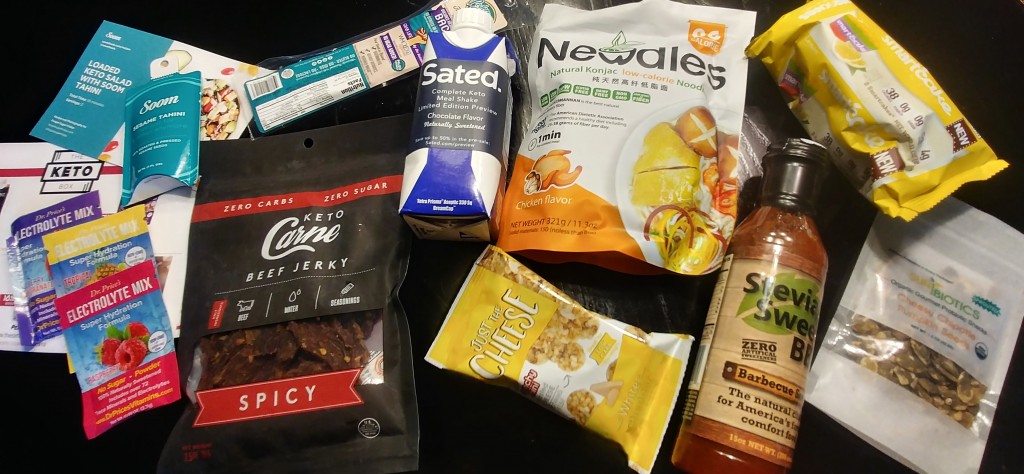 First up, I tried these keto drinks:

1x serving Sated Keto Meal Shake, Chocolate (value: $5.00)
Sated was formerly known as Ketolent, and I had tried the mix-based version of their product before. This ready-to-drink format is literally brand new, with The Keto Box subscribers being among the first to try it out. In addition to the healthy fats and filling protein/fiber, what sets Sated apart is the inclusion of vitamins and minerals to make it a true meal replacement rather than just a protein shake. Taste-wise, I loved it! I chilled it before drinking, and it was creamy, chocolaty deliciousness with no chalkiness or aftertaste. It also kept me full for hours.
3x servings Dr. Price Electrolyte Mix (value: about $2.00)
The other drink item this month was this variety pack of electrolyte mixes. You can add them to water to get a boost of electrolytes, including trace minerals. They are stevia sweetened, with no added sugar. I thought they were all pretty tasty mixed with cold water.

1x 15oz bottle Stevia Sweet BBQ Sauce (value: $6.99)
Next up, this low carb barbecue sauce! Grilling season is nearly over, but ribs, wings, and other saucy meats are good at any time of year if you ask me. Keto barbecue sauces can vary a bit in taste and texture, so I'm always happy to try a new one. I thought this one was pretty good, though it could have used a bit more flavor in my opinion. Some extra smokiness or heat would have balanced the stevia sweetness a bit better for my taste.
1x 1oz packet Soom Sesame Tahini (value: about $2.00)
I'm not sure I'd ever take tahini with me as an on-the-go snack, so the squeeze packet format was a little awkward, but the tahini itself is tasty! I used it to make a yummy tahini dressing to add healthy fats and flavor to a couple of salads.

1x pack SmartCakes, Lemon (value: about $3.25)Save 10% w/ code tryketowithme
SmartCakes are a favorite snack/treat of mine, with lemon being tied with cinnamon as my favorite flavor. This cakes are light and fluffy while still being satisfying to eat. With just 38 calories and <1 net carb each, you can down both cakes without worrying about ruining your macros for the day. The lemon flavor is balanced with vanilla, and doesn't taste artificial or overly sweet.

1x bag Keto Carne Beef Jerky, Spicy (value: $6.25) 
Keto Carne continues to be a favorite jerky of mine (including being featured on my list of the best keto jerky brands), and the spicy version is especially tasty. Naturally, it avoids all the sugars and fillers that you would find in gas station jerky, keeping it simple with just quality beef and spices. With that said, there is a ton of flavor in every bite and the texture is great.
1x pack Pederson's Bacon Snack Pack, Hickory Smoked (value: $2.50)
I definitely prefer freshly cooked bacon for it's warm, crispy goodness, but this is a good option for those times when you're away from the kitchen. I liked that it didn't have the rubbery texture that lower quality pre-cooked bacon can have. This pack in particular got added to a salad while I was out for lunch.

1x Sunbiotics Pumpkin Seeds, Cheesy Chipotle (value: about $3.99)
Pumpkin seeds are a great fall snack, in addition to being naturally low in carbs. Like with all Sunbiotics products, these have the extra benefit of probiotics for gut health. I liked the amount of heat these had, but these use nutritional yeast rather than real cheese to round out the "cheesy chipotle" flavor. While that makes them a good fit for dairy free and vegan keto, I personally am not a big fan of the taste of nutritional yeast as a cheese alternative.
1x Just the Cheese Crunchy Minis, White Cheddar (value: about $1.50)
This snack, on the other hand, is 100% real cheese. I've had these in other flavors too, and continue to enjoy them. They are a bit different than the more "puffed" cheese snacks, with more emphasis on the crunch. This single serving packet is convenient for on the go.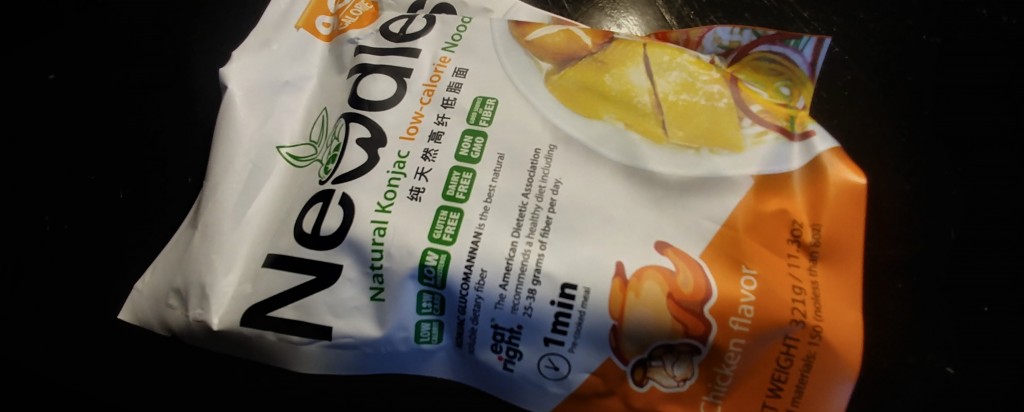 1x Newdles Konjac Meal, Chicken (value: about $5.00)
This was pretty cool! It's a shirataki/konjac noodle based meal that also comes with spices and other mix ins to make a full base for a meal. You can choose to use all of the add-on packets, or just some of them based on your preferences. I didn't use all of them, so I can't comment on the full combination, but I will say that the noodles are the highlight here.
They are some of the most "pasta-like" konjac noodles I've had, thanks to being thicker and more al dente in texture than many other options out there. I tossed them with a creamy cajun-spiced sauce and they were tasty and filling.
In addition to the items in the September The Keto Box, subscribers also received the following discounts:
15% off Dr. Price
$1 off Stevia Sweet BBQ
10% off Pederson's @ The Simple Grocer
10% off Just the Cheese
10% SmartCakes
15% off Keto Carne
10% off Soom Tahini
10% off Sunbiotics @ Raw Guru
Overall Thoughts
I was pretty happy with this box. A few of the products, like the Smart Cakes and Keto Carne, were already familiar to me, but I'm such big fans of both that I was more than happy to get more. Other products, like the Newdles, tahini, and barbecue sauce were totally new to me and fun to try.
One of the coolest things this month was the Sated drink. Not only did I really like the product, but it also shows one of the benefits of keto subscription boxes: getting to try new keto products early! I'm looking forward to the full product launch.
What treats will the October box have in store? Use the code OCT2 to save 15% on your first The Keto Box and find out!