Keto Krate September 2018 Review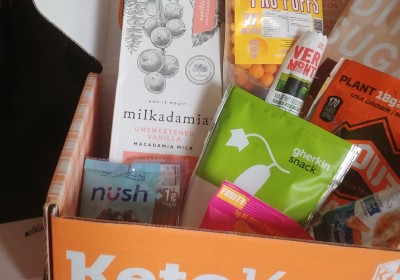 Keto Krate hinted that this would be a "back-to-school" themed box, so I was looking forward to some portable low carb snack options. This keto subscription has been pretty consistent with its product mix so far, so I have a good idea of what to expect at this point: about two jerky/meat snacks, a couple other savory/salty snack options, some keto-friendly sweet treats, and then maybe a unique ingredient or pantry item.
As a reminder, Keto Krate costs $34.95 per month plus a $4.95 shipping fee ($39.90 total), and promises 6-8 keto-friendly snacks per month plus $20+ in coupons and discounts that subscribers can use to purchase more of the featured products. All products included are gluten free, aspartame/maltitol free, and 5g net carbs or less per serving. You can view reviews of past Keto Krates here.
If you're a new subscriber, you can take advantage of the $5 discount offer when you sign up here using the Keto Krate promo code FIVE2018.
Here's what was in the September Keto Krate: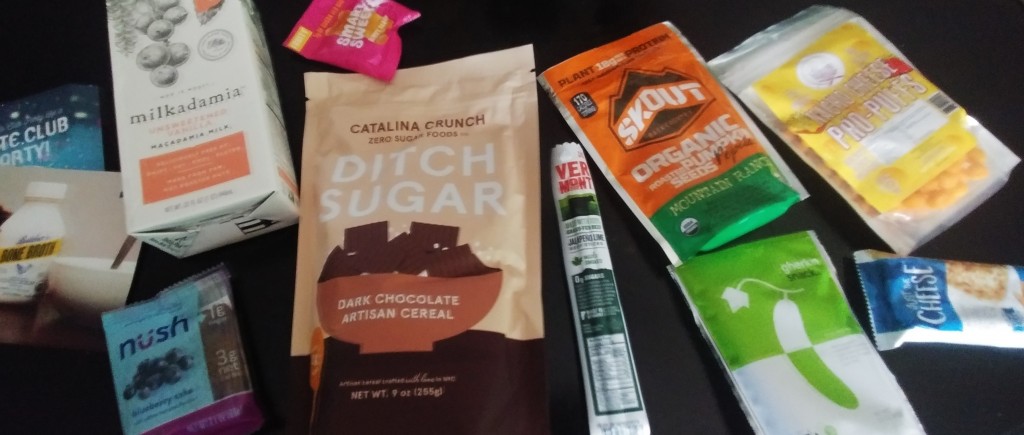 First up, I had to try this low carb cereal option:

1x 9oz bag Catalina Crunch Cereal, Dark Chocolate (value: $9.99) [5g net carbs per serving]
Cereal is a bit of a childhood staple, so I thought it was fitting for a back-to-school box. I was a big fan of cereal pre-keto, so I'm always looking for keto-friendly options and was excited to check this one out. It's a chocolate flavored cereal that's made primarily from plant protein and fiber. It's a new product too, so Keto Krate subscribers are among the first to try it out!
I found it to be crunchy and satisfying when served with cold macadamia milk, and surprisingly filling. It isn't overly sweet like traditional cereals can be, so it doesn't feel like having dessert for breakfast. It is worth noting that due to a production mixup, these bags from the first batch had "pellet" shaped pieces instead of the intended cereal squares. They were still tasty, but if you were to order some now, you'd get the square shape shown on the package.

1x 32oz carton Milkadamia Macadamia Milk, Unsweetened Vanilla (value: about $5.00) [0g net carbs]
We actually got this same product earlier this year in the February Keto Krate, but I definitely don't mind getting more! I usually buy almond milk because it's more common at my local stores, but I like the creaminess and rich flavor of macadamia milk too! Here are some thoughts from that past review:
It's smooth and creamy, and the vanilla flavor is mild and natural. Like almost all milk, I recommend drinking it cold. It also works well in keto shakes, MCT matcha lattes, and with low carb cereal/granola. Basically anything you would use normal milk for.
Naturally, this paired well with the Catalina Crunch cereal too!

1x Nush Cake, Blueberry (value: about $3.00) [3g net carbs per serving]
This was another quick breakfast option or afternoon snack/treat. I've tried them in another keto box recently, and I continue to be a fan! Here are some notes from that past review:
It's made with ingredients like flax and coconut oil, and sweetened with erythritol and monk fruit extract. The flavor is like a blueberry muffin, but it's slightly denser in texture. I like how moist these were, especially when slightly heated and topped with a bit of butter. I also liked that they weren't too sweet.
1x sample Smart Sweets Gummy Bears, Fruity (value: about $1.50) [3g net carbs per serving]
We also got a sample bag of Smart Sweets gummy bears. These are low sugar, low net carb gummies that don't rely on icky sweeteners like maltitol that can cause stomach upset. The taste and texture is very much like "real" gummy bears.

1x stick Vermont Smoke & Cure Grass Fed Beef, Jalapeno Lime (value: about $2.49) [2.5g net carbs per serving]
This is one of my favorite snack stick options, so I was happy to see it here. It's a grass fed beef stick that's naturally smoked and flavored with real jalapenos and lime. I like that they are moist but not "mushy" like cheap/low quality jerky sticks can be.
1x pouch Gaea Gherkin Snack (value: about $3.50) [<1g net carbs per serving]
I'm actually not normally a big fan of pickles, but I gave these marinated gherkins from Gaea a try and was pleasantly surprised. They are crunchy and flavorful, and made with clean ingredients. I think they could be especially tasty with some more flavor varieties.

1x 30g bag Meals for Muscle Pro Puffs, Nacho Cheese (value: $3.99) [3g net carbs per serving]
Another low carb version of a childhood snack! This "cheese puff" style snack is made from puffed protein rather than corn or wheat, and uses real cheese rather than some neon orange chemical flavoring. They have a nice crispness to them.
The texture is pretty similar to something like a traditional cheese puff, but a bit on the drier side. The flavor is more like a Dorito. I would have liked them to be a little cheesier, but I would definitely be open to checking out the other flavors.

1x package Just the Cheese bars, Grilled Cheese (value: about $1.99) [<1g net carbs per serving]
I love cheese-based snacks in general, and this is one that I've tried and enjoyed before. From a past review:
These thin snack bars are made from 100% baked cheese, with no added junk or fillers. This makes them a great snack with a good amount of both fat and protein. I can't say that they taste specifically like grilled cheese, but they are cheesy, buttery, salty goodness. I really liked the texture, but I think the other flavors (aged cheddar and jalapeno) might have been even more up my alley.
1x 2.2oz bag Skout Organic Pumpkin Seeds, Mountain Ranch (value: $3.99) [3g net carbs per serving]
Pumpkin seeds are a great low carb snack option, and are also packed with healthy fats and protein. These had a nice ranch flavor which made them even more fun to eat. I love that the flavor comes from real organic herbs/spices with no maltodextrin or other fillers. They are a good snack, but also work well in salads.
In addition to the items in the August Keto Krate, subscribers also received the following discounts:
20% off Nush Foods
10% off Catalina Crunch
20% off Meals for Muscle
10% off Just the Cheese
25% off Skout
20% off Vermont Smoke&Cure
Free Shipping @ Smart Sweets
We also got a digital recipe for low carb, no bake "muddy buddy" cookies! (I should note that Keto Krate has switched from the in-box insert with product details and recipes to an online hub for subscribers.)
Overall Thoughts
I have to admit, I love it whenever one of my keto boxes sticks to a "theme" for the month or provides items that complement each other. This box did both, so I was a fan! We got a bunch of keto versions of classic childhood flavors like cheese puffs, gummy bears, and grilled cheese. The cereal and macadamia milk fit into the theme as well, while also going perfectly together.
There were a total of 9 items, with a mix of single serving products and larger packages (like the milk and cereal). I have my fingers crossed for a treat packed box for Halloween next month!
You can view past reviews here, and head here to sign up for your own Keto Krate. If you're a new subscriber, you can use the code FIVE2018 to save $5!