The Keto Box October 2018 Review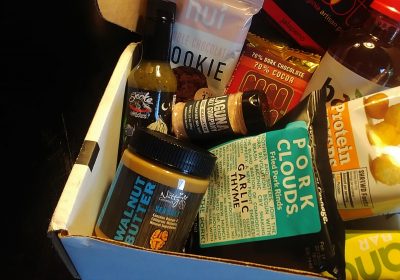 The Keto Box continues to include a mix of new and familiar keto brands, so I was looking forward to some new discoveries for this month. This keto subscription sometimes includes a couple of surprises, but you can generally expect a mix of sweet and salty keto snacks alongside some pantry items or other unique low carb products. I was curious to see what this month would offer!
Before we get to what was inside, a quick refresher: The Keto Box is a monthly subscription that describes itself as a "low carb care package for your body." For $39.99/month, subscribers receive a box full of 5-8 keto snacks and other products delivered to their doorstep.
You can view my reviews of previous months of The Keto Box here.
Now on to the October 2018 The Keto Box: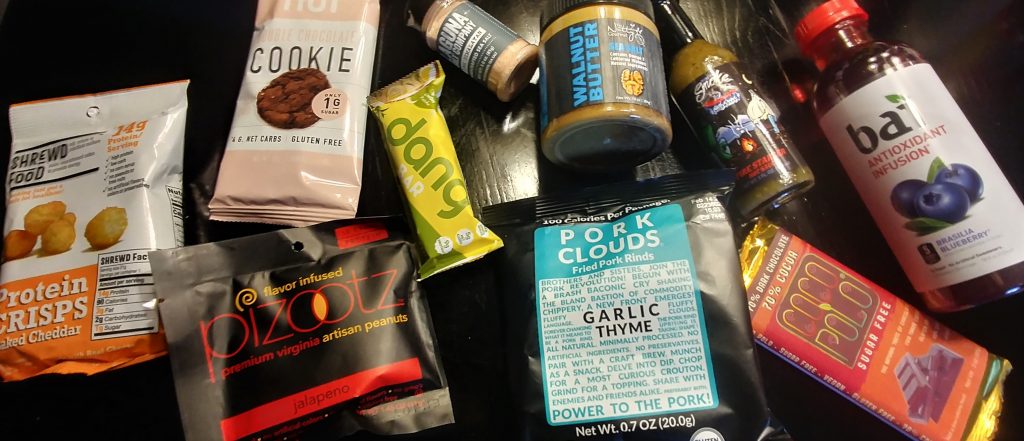 This was the October box, so naturally I reached for the chocolate first:

1x bar CocoPolo 70% Dark Chocolate (value: $5.50)
A chocolate bar is the perfect inclusion for an October box! Then again, I'm always open to low carb chocolate! CocoPolo is a brand I've had before, and I like how creamy their stevia/erythritol sweetened chocolate is. This bar is just a standard 70% dark chocolate, but varieties varied between the boxes.
1x jar Nutty Gourmet Walnut Butter, Sea Salt (value: $10.50)
I enjoyed some of my chocolate bar spread with this creamy walnut butter. One great thing about keto is that it's introduced me to the fact that there are more than just peanut and almond butter out there! This was my first time trying walnut butter, and it was pretty tasty. It tastes like walnuts (of course) with just a hint of salt. I also used some in a batch of cookies, and it added a nice nutty flavor.

1x bottle Rising Smoke Sauceworks, Firestarter (value: $8.00)
My box happened to arrive right before taco Tuesday, so it wasn't too long until I got to try this sauce. I have to say, it's seriously delicious! The level of spice is mild to medium, but it's really nicely rounded out with garlic and spices. It elevated everything I added it to, and I've already ordered more.
1x 3oz jar Laguna Salt Company, Pink Himalayan (value: $6.49)
We also got this little jar or salt, which might not normally be too exciting, but salt is actually crucially important for keto. Not only does it up the flavor factor for food, but it also helps to maintain electrolyte balance to keep you feeling your best. I like the grain size of this for my keto pita chips, and have also added some to water for an electrolyte boost.

1x 1.45oz bag Pizootz, Jalapeno (value: about $2.50)
I've had Pizootz before, but this was my first time trying this flavor! Like all of these "flavor infused" peanuts, the jalapeno flavor is throughout each bite rather than being in a spicy coating on the outside. This means it takes a little longer for the heat to kick in, but you can't miss it once it does. I personally think the spicy would go better with a different nut, like almonds, but it's pretty good here too.
1x 0.7oz bag Pork Clouds, Garlic Thyme (value: about $2.00) 
We got another savoury snack in the form of these pork rinds. Here are some notes from a past review:
I didn't used to like pork rinds much at all, but discovering higher quality brands like Pork Clouds has totally brought me around! These are perfectly crisp, and great for eating alone as a snack, dipping, or even crushing to use as a breading. I like that they don't have a weird aftertaste or junk filler ingredients like some other flavored pork rinds.

1x Dang Bar, Lemon Matcha (value: about $3.00)
I'm always on the lookout for convenient keto on-the-go options (which is part of why I love Perfect Keto's Keto Bar so much), so I'm always willing to check out a low carb snack bar. This one is made by Dang, which I normally associate with coconut snacks. With a base of almonds, fiber, and cocoa butter, the ingredient here are similar to other products on the market with the distinction of being all plant based. I thought it was tasty overall, but the texture was a little dry and the lemon flavor had a slightly artificial aftertaste.
1x pack Nui Cookies, Double Chocolate (value: about $3.25)
Nui is a low carb cookie brand that I'm already familiar with, but I can't complain about getting more! The double chocolate variety is exactly what it sounds like: a chocolate cookie with chocolate chips. They are slightly crisp with a rich and buttery texture, and not too sweet.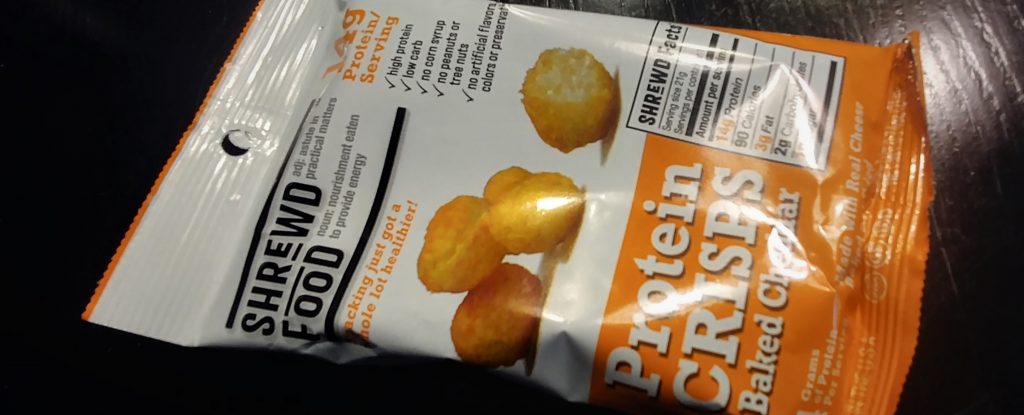 1x bag Shrewd Foods Protein Crisps, Baked Cheddar (value: about $1.99)
I usually satisfy crispy, cheesy cravings with some variety of 100% cheese snacks like Moon Cheese or Parm Crisps, but this snack aims to get even closer to traditional cheese puffs. They do a decent job at that, but I do with they were a bit cheesier and less dry in texture.

1x bottle Bai Flavored Water, Brasilia Blueberry (value: about $1.99)
Bai makes a line of low calorie drinks sweetened with erythritol and stevia. I'm definitely a fan, especially since they are often the closest thing I can get to fruit juice. Blueberry isn't my favorite of their flavors, but that's more because the other flavors are so tasty than because this one isn't. It has the flavor and tartness of blueberries without being too sweet or artificial.
In addition to the items in the October The Keto Box, subscribers also received the following discounts:
15% off CocoPolo
20% off Laguna Salt
10% off Bacon's Heir
15% off Shrewd Foods @ Amazon
20% off Rising Smoke Sauceworks
20% off Pizoots
15% off Nui Cookies
$10 off Dang Bars
10% off Nutty Gourmet @ Amazon
Overall Thoughts
This was a pretty classic, well-rounded month of The Keto Box in my opinion! The value was definitely there, with 10 products worth $45+ total and a variety of discounts. It also had a good variety of items included: a drink, both sweet and savory snacks, and a couple full size pantry items too!
I was especially happy about discovering the sauce, which was absolutely delicious and from a brand I probably wouldn't have learned about without this box. It was also cool to try out some new goodies like the Dang Bar and restock on existing favorites like the chocolate.
Want your own The Keto Box delivered to your door every month? Sign up with the code TRYKETOWITHME to save 15% on you first month!