Onnit Keto Box October 2018 Review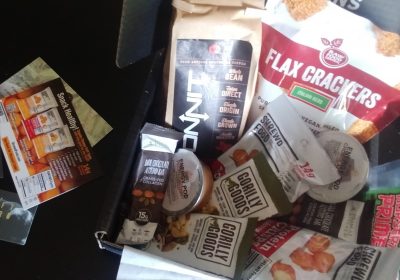 I've been enjoying getting full sized supplements and other higher end keto goodies to try out, so I'm here for another month of Onnit Keto Box! It's definitely pricier than my other keto subscription boxes, but I'm okay with the higher price if it also means higher value items and larger product sizes.
As a refresher, Onnit Keto Box is a premium keto subscription that costs $55.95 per month. For that fee, subscribers are promised a box "personally curated" by Onnit founder Aubrey Marcus and comedian/former UFC fighter Brendan Schaub to include the "highest quality low-carb snacks and supplements." It seems to be targeted for those interested in getting more full sized items, supplements, and trying out new Onnit products in particular. You can review my reviews of past months here.
Here's what was in my October Onnit Keto Box: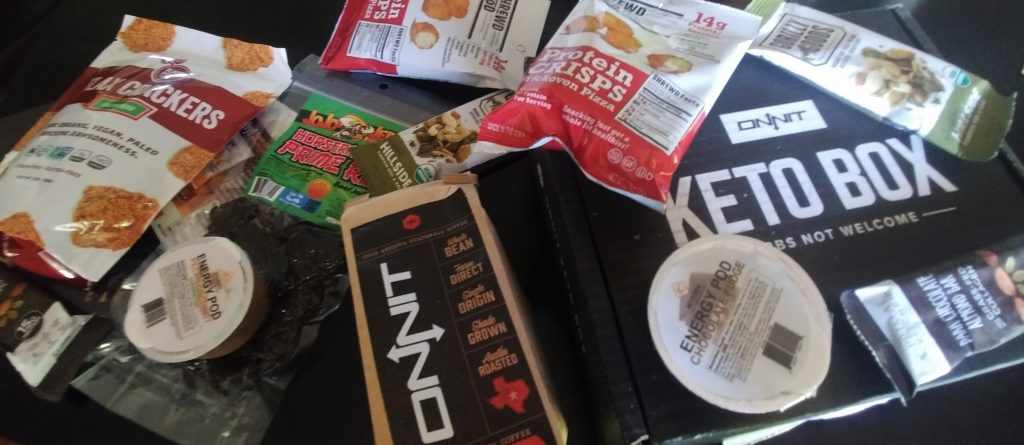 As usual, we got a full-sized Onnit brand item:

1x 12oz bag Onnit Arabica Dark Roast Coffee (value: $18.95)
So coffee isn't technically a supplement, but it might as well be as far as I'm concerned! As a daily coffee drinker, I was definitely happy to get a full bag of this coffee to try. These are single origin arabica coffee beans grown in volcanic soil on a family farm in Guatemala and then roasted in Texas. I really enjoyed it; it's rich but not bitter, with a smooth and slightly chocolaty flavor. This bag is whole bean coffee, which means you'll need to grind it yourself, but it's so good that I actually didn't mind the extra effort.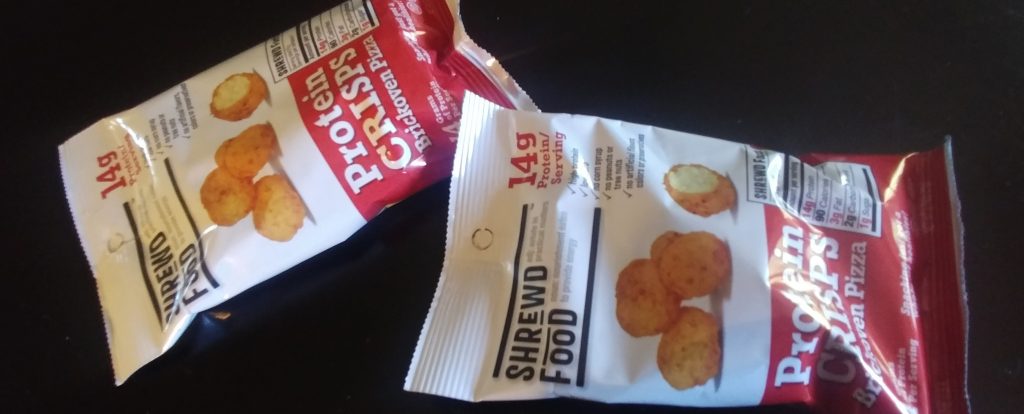 2x bags Shrewd Foods Protein Crisps, Brickoven Pizza (value: about $4.00)
Next up, we got these crispy snacks. These "protein crisps" are similar to cheese puffs, but they use a protein blend instead of carby ingredients like flour or corn. The pizza flavor adds a handful of spices in addition to the cheese flavor. I actually wish they were a bit cheesier, but they are a pretty good snack as is. Just make sure to pack a drink; the protein makes them a bit drier than traditional cheese puffs.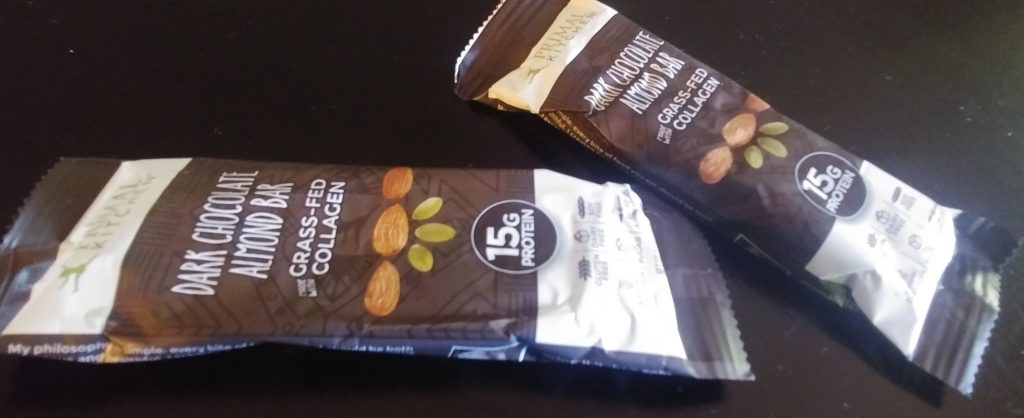 2x Primal Kitchen Collagen Fuel Bars, Dark Chocolate Almond (value: about $6.00)
I'm a fan of many Primal Kitchen products, but hadn't tried these before. If I'm being honest, that might be because there are lower carb protein bar options out there at this point. These have 8 net carbs each, which is sort of pushing the limit of what I would consider keto friendly for a snack like this.
With that said, they aren't a bad option for those with the carbs to spare. They have a chocolatey flavor with almonds throughout. They are a bit sticky though, making them somewhat tough to chew.

2x packs Gorilly Goods Trail Mix, Hillside (value: about $5.00)
I actually have tried this product before! It's a low carb savory trail mix with pumpkin seed and kale as the main ingredients tossed in a spice blend. With just a handful of ingredients, it's a pretty straightforward snack with just 3 net carbs. I'm a bit picky about the flavor of dried kale, so I actually prefer the "Baja" variety of this trail mix, but this one still satisfies me in a pinch.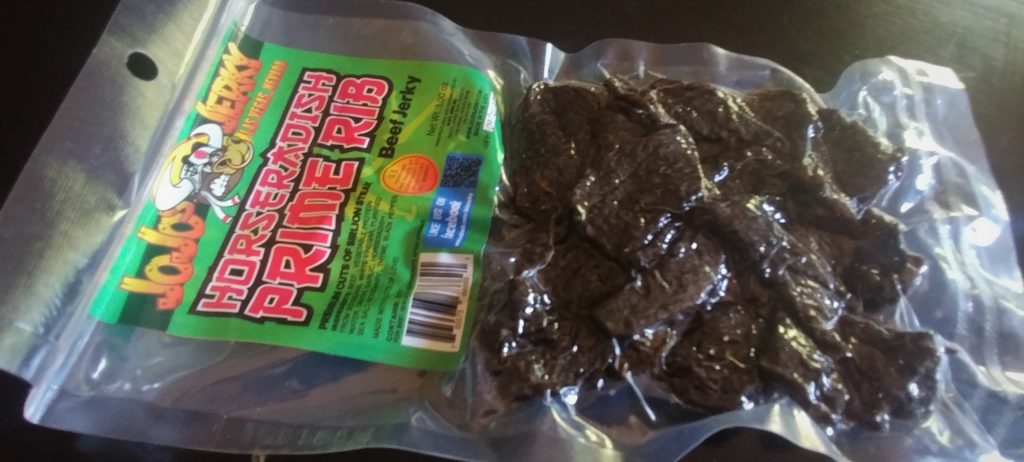 1x 3oz bag JoJo's Jerky, Horseradish Prime Rib (value: $9.79)
One of my favorite things about keto boxes is getting to try higher end jerkies, and this one was delicious! I was nervous about it since I don't consider myself a huge horseradish  fan, but it's only one component of a spice blend flavoring this jerky which also includes garlic, onion, rosemary, and thyme.
I thought it was super well rounded and tasty, and the use of prime rib makes the jerky nice and tender without being too soft. It's really good!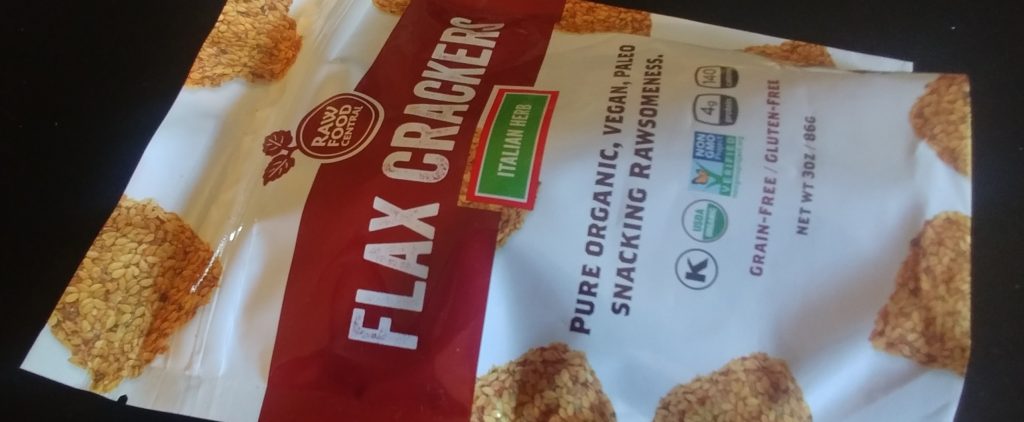 1x bag Raw Food Central Flax Crackers, Italian Herb (value:$6.99) 
Ah, flax crackers. I have to admit, they are growing on me a bit lately, mainly because I don't like them to go to waste when I get them in my keto subscription boxes. I find that flax can get a weird "burnt" aftertaste when cooked, so I tend to prefer raw options like these.
The box insert lists the Curt's Classic variety, but I actually got this Italian Herb flavor instead (which has happened before in a different box, oddly enough). In any case, they are crunchy and flavored with a blend of Italian spices.

1x Keto Geek Energy Pod, Chocolate Fudge (value: about $3.75)
1x Keto Geek Energy Pod, Pecan Coconut (value: about $3.75)
Finally, these (not too) sweet treats! These energy pods are basically like premade fat bombs that you can take on the go. They are made with healthy fat sources like ghee, nuts, and coconut butter. I've had the chocolate version before, and I would stand by my description that it tastes almost like brownie batter.
The pecan coconut version was new to me, but it's also really tasty! It's flavored with vanilla bean, cinnamon, and ginger in addition to the pecan base. As a side note, I usually stick to half a pod at a time, since they are (obviously) pretty calorie dense. I'm definitely a fan.
The Onnit Keto Box also included an insert with some details about the products, and a 10% discount for the Onnit website. We also got discounts for some of the box items: 15% off Shrewd Food, and 20% off Gorilly Goods.
Overall Thoughts
This box was a little more snack focused than my past experiences with the Onnit Keto Box, although I do like that we got doubles of the smaller snack items and the full size bag of coffee. I guess having a big chunk of the box value come in the form of coffee could be frustrating if you don't drink it, but luckily that's not a problem for me (and it's good coffee!)
Like most of my other Onnit boxes, this one did tend to lend more towards savory snacks which can be a plus for those who try to avoid indulging sweet cravings even if they're keto friendly. I have to say, one of the things I like most about this keto subscription (and what makes it different from the others in my collection) is looking forward to what full size supplement and/or Onnit product will be included each month. Fingers crossed for one of their emulsified MCT oils sometime soon!
Want to try out this premium keto subscription? You can sign up for your own Onnit Keto Box at their website here.