Creamy Keto Parmesan Crusted Chicken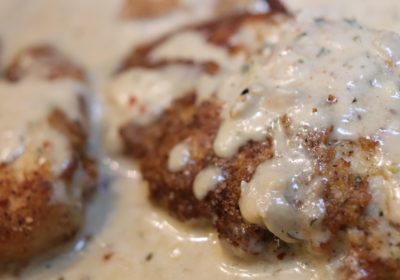 Even though a lot of keto dinner recipes use fattier cuts of meat, lean meats like chicken breast don't have to be left out entirely. In fact, they can provide a great opportunity to add in some richer ingredients without totally overdoing it. This keto parmesan crusted chicken is a great example. The low fat content of the chicken gives us room to add flavor with butter, cream, and cheese.
First up, the chicken is lightly fried in a parmesan crust. I actually like using the shelf-stable "dried" grated parmesan for this, since it adheres better to the chicken and combines more easily with the other crust ingredients. You can use fresh parmesan too, but it needs to be very finely grated to get that nice golden crust when sauteed in the oil and butter. If it's not fine enough, it might stick to the pan instead of your chicken.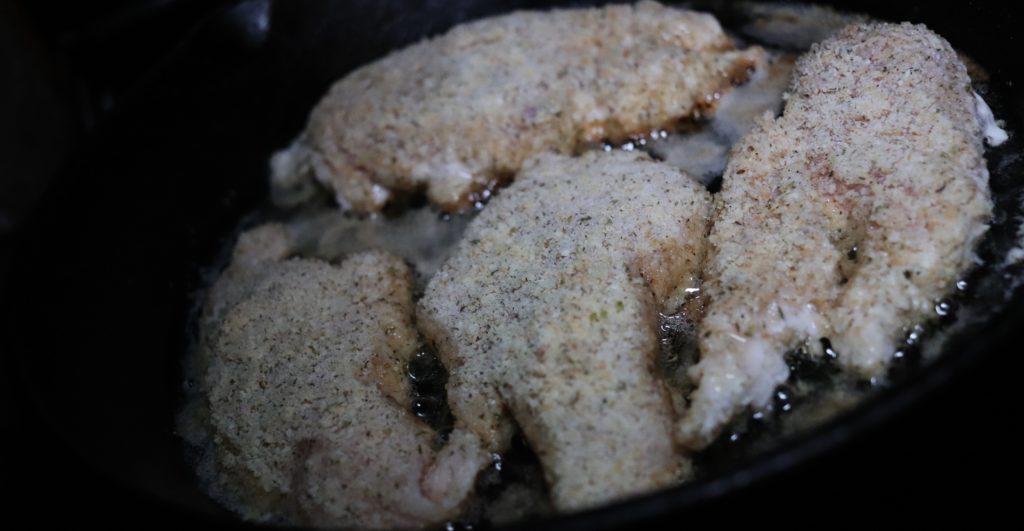 Once the keto parmesan crusted chicken is all fried up, it's time to make the sauce. To keep all of the flavor (and reduce clean up, of course), just keep using the same pan! Saute a bit of onion and garlic in the leftover oil, and then deglaze with chicken broth to make the base of the sauce. This step makes for a more flavorful dish. It also means you don't have to worry too much if you lose some of the parmesan crust while frying; it'll just make your sauce even tastier.
Finally, finish the sauce with two of my favorite ingredients: cream and parmesan! Yes, there's parmesan in the crust and the sauce. Frying it for the crust creates a buttery, slightly nutty flavor that compliments the milder, creamy sauce very well. I recommend serving up this keto parmesan crusted chicken with zucchini noodles, which also go great with the sauce!
Looking for more creamy keto chicken recipes? Try this Keto Pimento Cheese Baked Chicken!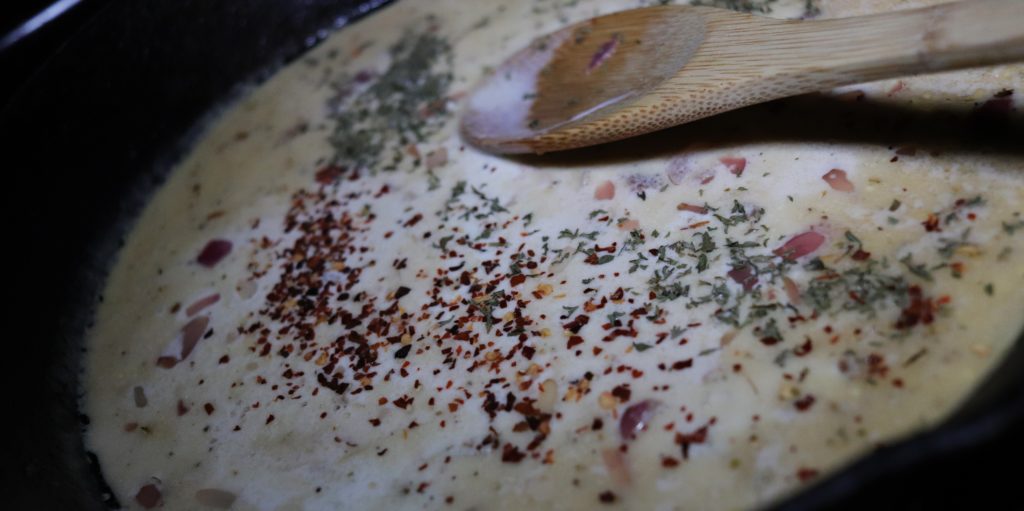 Creamy Keto Parmesan Crusted Chicken
This keto chicken recipe combines a melt-in-your-mouth parmesan crust with a rich and creamy sauce.
Ingredients
1/4

cup

olive oil

2

tbsp

butter
Parmesan Crust
1/4

cup

finely grated parmesan

2

tbsp

crushed pork rinds

2

tbsp

almond flour

blanched recommended

1

tsp

Italian seasoning

3/4

tsp

salt

1/2

tsp

black pepper
Garlic Parmesan Sauce
2

tbsp

red onion

diced

4

cloves

garlic

minced

3/4

cup

chicken broth

1/2

cup

heavy cream

1/4

cup

half and half

or additional heavy cream

2

ounces

fresh parmesan

shredded or grated

1

tsp

dried parsely

1/2

tsp

crushed red pepper flakes

salt and pepper

to taste
Instructions
Prep the Chicken
Halve the chicken breasts horizontally to make four portions. In a small bowl, combine the parmesan crust ingredients.

Coat the chicken portions with the parmesan crust mixture on both sides.

In a large skillet over medium high heat, heat the olive oil and butter.

When the butter is melted and the oil is hot, add coated chicken to pan. Fry for 4-5 minutes per side, or until golden brown and cooked through. Set chicken aside, but leave the remaining oil/butter in the pan.
Make the Sauce
Add onion to the same skillet you used for the chicken. Saute until softened, 1-2 minutes. Add garlic to pan and cook with the onion until fragrant, about 1-2 minutes.

Add chicken broth to deglaze the pan, scraping up any browned bits at the bottom. Simmer until reduced, about 5 minutes.

Reduce heat to medium low. Add cream and half & half to pan. Stir to combine, and simmer until heated through, 2-3 minutes.

Add shredded parmesan and continue simmering until melted, about 2-3 minutes, stirring regularly.

Finally, add parsley and red pepper. Season with salt and pepper to taste.
Creamy Keto Parmesan Crusted Chicken
Return chicken to pan and simmer for a final 2-3 minutes, or until chicken is heated through again and sauce is slightly thickened.

Optionally, garnish with fresh chopped basil or parsley. Best served with a veggie side like zucchini noodles, spaghetti squash, or steamed broccoli.
Notes
For the chicken crust, use either the shelf-stable grated parmesan or very finely grated fresh parmesan. Shredded or grated fresh parmesan works best for the sauce.
You can store/reheat the keto parmesan crusted chicken together or separately depending on your preferences. If storing together, reheat in the microwave or oven. If storing separately, the chicken can be reheated in a microwave, oven, or air fryer. Reheat the sauce gently using the microwave or stovetop.
You can use all cream for a slightly richer sauce, or all half and half for a lighter option.
Nutrition
Calories:
555
kcal
|
Carbohydrates:
3
g
|
Protein:
47
g
|
Fat:
40
g
|
Saturated Fat:
16
g
|
Polyunsaturated Fat:
2
g
|
Monounsaturated Fat:
11
g
|
Cholesterol:
189
mg
|
Sodium:
538
mg
|
Potassium:
50
mg
|
Fiber:
0.8
g
|
Sugar:
1.6
g
|
Vitamin A:
16
%
|
Vitamin C:
1
%
|
Calcium:
33
%
|
Iron:
4
%