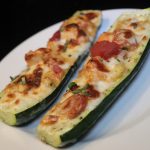 Print Recipe
Keto Garlic Parmesan Shrimp Zucchini Boats
These keto zucchini boats are filled with flavorful garlic parmesan shrimp and topped with melty mozzarella cheese.
Keto Zucchini Boats
4

whole

zucchini

1.5

tbsp

olive oil

1/2

tsp

dried oregano

1/4

tsp

dried thyme

1/4

tsp

black pepper

1

tsp

lemon juice

optional

4

ounces

shredded mozzarella

salt

to taste
Prep Keto Zucchini Boats
Halve zucchini horizontally, removing ends if desired.

Carefully scoop the middle out of each zucchini half and set aside for later (see note).

Sprinkle the zucchini boats with salt and allow to rest for about 5 minutes to draw out excess moisture.

In the meantime, combine olive oil, oregano, thyme, pepper, and lemon juice.

Discard extra moisture from zucchini boats. Brush generously with the olive oil mixture and arrange in prepared baking dish. Bake for 15 minutes.
Garlic Parmesan Shrimp
Cut shrimp into bite-sized pieces. Separately, chop the reserved zucchini from earlier into small pieces as well.

In a pan over medium heat, melt butter. Add garlic and saute for about 30 seconds, until fragrant.

Add shrimp to pan, and cook until just pink (about 3 minutes). Stir in diced tomato and zucchini, and cook for an additional minute.

Add heavy cream and cream cheese to the shrimp mixture. Simmer, stirring regularly, for 1-2 minutes, or until cream cheese is melted and the mixture is smooth.

Finally, stir in parmesan, basil, and red pepper. Add salt and pepper to taste. Cook until cheese is melted and sauce is thickened (2-3 minutes), then remove from heat.
Fill the Keto Zucchini Boats
After pre-baking the zucchini boats, fill evenly with the garlic parmesan shrimp mixture and top with shredded mozzarella.

Return filled zucchini to oven, and bake for an additional 12-15 minutes, or until cheese is bubbly and beginning to brown.

Top with additional fresh basil and/or parmesan if desired, and serve.
You can save some time by scoring the zucchini (like you would to dice an avocado) before scooping.
Optionally, replace the final 2-3 minutes of baking with a quick broil to lightly brown the cheese.
You can use canned diced tomato instead of fresh for this recipe. Just be sure to pick an option without added sugar!
Calories:
350
kcal
|
Carbohydrates:
8.5
g
|
Protein:
30
g
|
Fat:
22
g
|
Fiber:
2.5
g