Keto Cinnamon Roll Pancakes
I'll be honest with you. After a few weeks of eating keto, I wasn't really into breakfast anymore. I was getting bored of eating so many eggs and, even more than that, I found that on most days I just wasn't hungry in the morning. Sure, on the weekends I might make a batch of waffles  with a side of bacon or something. But aside from that, what was once my favorite meal of the day became more of a take it or leave it kind of thing. I could have a cup of coffee and be satisfied until dinner.
But this weekend while I was making my standard weekend treat of keto pancakes, an idea popped into my head. The rest of my household was eating those carb laden Pillsbury Cinnamon Rolls. I wasn't tempted…but I *was* curious. Could I make something with a similar level of cinnamon-y cream cheesy deliciousness that didn't have a billion carbs in a two bite serving? Apparently so.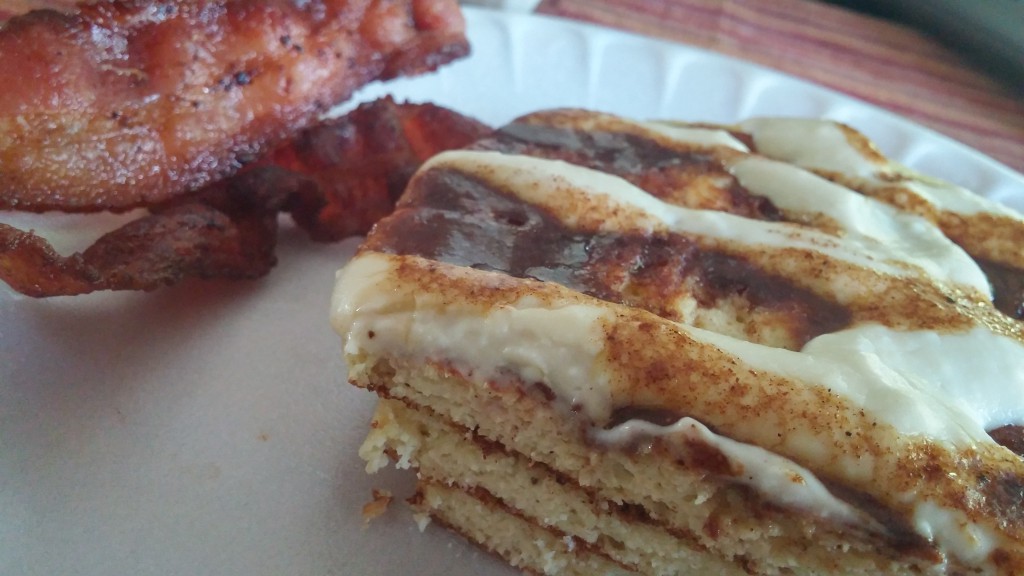 Sure, it's a little more work than just plain pancakes. You have to make a cinnamon filling to swirl in the middle, and a cream cheese frosting to drizzle on top. But it only took one bite to convince me that it was worth it. Soooo worth it.
The recipe below makes enough for about 2 servings, which honestly is all that you want in your house at a given time. Because otherwise, not only will breakfast suddenly become way more appealing, but you'll also find yourself looking for excuses to have breakfast for lunch…or dinner.
Tip: You can make neat little spirals of cinnamon…or you can just kind of swirl it in on top. Either way tastes just fine.