Easy Instant Pot Keto Chicken Bone Broth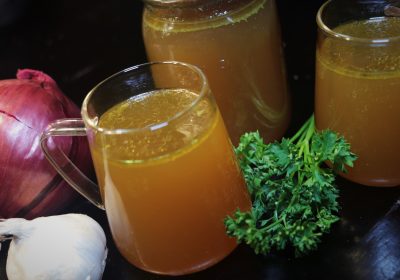 Although you can use any basic broth for most of my keto soup recipes, I usually recommend using bone broth whenever possible. One reason for the taste, since bone broth tends to be richer in flavor and texture. It also tends to me more nutrient dense, with higher collagen and mineral content. The only downside? It's usually more expensive too. Thankfully, it's really easy to make your own keto chicken bone broth with a handful of ingredients and a little bit of time.
Basic Keto Chicken Bone Broth Ingredients:
Chicken bones: Leftover bones from 1-2 whole chickens, or about 2 pounds. No worries if there's still meat and/or skin attached.
Veggies: Onion, garlic, carrot, and celery add flavor and extra nutrients.
Herbs: Optional, depending on what you're using your keto chicken bone broth for, but herbs like parsley, rosemary, thyme, and bay leaves are good options.
Apple Cider Vinegar: A bit of vinegar helps draw more nutrients from the bones.
Seasonings: Salt and pepper (whole peppercorns are great, if you have them) are key. You can add other seasonings to taste.
Water: Enough to cover the bones and veggies so you can get all of the goodness out!
Because you'll be straining out the solids anyway, feel free to use the "scrap" bits of veggies that have plenty of nutrition but typically go to waste. The skins of onion/garlic, ends of carrots, leafy bits of celery, and leftover herbs nearing expiration are all fair game here! It's a great way to reduce food waste and stretch your grocery budget. To make things easy, I keep a bag in the freezer that I add bones and veggies to over time. When it's full, it's time to make a fresh batch of keto chicken bone broth!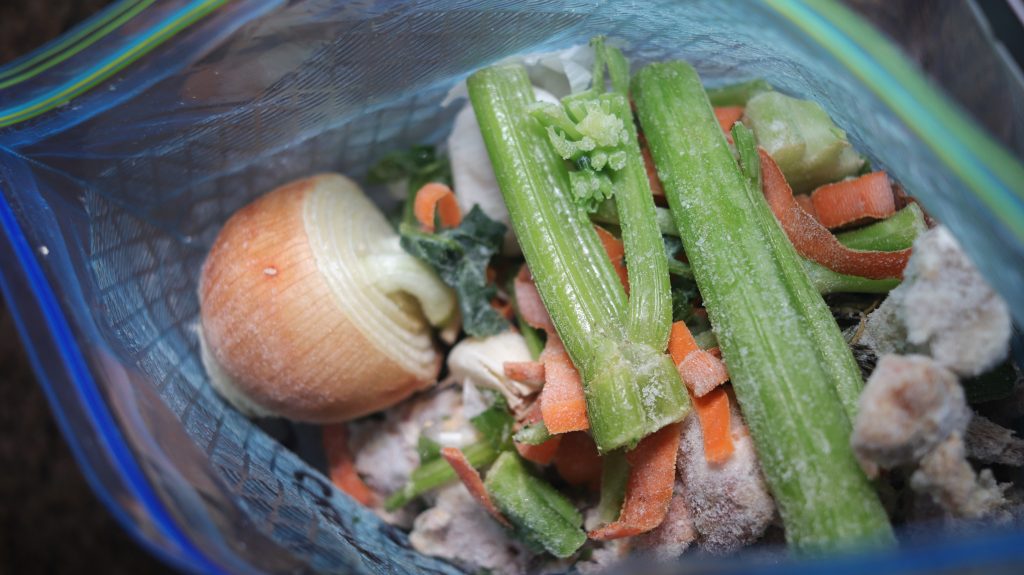 How to Use Keto Chicken Bone Broth:
You can use this keto bone broth in place of chicken broth or stock in your favorite low carb recipes. Use it to make:
You can also use it in place of water to add extra flavor to things like:
Steamed/sautéed vegetables
Keto pizza/pasta sauces
Riced or mashed cauliflower
Marinades and pan sauces
You can also simply sip on a cup of broth for a quick boost of collagen, electrolytes, and other nutrients. Season with ginger and turmeric to add warming flavors and a bit of antioxidant power.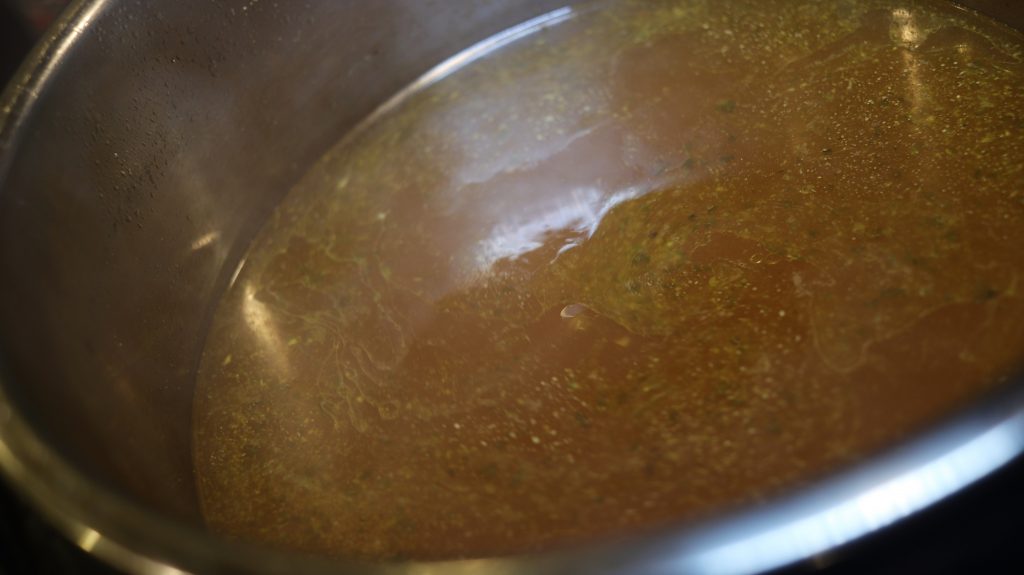 Easy Instant Pot Keto Chicken Bone Broth
Make your own flavorful, nutritious keto chicken bone broth for cooking with or sipping on to warm up!
Ingredients
2

pounds

chicken bones

yield from 1-2 chickens

2

medium

carrots

chopped

2

stalks

celery

leaves and ends included

1

large

onion

quartered, skin on

4

cloves

garlic

smashed, skin on

1.5

tbsp

apple cider vinegar

2

tsp

whole black peppercorns

about 15-20

Fresh herbs

ex. rosemary, thyme, parsley

10

cups

water

or enough to just cover bones and veggies
Instructions
Add bones, veggies, and herbs to Instant Pot.

Add water. It should be enough to cover the bones and veggies, but not come too close to the max fill line.

Place Instant Pot lid on, and set valve to sealing. Use the Manual high pressure setting, and set the timer to 2 hours (120 minutes).

Allow pressure to release naturally for about 20 minutes, then release the valve and remove the lid.

Carefully strain broth through a mesh strainer or cheesecloth, and discard the solids.

Season keto chicken bone broth to taste.
Notes
Storage: Keeps for 5-7 days refrigerated in sealed containers, such as mason jars. You can also freeze portions in an ice cube try or silicone muffin cups, then store for later use.
Reheating: Warm in the microwave or in a saucepan over medium heat. 
For a richer keto chicken bone broth: After the initial pressure cook, use a Manual low pressure cook for another 90-120 minutes. This will make a broth with higher gelatin/collagen content that may settle or gel when cooled. Delicious and nutritious, but might not work for every recipe.
This post may contain affiliate links. More details.
Nutrition
Calories:
50
kcal
|
Carbohydrates:
2
g
|
Protein:
10
g
|
Fat:
2
g
|
Fiber:
1
g