Keto Baked Omelette Roll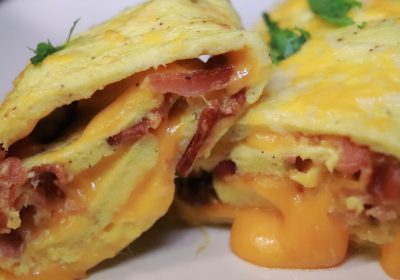 I know my keto breakfast recipe collection tends to lean a bit towards the sweet side, with entries like almond flour biscuits, fluffy keto pancakes, and cinnamon protein "noatmeal", but that doesn't mean I don't appreciate the classic keto bacon and eggs! It's just that I used to reserve breakfast mainly for the weekends, which made those keto-fied treats feel appropriate. Recently though, I've been back to enjoying breakfast during the week on occasion, and since I don't necessarily want to break out the mixing bowls every morning, I've been looking for some simple keto breakfast options.
Well, nothing says simple keto breakfast quite like bacon and eggs, right? This keto baked omelette roll recipe combines eggs, bacon, cheese, and the meat and/or veggie fillings of your choice to make a surprisingly simple and satisfying keto breakfast. Best of all, this 5 serving recipe stores and reheats well, which makes it an excellent keto breakfast meal prep option!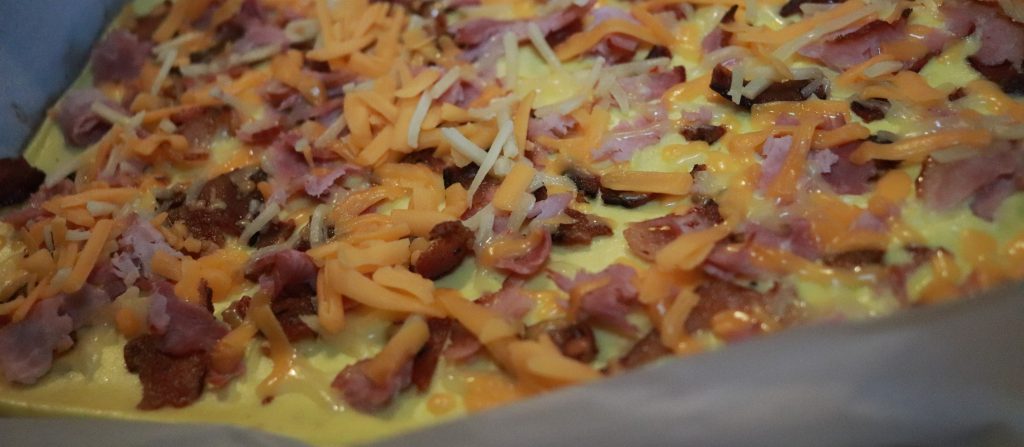 Keto Baked Omelette Roll
This keto baked omelette roll looks a little fancy, but is easy to make and a great keto breakfast meal prep option. Per 1/5 roll (bacon and cheese filling only): 265kcal, 19g fat, 21g protein, 2.6g total carbs - 0.6g fiber = 2g net carbs.
Ingredients
1

tablespoon

butter

melted

6

large

eggs

6

ounces

(3/4C) cottage cheese

1

tablespoon

coconut flour

salt and pepper

to taste

4

ounces

(1C,112g) shredded cheddar

or other cheese

4

slices

bacon

cooked

up to 4 ounces (112g) other fillings (sausage, ham, spinach, peppers, etc.)

cooked`
Instructions
Keto Baked Omelette Prep
Preheat oven to 400F. Prepare a medium sized baking sheet by lining with parchment paper. Brush the parchment paper evenly with the melted butter.

Add eggs, cottage cheese, coconut flour, salt, and pepper to a blender or food processor and process until smooth.

Separately, prep your fillings (including bacon) by chopping or dicing into small pieces.
First Bake + Toppings
Pour egg mixture onto prepared baking sheet and spread into an even layer. Bake in preheated oven for 5 minutes, or until bottom is just beginning to set.

After 5 minutes, evenly distribute the bacon other fillings (excluding cheese) on top of the egg layer.
Finishing Up
Return keto baked omelette to oven, and bake for an additional 10- 12 minutes, or until cooked through.

Remove from oven and immediately add shredded cheese in an even layer on top.

Gently loosen omelette from the edges of the parchment paper. Starting from the short end, carefully form into a roll.

Optional: Keep the roll seam side down on the baking sheet. Top with additional shredded cheese, and place under the broiler for 1-2 minutes or until lightly browned.
Slice and Serve!
Slice evenly into five portions and serve!

Store refrigerated in a sealed container. Reheat in the microwave, or covered in a 300F oven.
Notes
Use a 10"x15" or 9"x13" baking sheet that is deep enough to avoid spills (like a jelly roll pan).
The butter here both helps to make it easier to roll up your keto baked omelette and adds flavor, but you can skip it or use another cooking oil if desired.
Make sure that any meat based fillings like bacon and sausage are cooked before adding them! Veggie fillings can be cooked or raw depending on your preference.
If desired, top your keto baked omelette with broiled cheese, diced green onion/chives, fresh parsley, salsa, etc. before serving.
Nutrition